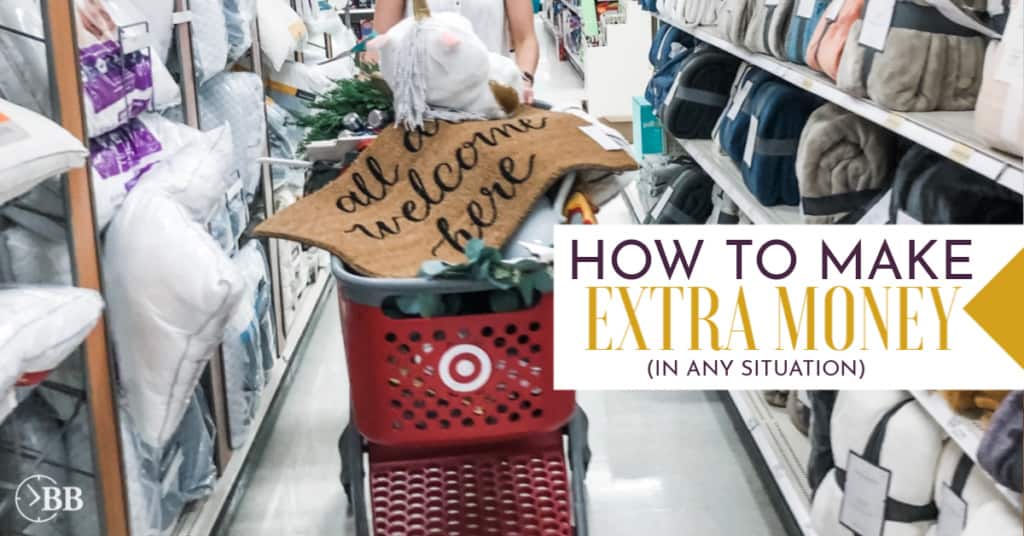 A simple way to boost your budget is to find ways to make extra money. Since most people find the idea of making extra money a lot harder than it actually is, they never get started.
There's also a false impression that you need to spend money to make money (which is untrue, we'll tackle that below). That can make it seem insurmountable to the people who need to make money the most… People on a tight budget.
It's a bit of a tragedy in this day and age when we have so much flexibility to work and live anywhere. Having the capability (and the skills) to make extra money can make your life considerably easier.
Whether you want to make small amounts of money with almost no effort to help fund your latte habit or you want to replace your income by working from home and then scale your income to a mini-empire, we can set you on the right path to do it.
Things to Consider to Make Extra Money
There are three things to consider when you're looking for ways to make extra money:
How much effort does it involve (which can be either time or money)

How much risk is there? (count both investment money lost or time lost)

How much money can you make (we won't always know the exact number but we can estimate).
Despite being a complete hot mess, I was able to find ways to make extra money from many of the ideas listed below.
I've made more than a full-time income running a home daycare from my house when I wanted to stay home with my first child.

I have made $20,000 over the past 5 years from money making apps like Ibotta and Ebates, surveys, and user testing.

I've made $1,900 in 9 weeks flipping jeans on eBay (it required very little effort and didn't take a lot of time but was incredibly boring work).

I built a blog from scratch to a full-time income in about 10 months and it's been growing exponentially ever since (we're working on year 6!).
You can read exactly how I did that here: The 4 side jobs that make me over $3,000 a month as a stay at home mom.
And I'm not special (I mean of course, my mom thinks I am). I was a C student at best, likely have undiagnosed ADHD, and had zero business sense. (Before I ran an at home daycare, I spent 9 years as a State Trooper).
Important Factors To Make Extra Money
So I really want people to understand that it's not just exceptionally talented, amazing people that are finding viable ways to make extra money.
The most important factors to earn extra money are to:
Work with your personality always.

Use your natural talents.

Take into account your unique needs.
Need more help trying to figure out how you can find ways to make extra money based on your unique talents, special needs, and personality?
Sick of reading and want the cliff notes version? If you just want a step by step system to walk you through all of this without having to figure out where to start, you can take the Exit Strategy course to walk you through how to figure out your personality, what jobs you'll thrive at from home, and how to get them.
Since we cover a huge array of ways to make extra money from home here, we have them categorized so you can find your way around easier. We also labeled them according to their effort/risk/and earning potential to help you narrow down your options.
Make Extra Money Categories
The Best Ways To Make Extra Money
Money Making Apps:
Little effort~no risk~smaller amounts of money
You probably won't be quitting your job from these apps, but they are a great gateway to adding some money to your bottom line. They also require minimal effort, no risk, and no commitment.
We paid for our first Christmas with these ideas after we got serious with budgeting.
Receipt Hog:
Not only do you get small but consistent cashback for each receipt you enter (from any store) but they keep it fun with coins earned and slots that can be used for Paypal or gift cards.
But, the best part of this app is that you have access to every receipt you ever uploaded which makes returns, warranties, and taxes a breeze.
You can sign up for free here…
Surveys:
Surveys aren't my favorite (I think they're a time suck). But, if you want to turn TV time into a little extra money, go for it. Keep in mind, I think this is the bottom dweller of ways to make extra money from home (
but we have readers who swear by it so…
🤷.
UserTesting:
WAY better than surveys!
You can make $15 per test here
and I love doing these tests as one of the easiest (and fun!) ways to make extra money. They payout via Paypal in 7 days.
Hint:
Leave a laptop on in the background and just check it when you get a ping. 7pm-9pm used to be the hot hours for me to get a lot of tests.
Decluttering:
Low effort~no risk~medium income
Decluttering is one of the fastest and easiest ways to make extra money in a short amount of time. Just look around your house and start selling things you haven't used in the past year. You can sell on Facebook Marketplace (except clothing which should be sold in lots on eBay based on size and season or Poshmark if they're upscale brands).
Hobbies That Make Money: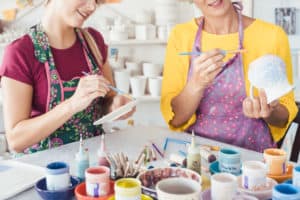 Little effort~moderate risk (time)~small or large amounts of money
Finding a way to monetize what you already do for free is pretty smart. Just avoid the pitfall of spending a ton of money aimlessly on your new "business" without having a clear understanding of how you'll make money back.
Think of this as a snowball. DO what you love… make a little money. Invest that money back into your new business, grow it a little bigger. At the end of the day, all you waste is time… but you're spending that time doing something you used to do for free.
In addition, this is without a doubt my FAVORITE way to make money and what we often see our readers be the most successful in.
Important note: That article leaves out food photography which is an extremely in demand skill (we pay $150- $500 for food photography images on the Busy Budgeter alone.)
There are several ways to make money writing.
Work From Home:
How to get work at home jobs you love. How to quit your job and find one that you love.
Working for Someone Else:
High effort~no risk~ medium to large amounts of money
For almost anything you can do in an office or outside of the home, there's a job with the same skill set that can be done from home. Rat Race Rebellion and Flex Jobs are the easiest places to find them. (If you love your current job, try convincing your boss to let you work from home one day a week just to try it and BLOW THEM AWAY with your productivity on that day.
Working for Yourself (AKA Starting a Business):
Moderate to high effort~no risk~ medium to unlimited amounts of income
(For unlimited amounts of income you need your business to be scaleable)
Many of these are hobbies (things you would do for free).
Online:
Influencer:
Instagram really made this a thing.
You can start from scratch
as an influencer or get yourself onto a reality show to jump start it. I don't recommend this
because you're building a business on a platform that you don't own.
A great example of this is bloggers, YouTuber's, and podcasters are all influencers but the difference is they own their own platform (their website). That makes their income more reliable.
Podcast Editor:
There's not a step by step article written for this, but if you already know how to edit, just list your services on
Fiverr
or
Upwork
to get started.
In-Person Businesses:
Are usually not scalable.
Medium to high effort~ low to medium risk~medium to large income
Selling Water
:

Look for fairs and festival and get a selling permit, then bring a cooler of ice cold water and undercut everyone else's water prices.

Accountant/Bookkeeper: Make money at home by becoming a bookkeeper. Before/After School Care: How to start a business in before & after school care.
Side Jobs:
High effort~low risk~medium income
Flipping Houses:
This
allows for a higher income because you need specialized skills, but it is
high risk! This type of job is usually best for realtors with an interest in design).
How to make money flipping houses.
Expert Witness:
(specialized skills needed- common for former crime scene techs, accident reconstruction, etc).
How to start a lucrative expert witness practice.
Coaching:
in whatever skill you have that others want… Business, Golf, Acting, Life, etc.
7 interesting ways to make money as a coach.
MLM:
Overall, I'm not a fan and don't recommend these unless…
You love the product.

There's a low buy in (under $100 for supplies).

You don't have to keep stock.

You feel comfortable going out to find people to sell to (not friends).
The truth is that if you are successful with an MLM, you will most likely be successful in your own business. Your success means you already have the business sense and marketing skills to succeed (without the restrictions of the MLM).
If you want to take the leap with an MLM, consider these 3 things first.
Keep a low buy-in. ($100 as opposed to $5k).

Make sure you don't have to stock up on products. The money you make will go right back into more products.

Consider where you will find customers who are not your friends.
More Ways To Make Extra Money
How I turned my side hustle into my greatest investment.
3 creative ways to make extra cash that you haven't tried yet.
Top three jobs for stay at home moms to make money from home.
Tried and true ways to make money as a stay at home mom.
Make $2,000 a month on the side.
The easiest path to full time freelance writing.
How I made $30,000 as a voice-over actor.
How I earn thousands on Amazon.
How to make money teaching Jazzercise.
Make over $100,000 as a freelance writer.
Scanning photographs to make money.
Make a full time income ghostwriting.
Ways to make extra money teaching piano.
Learn how to make money from home offline.
5 places to find work as a virtual assistant.
Start any business in a weekend for $0.
Blogging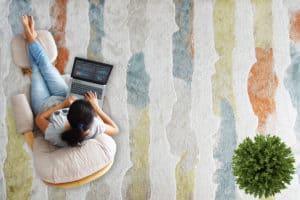 8 blogging books to buy when you can't afford a course.
Full review: Elite Blog Academy.
The best free guide to start a profitable blog.
12 reasons (and how) you should network with other bloggers.
The truth about making money blogging.
Use honesty to grow your blog.
The easiest path to full time blogging.
10 blog brainstorming tips to beat writer's block.
My top 5 ultimate blogging tips for beginners.
When to hire a virtual assistant for your blog.
Learn how hard is it to make money blogging.
What's the true number of pageviews do you need to make money blogging?
The three traits you need to be a successful blogger.
How I gained 18,000 email subscribers in 7 months.
My favorite free tool to see where people click on your blog.
Frequently asked questions about Elite Blog Academy.
The blogging class that changed my life.
The easiest way to get 400, 000.
How I made Pinterest my full time job.
4 reasons you need a blogging class.
The quick growth blogger resource guide.