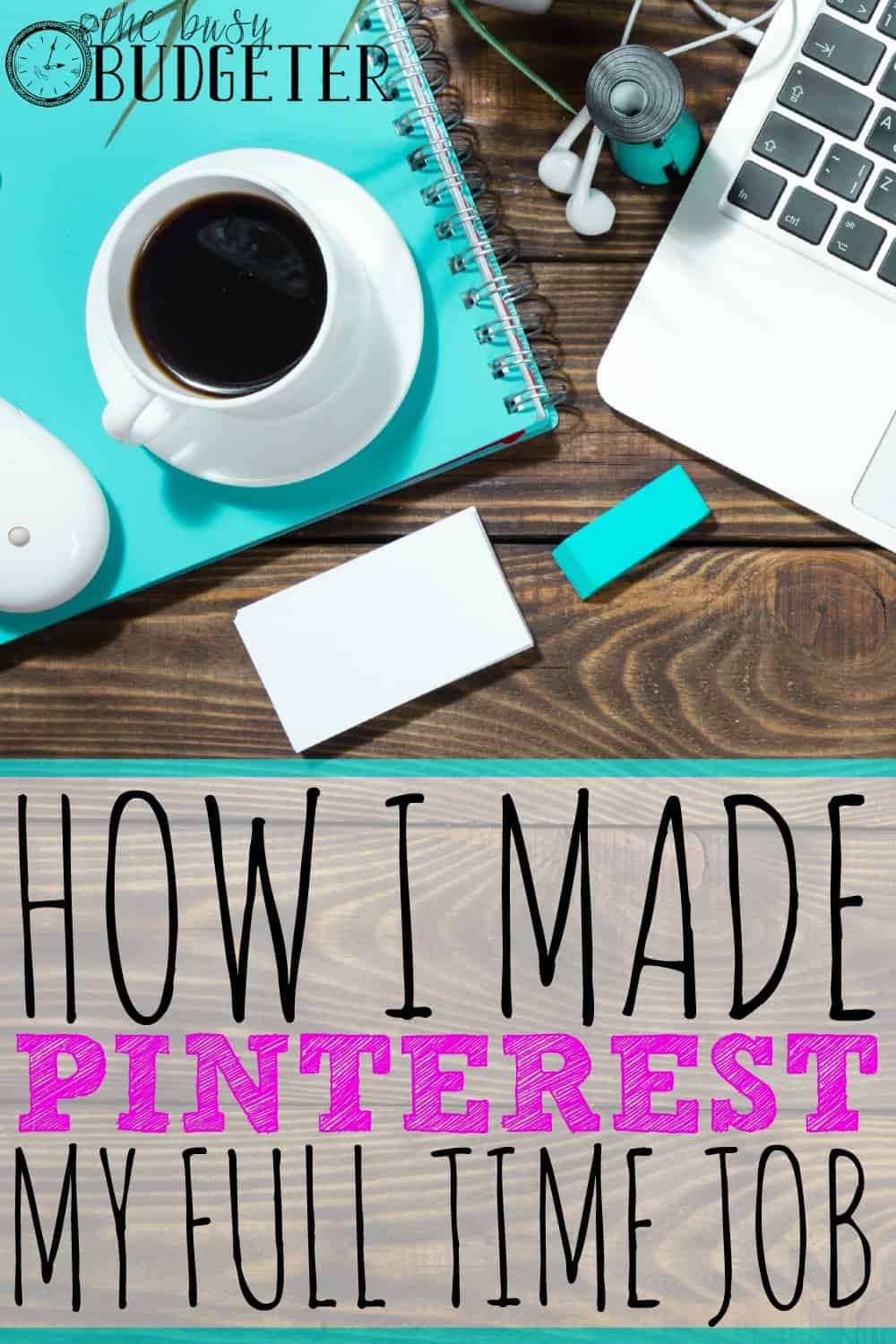 Pinterest Jobs: How I Made Pinterest My Full-time Job
---
UPDATE: If you want to start a blog but aren't sure where to start then I'd love to tell you about a simple and easy resource that worked for me. Bonus points because it's actually FREE right now. Get the First 10 Steps of a Profitable Blog that walks you through the 10 steps you MUST get right in start and building your blog here.
I love Pinterest. This website that lets you create virtual boards of everything you love on the Internet was pretty much made for this girl that used to keep scrapbooks of magazine articles and layouts. To this day, I feel sorry for anyone that had to have a party, wedding, or baby before Pinterest existed.
I wanted to work for Pinterest and just pin things all day. That would be my dream job. Unfortunately, while there are many Pinterest jobs out there, "Pinning specialist" isn't one.
I jumped on the Pinterest bandwagon shortly after it was launched.
As my pinning years went by… I completely transformed our financial life. I reduced our spending by over $23,000, quit my job to stay home, then started a home day care to make $3,000/month while I stayed home with my kids.
I learned how to use Pinterest to support my goals of saving money. Having a visual display of my dreams and aspirations (like my dream home board or my travel board) that I checked into daily was incredibly motivating. Having a constant stream of money saving tips and tricks from experts that have navigated these waters before (Like my Frugal board) kept my goals constantly in the forefront of my mind.
At some point, I realized that all of those experts on Pinterest are bloggers.
A blogger is a person that starts their own website and publishes content to it. All of those pins I loved were from someone like me researching an article or writing from experience and publishing it, then putting it on Pinterest. Some bloggers are huge with millions of followers and websites that cost more to run than a traditional magazine. Some are small and run their sites as a hobby or a side job.
I was hooked.
I started a blog. I began creating content for problems that I couldn't find answers to. Things like 3 weeks of cheap and easy dinners in under 15 minutes and The Ultimate Money Saving Workbook. Starting a blog is crazy cheap and I was making about $70/month through Adsense ads so I thought I had hit the big time.
I had no idea the income potential of a blog.
Thanks to bloggers like Becky Mansfield of Your Modern Family who publish their blog income reports, I realized that my $70/month income was just the tip of the iceberg. I got serious and turned my blog into a business, joining The Elite Blog Academy, and relaunching into a new website, The Busy Budgeter.
I started spending 10 hours a week blogging, then 20 hours a week.
My income rose sharply as the hours that I dedicated to blogging did. Last month, I made a full time income from my blog exactly one year from starting this blog. Truthfully though, money isn't the best part. The best part is getting to help people change their financial outlook without charging them a dime and getting to work every day on something I'm passionate about.
Pinterest sends me most of my blog traffic and my income is tied tightly to the amount of blog traffic I get (much of my income is from ads on my blog). It's safe to say that I made that income almost entirely through Pinterest.
A good part of my job is to repin Pinterest pins that I love so that my followers (you can join me here) get the best of the best in their Pinterest feeds. Trying out new ideas I see on Pinterest to share them with others is also part of my work.
I can officially say that I've turned my love of Pinterest into a full-time job.
It's not just me, though… Lots of people have done the same!
I've had a pretty amazing career prior to blogging and without a doubt blogging is the best job that I've ever had.
If you have the urge to write, an expertise in something that people need help in and you absolutely love Pinterest, then blogging may be the perfect fit for you.
There are a few resources you can look into if you want to be a blogger…
You can go through my *FREE* Step-by-Step guide of how to start a blog by clicking here. (Bonus points because it's written for someone who isn't great with computers and technology).
The absolute best resource in the world though is The Elite Blog Academy. I credit my success to it entirely. You can find out more about it here, but it's only open to new members once a year. Your best bet if you want to join is to join the waiting list here so they email you updates.
Keep in mind, Elite Blog Academy is expensive, and it helps to have a foundation in blogging before you take it so don't wait to start blogging until it's open. You can get started for about $3.49/month.
If you want to start a blog but have no money to put into it, then the best free resource is a guide called First 10 Steps to a Profitable Blog. Study it. Highlight it. Make it your new best friend.
Just 27 months after starting the new blog, this blog supports my whole family. So, you should totally start a blog!
What would you blog about?
This post may contain affiliate links. If you click & make a purchase, I receive a small commission that helps keep the Busy Budgeter up and running. Read my full disclosure policy here.