A huge thanks to the Daily Grand Planner for making the best business planner I've ever found and for sponsoring Busy Budgeter and providing the planner and accessories. All opinions are 100% mine.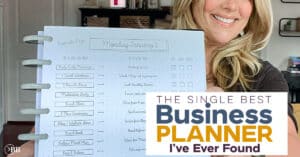 This is a review of the Daily Grind Planner from someone who is obsessed with ROI (Return on Investment), A/B testing, and maximizing productivity in limited working hours. This is a detailed review that may bore you to tears if you aren't into those things.
No time to read? Here's the highlights:
I was a long-time fan of the 12-Week Year when I found out about the Daily Grind Planner.
The Daily Grind Planner is amazing and has been a perfect fit for my business. The entire planner is heavily focused on goal setting and implementation. It asks the right questions at the right times and helps you reflect on what you did every day, week, and month to help you set better goals and actually complete them consistently.
They have a scoring method to help you score your goal completion which gamifies productivity and is one of my favorite features. All in all, I've been in business for 9 years and have used a lot of planning systems and planners- both online and physical planners and this is the best business planner I've ever seen.
You can buy The Daily Grind Planner here or read every single detail of the planner below.
How I Found the Daily Grind Planner:
I've spent the last 4 months trying to find a business planner that will work for me.
I routinely test life planners for my business (helping chronically disorganized people adapt home and budgeting routines that work for their unique personality ) so I know a lot about planners. But we have a really unique business planning system that works well by focusing on high ROI (return on investment), focus blocks of 25 minutes, a limited working schedule, and consistent a/b testing.
I researched and discarded several planners, but I need a physical planner because I (and know I'm not alone in this) am significantly more productive with a paper planner than online calendars. What's out there for physical business planners is pretty abysmal. They're either "GIRL BOSS" focused with very little practical use for an actual business owner who's livelihood is her business or they're basically just life planners with no A/B testing, ROI, and business goal setting ingrained.
I considered making my own – except we don't teach business and that's a ton of work just for myself. So I went back to using my pieced-together system in a notebook and desk pad because that was easiest.
Then I ran into the Daily Grind Planner and after about 10 seconds of looking at this page, I realized that I found it- I found my new business planner.
So I did what old school bloggers do best and I now have both a business planning system that I'm obsessed with and a new sponsor.
Let me show you how I use it and why it's life changing.
The Daily Grind Planner Review:
Style and Cover:
They have different interchangeable covers available to choose from I have this watercolor stylized couch with the planner being used in the photo on the cover.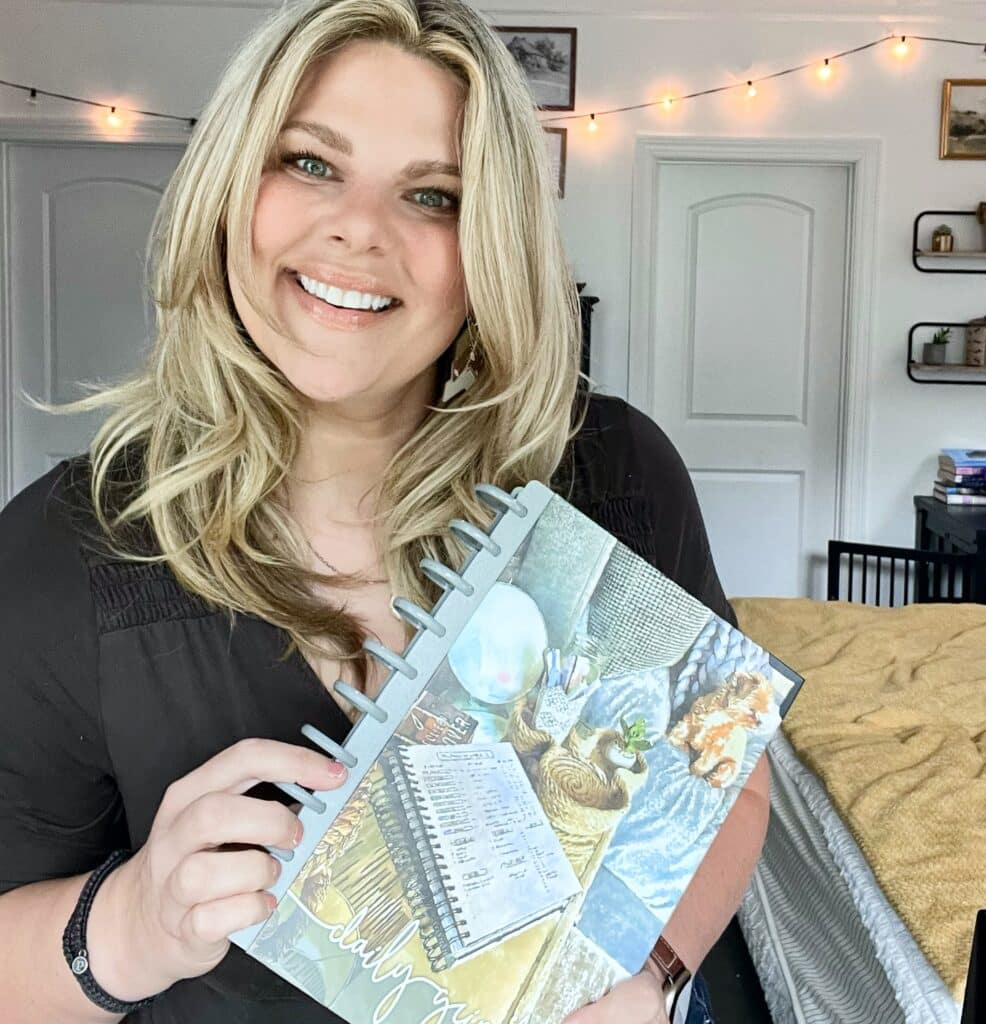 On the back of the front cover is a 30-day challenge- my cover has a self-care challenge. You can use dry-erase markers to complete the challenge.
On the back of the back cover- they have a motivational quote that says "At first they will ask you why you are doing it. Soon, they will ask how you did it."
General Set-Up:
The planner is set up and designed to be used cover to cover. You start by reflecting and planning out your four-month goals. Then you do the same for every week and day.
This makes it really easy to use because you don't have to flip back and forth between sections. You're always just going to tomorrow's page and it tells you what you need to do.
They have detailed instructions and example pages so you can see how it was designed to be used and then customize it to fit your specific business.
Hint: Start a habit of starting and ending every work day in your planner for consistency. It's the first thing I do when I start to work and I review the day and set up tomorrow's goals before I stop working.
Detailed Set-Up:
I'm going to walk you through each section of the business planner now and how I use them. I'll do this in the order that you'll use them.
4 Month Vision:
This page leads you through a reflection of what's working and what's not and how to identify your bigger goals to work on for this 4-month period. One thing I've noticed consistently with this planner is that it really nails asking the right questions at the right times, which makes it easier to choose the goals that you should work toward.
I came from a strong background (almost 7 years!) of doing 12-week goal setting at a time (a method popularized by the book, The 12 Week Year).
12 Week Year in a nutshell (you should read the book though, because it's business changing) is basically the concept that what businesses set as their goals for a year can be completed in 12 weeks. And that your goals change as the year progresses. So it makes more sense to set goals for a shorter time period than the whole year.
I actually preferred the 4 months instead of the 12 weeks for a few reasons:
I do everything else like my business stats and budget in months, and this fits right into those routines. (The 12 Weeks never fit well into months because a lot of months have 5 weeks.

Having less "resets" means I spend longer on implementing but I still get the benefits of "condensed years".

For our business, our busiest months happen to be the starting month and ending month of each 4-month period with our quieter months mixed in the middle. (Jan (higher sales with New Year's Resolutions and large launch month) and April (taxes), May (end of school year) – August (Last month of summer), September (back to school)- December (Christmas).
Habit Tracking:
Next, we have a habit tracking sheet for all four months. Whether it's establishing a writing habit every day, or starting a new Facebook ad every day for a month this is where you try things to see if they work.
They have a section underneath with tons of room so you can change your habits as often as you need to and put the results of A/B tests.
This is one of my favorite areas to A/B test. Do you get more done by waking up at 5 a.m. or staying up and working after the kids go to bed? An A/B test lets you try it one way, then try it another way and record your results.
I use highlighters to track what habit I'm on and how many days I've completed.

Monthly Planning:
Now we set up our first month's top 10 goals based on the
4-month goals you established in the beginning of the business planner. You're going to do this every month. We always have a movie night in our house on either the 1st or close to it and I do all of my end-of-month things while we watch the movie. I calculate the month's business income, close out our work budget, close out our home budget, and set up my business plan and goals for the month.
Take the goals you have set for yourself for the four months and break them down into smaller steps to complete this month. You can either complete an entire goal, or you can break that goal down and complete steps so that you're on track to complete the goal by the end of the four months.
Hint: You can use the blank bullet journal pages to break those goals down into smaller steps.
There's also an open-ended monthly calendar that you can use to track your hours worked, or as a month at a glance, or you can even track your income on this calendar.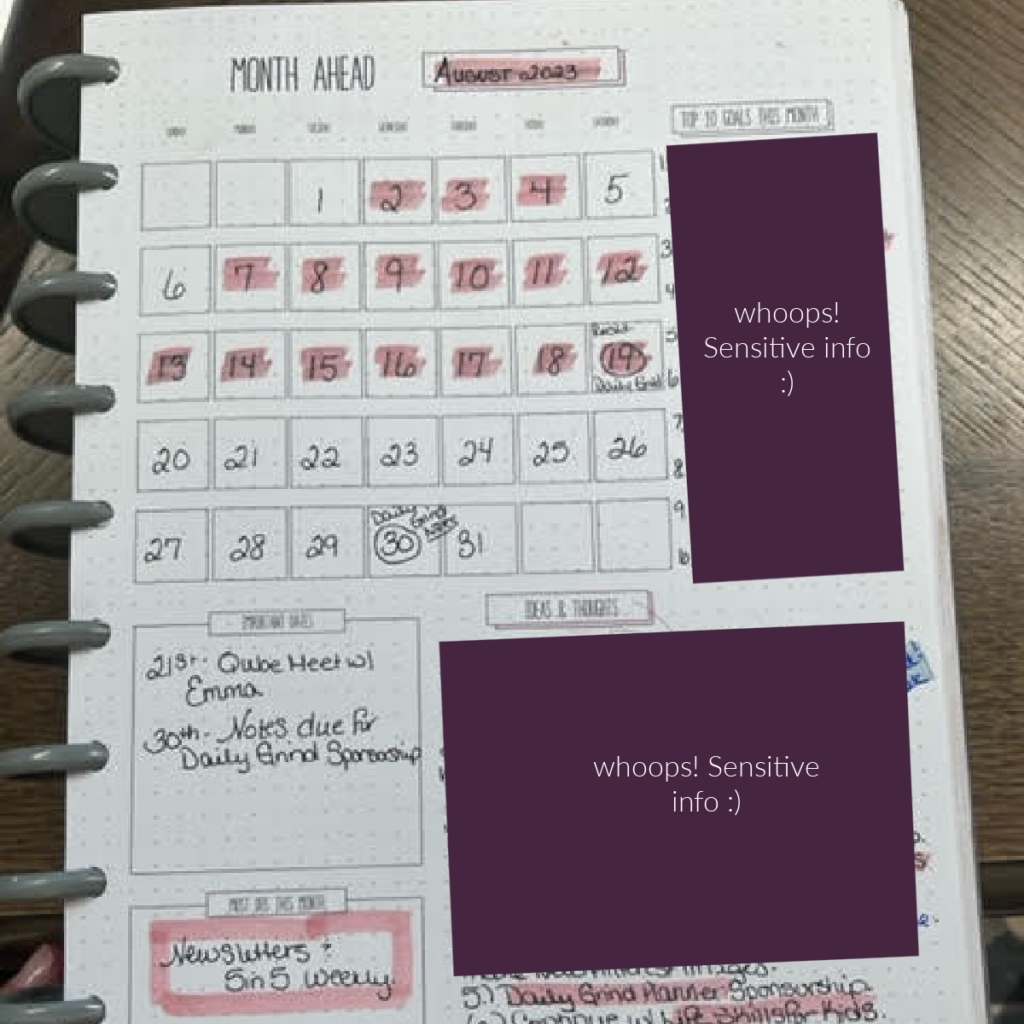 List, Goals, and Thoughts:
I have an online business that has a prominent blog- so I actually use this for blog post planning but you can do a lot of things with this.
Here's a few ideas to get you started:
Keep a list here of ideas for goals for the next 4 month period.

Professionally laminate this page (make sure they don't laminate the binding cutouts) and use this for daily work routines or weekly work routines. Like every week I complete Profit First, write for 2 hours, update 1 blog post, plan next week's newsletters, etc. Then you can use dry-erase markers to mark them off all week and start over again next week.

Things you want to invest or buy in your business along with their costs so that as you grow, you can glance at that list and decide which purchase would have the best ROI.
Blank Bullet Journal Pages:
I love that for every month and week, there's a blank bullet journal page. I use this for all sorts of things.

Week In Review:
At the end of every week, you reflect on what you spent the majority of your time on and if that served you. Then you make a plan for next week learning from what went wrong this week.
I think the hidden genius in this planner is that it asks the right questions at the right time so that when you're thinking of next week's goals, you're actively applying what you learned from last week which makes a massive difference in business.
Also on the 'Week in Review' page…
Theme Days:
On the week in review page, they also have a labeled week outline where you can easily input themes days of the week on the bottom.
Here's an example of mine: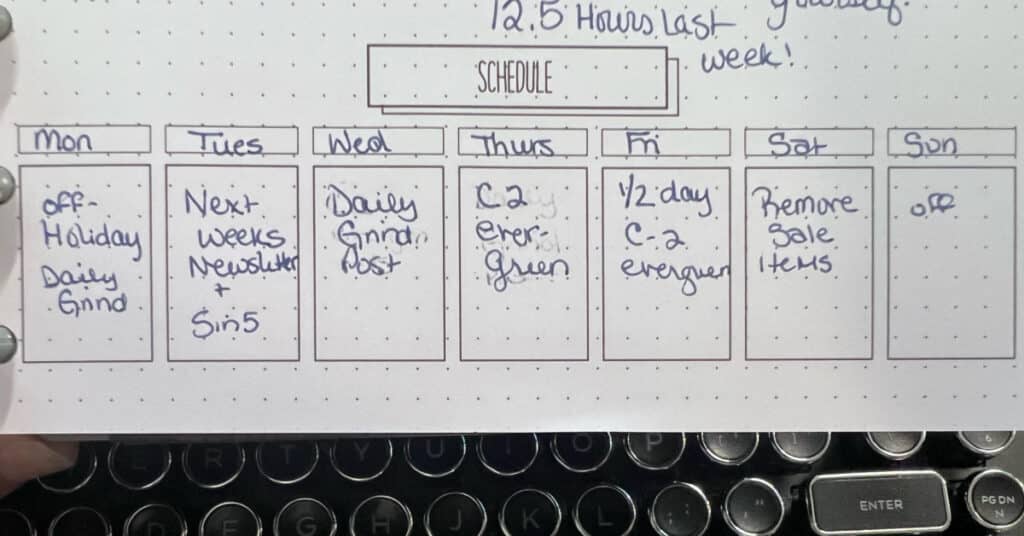 The genius of this is that those theme days can change every week as needed, which makes you adaptable to what your current priorities are but still lets you benefit from theme days.
Rate The Week:
You have the opportunity to rate your week based on how many of your 10 weekly objectives you completed. If you got 2/10 completed- rate yourself a 2 and then transfer those goals to next week and add some habits that can help you be more successful next week.
If you completed all 10, then rank yourself a 10.
It's really important that you don't arbitrarily rate yourself based on how you felt about your week.
The incredible power of this system comes from stone-cold analytical execution feedback. You said you would do these 10 things. You said that these 10 things were your highest priority. Out of those 10 things, how many did you complete?
If your score was low, why? And how can we make next week more successful?
Then A/B test that on the habit tracking page.
That's why this works so well- every part of this is designed to work together to help you identify your highest priorities and then execute them without distraction.
So color in those bubbles! 1 bubble for every one of your 10 goals that you completed.
Hint: Want to incentivize your work week? Color in the bubbles as you complete the goals, when all 10 bubbles are completed- then you're done with work for the week.
Daily Pages:
Now it's time to set up our week. You can do this one of two ways. You can set up your tasks for every day this week and then try to stick to your plan.
Or you can set up one day at a time as you go through to try to complete your goals.
Not sure which one will work best for you? Choose either one and then… you guessed it… A/B test it on the habits page.
If you choose to set up your daily pages all at once at the beginning of the week, you can also use the "Don't Forget" section to remind you to do tasks that are maintenance or things you have to do but aren't really part of your top goals.
When you fill out the daily pages- list your top 10 goals for the month and then the next step of that goal so you do something to move the needle on each of your goals every single day.
That's why this system is so successful for business planning, it creates consistency where you may not naturally have the personality to be consistent.
Completion Tracker:
As you go through your day and complete tasks, then check them off with one of the three options:
"Done" to indicate you've completed the tasks.

"Almost" to indicate you've made some progress but haven't completed the task

"Tomorrow" to indicate that you didn't get to that task.
Hint: If you have to mark something as "tomorrow" do that first the next day. It ensures that you get it done, particularly if it's overwhelming or you're not not excited about it.
Self Care Tracker:
On the daily page, they have a section with 3 heart shaped checkmark boxes labeled "To Feel Amazing, I Will:"
I love this because it often makes me remember that I am not a productivity machine. And that my other non-work goals are just as important as my work goals.
The planner was originally designed to use a life planner, but I think it makes the best business planner in the world.
I use this section to plan out 5 healthy breaks during my work day. I might do a short Muse 2 meditation session, or a 10-minute Supernatural workout on the Oculus, or read a book about love languages, or a wall pilates break, or listen to an audiobook on nutrition.
This may be something completely different for you- like self-care, networking, or connecting with others.
Top 3 Movers Today:
This section helps you self-identify what your top 3 activities are that have the highest ROI (return on investment). Look at your list of goals for the day- which one of those goals has the highest potential income for the least amount of resources spent (time and money). Always prioritize those items to get them done first.
Grateful & Excited For:
You can use this as a "one line a day grateful journal" (which has scientifically proven to increase contentment) or you can do what I do and incentivize yourself in this section. When you get these tasks done… What will you do? What do you want to do?
What will motivate you to get these tasks done quickly?
Hint: Use another one of your blank dot pages to make a list of things you'll want to do after work to inspire you to get busy.
Are we online shopping for new fall dresses? Are we reading Twilight in the hammock with a fuzzy blanket? Are we binge-watching Bachelor in Paradise?
I incentivize literally everything I do (because that's the best way to motivate someone without natural motivation or willpower) and this system fits that in perfectly.
Similar to the concept of the 12-week year, I find that you can set out a day's tasks that should take 8 hours, you can actually complete them in 3-4 hours when properly motivated.
I live by that concept every day.
Don't Forget:
You can list appointments or maintenance tasks not associated with your top 10 goals here, but I also track my hours worked here. So every day, I track how many 25-minute blocks I worked and then add them up to get my total hours for the week.
Game Plan:
This is a rough outline of what you'll do when. Starting at 4 am and going to 10 pm. It's not as insanely detailed as time blocking, but it also gives you a flow for your day so that you can see at a glance where transitions need to happen.
Because when you run your own business, sometimes that's happening for an hour in a car in the parking lot at soccer practice.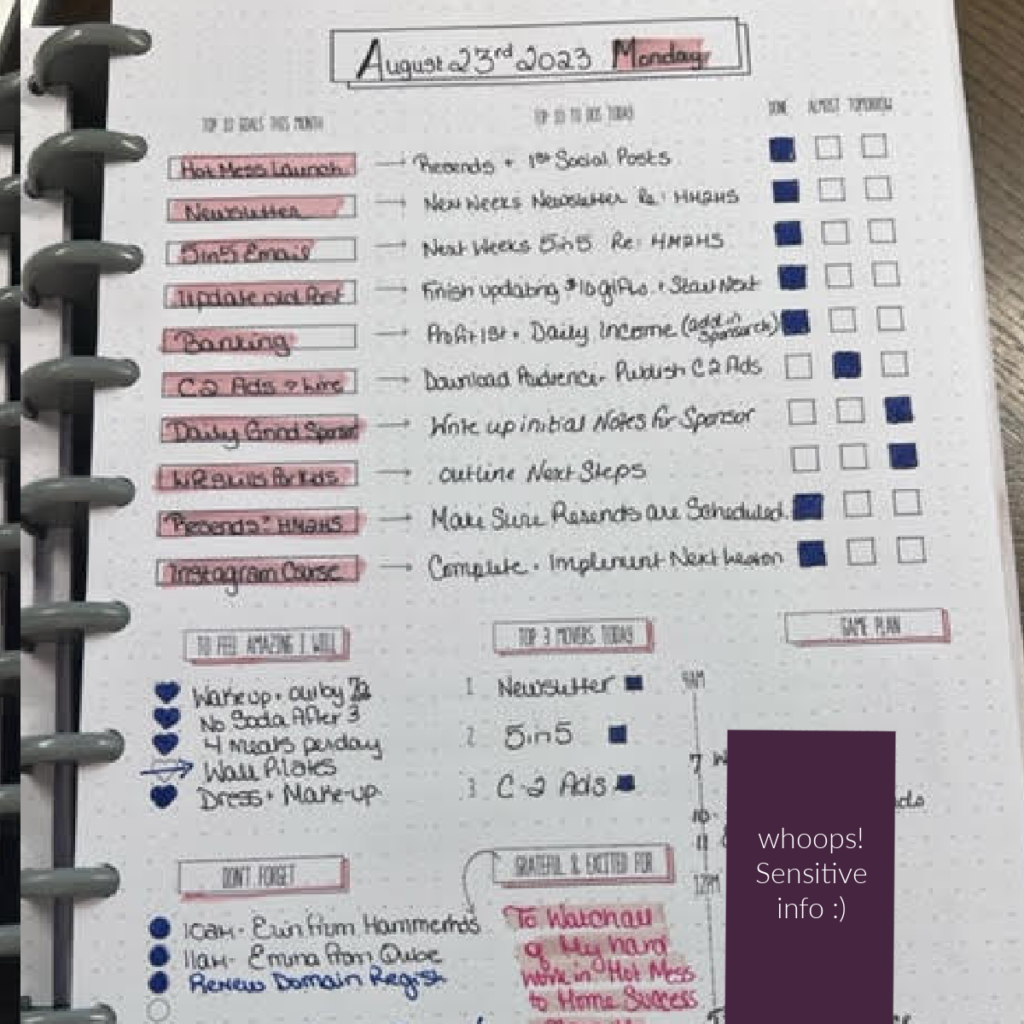 Month in Review:
This is going to be similar to the "Week in Review". We're just going to take a look at how we did for the month and brainstorm how we can continue the momentum next month (or do better if we can).
Here's an overview on the sections in the Month in Review…
Proudest Moments:
This is where you record your biggest wins for the month. Anything that will help you appreciate the big picture and your forward momentum so you can remember that on days where it seems like things may not be working out.
What Worked This Month:
Specifically write down the results of the A/B tests you completed this month along with the winning habit. This may be "Waking up at 5 a.m.", or "Sleeping in and working until 1 a.m.", or using Focus@Will for focus blocks at work.
You can also write down general things that worked for you, but I'm really a fan of cold analytical data. You can "feel" like something is working, but the data says that it isn't. I love a/b testing because you can see the results of the habit in goal completion and/or profit increase (which is very different from tracking revenue increase but that would be a whole other blog post).
Warning: Don't overthink A/B testing… we don't run our businesses in a scientifically controlled environment and at any given day, there's tons of things that impact goal completion and profit increases.
What Didn't Work This Month:
I do the same thing with this section, I write down the a/b test that didn't work out here and when I look at these pages every month, it creates a running commentary of things I've tried and the results. My goal is to always try things, even if they seem outlandish, to beat what's currently working.
Where I Can Improve:
I use this section to brainstorm the areas that could be improved with the highest ROI. This means that I look at the last month and think about where I spend my time and money and I think about where those resources (time and money) could create the most profit and impact if I had spent them differently. That's going to look drastically different depending on the month and where my focus is but I'm typically a fan of throwing fuel on the fire that's burning the highest.
Here's a few examples:
Spend less money at Staples and more on FB ads,

Spend less time on graphic design and more time taking unique photos.

We need high quality "in use photos" of our core products.
Improvement Ideas:
This is where I brainstorm the habits I'll A/b test for next month. This tends to be a long list and I'll pull one at a time to test as I go through the weeks.
Hint: I only test one thing in a category at a time. For instance: I can a/b test working from my office or working from my bed (for goal completion) at the same time I a/b test a short copy landing page versus a long copy landing page for my core offer (for profit increase) because they have different outcomes.
But I won't test working from my bed versus in my office at the same time I test working in early morning versus working late at night because that skews the results. Test one thing at a time, declare the winner and move on to the next test.
Goal Completion Score:
Out of the top 10 goals you identified as the most important this month, how many did you complete? Color in the bubble for every goal successfully completed.
Note: You can have lower scores for your weekly reviews but still a perfect 10 for your month if you make up lost time and complete those projects. Your score for the month is judged solely on whether you completed those top 10 monthly goals.
Goal Achievement Tracker:
Next, you'll list the original Top 10 Goals for the month and then mark one of the 3 options for each goal:
The goal was achieved.

The goal was almost achieved.

The goal was not achieved.
If the goal was not achieved, think about where it falls on your list of ROI projects? Was it not achieved because it had the lowest ROI and you prioritized other projects? If so – good decision-making for you… Excellent job.
Was it not achieved because it's overwhelming to think about, not fun to execute or you'd rather drill all of your teeth out than do it but it has the highest ROI on the list?
Then put that as #1 for "Next Months Focus" (the next section) and under "Ideas and Notes" Brainstorm why you think it went wrong and what you need to do to make it easier to complete it?
Hint: I have a rule that has served me well over the years that if something is on my to do list for 3 days and it doesn't get done, then I take the next day off and watch Buffy the Vampire Slayer reruns all day while I complete the task that's being avoided. I put no pressure on myself, the bulk of my attention is on the show and not on the task I'm avoiding. It's been one of the best hacks for me and always gets the avoided task done easily.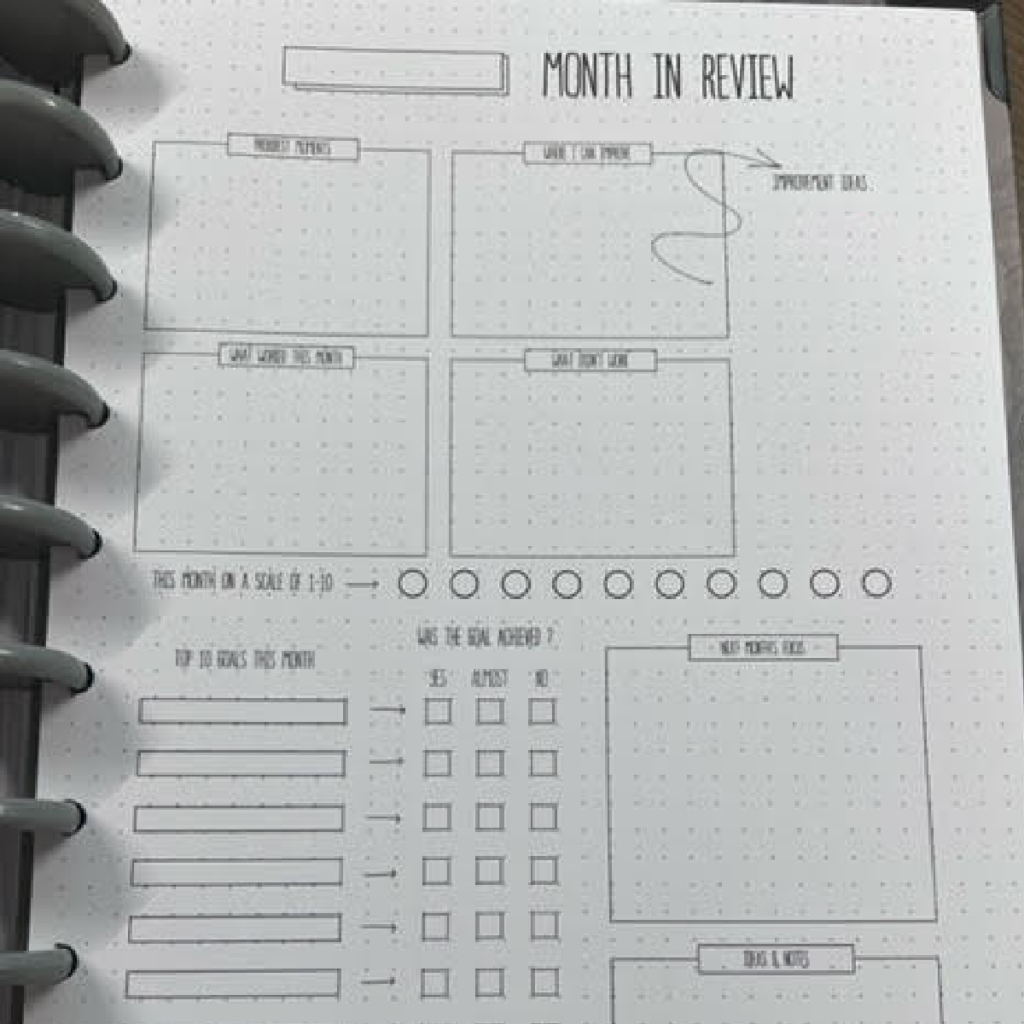 4 Month Goal Completion Score:
After you've completed your four months, you'll get to this page… where you calculate what your overall score was for the 4 months.
Look at the goals that you set and then calculate how many of them you completed and calculate your score at the bottom. Again, I love that they use data like this to determine success. Take one of the Graph Pages and also calculate your profit for each month, and then a total profit for this 4-month period that you can compare to your next 4 months.
Want to be next level? Do what I do and also add the hours you worked that month along with your total profit and divide your profit by the hours worked to get your hourly rate.
After you calculate your score, you have a reflection section that you can put in anything that made this four-month period unusual. Things like moving, the kids being home during summer break, or hiring or losing an essential employee.
4 Month Review:
And then finally, we take a deeper dive on reflections from the last 4 months so we can learn from our mistakes and pour fuel on the fires that are already working.
A quick note: I'm a firm believer that there are phases to your business (this goes triple if you're a woman), there's times when you're working towards more profit and there's times when you're working towards more time for yourself or more freedom.
There's a balance there surely, but it tends to swing heavier on one side or the other depending on what's going on in your life. But I wanted to make sure to mention it because that's one of the reasons why this system works so well- you can focus your goals through ROI (return on investment) to maximize profits and impact on your customers and readers with limited working hours.
Here's a breakdown of this page:
4 Months Ago I Was:
Example: Tired, overwhelmed, fighting inflation, and a rapidly changing business environment. You can put here whatever your biggest struggle was prior to this 4 month period.
Hint: You can also fill this out when you start your planner. Because if you work this system, you'll barely remember what your biggest struggle was 4 months ago.
How Far I've Come:
Write down what's changed over the last 4 months. Are you still struggling with that or have you overcome it?
Where Did I Waste Time:
When you look over the past four months, what do you wish you hadn't spent time on. Was it a big project that you thought would work out but didn't? Was it your candy crush addiction during working hours? A social platform that gave you no results after months of work?
Make a plan to cut that out for the next 4 month period (or use it to incentivize yourself to work harder and get done early!)
What Did I Do Well:
List the things that really worked for you during this 4-month period. These are typically the things that will give you the highest profits and return on your investments. We want to 10x these things rather than put our effort and time and money into things that didn't perform as expected.
What Did I Accomplish?
What were the big wins you had over the last 4 months? This goes beyond the goals you completed, what else happened?
Here's a few examples:
I worked an average of 11 hours a week which let me volunteer for the kids school and soccer team.

I increased profitability 38% year over year.

We added 60,000 new subscribers to our email list.

We booked a dream sponsor that's been on my "Wants" list for years.
Thoughts On My Score?
Take a look at your 4-month goal completion score from the last page and jot a few notes about how you feel about it. Are you insanely proud? Disappointed?
Hint: Keep in mind if this is your first 4-month cycle- this is literally just data collected to help you judge yourself for the next 4 month period. Each of our brains work differently.
You took a stab at the beginning of this 4-month cycle at what you thought you could complete in 4 months. This data tells you what you can actually complete in four months. Now our job is to a/b test and make the next 4 months better. That's it.
There's no bad results if this is your first 4-month period. Don't give up (or cry in the bubble bath while you eat brownies… just me?).
How Can I Be More Consistent?
Brainstorm some ideas of things you can test or roadblocks you can overcome to make the next 4 month period better.
What's Next?
Where do you want to take this business next? Where do you want to be at the end of the next 4 month period?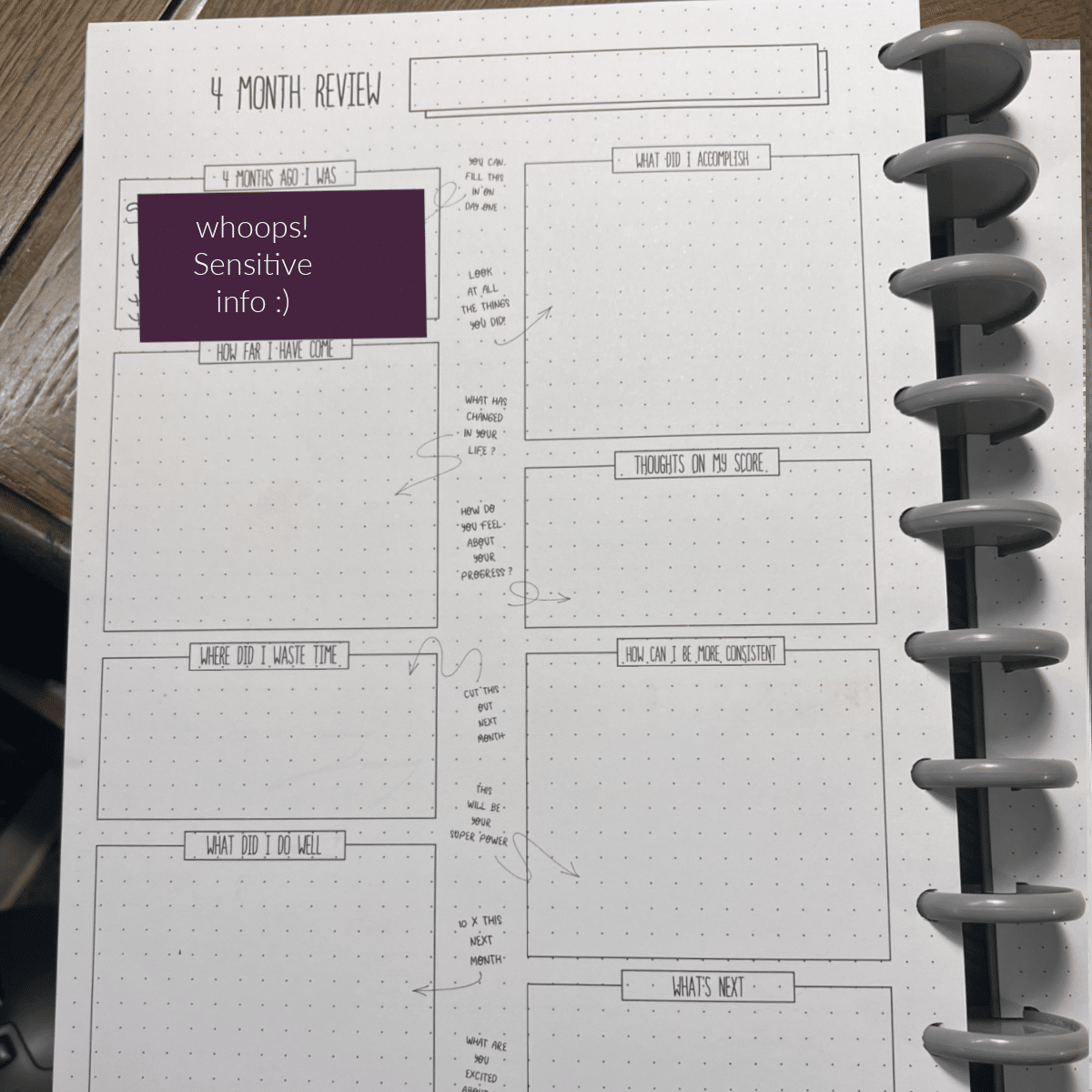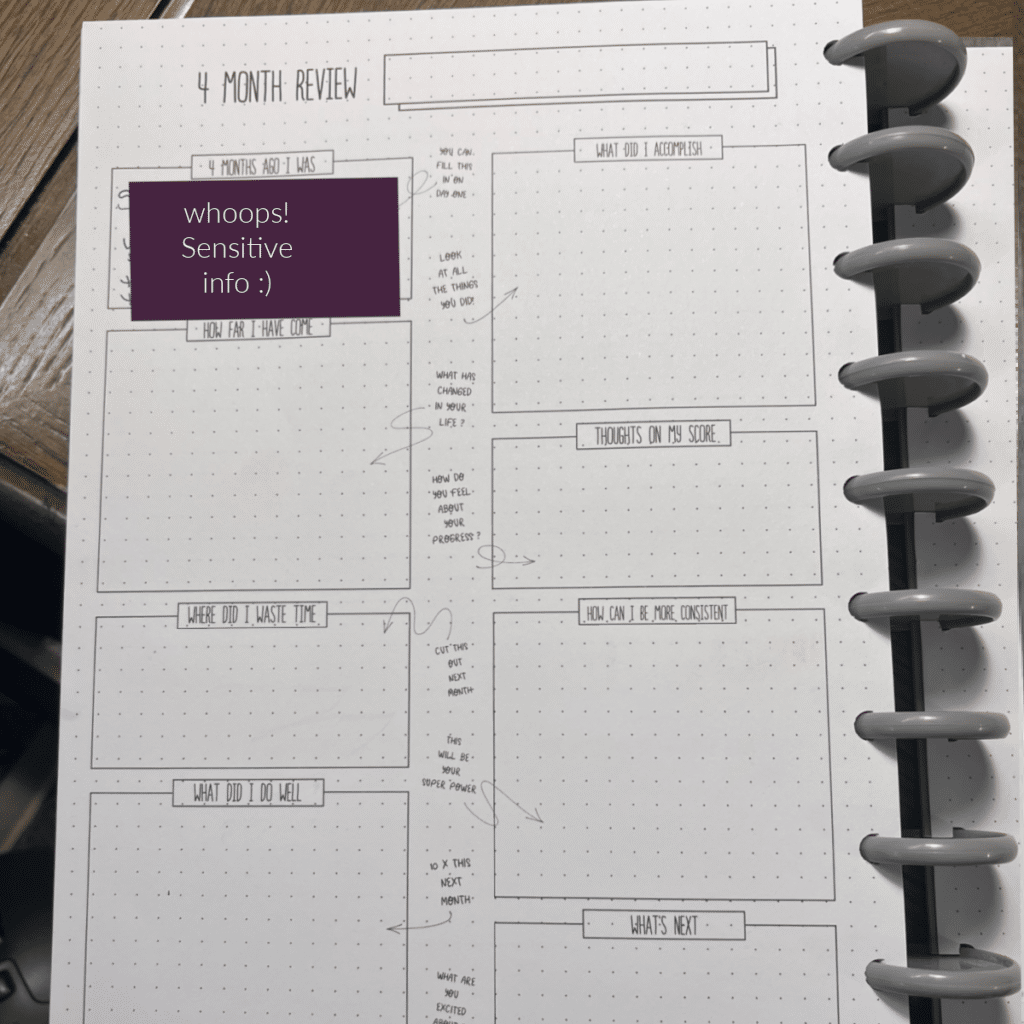 Things I'd Love To See & Criticism:
I'd love to see this expand into a line that includes a Profit First Business Budgeting Workbook. We do our business budget online and I'd much prefer a written book. We have an accountant that does the numbers for taxes but I've always done my own budget as well.
The business planner as it stands now, doesn't have prompts for profit, income, or expenses anywhere, but they did just release a budgeting insert pack (let me know if you want a review in the comments).
Keep in mind they built this as a life planner but the creator's (Angie Bellemare) life is as a business owner, so it makes perfect sense that it's really the world's best business planner.
They sell out fast. I mean really fast- They just launched new planner covers the day before I wrote this and every single new product (21 of them!) were sold out by this morning.
They do still have the original planner (what I have) and a lot of fun accessories still in stock but just a fair warning.
Accessories:
There's so many accessories that you don't think you need until you get started and then realize that you absolutely must have muted neutral highlighters in boho colors because obviously they're completely life changing.
Seriously, how did I not know they have highlighters like this?
Extra Pages:
You can order insert pages for everything from the dot grid blank pages, to their new budget insert, habit tracking and more. You can see them all here.
Tab Dividers:
They sell tab dividers that match the covers as well and they have stickers that go with the dividers.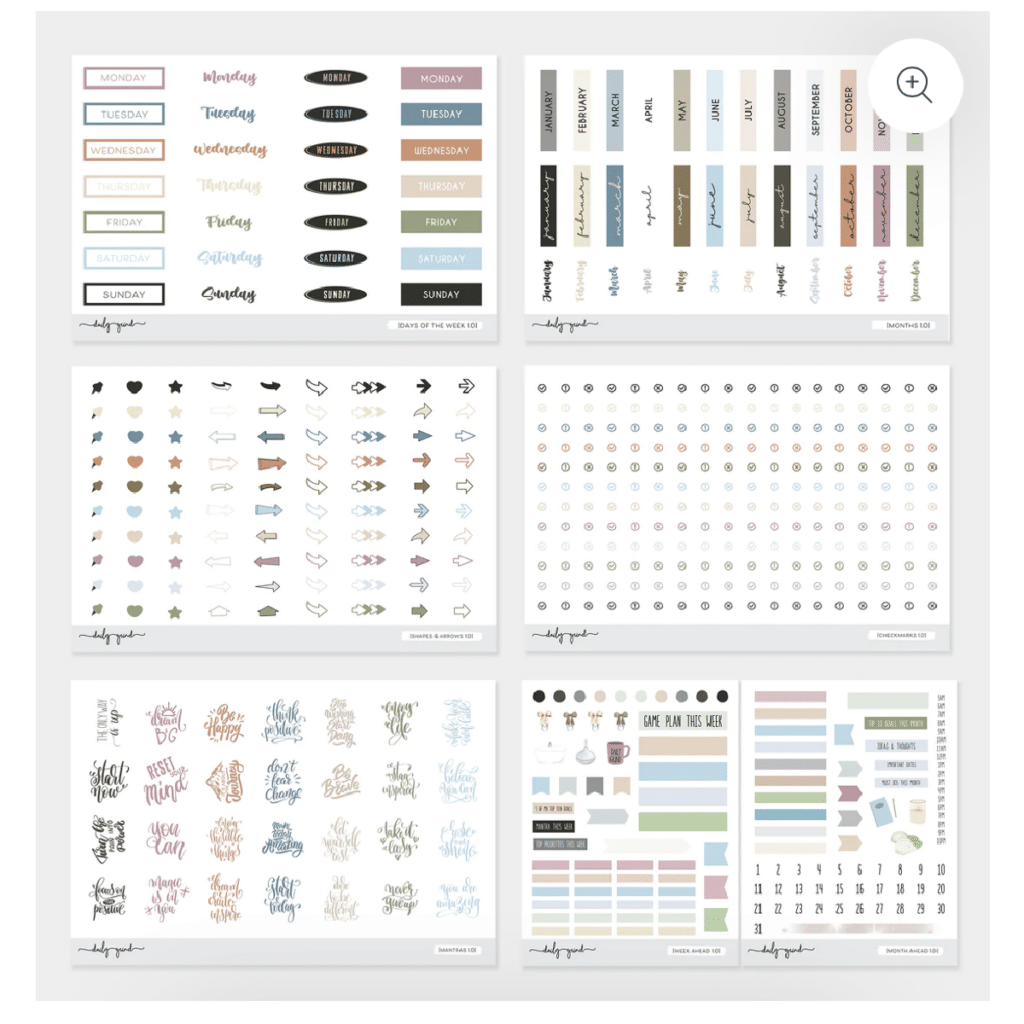 Stickers:
So many stickers. I'm in love with the more muted colors of the functional stickers bundle but also really want the Daily Sticker Kit- Morning Routine. Let's not forget about the mindfulness pack of Yogi's. I mean, how can you declare it the best business planner without yogi stickers (I'm kidding, but also not kidding).
Magnetic Page Markers:
I use these magnetic page markers to mark my upcoming blog posts (under Lists) and my list of posts that I've updated.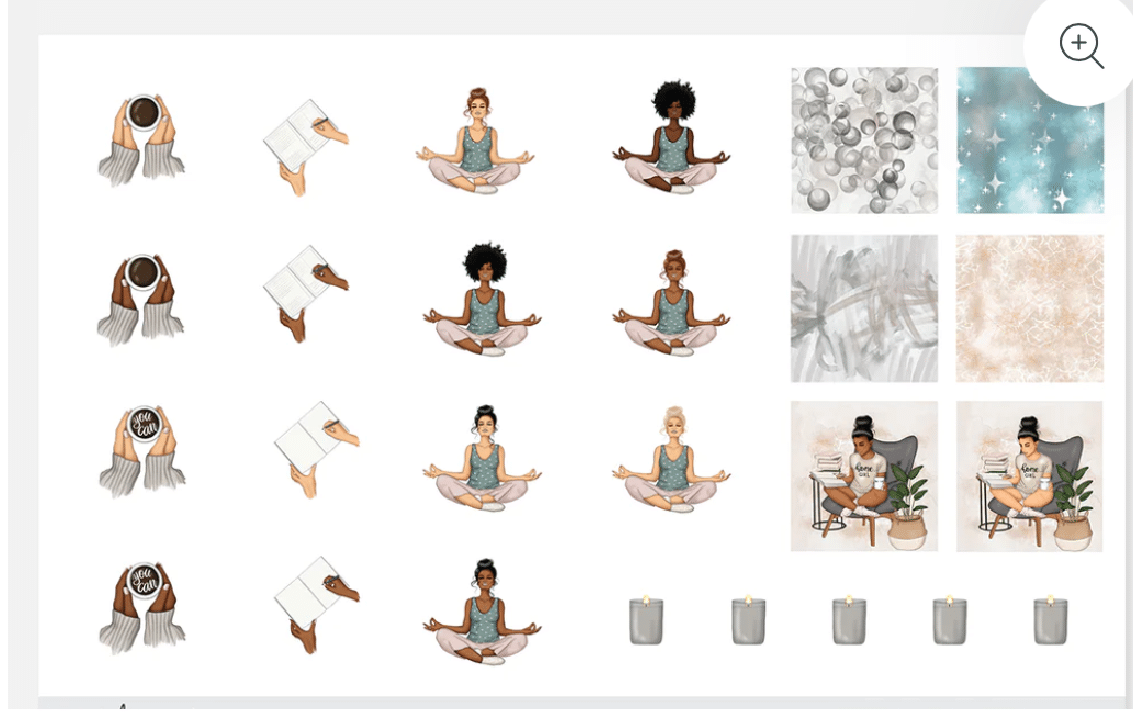 Is The Daily Grind Planner Worth it?
Yes! An enthusiastic yes with no reservations. I've used this same system (but in more notebooks plus a deskpad) and have had to do a lot more work to make it cohesive for over 7 years. Having one business planner that can handle my entire system is a dream come true.
Here's the main reasons why:
Always work one day ahead. Set up tomorrow, today. Set up next week at the end of this week. You always know what to do next because you move in order.

Easily customizable (if you want a life planner and business planner in one- this is perfect. I keep them separated but I have regular desk hours).

4 months of planning at a time to give you a "12 Week Year" effect with a slightly longer implementation period.

A/B testing is engrained.

Focused on High ROI naturally.

Focused on small steps to big impact

.

Goals focused.

Asks the right questions at the right time- Which goals did I work on the most last week? Which ones do I want to work on?

Custom theme days schedule
Honestly, we should have had a business planner like this 10 years ago… but we are super happy we have it now.
You can get the Daily Grind Planner Here.
Other Questions:
Which is Better? Asana/Trello/Monday/Motion or The Daily Grind Business Planner?
There's a lot of popular online business planners. I've used literally all of them.
I've also A/B tested this dozens of times in as many different ways as you can think of. Paper Planners have outperformed online planners in every single test by an incredible margin.
Not only that but in tests we've done with readers, physical planners have also significantly outperformed online project management software. It's not that I don't still use online project managers (we do- we use Asana), it's that Asana isn't where I determine what gets done everyday.
That being said… This is an easy A/B test. If you're used to using an online business planner, then do a month with The Daily Grind Planner and let's see where your best results come from.
Can This Be Used as a Life Planner Instead of a Business Planner?
Absolutely! That's actually what it was created for- I just hacked it because it's the best business planner out there.
Any more questions? Leave them below!
You can get The Daily Grind Planner here.
FTC DISCLOSURE OF MATERIAL CONNECTION: IN ORDER FOR US TO MAINTAIN THIS WEBSITE, SOME OF THE LINKS IN THE POST ABOVE MAY BE AFFILIATE LINKS. REGARDLESS, WE ONLY RECOMMEND PRODUCTS OR SERVICES WE USE PERSONALLY AND/OR BELIEVE WILL ADD VALUE TO READERS