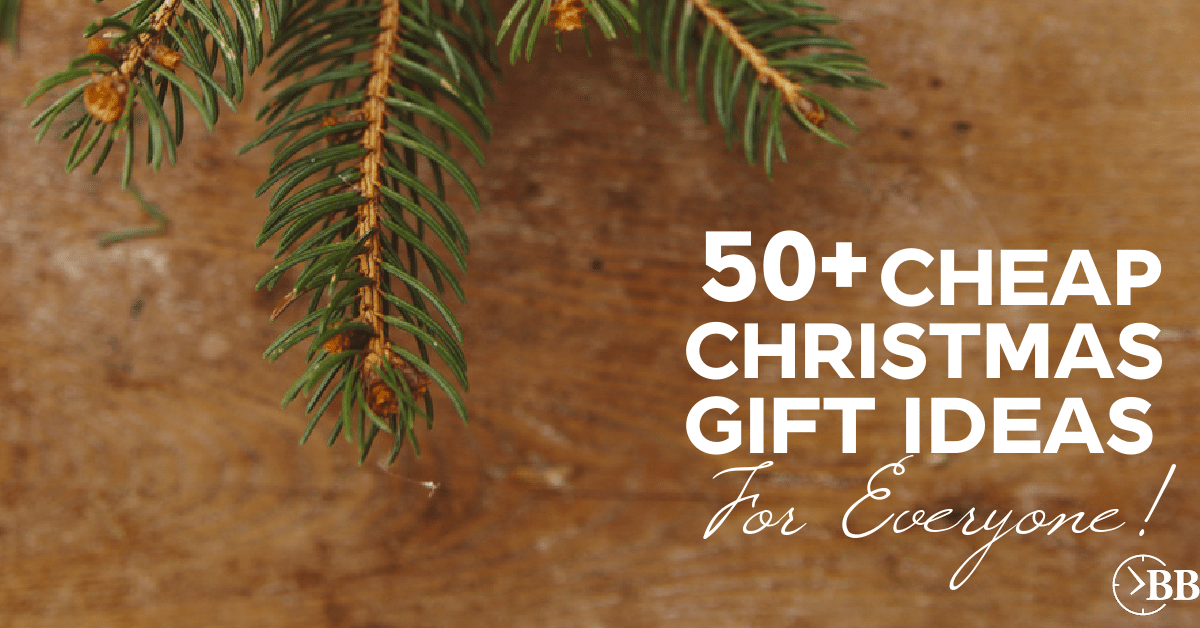 The holiday season is right around the corner.
It can be hard trying to figure out the best gifts and presents for the people that mean the world to you… and that goes triple if you can't afford it.
Because if you don't know how to pay for those gifts, then this is a good time to make a solid plan, and a Christmas budget, and then determine the best course of action.
In my hot mess days, I would just procrastinate and hope that it would figure itself out, or I would come into some extra money in the weeks up to Christmas (hint: it never did), and then ended up using my credit cards and spending way OVER what I could afford.
If you look at your budget and figure it out though, even if you make the same decisions that you would have if you waited until the last minute and use a credit card, you're in a MUCH better place. Because you're going to have a plan, you're going to limit the amount you spend rather than "panic buying" last minute.
So to help you plan ahead… We have an array of Christmas Presents for anyone on your list including best friends, family members, college students, extended family, kids, neighbors… there's something on this list for everyone.
Let's get started…
Awesome (but Cheap) Gift Ideas
1.
Mixology Dice®

– Around $25
This is a game changer for someone who loves to make drinks or who likes to entertain. The mixology dice will help them create next level drinks like a pro! Even if have no experience bartending. And the best part? The cost is about $25 this is a great gift for any budget.
Check out the mixology dice here…
2.
Whirley Pop

-Around $40
If you're shopping for someone who is addicted to popcorn then there's really only one option. You need a Whirley Pop, which is a stovetop popcorn popper with a special vented lid and a popcorn mixer built into the pot top.
Years ago, our friend taught us how to make popcorn low and slow in the Whirley Pop. These stovetop popcorn makers make insanely crunchy popcorn they'll love. When it's done right, it should have a snap when you pinch it.
You can round out this gift with this variety popcorn gift set so they can try some popular flavors… or just grab a bag of regular kernels!
Check out this Whirley Pop here…
3.
Cleaning Gel for the Car

– Around $10
You know all that dirt and grime that gets stuck in the crevices of your car? This gel was created to clean it out. This is a great gift for people who are meticulous about their car (or someone like me whose husband is always complaining about the state of their car 🙄) to help get those hard-to-reach areas nice and clean.
Check out this cleaning gel here…
4.
Thomas Kinkade Oil Painting Canvas Farmhouse Maison Mountain

– Around $40
Anything created by Thomas Kincaid costs a small fortune but not this. This gorgeous print is a replica of an oil painting that when placed in a simple frame from one of the local thrift stores or even the dollar store this could look as good as the original. And you can't beat the price.
5. Black Rifle Coffee Supply – Around $45
For the coffee lover in your life, this variety pack is an awesome gift. This box is full of k-cups for the Kureig. This company specializes in roast-to-order coffee so not only is it delicious but it's also supplied by a veteran-owned company.
Check out this roast to order coffee here…
6. Bean Box Gourmet Coffee Sampler – Around $20
If the coffee lover you love doesn't use a Kureig, this gourmet coffee sampler is the way to go. Heads up, they also have a chocolate tasting coffee sampler.
Check out this gourmet coffee sampler here…
7. DIY Hot Sauce Making Kit – Around $50
Who wouldn't want a DIY kit with step-by-step instructions for creating your own hot sauce? A creative way to spend their time and spice up dinner in the household for the new year with this really unique gift.
Check out this DIY hot sauce making kit here…
8. Temperature Gun for Cooking– Around $20
For someone who loves to cook, this temperature gun means you don't have to touch the raw meat! One of the best gift ideas (and the most practical) on this list as it ensures the meat is cooked to the appropriate temperature. Hint: this is great for people like me who are terrified of raw meat (especially chicken).
Check out this temperature gun here…
9. Handmade American Wooden Flag – Around $80 (Or make your own!)
I love this hand torched American flag, but also recognize that $80 for a wooden flag isn't doable for a lot of people- but I wanted to make sure to include it because if you have the tools- this is an amazing cheap DIY gift!
Check out this American Wooden Flag here…
10. Shower Steamers Aromatherapy – Around $30
These refreshing shower steamers are a great gift. Help them take their shower routine to the next level with these extremely popular aromatherapy steamers. They'll feel like they're at the spa.
Check out these shower steamers here…
11. Book Coasters for Drinks– Around $20
Do you have someone in your life who LOVES to read? These coasters are great for avid readers. These classic book coasters are impressive on their own, they're also great conversation starters. You can choose to purchase a set of two or all the way up to 10. And the books that are available are awesome.
You can see the whole list here…
12. Relaxing Spa Gift Basket Set– Around $27
This elegant spa set will leave the recipient feeling relaxed and pampered. This luxury spa gift basket includes bath salt, bath bomb, handmade diamond soap, a soy candle and a steel tumbler that she can use over and over again. Bath time just became the most anticipated time of the day!
Check out this spa gift set here…
13.

Solar Garden Outdoor Turtle

– Around $30
This super cute light up turtle is the perfect gift for someone who loves to spend time on the porch, on the deck or in the garden. This backyard decoration includes solar lights to brighten up the space (plus they stay lit for a long time) and everyone will love the smirking turtle.
Check out this outdoor turtle here…
14. Burt's Bees Gift Set– Around $11
Burt's Bees products are legendary for making natural body products and this is like a smorgasbord of their best items. This tips and toes kit includes lotions, salve and lip balm to address the dry, cracked, painful skin that comes with winter. This kit will make the skin on your hands, feet, and lips feel soft and supple.
15.

Strategy Board Games

– Around $18
We LOVE board games. Catan, Pandemic, One Night Werewolf, Do you really know your family? are our absolute favorite games to play while camping.
We play TONS of games but these are the four games that we literally play over and over again. And they're great for both kids and adults.
If you haven't tried any of these new strategy games, give them a shot. They've come a long way since Monopoly!
Check out Catan, Pandemic, One Night Werewolf, Do you really know your family?
16. Charcuterie Boards Gift Set– Around $50
These boards are a hot commodity right now! They're great for entertaining but also for quiet dinners at home after a super long day (here's a run-through of how to make this for dinner easily).
And this board is gorgeous, it comes with everything you need to set up an incredible charcuterie board, plus it has handy storage to keep everything together. These are beautiful gifts they'll appreciate for years to come!
You can grab this Charcuterie Board Gift Set here…
17. Electric Pepper and Salt Grinder Set– Around $30
This is a cool gift, as it makes adding salt and pepper to meals and recipes quick, easy, and fun. I prefer to grind my own salt and pepper, but when you're cooking that can be a real pain… especially if you need a lot of it. This salt and pepper grinder set makes it super easy to get the amount you need and it's really impressive when you're having a dinner party.
Check out this electric salt and pepper grinder here…
18. Deep Tissue Massage Gun– Around $50
Give the gift of spa like pampering. If you haven't tried one of these you're really missing out. This gun gives a deep massage to sore muscles, aching backs and it feels incredible. This is the gift they'll still be talking about at next year's Christmas gathering.
Check out this deep tissue massage gun here…
19.

Electric Wine Opener

– Around $30
An easier way to open their favorite bottle of wine after a long, hard day. Rather than twisting and pulling out the pop the cork, this electric wine opener does the heavy lifting for you. It's a great gift idea for someone who loves wine or is always entertaining.
Check out this electric wine opener here…
20. Hand Crafted Cutting Boards– Around $25
These handcrafted cutting boards will still be a great gift for years to come. Custom made with their name this can be doubled as a beautiful serving platter, and even be used as a charcuterie board. Either way, it's an impressive piece of kitchenware and will be gorgeous no matter how they decide to use it.
You can grab the Hand Crafted Cutting Board here…
21. Pearl Necklace– Around $20
If you're looking for meaningful gifts, this pearl necklace is gorgeous. Make them feel special and loved with this sterling silver necklace, single pearl and a special reminder that they are as beautiful and unique as the pearl on this necklace.
Check out this pearl necklace here…
22. Engraved Pocket Watch with Chain– Around $35
An incredible gift for your husband or boyfriend that will also fit your budget… this elegant (yet rugged) pocket watch is extremely popular. Not only does it remind them every single day how much you love them, it's also made in the USA by a veteran owned and operated business.
Check out this pocket watch here…
23.

Hand Wired Tree of Life Sea Abalone Shell Jewelry Set

– Around $30
This beautiful handmade jewelry set includes a necklace and earrings made out of natural alabone shell from the sea. The tree of life is delicately weaved over top of the pendant. These are thoughtful gifts of vitality and good positive vibes.
Check out this jewelry set here…
24. Personalized United States Push Pin Travel Map– Around $90 (or Make Your Own!)
For the traveler in your life, this is a gorgeous map to keep track of all your travel adventures. You can personalize this gift by adding names or a quote that's specific to their journey. This is a gift they'll be using for a long time to come.
Check out this travel map here…
25. Aromatherapy Candles Gift Set– Around $17
If you're thinking that candles are a little underwhelming, these handmade soy candles come dressed up in these cute little tins. These scented aromatherapy candles will give them a taste of the spa right in their living room.
Check out these aromatherapy candles here…
26. Personalized Safari Blanket– Around $30
If your Christmas list includes a family with a new baby, this adorable safari baby blanket personalized with the baby's name is a unique gift that they'll likely keep for the rest of their life. Give the gift of family bonding and warm, snuggly nights.
Check out this safari blanket here…
27.

You Look Amazing Mirror

– Around $10
What woman doesn't need a reminder of how amazing she is before she goes out to face the world on a daily basis? You'll get big points for this gift as it will give her an extra boost of confidence as she gets ready to tackle the day. This is a decal- Grab a mirror at a thrift store for about $5 and have the sweetest present for $15.
Check out this confidence boosting mirror here…
29. Classic Winnie the Pooh Unframed Art– Around $12
This is for the Disney lovers. Beautiful classic prints of Pooh that are a great centerpiece for any room in their home. These images are not framed but if you grab a classic wooden frame at the Dollar Tree, you have a great gift that they'll treasure forever.
Check out this unframed art here…
30. Memorial Ornament– Around $12
I was given one of these the year my father died and I will treasure it forever. A memorial ornament handmade that displays the reminder that the people we love never really leave us, they're here with us every day. If they've recently lost someone significant in their life, and they're going through a tough time… this is a gift that will touch their heart.
Check out this memorial ornament here…
31. Empath Shielding Smudge Kit – Around $19
A great gift for people in your life who treasure natural and holistic spiritual health and protection. This reiki kit uses quality crystals and essential oils to protect you from evil and dispel negative energy. Who doesn't need a little extra protection from life's nasty little energies?
Check out this smudge kit here…
33. Durable Turtles Metal Sign– Around $10
This durable metal sign outlines important life lessons everyone should follow from the perspective of a sea turtle. It makes a great addition to any room but can also be displayed outside. And as a bonus, there are literally a TON of signs to choose from.
Check out this turtle sign here…
35. Adventures Box– Around $35
How about an adventure box which is essentially a treasure chest for the special things and favorite memories that they cherish? This box gives them a beautiful place to keep meaningful possessions they've acquired like notes, jewelry, pictures, tickets… This gorgeous keepsake box will be a hit.
Check out this adventure box here…
36. Campfire Monogram- Around $20
For people who spend the whole winter waiting for camping season, this is the perfect gift idea… bring a little reminder to their home. This customized metal sign will remind them that summer is just around the corner.
Check out this campfire monogram here…
37.

Funny Buckle Up Warning Sticker– Around $5
This is a great gag gift that you can give to the terrible drivers in your life. I actually added this memorable gifts to my cart for my 21-year-old nephew (who needs this sticker as warning to anyone who gets in his car) while I was compiling this list. And since we do a $10 Christmas in my family… he's totally getting this for Christmas!
Check out this warning sticker here…
38. Vegetable Chopper– Around $30
For the cook in your life, this is one of our more practical gifts because you can save them a TON of time and energy. It's a better way to chop veggies while you're cooking. This gift will make their favorite recipes come to life in a snap. This is a gift they'll use over and over again.
Check out this vegetable chopper here…
39. Revolving Countertop Spice Rack– Around $25
I got one of these for Christmas one year and until I started growing fresh herbs in my garden, I used this all the time. Not only is this a great gift for someone who cooks a lot but it also comes with FREE spice refills for 5 years.
Check out this spice rack here…
40. Window Herb Garden – Around $30
This gift means fresh herbs for all their recipes all year round. If you're shopping for someone who loves to cook, this should be one of the top gifts on your list.
Check out this window herb garden here…
41. Ultimate Grilling Spice Set– Around $40
For the grillers in your life who love to grill and smoke meat. This spice set will help them take their meals to the next level.
Check out the ultimate grilling spice set here…
42. Beard Grooming Kit

– Around $30
For the guy who grows a beard all through the winter, this kit contains everything you need to keep it healthy and looking great.
Check out this beard grooming kit here…
43. Ransom Notes – Around $35
This hilarious group game Is fun for anyone with a good sense of humor! It makes you explain strange scenarios using only the word magnets you get. So questions like explain to a child how babies are born becomes a hysterical round of ridiculousness and laughter.
44. Make Me a Morning Person Face and Body Scrub– Around $23
This exfoliating face and body scrub is great for both your face and body. Made with sugar, peppermint, and rosemary it will transform winter skin from dry and cracked to soft and supple. They have a great assortment of lotions as well.
Check out this face and body scrub here…
45. Unique Spa Gift Basket– Around $28
Handmade soaps, lip balms, bath salts, and salve will help them practice a little bit of self care each and every day. It's relaxation in a box that they can enjoy every day.
Check out this unique spa gift basket here…
46. Organic Bath Bombs Gift Set

– Around $25
These natural Dead Sea salt bath bombs are perfect for anyone even if they have sensitive skin. No chemicals or parabens, they're even safe for kids. If you're shopping for someone who loves a relaxing bath at the end of the day these bath bombs are amazing.
Check out these organic bath bombs here…
47. LED Strip Lights

– Around $13
These lights are an absolute hit with teen girls. A cool way to spice up their room and make it their room for very little money! Two sets of lights around the perimeter of their room changes everything.
Check out these LED lights here…
48. Harry Potter Hogwarts Battle Card Game– Around $30
For the Harry Potter obsessed family this game gives them the opportunity to learn spells, collect magical items, and work together as a team. This will create night after night of family fun and quality time for teens and parents.
49. Thomas Kinkade Disney Dancing in The Moonlight Beauty and The Beast – Around $20
This hanging glass print looks spectacular in a window with some natural light filtering through. The image is a replica created by Thomas Kincaid that is easily as beautiful as the original (and cheaper!)
Check out this hanging glass print here…
50. Hair Chalk– Around $20
Searching for a gift for kids and teens that will really stand out? This temporary hair chalk is completely washable but will be a HIT with teens and kids! Who doesn't want to try something new, different, and a little exciting sometimes?
Check out this hair chalk here…
51. True Wireless Earbuds– Around $25
When Apple AirPods are out of the budget, these are a great and much cheaper alternative. They're waterproof so you can use them while you're working out, they charge fast and last a long time, plus they're sleek-looking ear phones.
Check out these True Wireless Earbuds here…
52. IRON °FLASK Sports Water Bottle – Around $16
Cheaper than the Yeti this water bottle this water bottle is becoming hugely popular. It keeps drinks cold for a really long time (like 24 hours) and it's sweatproof so you don't have to worry about it dripping all over you (or your car). It's made for workouts, plus if you're not happy they'll give you a refund.
You can grab this water bottle here…
53. Mini Drone– Around $50
A mini drone for $40. It takes pictures and videos but most importantly it can do some really awesome flips. It's an inexpensive way to get acquainted with the technology at a price that's affordable. This is a cool gift for kids, teens, parents… virtually anyone will LOVE this gift.
You can check out this mini drone here…
More Cheap Christmas Ideas…
Cheap DIY Christmas Gifts That Don't Suck
Our $10 Family Christmas Tradition
Cheap & Easy DIY Christmas Decorations
21 Christmas Traditions To Enjoy On a Tight Budget!
THE BEST TIPS FOR A FRUGAL CHRISTMAS WITH KIDS (WITHOUT THE MOM GUILT).