Have Yourself a Merry Little Christmas…
On an Equally Little Budget…
I adore Christmas. Actually, I love everything from Halloween straight on to New Years Eve. I can remember every holiday season growing up and how much I looked forward to those moments with my family. There's something beautiful in the old fashioned gratefulness I grew up around. My parents were genuinely happy in the small moments. It made for a idealistic childhood for me and my sister. As I think about our son and soon-to-be daughter, I think mostly for ways that I can give them that same old fashioned gratefulness. I want them to love Christmas, and look forward to our traditions but also to appreciate what we have together, no matter how big or how small. Now that our son is two, we're starting our traditions as our own little family this year. My goal is to pack in as much fun for the least amount of money.
I came up with a bucket list of things we wanted to do this season. We started right after Halloween, and will continue right up until New Years. I've included a cost analysis for each of our traditions to help you choose the things that make the most sense for your family. Here's our list:
1. Making Your Own Peanut Brittle Party: We invited another family over for dinner and peanut brittle making. We gathered the ingredients at Costco, along with some dollar store Rubbermaid containers to pack the peanut brittle in. We both had homemade peanut brittle to enjoy over the next few days for about $5.30 for 2 lbs of Peanuts (the other ingredients- corn syrup and baking soda, we keep on hand.)
2. Hot Cocoa Bar Party: Make a giant batch of hot cocoa in the crock pot and set up small containers containing mix ins such as Oreos, white chocolate, butterscotch chips, chocolate chips, mini marshmallows, sprinkles, whipped cream, orange peels, cinnamon sticks, vanilla syrup, and anything else you can think of. Follow this tutorial to make DIY sharpie mugs (you need OIL BASED SHARPIE PAINT PENS- regular sharpies won't work) with guests initials on them using white tea cups from the thrift store (very easy to find, expect to pay between 50 cents and a dollar per cup) as party favors. Total cost for us for 11 people was $16.
3. Movie Night with Homemade Popcorn: Invite friends and family over for a movie marathon of National Lampoons Christmas Vacation, Disney's Prep and Landing and a Charlie Brown Christmas. We make our own popcorn on the stove top in olive oil and lay out bowls of spices and toppings. My favorite toppings are white cheddar; a mix of salt, Italian seasoning and Parmesan; chocolate chips; and cumin and chipotle powder. Cost: $6 to rent the movies on Amazon, everything else we keep on hand (we buy popcorn in giant sacks!).
4. Picking out the Christmas Tree: Kids can take turns picking out the tree- even if it has bald spots… if Charlie Brown can work tree miracles, so can you. Cost: We're in Northern Virginia so Christmas trees are priced pretty high. We'll be heading to Evergreen Acres in Nokesville, Virginia for a pick your own experience. They have free wagon rides and free hot cider. The cost of the tree is $40.
5. Surprise Christmas Lights Tour: Wait until after bath time and the bedtime routine and whisk the kids into the car- PJ's and all. Have travel cups of hot cocoa (yep… sugar and all) and snack baggies of Christmas cookies ready for them. Drive around the well decorated neighborhoods to look at the Christmas lights. (Pro Tip: Do this on a day that you don't have to go to work the next day. Late sugar and a change in routine means that you'll likely be paying the "happy tax" all night.) "Happy Tax" is when you go out of your way to do something awesome for the kids and they either A.) Cry the whole time or B.) Get so excited that they scream, shriek and don't fall asleep until 2am. Cost: Free.
6. Wrapping Up 25 Christmas Books for Them to Open in December: We use books we already own- They only come out for December then go into storage with the Christmas Stuff after the new year. Cost: About $4 in wrapping paper. If you don't already have 25 Christmas books, check out the local thrift store or look for lots of them on Ebay.
7. Decorate the Christmas Tree & Make an Ornament to Represent the Year: My favorite ornaments are glass balls that you can write on with Sharpie about major events that happened this year, things that you were blessed with, etc. If the kids are old enough to write, this would be a great project for them. Christmas Music and egg nog are a great accompaniment to decorating. Cost: $3 for ornament.
8. Making Popcorn Garlands to Decorate the House: And of course, tasting a few kernels just to make sure they're ok. I absolutely love the simplicity of popcorn garlands. Cost: $1 for dental floss to use as string.
9. Making a Snowman (if weather permits): It's best to be prepared for this one ahead of time, since you never know when you'll get lucky enough for snow. Fill an old bucket with "snow man essentials" like old scarves, hats, mittens, ties, buttons, rocks, unwanted costume jewelry, Halloween wigs, lipstick if you're incredibly brave or have older children, sunglasses. You get the idea, they're creative… give them a toilet plunger and they'll figure out a way to use it. Cost: Free.
10. Christmas Wreath Making Party: You can find instructions on how to fashion your own pine bough wreaths here on wire hangers. My grandmother has been holding these parties for years, everyone we know would come down and gather around the woodstove, the men would go out and chop down a few branches of a pine tree on the property and the women would stay in and fashion the wreaths. You can add additional décor of bows and garland, but in my opinion, nothing beats a simple, beautiful pine wreath. Cost: $10 for floral wire, assuming you have something to cut the branches off.
11. Cookie Baking Party and Exchange: Have an evening where the whole family makes Christmas cookies. Every member of the family gets to pick out recipes and bake a double batch of their cookies. Once they are cool, store in the freezer for an upcoming cookie exchange. This can be with one other family or a few. It's a great way to get a bunch of different cookies for when family comes in to town without spending 5 days baking them. Click here for the best Christmas Cookie ideas. Cost: Free, since we usually have all of the ingredients and it just goes into our grocery budget.
12. Leave Cookies and Milk Out For Santa With a Hand Written (or Dictated if You Have Toddlers) Note: Don't tell the kids what to say, see what they come up with on their own. One day that letter to Santa from your 8 year old advising Santa not to use I-95 in his travels tonight due to back up will be one of your most precious possessions.
13. Meeting Santa: Sure, you could wait in line at the mall or Christmas tree farm, or you can spend a little up front and enjoy this for free (without crazy lines, cranky toddlers and spending $60 in impulse purchases and photographs to get to Santa). A Quality Santa Suit would set you back about $50. You can see one with good reviews below, but you would have it for years. Invite friends and neighbors over, bust some cookies out of the freezer, and have Santa knock on the door to meet the kids one at a time.


14. Kids Get to Open One Present on Christmas Eve: The parents get to choose the gift. Cost: Free.
15. Kids Get to Open Stockings as Soon as They Wake Up: If you have toddlers, leave the stockings in their room after they fall asleep. Once kids get old enough to know what's going to happen on Christmas Morning, they'll be awake at 5 am (or earlier!). Buy yourself some extra time and make it fun and exciting for them by letting them go to town right away. We fill our stockings with cheap items from dollar stores and the thrift store. Cost: Free.
16. Christmas Morning Breakfast: Have a delicious breakfast casserole or homemade cinnamon buns prepped ahead of time so you can stick them in the oven while you open presents. It makes for an impressive yet easy Christmas morning breakfast. Cost: Free, since this just goes into your grocery budget.
17. Start an Advent Calendar: Have an advent calendar with tiny candies or small toys for the kids to count down to Christmas. You can also stuff the advent calendar with fun "tasks" to complete, like gather pine cones for wreaths, make a snowman craft, eat a candy cane, etc. Cost: $1.99 at ikea.
18. The Four Gift Christmas: We give him something to read (The Night Before Christmas), something to play with (a Nemo swimming bath toy), something to wear (snow boots), and something to learn (wooden puzzles). It's really important to me that he sees the spirit of Christmas, (which includes a few gifts) and not a gigantic pile of presents where he expects everything he's ever wanted and is disappointed if he doesn't get it. He'll still get a few extra presents from friends and family, but this seems like a manageable pile. Cost: This actually saves you money!
19. The Christmas Pickle: This is a German tradition that I love. Mom or Dad hide the pickle ornament on the tree the night before and the first person to find the pickle on Christmas morning gets an additional small gift or special privilege. Cost: One time cost of about $6 for the ornament.
20. Starting a $10 Christmas: This is our 4th year of the $10 Christmas and I love it! Jon and I celebrate the $10 Christmas with my parents, my sisters family, and with each other. You can read more about the tradition here, but I love trying to find the best present possible for the person for that price. With Jon's family, they do a secret Santa amongst the whole extended family with a $100 limit, so you only purchase one larger gift rather than dozens of smaller gifts. If your hesitant to bring this up to your family, think of the enormous financial drain that Christmas has become for many families. Wouldn't you guys rather save that money, embrace the spirit of togetherness with a few small presents and take a family vacation with the savings every few years? Cost: This actually saves you money!
21. An Annual Local Event: In this area (Northern Virginia), we have Zoo Lights at the National Zoo. Snow Tubing in nearby West Virginia, or a Santa Train ride on the VRE. We're going to do Zoo Lights, which had a living social package for $29 for a family of 4. It includes The National Zoo decorated with Christmas lights, a laser light show, free parking, Christmas treats, snow tubing, nocturnal animal exhibits, and a Christmas train ride. Cost: $30 (but there are tons of free local events!)
Click here to follow me on Facebook for more motivation and money saving ideas!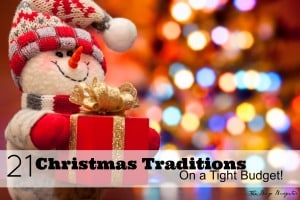 This post may contain affiliate links. If you click & make a purchase, I receive a small commission that helps keep the Busy Budgeter up and running. Read my full disclosure policy here.