One of the things that made me really uncomfortable with my personal transformation was decluttering. I felt sick to my stomach throwing so much stuff out that I had never used, or that people had given to me out of kindness. It made me think hard about gift giving. I didn't want to buy something for someone that would add to the clutter in their home and stress in their life.
My family is pretty awesome. We do Christmas every year and I broached the subject of having a frugal Christmas. A limit of $10.00 per person. There are 5 in my side of the family now, we spend $40.00 on Christmas gifts for the family and each end up with 4 presents. It was such a great experience! It made the hectic season a little less hectic, it reduced our Christmas budget by about 35% and I had a blast thinking up gift baskets for under $10.00!
I swear I don't have a competitive bone in my body, but I adored the challenge of trying to get an insanely awesome gift for under $10.00! Anything that I already owned, I could include for free. I had 3 Stila lip glosses that I hadn't used from a gift box that I had gotten. They went into Jenny and Mom's gift boxes. I combined coupons to get a $35.00 fondue kit from bed bath and beyond for $9.99 for Jon. I took the extra set of xbox extenders that Jon didn't need (they come in a 2 pack), an xbox game that Jon didn't play anymore but that Dad hadn't played yet, and then spent $10.00 on snacks and drinks to create Dad's xbox gift box. Mom got a car care kit (as seen below) so that she has a trash can, chapstick, germ free wipes etc in her car at all times.
The best part of the tradition is that your focusing on the person, the season, and being together and you're making each others life less stressful and more fun!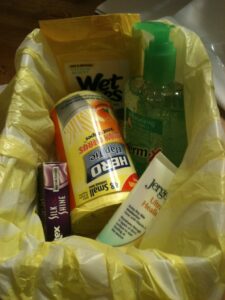 Mom's $10.00 Car Care Kit Gift Basket
Of course, I would caution that this idea should be broached ONLY with people that you think would be excited about it. Some people are really into the commercial aspect of Christmas (there's nothing wrong with that! Everyone likes different things), and something like this may be disappointing or even offensive to them.
This post may contain affiliate links. If you click & make a purchase, I receive a small commission that helps keep the Busy Budgeter up and running. Read my full disclosure policy here.