This is a sponsored post written by me on behalf of Navy Federal Credit Union for IZEA Worldwide. All opinions are 100% mine.
For many people, holidays can be the Achilles heel of budgeting. It's a special occasion, after all! It only comes once a year!
Unfortunately, that very pressure to spend money on all the special things this time of year can wreak havoc on everything you've done the rest of the year.
If you are trying to have the best Christmas of your life on a super tight budget, you should grab this Christmas planner. The planner has worksheets to get your holiday meals, plans and gift-giving organized and a ton of ideas for super cheap (but also awesome) gifts, holiday activities, cheap places to shop, ect. And right now it's over 90% off and you can get it for $.99.
You can get the Christmas planner here…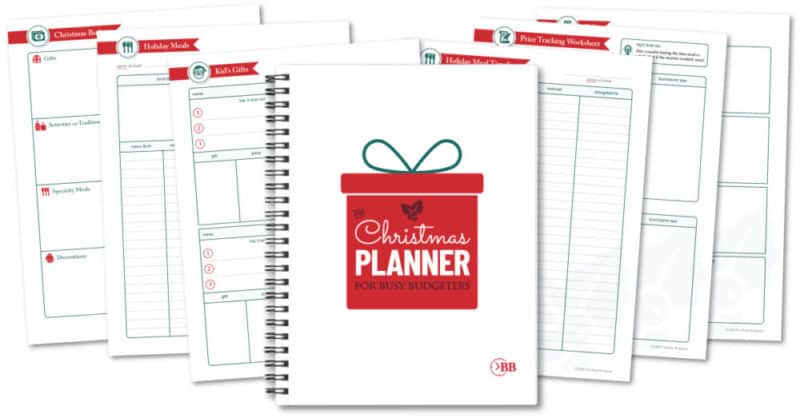 The pressure becomes even more when you add kids to the mix, because you love your kids. You want them to have the magical experience of Christmas.
And everyone is pretty much in the same boat on that one, no matter their background.
If you had magical Christmases with all the trappings yourself, it's normal to want to give them the same.
If you had lean Christmases as a kid, you want your kids to have better.
However you put it, most people struggle to keep their spending in check when it comes to Christmas gifts for their kids, and it's completely understandable.
That's why I'm here to help you keep your budget from going completely off-track this holiday season – while keeping the guilt in check.
The Best Tips For A Frugal Christmas With Kids (Without The Mom Guilt)
Plan Your Holiday Spending Ahead of Time.
As early in the season as you can manage, even in January if you can handle it, plan out what you'll need to spend on the holidays, like travel expenses, decorations, special events, gifts for family and friends, gifts for your children.
That way, you'll have an idea of how much you'd like to spend; then you can plan ahead of time and figure out what's feasible.
Knowing what the numbers look like ahead of time makes it a lot easier to make wise decisions when you're in the heat of the moment, since you've already planned it out with the necessary level head.
If you feel trapped in your situation, and forced into making financial decisions, those decisions don't feel so good.
When you think, "I can't afford (insert crazy expensive ridiculous toy here) for my child, I'm the worst parent ever," then sure. You're going to feel like the worst parent ever. No surprise there.
On the other hand, if you own your decision and actively choose to look at the big picture, it feels better.
When you think, "I'm choosing to keep Christmas frugal this year so that we can pay off debt and be in a house we love next Christmas," (just as a for instance), it feels like a worthwhile trade rather than a tragic circumstance.
When it comes down to it, being a good parent doesn't equal your kids getting everything they want. It means making sure they have what they need, and sometimes a more humble celebration is exactly what's needed in the long run.
Consider Giving "Experience" Gifts.
Rather than getting a flash-in-the-pan toy that will be forgotten about in a few months (or weeks) and end up cluttering up your house, why not consider a gift that allows you to do something as a family?
Zoos and aquariums often run specials on family memberships this time of year, which can make trips throughout the year a lot more affordable.
If you do this but still want a gift that can be enjoyed Christmas morning, maybe choose a stuffed animal that goes with it – like a stuffed marine animal for each child if you get an aquarium membership, for instance. You can find plenty cute but inexpensive ones on Amazon.
You can also check out Groupon for amazing deals on trips to cool places near you. They can be printed and put in a cute envelope for fun gifting.
Using your holiday budget for year-round fun is a great way to prevent overspending!
Make and Gift "Mom" Coupons.
In search of great frugal stocking stuffers? Look no further.
Instead of the traditional small toys or goodies (or in addition to the goodies, because – chocolate), you can make cute coupons for extra TV time, extra dessert one night, free pass on a chore for the day, solo time with mom, or anything else you think your kids would love.
They're cute, they're thoughtful, and they feel like a real treat for your kids. And they're sure to be something your kids will remember forever!
Shop Used.
You can find some seriously amazing deals on good-quality toys if you're willing to shop secondhand.
While you can definitely scour thrift stores or consignment shops for this, I would totally recommend places like Facebook Marketplace for good deals. They'll still be super discounted, but will often be in better condition. You can even sometimes find unopened, unused stuff people are trying to unload!
For instance, is your daughter pining after an American Girl baby doll this Christmas? Instead of dropping $60+ on the doll alone, plus all the outfits and accessories, check out listings nearby. You might be able to spend $40 or less on a doll plus all the trappings instead.
Even if a gift isn't in the original box, don't sweat it. Kids often won't care. And if you're feeling unsure about it, you can always find an alternative box or another pretty, inexpensive way to wrap it to look nice.
Have Very Young Kids? Regift.
If you have a child under two years old, you might consider wrapping a few toys they already own to put under the tree.
After all, they likely won't notice they're old toys – or care, even.
And, pro tip, it's true that at that age they're more excited by the wrapping paper and boxes anyway.
But if they're happy, that's the point of the whole thing – so no need to feel guilty for regifting them their own toys.
The bright side of the shopping rush at this time of year is that major retailers are competing for your business. Which means they're going to try to entice you to shop at their store instead of others.
That equals awesome deals for you – yay!
Some stores will offer a coupon on a future purchase (which you could plan to use for stuff like diapers or other home necessities), or a discount if you spend over a certain amount, or any number of other incentives.
Be on the lookout for these deals, and have your list ready so you can pounce when they happen.
Shop Online.
Finding discounts can be a lot easier when shopping online versus in store, because you can quickly comparison shop through different tabs on your browser (instead of driving from store to store.)
Especially since a lot of stores now offer free order pickup, meaning you'll save money on shipping!
It also means you can use discount codes through apps like Honey, which will try all available coupons to get you the biggest discounts.
The biggest benefit, though, is not having to navigate the holiday shopping rush. Instead, you can sit in comfy pants, watch a Christmas movie, and enjoy a glass of wine while you shop for the kids.
Way, way better, IMO.
Shop Through Money-Back Websites.
If you're spending money anyway, why not get some money back for later use?
If you've never used these before, how it works is you look for the store you want on the money-back website's listings, then shop for stuff as you normally would, and you get cashback.
Super simple, and can end up being a huge benefit later.
Rakuten (formerly Ebates) is my favorite of these. It's simple to use, with simple payouts. They even have a browser extension so if you're on a qualifying site, it'll alert you, then you just click the button and get your cashback without any extra work on your part.
Best of all, you can use this online and in store, so wherever you shop, be sure to check out if there's a cashback offer attached to it!
Look for Multipurpose Toys.
I know, if your kids are anything like mine they end up asking for the fancy-looking Hot Wheels race tracks and stuff for Christmas.
You know the ones: they look cool and fun, but they can only do one thing. The car goes around the track, the same way, every time – so it gets used for about 5 minutes then it gets put away gathering dust.
Been there, done that. It's disappointing.
So instead of that super expensive track, why not substitute it for a longer-lasting toy that can be used more than one way? In this example, instead of a $50 race track, you could buy a few special cars they'll love for a fraction of the cost, and make tracks with them using masking tape or paper instead.
The more open-ended the toy, the better value you'll get out of what you're spending.
Look, I know it's hard to live on a budget sometimes, especially when you're dealing with the commercialization of Christmas. Using these tips, you can help reduce the impact on your budget the rest of the year and have a truly holly jolly, stress-free (or reduced stress, at least) time with your family.