If you're looking for ways to make money as a stay at home mom, I've got a few great ideas for you.
Here's the good news: there are a BUNCH of great options, so you're sure to find something that suits YOU!
You see, I was there—a new mom, feeling like I didn't have a clue how I was going to take care of an infant and a husband, PLUS manage my house AND figure out a way to help bring in some money.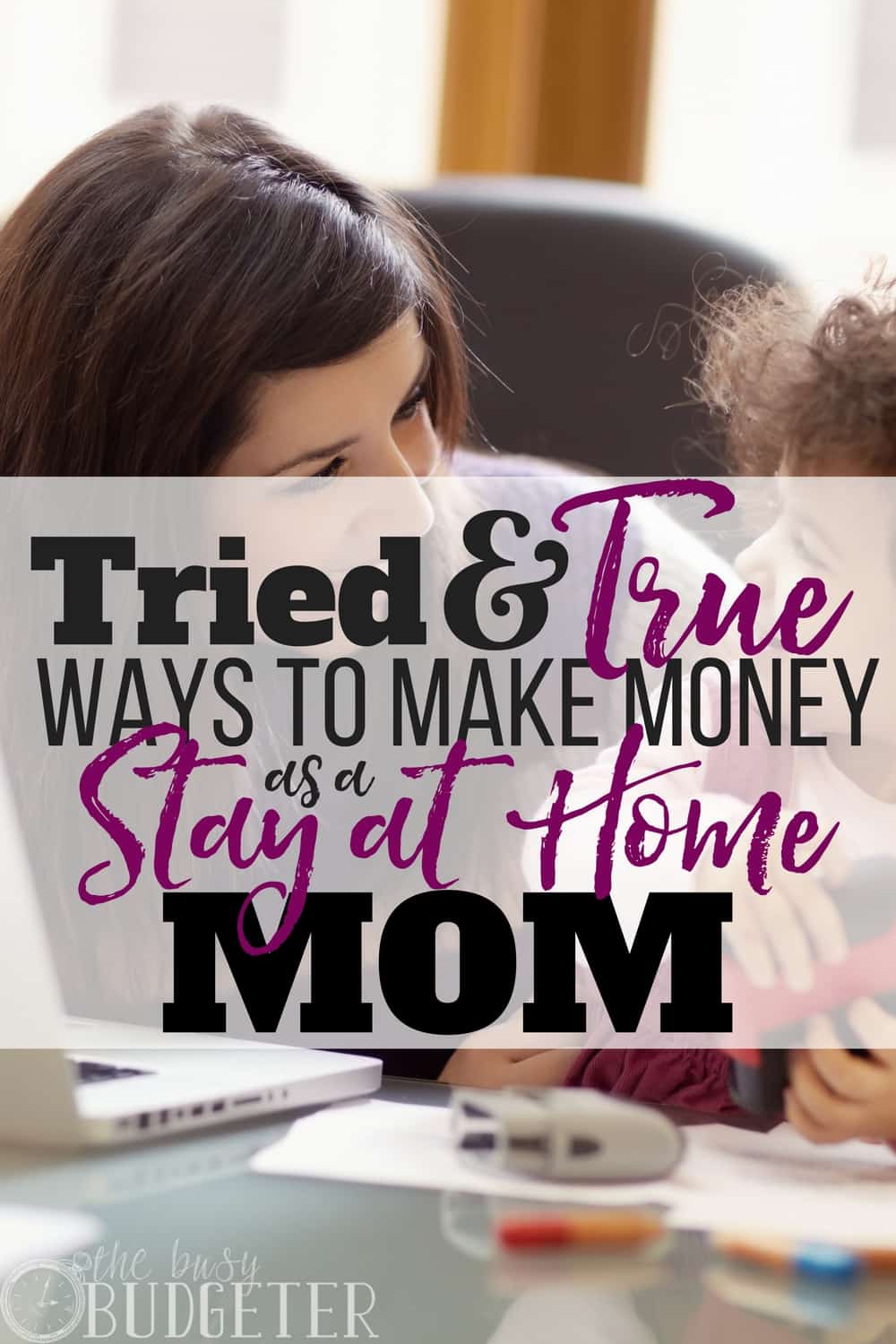 Before I had my first baby, I worked a regular 9-5. It was reliable and fine. It paid the bills. Then my son was born. After we did the math, we realized that (holy cow!) it would've cost almost as much to put him in daycare and leave him all day as I'd be able to make at work. We were wondering like, what's the point??
That said, the math also showed us that we wouldn't exactly be sitting pretty on one income. Um, in fact, we wouldn't be able to pay our mortgage or our bills, let alone save any money. So, once we decided to "take the stay at home plunge," I had to figure out some creative ways to make money as a stay at home mom.
When I started out, I knew my goal was to hit between $2000-3000 per month. That was the number where we could make headway on our bills and debt, afford to live comfortably (within our means), and possibly even save a little for the future. I remember thinking at the time, "Wow—that seems like a lot of money to be responsible for bringing in from home."
Still, I was pretty confident I could figure it out. I knew I had some skills and I was thinking maybe I could take on a few daycare jobs from home. I wasn't very tech savvy, but I wanted to give blogging a shot…and I had a few other ideas to try as well. So here's my list of some of my tried & tested ways to make money as a stay at home mom!
Offline Jobs from Home
"Offline" jobs (like childcare) give you a "safe" option for working from home. If you don't feel like you're computer savvy or if you really enjoy caring for kids, cooking, running errands for people, or even dog walking, there are a number of great jobs you can do from home.
You might look into multilevel-marketing sales opportunities, although, I've found many over-promise and under-deliver, especially for busy moms who might not have time to sell, sell, sell. If you have a specific talent like photography, music, gymnastics or art, you could also consider teaching lessons from your home. Advertise at local schools or check out your community center, senior center or church to see if they offer a job board where you can post your skills. You could even run an ad on Craigslist or your neighborhood group on Facebook.
When I started out, I took on a few kids in addition to watching my son during the day. I read the great book called Start & Run Your Own Home Daycare, which helped me organize and start my business. I figured since I was already home with one baby, what were a few more?! Plus, it was very rewarding, and I enjoyed providing a service to my fellow moms who were looking for someone reliable to care for their little ones when they were away.
Selling Online
If you're crafty or artistic, you could look into starting an Etsy business, selling crafts online. You can also make good money cleaning out your home and posting your stuff for sale online through Craigslist or eBay, or selling it via consignment. Dig through your old videogames, handbags, designer clothing, sports equipment, collectables and knickknacks, and sell them!
Here's the deal, though…selling stuff online isn't a long-term solution (unless you have unlimited amounts of stuff).
When I was first starting out working at home, I tried my hand at selling jeans and brand-name clothing on eBay. I'd go to thrift stores to search through racks and racks looking for brand name items (with a higher resale value) and use my eBay app to post them online. It was quite a bit of work and required quite a few trips to thrift stores and to the post office. To be honest, I didn't enjoy it.
Despite not loving it, I was still bringing in around $700 a month doing it. So, if you're willing to put in the effort or if you have a good eye and knowledge of antiques or collectables, then it might be worth it for you. Even if you don't go for eBay, you can still watch for items at garage sales and seek out curbside finds to fix up and sell on Craigslist or at yard sales.
Virtual Jobs
So one of the best ways to earn money from home is by working a virtual job (or several)! I started out as a Trend Source mystery shopper and I worked for User Testing—reviewing and testing websites. With those two online jobs (that I could easily do during naptime or in the evenings), I was able to bring in around $200 per month. This was a nice supplement to my daycare income, and it was pretty easy.
There are quite a few similar small jobs you can do from home. If you have office experience or if you love the idea of helping someone else (and job stability), you may want to consider becoming a virtual assistant. Basically, you take on tasks like emails, making calls, or following up on administrative jobs, but you can work from home and often you can even set your own schedule! If you're great at writing, try being a freelance writer.
Other virtual jobs include earning money through sites like Inbox Dollars & Swagbucks by taking surveys and playing games online. I don't love earning money this way, because I don't feel like it pays well for the time and effort it that goes in—BUT some people LOVE it and it can be a simple opportunity to earn gift cards and points.
Blogging
When I started trying to find ways to make money as a stay at home mom, blogging wasn't my top idea for earning money. I started blogging so I could share my experiences with others and connect with like-minded people online. I was having some breakthroughs in terms of budgeting, meal planning and building on my life skills, so I figured sharing with others would be a good outlet and hey, I might even be able to earn some extra money blogging while I'm at it!
Today, my blog has grown into a wonderful income for our family—beyond my wildest dreams or hopes. I make over $10,000 per month (well over that, actually) on my blog, and I started earning a decent income pretty quickly when I began.
Here's the deal: I am NOT a tech genius. I didn't have any experience with blogging, nor did I do some "magic trick" to grow my blog overnight. I signed up for Ruth's Elite Blog Academy, which was the best foundational resource I could find for learning how to grow your blog to a full-time income. I was able to connect with other bloggers, start affiliate marketing, and find out how to create a Pinterest strategy to connect and share my blog through social media.
It wasn't hard. In fact, compared to my "traditional job", it was pretty easy. It took some work, but it was also really fun to get started! Not to knock myself, but if I can do it, you can do it too.
If you're looking for ways to make money as a stay at home mom, my recommendation is to try a few different ways to earn money (childcare, teaching lessons, selling on eBay, virtual jobs) while you start a blog. Even if you aren't sure blogging is right for you, there are so many options and niches you can fill. If you enjoy designing, photography, decorating, cooking, or just being a mom, chances are there's something you can share with others.
It is definitely possible to earn a regular income from home AND earn enough money to make a comfortable living. I'd love to hear other tried & true ways you've found to make money as a stay at home mom!