2016 Blog Income Report gives you instant access into the blogging world and the strategies that have worked for me.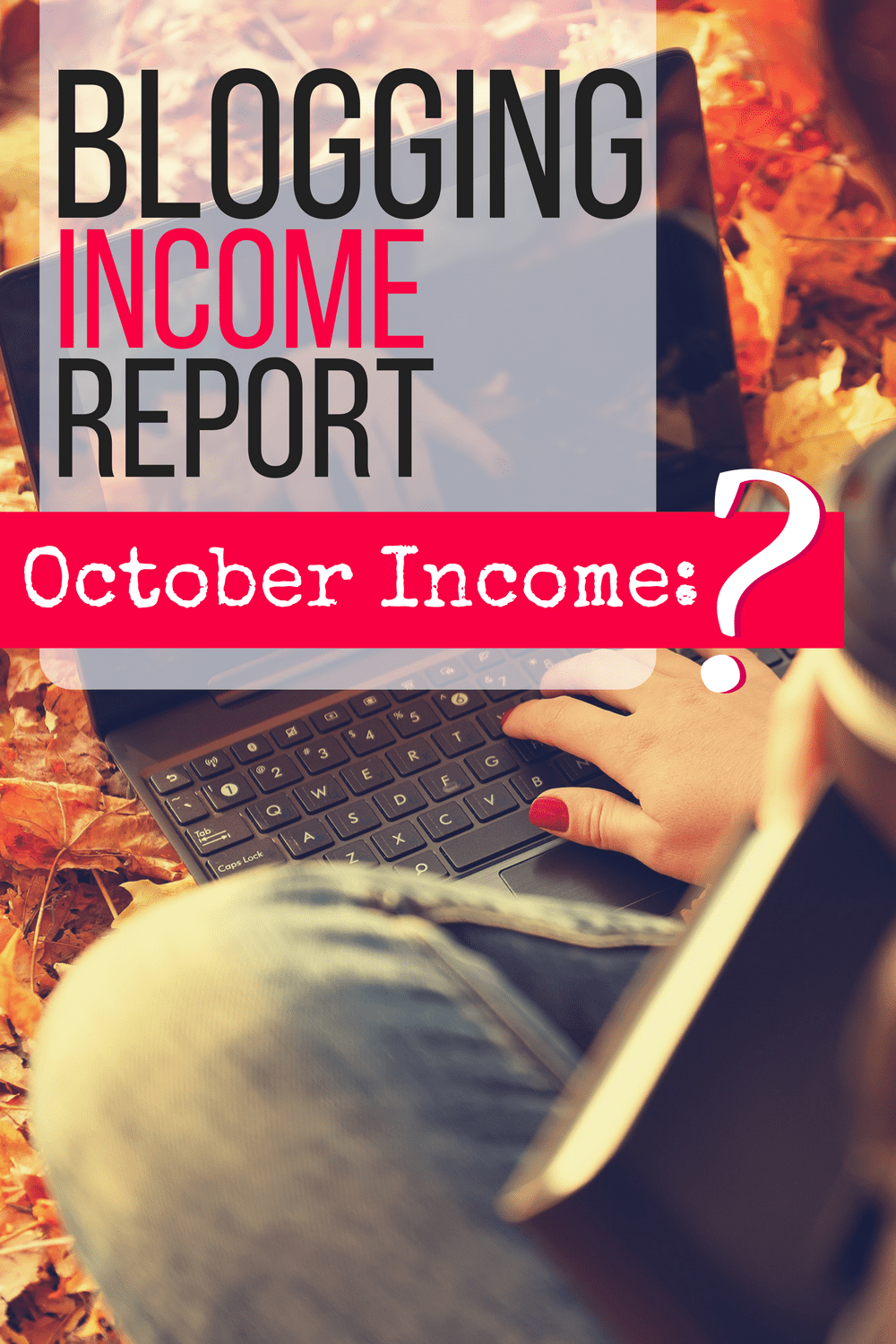 Update: 3/13/17: Ever wish you had a cheat sheet to help you build your blog the right way? Not an overwhelming book, just an easy to follow guide that tells you what you need to do next? You can get one for FREE here! https://www.busybudgeter.com/blogging-offer
---
This is a sneak peek behind the scenes of my blogging business. I share my income, my pageviews, what's working for me and what's not. You can see all of my blog income reports here…
Month Overview
We had a good solid month over here! The last few months have been hectic and things slowed down a little and got more normal. I love normal! I love predictability and stability and all of those boring things that are the opposite of exciting!
Go figure, right?
Income jumped up quite a bit this month, mostly due to EBA VIP helping me focus my goals and Jennifer being up to speed and a HUGE help. My time is now spent on the things that I'm best at and she's handling everything that I don't personally need to do.
I've been a heavy outsourcer since the beginning and it not only helps your business grow (assuming you're doing it right), but it means you get all the benefits of owning your business, without the 90-hour work schedule so often associated with entrepreneurship.
I'm still rocking the 20 hour work week, but I'm a/b testing outsourcing more at home for the next two months and working 30 hours a week to see what happens.
Mostly because Jon's brewery is opening in late November (more likely December- construction delays are not fun) and an actual physical business (versus my blog) doesn't have the versatility of an online business.
P.S. If you want to start a business and you're debating between an online business and a physical business… Do yourself a favor and choose online.
Jon loves making beer. It's his passion and this is his dream and I fully support it. But, as we grew both an online business and a "brick and mortar" physical business side by side, I can tell you the risk for a physical business is huge, the reward (at this point) seems to be much less in comparison, and it was the most complicated process that I've ever seen.
I'll likely do a full post on this at some point from everything I've learned during this process, but for now…. Save yourself the headache and just start a blog.
If you're wondering why I post an income report, it's because this journey was only made possible by other blogger's posting their blog income reports and inspiring me to give it a shot on my own. This is kind of my way of "paying it forward". Plus, I love the fact that I work in the only industry where it's totally normal to post your income every month.
If you are a blogger or end up being a blogger, I would love to see you post your income report too! You can actually link to them in the comments below.
But first… About me…
I'm a full-time blogger. Less than 2 years ago, I had no idea that was an actual thing. To say the last two years have been a wild ride is the understatement of the year.
If there's one thing that I want to pass on to you, it's that I am NOT special. I'm not crazy smart. I don't have a writing degree and I'm certainly not a grammar expert (although a free app called Grammarly certainly helps).
I just love to write and I love to help people and I'm really good at reducing our spending. So, I walk people through the baby steps that we took to completely transform our finances. I'm able to support my family making far more than I ever could in my previous career.
Want to start your own blog?
If that sounds like something you want to do, I can help you make that a reality with step-by-step instructions (for free!). You can find instructions for how to start your own blog here (even if you aren't great with computers).
The best part? Blogging is a super cheap (almost free!) hobby that makes you money! Starting your own blog isn't very expensive! Starting a blog that makes you money while working from home starts at about $3.45/month!
October 2016 Blog Income Report:
This was a solid month for income and was pretty stress-free and easy. Income went up, pageviews went up, I'm back to batch blogging and working ahead of schedule.
Pageviews and Income:
Pageviews: 349,165 (up from 317,084)
Income: $32,469.19 (up from $20,997)
Income Broken Down:
$2,075 Sponsored Posts
$4,257.91 Ad Networks
$14,697.28 Affiliates
$11,439 My Products (The Pinterest Strategy Guide and The Core Affiliate Strategy)
(further breakdown of my strategy for each category below)
Total: $32,469.19
Step-by-Step Pinterest Strategy Guide
Because I've stopped coaching, I released my Pinterest Strategy Guide in PDF form to you. Which means that you can spend a fraction of the price that coaching costs and get my step-by-step Pinterest Strategy Guide direct to your inbox right now.
The Pinterest Strategy Guide will walk you step by step through implementing the Pinterest Strategy that brought me from $18/month to over $20,000/month. You can get it here.
P.S. It's 5 pages long. It's not a course and it's not overwhelming. It's a super simple detailed checklist of how to dominate Pinterest in only 4 hours of setup and 4 hours a month.
The Core Affiliate Strategy
Like the Pinterest Strategy Guide, the goal of this product is to give you easy-to-follow (and quick) action steps to completely implement the strategy that I use for affiliates. It's only a few pages and walks you step by step through my entire strategy.
I routinely make more than 10k a month in affiliates and this is a common question that I get. You can see the strategy here.
P.S. This is about 15 pages long, and includes a complete launch example. Like the Pinterest Strategy guide, it's not created to be comprehensive or overwhelming. You should be able to complete it in a workday and start being successful with affiliates immediately.
You can check out the Core Affiliate Strategy here…
My goals for October were:
Complete the fourth quarter editorial calendar: (extending it to January, since January is nuts for budget blogs!)
Done! I actually ended up doing 6 months of ideas and cementing the editorial content for 90 days.
Take and implement the Dominate Webmaster Tools Course: (as part of my SEO Intensive).
Done! We started the third (and last) training in this series, and I've been thrilled with my progress so far. These classes were worth every penny. You can start with Skyrocket here.
What worked this month:
**These are the things I'm currently trying. If you need the full resources of the tools that I've used to get me to this point, you can sign up here to get free instant access to the full list of the tools and resources that have worked for me this far. **
EBA VIP: I could write 20 pages on EBA VIP alone, but I'll keep it short. In the two months that I've spent in VIP, I completely reworked my goals (leading to a $10,000 income jump this month), made my Facebook ads profitable (and learned how to calculate if they're profitable when you're just getting new subscribers instead of selling a product), and got amazing insight on how to run my business budget better.
For a $2,000 mastermind class, this overshot my expectations to the moon. I've already made 4x the amount I spent directly from things I learned there.
The funny thing is that when it was promoted, there was little information about it. They didn't make huge promises and they didn't spell out the benefits.
But I knew the heart of the woman running it. The founder, Ruth Soukup also created Elite Blog Academy and I took that course, knowing nothing about blogging as a business. In 10 months, I was making a full-time income off of my blog thanks solely to that class.
(Fair warning though, the downside to EBA is that it's only available for 5 days a year, without getting on the waiting list here– it's unlikely you'll even have a chance to get into the class.)
I say all of this because I get asked about how I choose training all the time and that's the secret. I care more about the person teaching then the information available about the class. If I know that the instructor has the results that I'm looking for, has the heart of a teacher, and teaches in a step by step way, I'm in.
I research the person whose teaching heavily and make a decision based on that. If had to empty my bank account to take EBA VIP, I would have. Because she's proven her worth to me over and over again.
That's the best advice I can give you about choosing training. Find your teachers, not your courses.
Selling Products: The two products that I sell, I created to share with my mastermind group. I wanted to teach them how to implement the two systems that were the backbone to my success in an easy, step-by-step way. Then I started taking on coaching clients and walked them through it as well.
I had to get out of coaching because, in order to make the ROI worth it I would have had to charge a small fortune, and they didn't really need me to follow this system. They just needed my checklists and a little more detail. So we expanded a bit on the checklists and sold them.
I didn't have a sales funnel, a marketing plan, or even a launch. I mostly just linked to them when people wrote me asking for coaching. Two things happened in October. I started getting a huge increase in success stories. People that had implemented it earlier this year were now blogging full-time because of them and they started selling like crazy through word of mouth.
Which is great, except that the Pinterest Strategy Guide is extremely specific and was never meant to be mass-produced. I was giving away my competitive edge for $46, which is pretty stupid (maybe this should be under what's not working?). We tripled the price on that and may increase it again if sales don't slow down (they haven't yet).
That being said, I completely understand now that I've been pretty silly for ignoring my own products for so long. Plans are in place to create some pretty amazing things in the next year!
What didn't work this month:
Infusionsoft: After three months of onboarding and still not having a usable email system, I called Infusionsoft to get an idea of how much longer it would be and what to expect. I was already nervous about whether or not I could learn their tech-heavy system and the onboarding experience didn't give me much hope for help from them.
After being passed around from person to person in customer service for two weeks, I realized that this was a huge mistake.
When I had an issue with Convertkit, their customer service was right on top of it. While I wish they had much better analytics, they've already released several updates with more functions coming.
I got a refund from Infusionsoft, went back to Convertkit and I feel like I dodged a bullet.
To be totally fair- there are plenty of people that are with Infusionsoft and happy with it (I talked to several of them before I originally went with them), but I know in my heart that I wouldn't flourish there. My biggest weakness is technology and understanding new systems and without solid customer support, it's too big of a risk.
I've definitely flourished with Convertkit and am thrilled that I made the choice to come back.
MiloTree: I tested using MiloTree on my blog for the last few weeks with lackluster results. The idea behind it is that it puts a flag up on your page asking for readers to follow you on Pinterest or Instagram. While I did have a small boost in followers, those followers mean almost nothing to me since they're controlled by Pinterest and I saw a decline in newsletter subscribers (likely because I also have pop-ups and a smart bar at the top of the page and MiloTree was diverting people that would have been newsletter subscribers into being a Pinterest Follower.
Great concept, but in practice… Bad results. I'd much rather grow my list where I have more control.
Goals for next month:
Create a free blogging course and start promoting it: (want in? You can get early access by signing up here).
Take and implement the instructor-led SEO course: (this is the same series that we've been doing, but it's the final and last phase). You'll notice a heavy push for me in SEO for the last few months. 🙂
My Income Strategy:
I earn income in three major categories with my blog. I'll run over my strategy for each of them.
Sponsored Posts
Update: The below is still true, but I've stopped focusing on sponsors right now, with the exception of a few brands that I want to build long term partnerships with.
I focus most of my sponsored post efforts on reaching out to brands that I use and love and offering a sponsored post package at a rate that's a little lower than "industry standard" (which is highly debatable).
That lets me increase the "yes!" emails I get in response and ensures that I can count on making a certain amount every month on sponsored posts while still being really picky about which brands that I'll work with. I also go through each of my brand networks (places like Tapinfluence and Clever Girls) to see if there are any assignments that would be a good fit for my blog.
Ad Networks
In general, more pageviews equals more ad earnings. I use Adthrive (you can apply with them once you have 100,000 pageviews) and love them. My RPM (The ad revenue that I get per 1,000 pageviews) bounces between $6.40 and $11.00 depending on the season. (update: actually it's been consistently over $10 since February of this year, which is unheard of! Go Adthrive!)
I increase my pageviews by marketing my blog content through Pinterest. I a/b tested everything on Pinterest for about 6 months until I figured out a system that works for me.
My favorite thing about Pinterest (at least with BoardBooster) is that I spent only 4 hours a month running my Pinterest Strategy. That leaves me tons of time to grow in other areas. You can get a copy of my Pinterest Strategy Guide here which teaches you my system step by step.
Affiliates
I focus on a core group of affiliates that I think almost everyone in my target audience should be using. Since I run a budgeting website, I factor cost into the equation. If something is a great product but is too expensive for my readers, I likely won't add them to the core affiliates list.
Having the core list lets me easily track special sale dates that my readers shouldn't miss and lets me focus without getting overwhelmed with the barrage of affiliate "offers" hitting my inbox daily.
To me, the key to affiliate marketing is to never ever promote anything that you haven't used yourself and you don't love. My philosophy is that if you only promote companies and products that you would tell your best friend about enthusiastically, then you're doing it right. You can get the step-by-step action steps needed to implement my Core Affiliate Strategy here.
If you want to see my full list of blogging resources that I use,
you can find them here.
Need a step by step guide on how to start a blog? You can find one by clicking here (you don't even need to be great with computers!).
If you publish your own blogging income report, link to it below in the comments so we can all see!
FTC Disclosure of Material Connection: In order for us to maintain this website, some of the links in the post above may be affiliate links. Regardless, we only recommend products or services we use personally and/or believe will add value to readers.