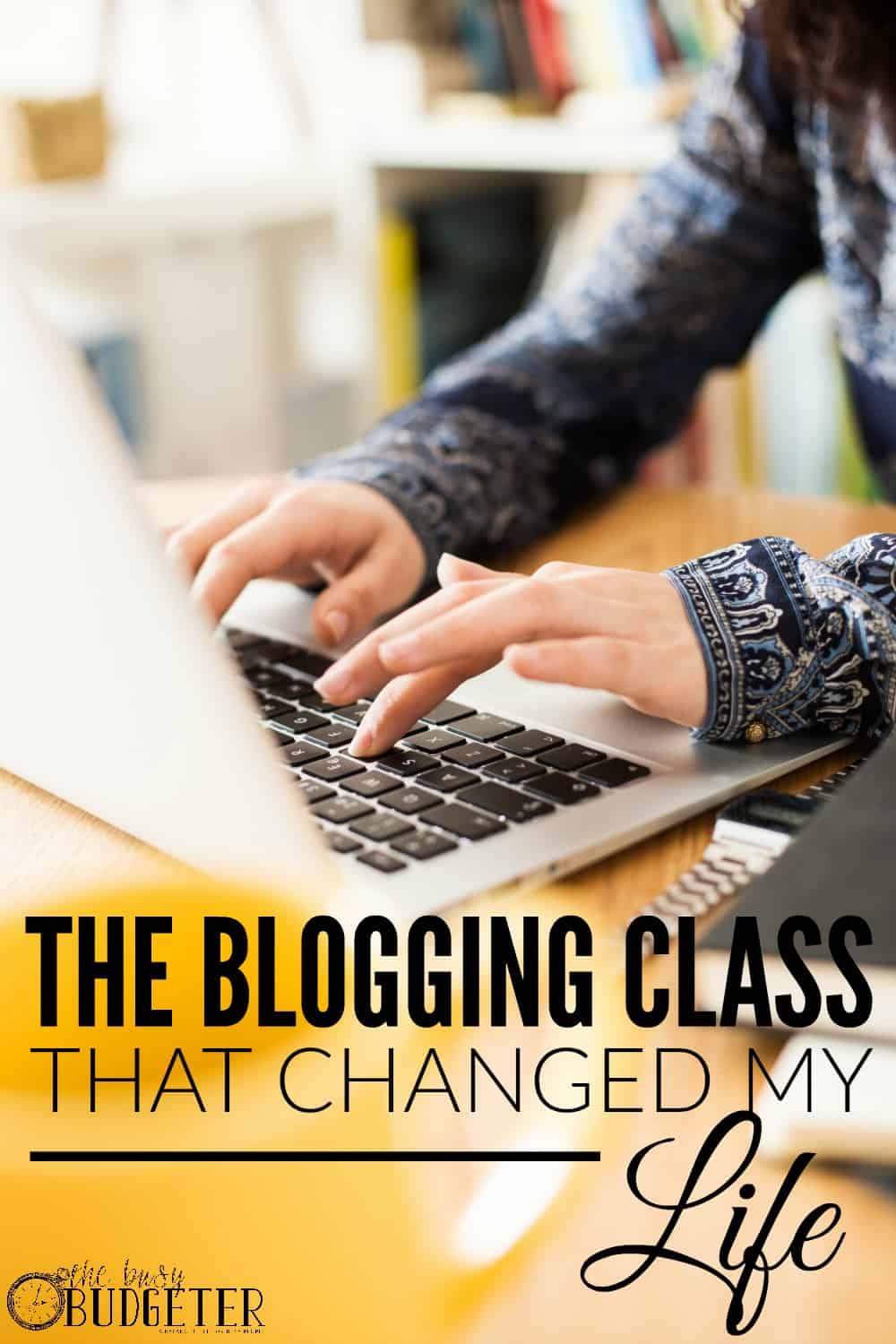 Update 3/16/2017: If you're looking to increase your blog's income, the FREE guide to Finding Affiliates that Work for You is a MUST GRAB. It even lists all of the top affiliate programs in every niche, organized by commission and topic. Grab it for FREE here for a limited time.
The Blogging Class That Changed My Life…
I'm not going to lie… I'm a bit teary eyed right now. 18 months ago, I got an email eerily similar to the post that you're reading. I read about a blogging class called Elite Blog Academy and took the chance of a lifetime. I convinced my husband to invest in it at a time when our budget was crazy tight.
That email changed my life and I will be forever grateful to Ruth Soukup for sending it to me.
18 months after reading that email, I'm making a full-time income and my life looks so much different than it did.
Today, you have the opportunity to make the same decision that I did.
Elite Blog Academy went on sale this morning.
I wish I could say that I'm just that awesome to be making this much blogging, but I'm not. The Elite Blog Academy is that awesome. They taught me step by step how to generate a steady income from my blog, everything from marketing, content creation, social media, working with brands and more.
I'm someone who saw an opportunity, had a passion and worked my butt off to make my dream a reality.
I'm just one of many. I'm friends with the other bloggers from my class of Elite Blog Academy and so many of them are blogging full time from home. Some of my classmates are earning much more than I am!
You can find out more about Elite Blog Academy here.
Here's what you need to know right now:
This class is only available for 5 days. THE CLASS IS NOT AVAILABLE TO PURCHASE THIS WEEKEND. (I know! I think that's a silly decision too!) You can buy Elite Blog Academy here.
The ONLY time you can get Elite Blog Academy this year is during the next 5 days. The class closes its doors at midnight and if you miss it, you'll have to wait. My inbox has been flooded for the past year asking when EBA will go back on sale because they didn't understand it only opened once a year.
You get a lifetime membership to the course, that includes updates as things change and there are new tools to make your blog more efficient or easier to run.
You'll have access to the EBA group (and a private Facebook group with me and my classmates that I'll tell you about in a minute).
The class is self-paced with lots of support.
The class is LIMITED. So don't wait until Friday! If you know you want to take the class, make sure you reserve your spot quickly.
Bottom line…
If you love blogging and you know you want to do this full time, I want you to take this class. It's $797. That's really expensive in my world. I freak out over a thirty cent rise in milk prices, so I hear you.
But here's the deal…
If you're anything like me, you want to blog full time. You want to stay home with your children. You want to help people and be passionate about your work all at the same time. But you don't really understand all the small systems that need to be in place in order to make that happen.
I blogged for almost 3 years on a free blogger account before I went self-hosted on a new blog and signed up for EBA. I wasted a ton of time trying to figure things out on my own and got nowhere. There's way too much information out there, and it's all conflicting.
I needed someone to tell me EXACTLY what to do. Step by step in a way that's super easy to understand.
This class took me 9 months to complete (in my defense, I had a baby in the middle of it and ran a home day care of 4 kids for 50 hours a week. I'm tired just thinking about it!). It's set up in 12 units so you can *technically* complete it in 12 weeks. I don't want you to do that though!
Master every single unit. If you don't grow your blog and income from this, then you can get your money back. I don't see that happening though. In fact, that would shock me.
You can sign up for Elite Blog Academy here.
Units that will be covered in the class:
How to find your niche and organize your blog.
Creating amazing content.
Presenting your content.
Growing your platform.
Social media and viral growth.
Making money with your blog.
Making money through affiliates.
Making a profit with ad networks.
Working with brands.
Profit through private ads.
Profit through selling a product.
Working smarter not harder.
Building your business.
My favorite thing about the Elite Blog Academy, is that it doesn't just give you the information, it tells you exactly what to do with it. You watch the video lesson for the unit and then do the steps listed in the workbook.
As you complete the work… you watch your blog transform.
It took me 9 months to complete the class, and by the tenth month… I was making full time income!
BONUSES
I want you to make this happen. I know that you're investing a lot on faith to make this dream work. And I want to support you in that. So… I'm throwing in bonuses.
Not just bonuses though, I'm handing over the results of my quick growth to you so you can emulate it.
In order to get the bonuses, you need to forward me a copy of your receipt or welcome email to [email protected]
Special Early Bird Bonus:
For those who enroll on the first two days of the launch (Monday, February 22nd or Tuesday, February 23rd),
If you know you want Elite Blog Academy, jump on this NOW. This is worth several hundred dollars!
EBA Product Launch Playbook
I was so lucky to have been given a sneak peak of this as a member of EBA VIP. I'm already implementing it. These methods were a big part of the reason for the sudden income jump from the 30k range to the 85k range last month.
The other huge benefit of the Product Launch Playbook, is that Ruth Soukup teaches it the same way she teaches EBA…. step by step, without overwhelming you. I call it the "Go do this, then come back to me. Did you do it? Great, now go do this" method. It works exceedingly well.
You can enroll in EBA here (and get the EBA product launch playbook completely free!)
EBA LIVE
They created an in person live event for Elite Blog Academy and you get a golden ticket to attend the live event. (Which I am TOTALLY going to! I'm so excited!!)
I was able to go to an EBA event last November and it was mind blowing. I was surrounded by super smart people giving me insight into their business and feedback on my own.
This is particularly exciting to me because EBA has a camaraderie unlike anything else I've ever seen. I suspect because people feel the same way that I do. If I hadn't had EBA, there is no way that I would be a full time blogger today, so It's my life's ambition to give back to the Elite Blog Academy community in any way that I can.
You can get enrolled in EBA here (and get the golden ticket to EBA live!)
I'm also going to do everything in my power to help you be successful in this, so I'm giving you every resource I can when you buy EBA.
Bonuses available all week:
EBA Insider
You can't buy this anywhere and it's REALLY GOOD. Wouldn't it be nice if you could go through EBA with me? Like side by side, and you can get the input of someone who used EBA to make over $86,000/month blogging?
I created EBA Insider to make that happen! It's my take on each unit. Detailed information of what I tried, what the best resources I found were, where to complete assignments and even my results so you can figure out where you are and where you want to be.
EBA Insider is like having me in your ear giving you an insider's perspective of every unit.
You can enroll in EBA here (and get EBA insider for FREE!)
Exclusive Lifetime Membership to Blogging Cheat Sheets
I created Blogging Cheat Sheets to replace the blog coaching that I used to do. I realized that people didn't necessarily need one on one help, They just needed super simple action steps from someone that's done it and making a full time income from blogging.
It completely avoids the overwhelm, most of the cheat sheets can be fully implemented in less than four hours and are perfect when you need results, not theory.
We currently have 4 cheat sheets that you'll get access to immediately (over $300 value currently) and then as more roll out starting this summer, you'll have lifetime access to ALL OF the Cheat Sheets.
Here's what you'll get now completely for free:
The Pinterest Strategy Guide- This wildly popular cheat sheet teaches you step-by-step how to automate Pinterest and get massive pageviews with the least amount of work. This was another core element of my quick growth, being able to grab 300-500k pageviews a month from Pinterest while only spending 4 hours a month on the platform let me focus on my affiliates and my email list.
The Core Affiliate Strategy- This super simple step-by-step guide teaches you how to make a ton of money from affiliates, even when you don't get a ton of pageviews. The best part? You will never sell anything you don't believe in 100% and you'll never feel like a salesman.
The 10 Hour Time Block Strategy- This lays out the exact schedule I used to blog for 10 hours a month. It's particularly helpful for a new blogger with limited time. It tells you exactly what to focus on with your hours and even teaches you the timer trick if you need to work with children at home.
The Ultimate Brand Cheat Sheet- Everything you need to work with brands successfully, get your first sponsored post, and rock it! It even includes pitch email templates and canned response templates to reach out to brands yourself.
Future cheat cheats rolling out this summer…
Blogging Budget
Outsourcing Email
Determining your ROI
Batch Blogging
Creating a Lead Magnet
You can enroll in EBA here (and get exclusive lifetime access to blogging cheatsheets for free!)
Access to Our Private Facebook Group "EBA Connect"
The only thing better than EBA Insider would be you getting to ask me questions anytime right?
Done.
In addition to EBA Insider, you'll also get access to a private Facebook group with not only me, but several other successful full-time bloggers that can answer your questions and give you feedback.
The best part of this group is that each of the full time bloggers have a strength, so while mine is monetizing and email, someone else rocks at tech stuff. So between us, we can answer most questions easily.
Tag me anytime! 🙂
You can enroll in EBA here (and get free access to EBA insider)
Bonus 4: OFFICE HOURS
To expand on the Facebook group, you also get access to quarterly virtual training with me. You can vote on training topics and I can answer your questions in our group meetings.
Warning: I'm totally awkward in real life… I'm actually nervous about doing video meetings but I know how much they can help you.
You can enroll in Elite Blog academy here (and get free access to office hours with me!)
I've actually never seen so many bonuses. I was kind of floored. Grand total of all of those bonuses?
EBA product launch playbook – $499
EBA Live – Priceless! (It's only available to EBA students!)
Blogging Cheat Sheets lifetime membership – $299
EBA Insider- Priceless- it will never be for sale.
Office Hours Quarterly Coaching – $100
Private Facebook Group – Priceless.
That's over $900 of Bonuses ALONE, plus there's a ton more available here that you also get for free!
You can enroll in EBA and see ALL of the bonuses here.
P.S. Even if you can't make EBA happen this year, then sign up for the FREE blog training called A Simple Framework for Success. It's LIVE (no replays), you MUST be registered by March 2nd, 2017 and it's also limited to the first 500 spots.
It'll give you access to some smaller parts of Elite Blog Academy and you'll see some results from that. Which will put you in a great position to grab EBA next year.
**Just forward your welcome email to me at [email protected] and I'll reply with your free bonuses**
If you know that you want to make your blog into a business with the Elite Blog Academy, don't procrastinate!
See you in the Elite Blog Academy Forums!
P.S. Although I'm sure you'll love it, there's a money back guarantee! So, there's really no risk!
What do you blog about? Leave your link! I'd love to take a peek!
FTC Disclosure of Material Connection: In order for us to maintain this website, some of the links in the post above may be affiliate links. Regardless, we only recommend products or services we use personally and/or believe will add value to readers.