Figuring out where people are clicking on your blog (and therefore what interests them) is hugely beneficial in making a profit from blogging. Unfortunately, there isn't an easy way to get that information through Google Analytics. Thankfully, I found Sumome (and it's free! Sweet!) which lets me get that information in a super east to read "heat map".
Let me explain…
I use Sumome's heat map (which is free) to figure out where people are clicking on my site. This is info that I need and can't get out of Google Analytics.
I love Sumome because it's made for people like me who aren't supertechy. It just shows me my site and puts colored dots on where people have clicked. The dots are huge and almost white at the most popular places people click.
Here I'll show you.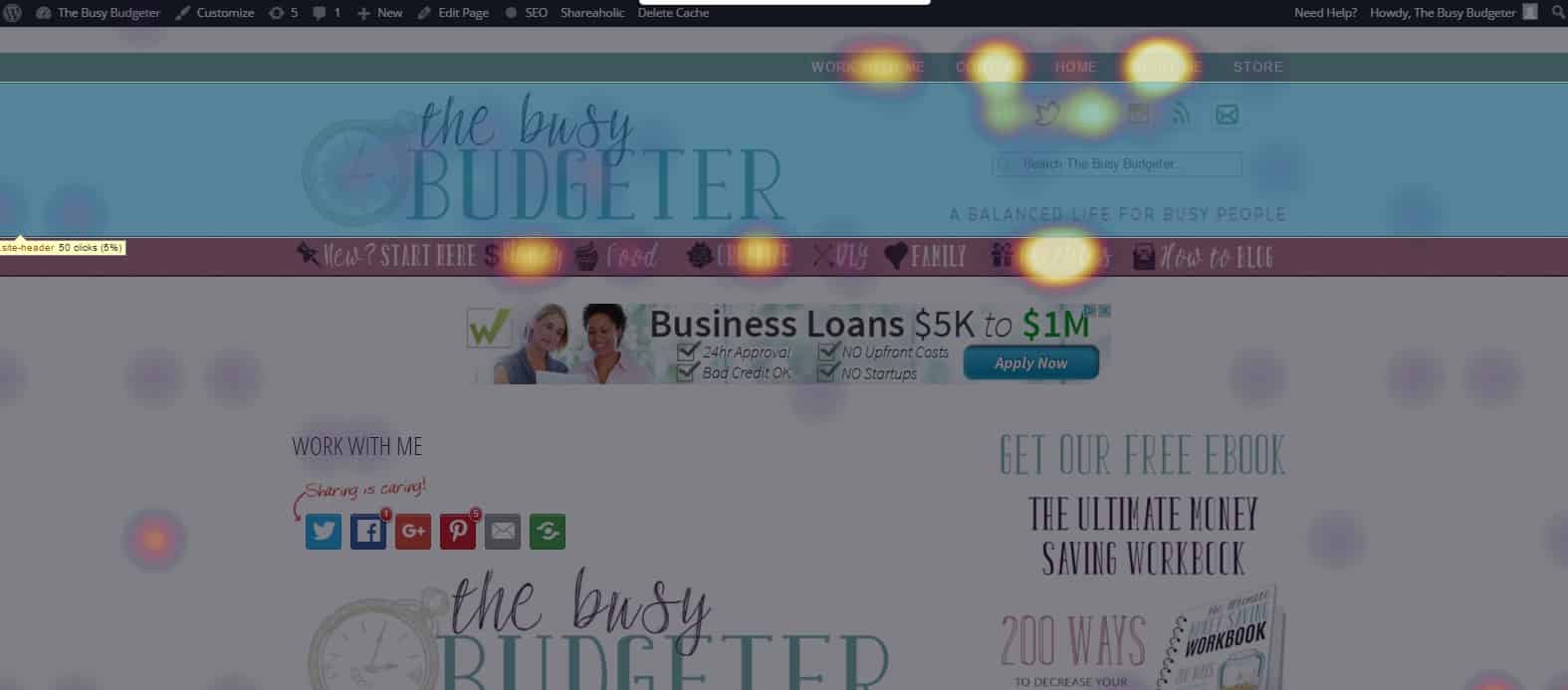 This is my site. You can hover over the spots to see exactly how many clicks came through.
I wanted to see two things this morning.
Which categories I should focus on updating (i.e. which are the most popular).
Whether I should spend the time on updating my "work with me" tab (I was convinced that no one clicked there and it was a pain to rewrite as I grew so quickly).
Here's what I've learned in a 5 second glance at the heat map.
I need to focus on the Freebies category! Which hasn't had anything added to it in months and certainly isn't my best work. I need to drop the Family category (which hasn't been updated in months because I don't really write about family). Clearly, my readers would be ok with that move.
I should totally spend the time to update the "work with me" tab. I was shocked at how many clicks that got and it hadn't been updated in months. If that was rarely clicked on, then I likely wouldn't justify the time to update it frequently.
You can do any page on your site for free like this with Appsumo. I use it frequently, I can see which ads are performing better, determine which newsletter opt-in is getting more clicks and see which side bar items people are most interested in. (I switch out the ones that no one is clicking on).
Hope that helps!
You can get Sumome for free by clicking here.
What's your favorite free blogging tool?
FTC Disclosure of Material Connection: In order for us to maintain this website, some of the links in the post above may be affiliate links. Regardless, we only recommend products or services we use personally and/or believe will add value to readers.