I don't know about you, but I'm always looking for ways to reduce food waste at home. It's the frugal gal inside me who *cringes* at the thought of tossing out perfectly good food.
Unfortunately, sometimes in my hesitation to toss it out, I tuck it in the back of the fridge to die a slow death. (I had good intentions to do something with it, I promise!)
Ew, right?
Does this sound like you?
Never fear! There are tons of great ways to reduce food waste that are delicious and totally easy.
Good news. The best way to figure out how to reduce food waste in your home is to start with a few money-saving prep tips and finish it off by getting creative with "recipes" for leftover food! Some of these ideas will give your leftovers a whole new life. It won't taste the same or be recognizable as "boring ol' leftovers" (wahwaah….).
It's time to take leftovers to the next level. Because while I love being frugal, I don't think my husband or kids (or I) would want to eat back-of-the-fridge leftover mystery meat sandwiches anytime soon. I'm sure yours don't either.
Tips for Reducing Food Waste at Home
Plan to "Cook Once, Eat Twice"
Pork chops are on sale at the grocery store!
You come home and whip up a SUPER yummy dinner: pork chops, mashed sweet potatoes, the works. You go all out! Gourmet restaurant-style!
Your family noms away on your lovely dinner, but oops…you made a little too much. (Okay, like waaaay too much…like, "feed a small army" too much. Yikes!)
What do you do? Do you toss out those leftovers or try to microwave them for work tomorrow? Do you choke down a sandwich with a whole pork chop slung in the middle?
Sound familiar?
To avoid this predicament, I'm a big fan of making tonight's dinner tomorrow's lunch. In this case, almost anything works pretty well. The criteria basically have to be: Microwaves well, or tastes great cold.
Chinese food, pasta dinners, saucy/soupy dinners work really well. Sauce helps the items not get all dry when microwaved, so err on the side of dinners with liquid or sauce (or with pasta and rice, combine them with the sauce before microwaving).
Protein makes good cold filling for sandwiches too. Meat gets a little harder to chew cold, so slice it up. If you're making a hot filling, simply microwave it before putting it on the bread, which can get tough when zapped.
Hamburgers save particularly well. Just put a plain burger in a plain bun, wrap with wax paper and then aluminum foil. Remove foil and heat for 40 seconds. Fill a small plastic Tupperware container with ketchup, mustard and mayo. (I like to mix them all together to make "orange sauce," but you do you.)
Batch Cook
Another way we love to reduce food waste is to batch cook. You can batch cook all kinds of things: bacon, ground beef, even pancakes make great batch-cooked items. The idea is to mass-produce your meals at one time. Imagine getting everything done in one fell swoop for a quarter of the time you'd normally spend. What will you do with all your free time?!
To batch cook, there are a few tools that really ramp up your game—an electric griddle, for starters. I can make 40 pancakes in about 15 minutes with a griddle. Then I freeze them and we have breakfast to go for two kiddos for the entire week! Just pop the cakes in the toaster and we're off. You can also batch cook grilled cheese, hash browns, and meat like chicken, pork chops and more.
Try Freezer Meals
If you want to avoid leftovers altogether (which I totally get), for $100/week you can prepare a full, healthy meal plan in just three hours! Freezer cooking is literally the fastest, easiest way to cook TONS of food in a quick afternoon of prep and work.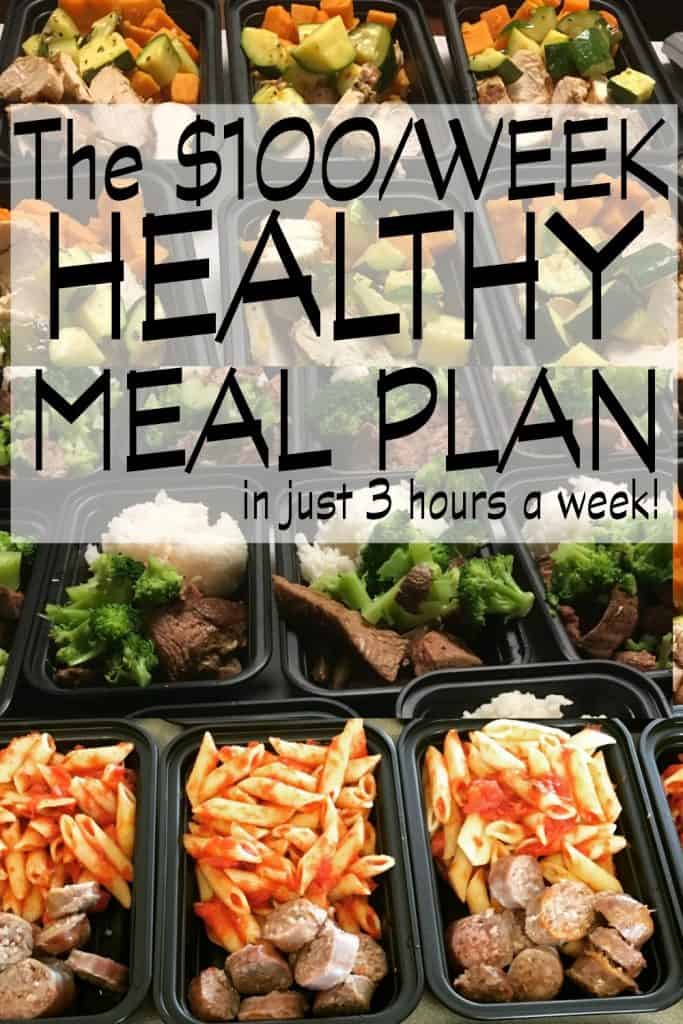 You can even chop up leftover chicken or use leftover ground beef and incorporate it into your freezer meals. You can even use up leftover vegetables or other items by tossing them into your freezer meals as well.
Coming up with a meal plan for your freezer meals can be the biggest challenge of the whole process. Fortunately, I've got tons of ideas in the Freezer Cooking Archives. Simply write down your plan and then mix and match with the items that will fit your family's preference.
Freezer meals offer tons of options and often items like casseroles can be enjoyed several times and over several meals. Slow cooker options such chili, pulled pork, and tortilla soup are also easily stretched through several meals (and are among my family's favorite freezer meals)!
Super Easy Leftover Recipes!
Revamp your leftovers with these SUPER easy ideas!
Leftover ham? Cook up grilled cheese with the ham right inside. It's SO delicious!
Another quick fix? Throw your leftovers into macaroni and cheese! Try leftover ground beef, a can of diced tomatoes, and chili powder. (If the meat is taco seasoned, even better!) Leftover broccoli also goes great in mac n cheese. (Try it with leftover chicken, too!) Try leftover ham with a can of peas or sliced up leftover hot dogs.
As I'm sure you know, pretty much any holiday or get-together will yield a ridiculous amount of leftovers. Try this awesome leftover turkey Alfredo that takes 15 minutes to throw together. You could also use leftover chicken in this recipe or go for leftover mushrooms or beef for more of a stroganoff feel…whatever you have lying around!
One of the biggest items we waste is leftover lettuce. It's cheap and it doesn't last long, so it seems like it never gets used up. With leftover rotisserie chicken, you can easily use it to make a yummy strawberry avocado chicken salad, or add lettuce to your wraps and chicken salad sandwiches.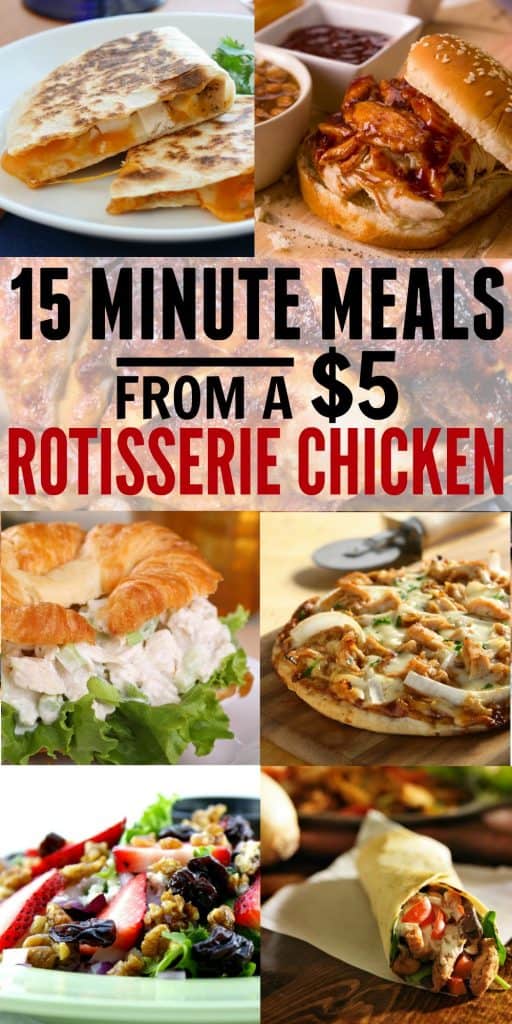 I know, I know. I talk about rotisserie chicken meals a LOT. But they're SO GOOD.
So yea, we also buy rotisserie chicken often. It's usually on sale for around $5 (and sometimes it's even 2 for $5) and you can make so many meals from it and use it to stretch other meals.
Food Stretchers to Make the Most of Your Leftovers
There are certain "food stretchers" that you can always have on-hand to help you use up leftovers and incorporate it into your meals. Simply pick one of the stretchers and add your leftover meat, leftover potatoes, leftover veggies, or other items.
I keep most of these items on hand all the time, so when we have leftovers I can just give them a sauté, add some cheese or sauce, and turn them in to something else.
Items to help extend your recipes for leftover food:
Bread (for sandwiches)
Tortillas (for sandwiches, wraps, quesadillas, fajitas, etc)
Pasta (add jarred sauce and toss in veggies, leftover rotisserie chicken, sliced up beef, pork)
Rice (add bottled teriyaki sauce and leftover veggies, fish, chicken, beef or pork)
Lettuce (put veggies and sliced leftover meat on top with dressing for an easy salad)
Frozen bagged vegetables (add with leftover protein to soups, pasta, rice or other dishes to stretch a little bit of meat a long way).
I also keep some jarred sauces and dressings on hand to help stretch items a little further. Leftovers can get a little dry so adding sauces help keep things yummy, especially when microwaving them.
Getting creative can really help you reduce food waste and make the most of your leftover food. Don't throw it away (or hide it in the fridge)—find a way to use it up and enjoy it a second time! There are tons of great recipes for leftover food—what are YOUR faves?