This cheap, quick and easy Turkey Alfredo, can be on your table in less than 15 minutes.
Update: 4/5/20 I know how stressful it is right now to be cooking 2-3 times a day while you're also trying to work, "home school", referee kids, and get your house under control. We created an epic inspiration binder of the easiest cheap meals. These ideas are field-tested by hundreds of thousands of our readers and are guaranteed to help even the most overwhelmed mom stick to a meal plan.
And we're giving it to you 100% free right now so you can use it to help you get through this time. And bonus: You'll end up using it long after the pandemic is over.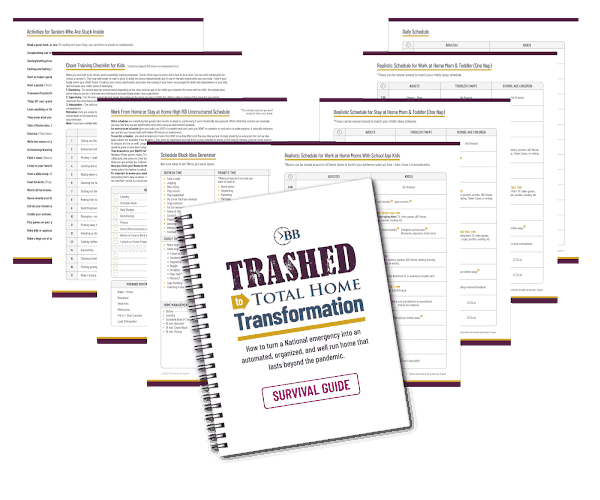 This 15 minute leftover turkey alfredo is a super quick and hearty dinner that can be made with leftover turkey (of course, rotisserie chicken could also be substituted!).
Are you ready for the holidays? I'll admit, I'm still not. There's a lot of preparation that still needs to be done around here, but I am prepared for the days following the holidays.
I already know exactly what I'm going to be doing with my leftover turkey, and I wanted to share this recipe with you, too!
It's a quick and easy leftover turkey alfredo, it takes 15 minutes to make and is a hearty and comforting dish for the whole family. It's also great for when you want a break from the standard turkey & mashed potatoes leftovers (because as much as I love them, I can get tired of eating the same thing every night just for the sake of clearing my fridge!).
I promise, this dish is fast, easy, and all around amazing. Let's get started!
The first thing you want to do is begin cooking the pasta. Just follow the package directions — boil the water, add the pasta, and cook/boil about 7 minutes, stirring occasionally.
While the pasta is cooking, get started on your sauce! Since we're using a jarred alfredo here it makes things especially easy — no whisking flour or worrying about cheeses that curdle. We are going to jazz that sauce up, a bit, though.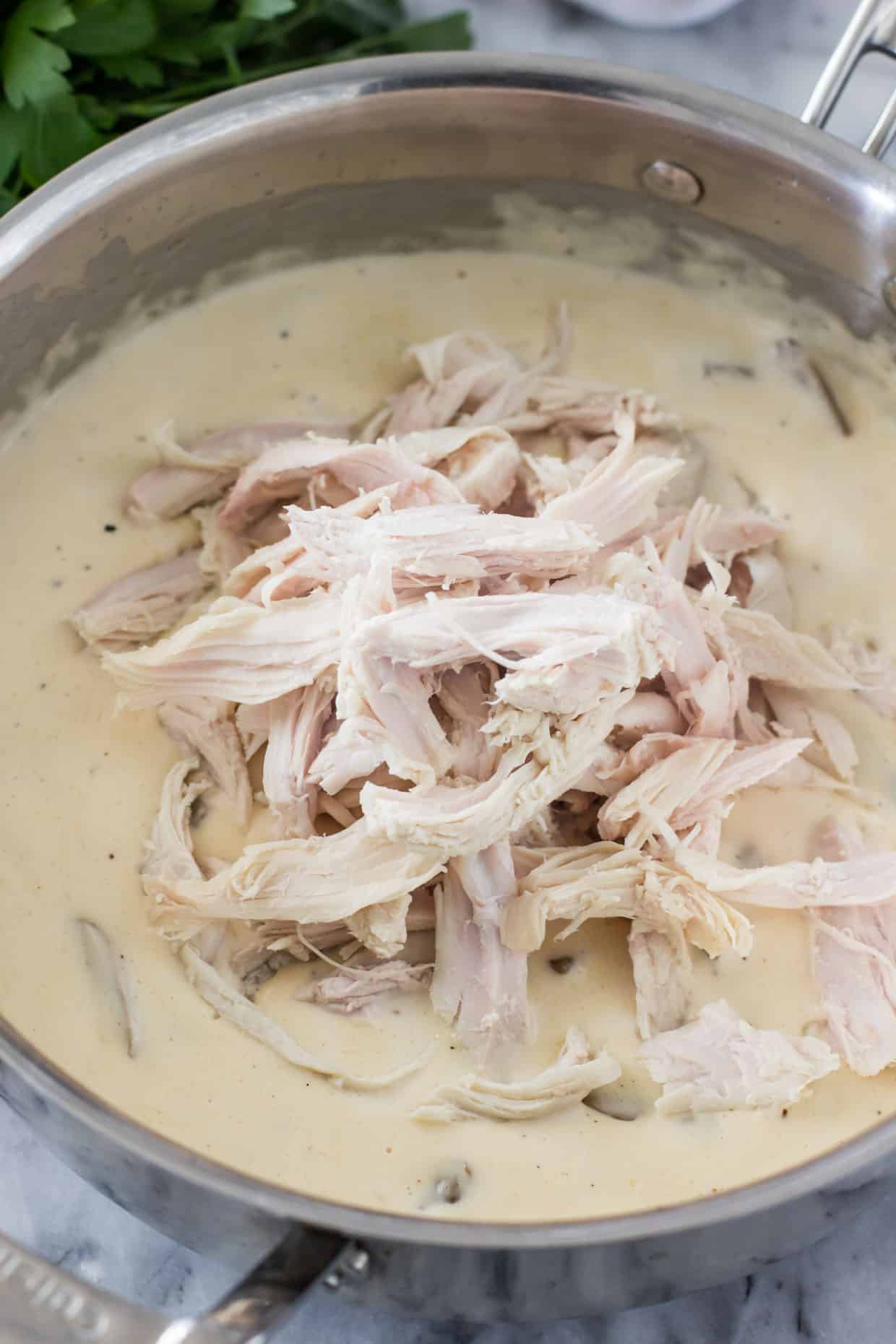 First, melt a little butter or olive oil in a large saucepan and then stir in the sauce and a third cup of milk. I like to add the milk because it gives you a little more bang for your buck — it helps thin the sauce a bit so that every single bite is coated in creamy alfredo sauce — yum!
I also add mushrooms, but that's optional, of course.
Add your shredded turkey and stir well.
And now let's get back to the pasta, shall we?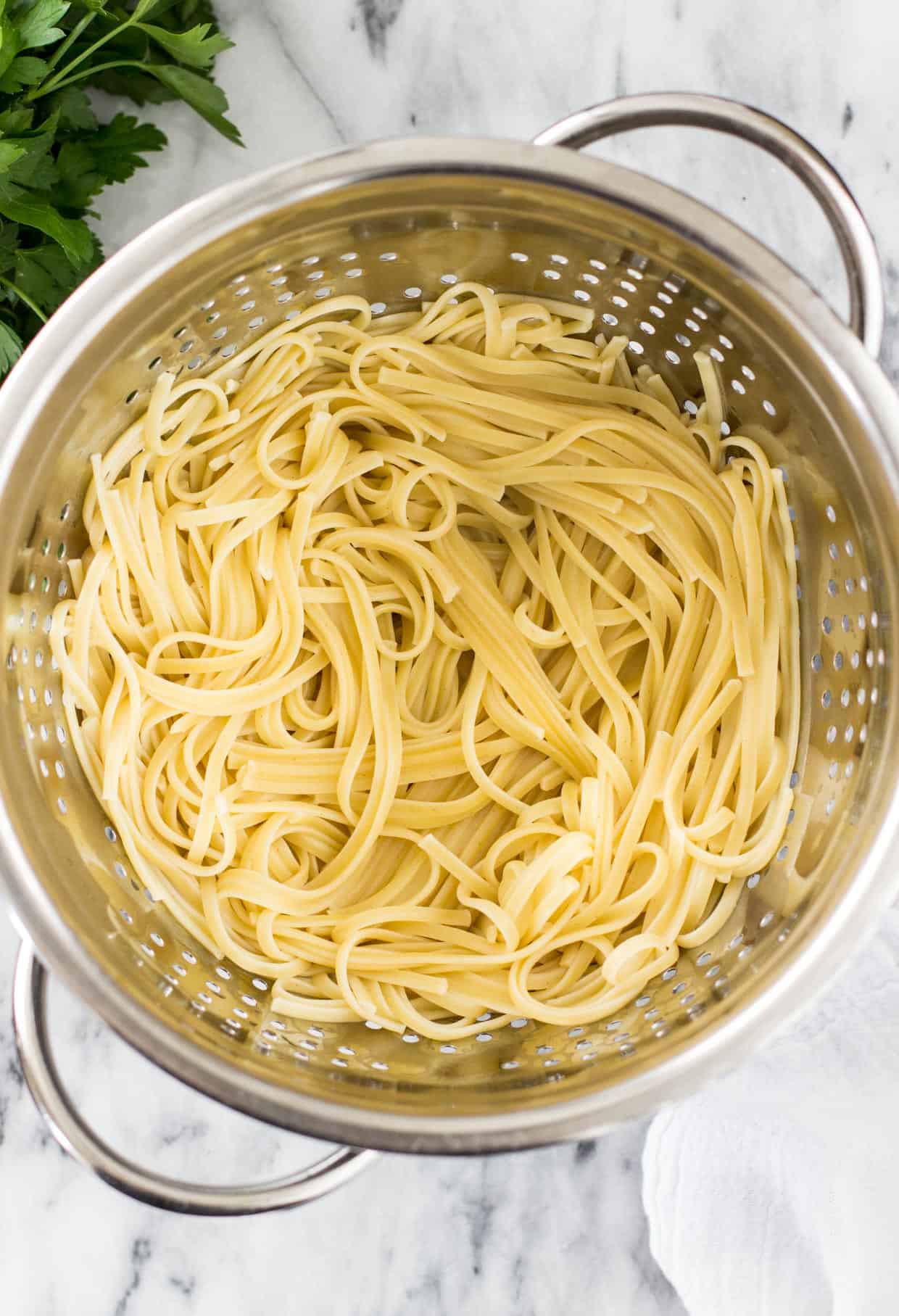 At this point, your pasta should be just about done cooking.
Drain the pasta and immediately add the drained noodles to your sauce/turkey mixture. Stir it up well!
Pop a bag of steam-in-bag broccoli into the microwave and nuke it according to the instructions on the package. Stir that in along with your noodles and turkey, and you're done!
I always like to sprinkle a handful of parmesan cheese (or mozzarella) on top. I feel like I should say this is optional, but in my house cheese is never really optional.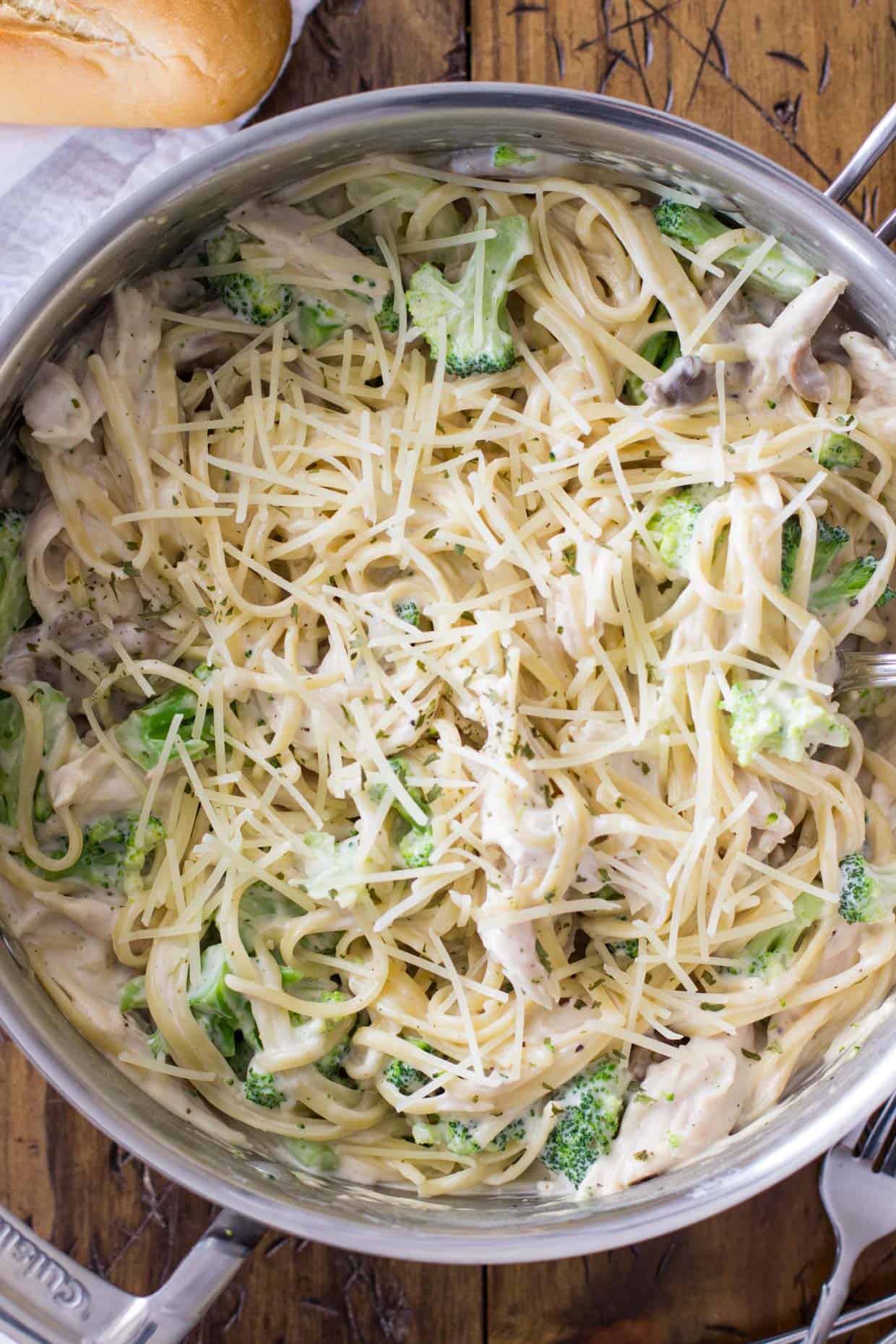 Let the cheese melt for a few moments and then stir everything up nicely and serve!
Fast, simple, and delicious, this is a great way to repurpose leftover turkey (though of course you can use it with leftover/rotisserie chicken, too!). Enjoy!
What's your favorite way to use up leftover turkey?
15 Minute Leftover Turkey Alfredo
Cheap and easy Turkey Alfredo
Ingredients
6 oz dry linguine noodles (this is a little less than half of a standard 16 oz package -- you can estimate this)
1 Tbsp olive oil or butter
1 15-oz jar alfredo sauce
⅓ cup milk
4 oz can sliced mushrooms -- drained
2 cups shredded turkey
10 oz package steam-in-bag frozen broccoli florets
½ cup shredded parmesan or mozzarella cheese (optional)
Instructions
Prepare pasta according to package instructions.
While pasta is cooking, heat olive oil or butter in a large skillet over medium heat.
Stir in alfredo sauce, milk, and mushrooms. Bring mixture to a simmer/slight bubbling.
Add turkey and stir occasionally while pasta finishes boiling.
Once pasta has finished cooking, strain well through a colander and pour into sauce mixture (don't let pasta sit in the colander too long or it will begin to stick together). Stir well and reduce heat to medium-low.
Microwave broccoli florets according to package instructions and stir into alfredo sauce until all ingredients are well-combined.
Top with parmesan cheese, if desired, and serve once cheese is melty.