Living paycheck to paycheck is a struggle. And most of the financial information out there doesn't apply to that situation. If you attempt a monthly budget when you live paycheck to paycheck and spend too much in any week, you'll overdraw your account, making your situation worse.
If you live paycheck to paycheck, there's only one budgeting program (system) that I would recommend. It's the one we used to claw ourselves out of over $40,000 worth of debt.
My days of living paycheck to paycheck are long over… and my sole purpose is now to help you leave those days in the past as well.
Update: 4/5/20 I know how stressful finances are right now with stay at home orders and the pandemic. I also know that I'm uniquely qualified to help you. I've helped hundreds of thousands of people get out of the paycheck to paycheck cycle (after trying and failing for years), by teaching them how to work with their unique personality to actually stick to a budget.
I'm giving you access to the insanely popular 90 Day Budget Bootcamp for FREE. Because I know that this program will change every aspect of your life. Take a look around. Because this is the LAST DAY you will ever sit around worrying about money. Let's get to work.
Join the 90-day Budget Bootcamp for FREE here…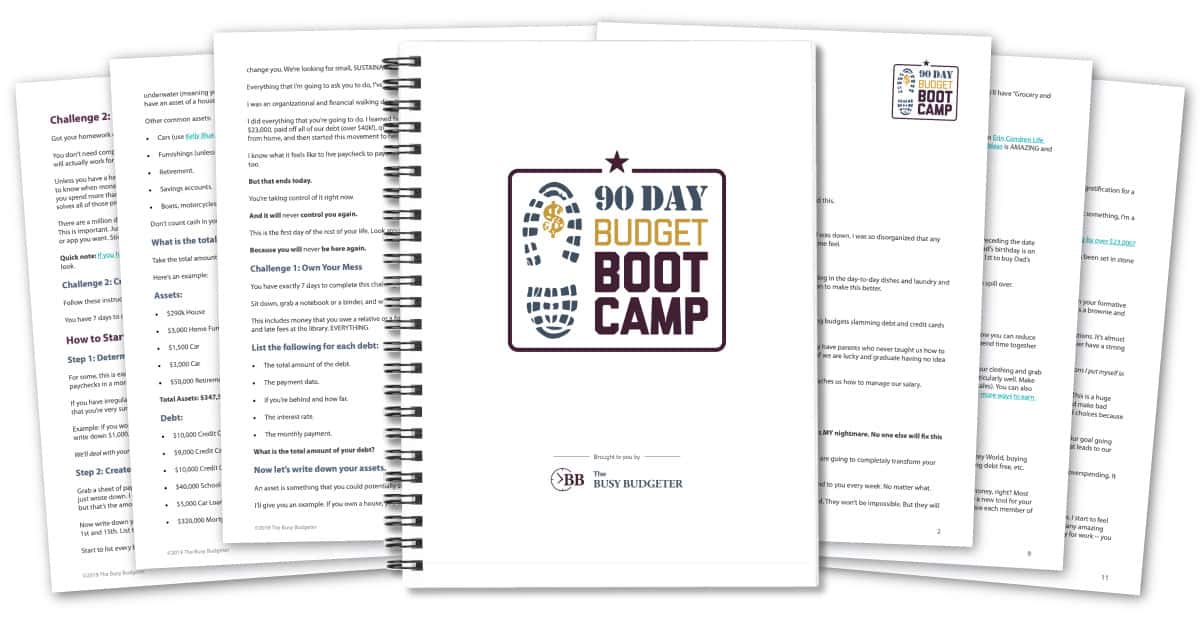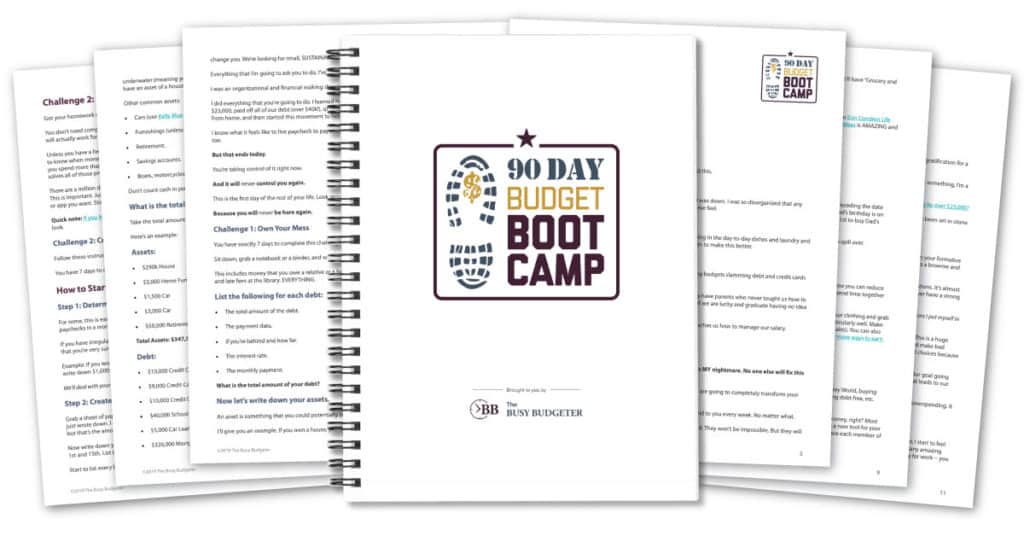 Or keep reading to get step by step instructions on the only budgeting program you should use if you live paycheck to paycheck…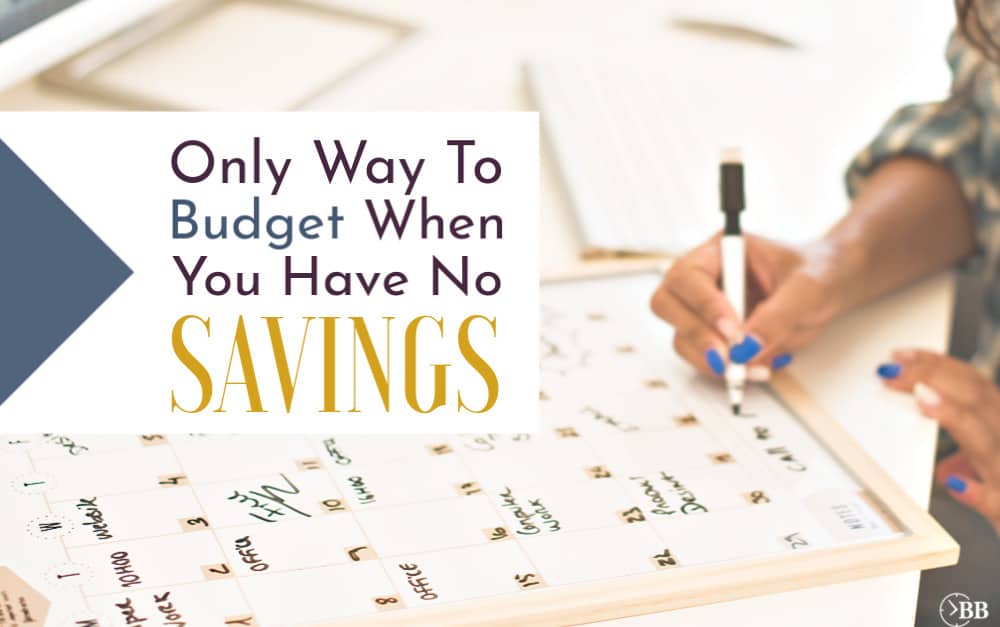 Once you have your budget down on paper, you may be trying to figure out how to track your budget. You can track your budget with paper for a while (and I highly suggest you do), but once you get into the swing of things, it's nice to have a program that tracks your budget more efficiently than you can on pen and paper.
They even have life planners now, that you let you track your budget right in with your schedule/organizer like the Living Well Life Planner.
If at any point, you find that once you start to track your budget on an app or a website, that you stop updating it, then abandon the app or website and go back to paper. The best way to track your budget is to use whatever method you will actually do. There's nothing wrong with a paper budget.
Until 2021, there wasn't a single budgeting app that I could recommend because they all worked so differently, results were often mixed, and none of them were easier than pen and paper… so they all had a distinct learning curve that made something that's already overwhelming even more so.
In 2021 though, Qube Money finally released the only budgeting app that's also an FDIC insured bank.
After years of problem solving and overcoming what I thought were insurmountable obstacles… Qube proved me wrong, and changed the face of budgeting forever.
While their unique system of digital cash envelopes straight in your bank can help even the most experienced budgeter save time on tracking (I use Qube now too)… where this really excels is in helping people who live paycheck to paycheck and are either…
Extremely overwhelmed with budgeting and getting started.

Unable to stick to a budget they set.
Because Qube is a digital cash envelope system that's just as effective as an actual cash envelope system but without any of the issues that can make cash budgeting unrealistic long term (like not being able to shop online, order groceries for pick up, easily have your spouse make purchases fo you, and having to juggle cash with crying kids in a check out line), this is hands down my number one recommendation for tracking your budget and it's the only budgeting program you should use if you live paycheck to paycheck.
Qube Money is best if you're living paycheck to paycheck.
We'll spend today going step by step through how to use Qube Money. I love Qube because it's so easy to use and because it saves me so much time. Surprisingly, it's cheaper than other budgeting options, you can use up to 10 Qubes (digital cash envelopes) for free, or you can upgrade to a partner account for $8/month.
This option unlocks partner permissions, and 2 debit cards per account or you can upgrade to a family plan and get up to 10 debit cards, and access to chore charts and kids accounts with allowances (similar to Greenlight accounts, our kids have had their own debit cards and bank accounts since they were 6).
Today, I'll walk you step by step through how I used Qube to set up a budget and stay under that budget every single month.
Who should be using Qube?
Everyone can use Qube. It's pretty ingenious, but you should absolutely be using Qube Money if you live paycheck to paycheck. There is no other budgeting program that I would recommend to anyone that lives paycheck to paycheck. Paycheck to paycheck means that you don't have $1,000 in savings. It means that if something unexpected happens, you could overdraw your bank account.
The problem with traditional budgets is that they look at your month as a whole. You're going to make $5,000, spend $4,000 on bills and pay off debt with the other $1000. That sounds easy until you attempt to pay your bills and pay off debt on the 1st of the month and $2,500 of that income doesn't come in until the 15th of the month. Then you're going to be overdrawing your account, racking up fees, and living off of credit cards until that mess gets cleaned up.
If you live paycheck to paycheck, you MUST know when money is coming in and when money is going out, and not just bills! You have to know when you need to buy a birthday present for an upcoming party, when you need money to meet your parents for dinner, or when you need to buy your Christmas tree.
You need to grab a monthly calendar and write down the dates you expect money to be coming in, and money to be going out.
Qube Money lets you assign your money to different Qubes (digital cash envelopes) so that you can immediately see what's been funded for the month and what needs to be funded from the next paycheck.
So, now you can create Qubes (or digital cash envelopes) that match the money that needs to be reserved this month, both for normal bills, like electric and special things like "Scott's wedding" or "dental work".
Step by step instructions to manage your budget with Qube if you live paycheck to paycheck.
Step 1: Create an Account:
Sign up for an account here. It's free and they'll automatically send you a debit card. Once the debit card arrives, transfer money in from your current bank account for the month.
Step 2: Transfer your money in:
You can transfer your money in instantly via debit card. It's limited to a one-time use on the free version but you'll be able to use it as many times as you want with premium. The limit right now is also $100 but that's really only going to benefit someone who uses Qube just for their fun money.
They also have direct deposit and Payday 2 Days Early which are the quickest and easiest way to get money into Qube (more on that as I test them out).
A better way to do it is to link your main bank account to Qube Money so you can transfer money from your main bank account to Qube. Those transfers take 1-3 days but don't have limits on how much you can transfer in.
When the money is transferred in, it's transferred to the cloud. You can't spend that money until…
It's transferred to a Qube.

You open the Qube for spending.
Step 3: Create Budget Categories:
Let's say, on the 1st of the month, you get your first paycheck. You set up the following envelopes: (Hint: You only have to set up envelopes once but you can change them, delete them, or add more at any time)
When you set up envelopes for bills, add in the amount typically due right on the Qube name. So if you pay $88/month for your cell phone bill, write "TMobile $88."
When you label the food Qube, write down the amount you have to spend on food every week (so take your monthly food budget and divide it by the number of weeks in the month) and choose a day of the week for you to release next week's food budget to yourself. (I do mine on Sundays).
Mortgage

Electric

Cell Phone

Internet

Food

Babysitting

Date Nights

Transfer to Savings
Make sure to include envelopes for items that are just occurring this month; things like…
"Tennessee wedding"

"Dental work"

"Jon's Birthday"
Take your income and start transferring money to your Qubes starting with the most important ones due in this paycheck and then moving on to optional Qubes.
(So mortgage due on the first gets paid before electric which is due on the 17th because it's more important, but it's also funded before "Jon's birthday party" because that's not a "need" (although Jon may have a different viewpoint on that).
Then create an additional Envelope called *** Food Holding***
This is the account that will "hold" our food money when we get paid, and then we'll release a weekly amount that can be spent that week into the food Qube.
The reason that we do that is if we get $800 a month for food, but we spend $500 in the first week, there's no way we're going to be able to stick to that budget. We need to release money weekly.
Then, create an additional envelope called "blow money" or "fun money." Every time you are under budget in any category at the end of the week, take 20% of whatever money is left over and transfer it to your blow money account. You can spend this guilt free on whatever you want.
Take the remaining 80% left over and transfer it to the savings Qube. You can either pay off additional debt with this money right away, or you can transfer this money to a hard to reach savings account (where you keep your emergency fund) like Capital One 360 or Ally Bank.
Step 4: Spend Money
Now you're loaded and ready to start spending!
When you go to make a purchase, whether online or in person open the Qube app first, choose which envelope you want to spend from, and open that Qube, like this…
The money available in that Qube will be loaded to your Qube debit card for the next 30 minutes or until a transaction is processed. When you make a purchase (or when 30 minutes times out with no purchase) then whatever you didn't spend goes back to that Qube category.
Just like actual cash envelopes, you get the benefits of forcing yourself to look at your accounts and make decisions about where that money will come from before every purchase.
This is a super simple shift from a normal budgeting app, but it's also the secret behind its success, especially in those that struggle with traditional budgeting.
Step 5: Close out the week
At the end of the week (or whatever day you reset your budget, we do it on Sundays)…
Go into each category that should have been spent to zero that week (like your food budget) or a special event like Jon's birthday and take 20% of the amount you have leftover from the week and transfer it to blow money. You can now spend that guilt-free on whatever you'd like.
Need help calculating percentages? Use percentcalculator.net to make it easy.
Then take the other 80% of what's left and transfer it to savings or to pay off extra debt.
Have a quick budget meeting about how you did budgeting this week. This meeting can be 5 minutes tops. You can look at your Qube balances, make any changes that are needed, and brainstorm ideas for things that didn't work.
Advanced: You can also choose one way to save money every single week and implement it over that week. This could be as simple as calling around for competitor's quotes on car insurance or as quick as scrolling through your iPhone subscriptions (which can be found here) and mass canceling them all).
Get Your Next Paycheck:
When you get your next paycheck. Do the same thing again. Transfer your money in, distribute it to the rest of the Qubes until they're all full then continue spending.
Hint: If you frequently end up with last-minute "emergencies" that break your budget (which is common when you're just starting because you're forgetting about things frequently), create an "Oops" Qube with a smaller amount in it (between $50 and $200) to cover mistakes that pop up (like when you forget about a quarterly bill or an important event that requires money).
Use savings to live on last month's income (an automatic emergency fund).
As you do this successfully for the next few months, I want you to keep in mind that your goal should be to be in a place to live on last month's income. Then your paychecks for the current month will get deposited into Qube's cloud and just wait there until the first of the month when you can fill the Qubes all at once (make sure though that you release month-long envelopes like discretionary and food into weekly allotments so you don't spend it all at the beginning of the month and run out of money before the end.
It makes budgeting even easier. Fill your Qubes at the beginning of the month. Check them every week and transfer any weekly left over to blow money accounts, and that's it. You can spend extra time and effort on reducing your expenses, but the bare minimum is done in just that time.
Closeout the month:
At the end of the month, check other available accounts to determine if you had "unauthorized spending" and if you did add that to the amount you budgeted for at the beginning of the month for your total spending.
If you want to go the extra mile, you can quickly categorize all your purchases into 5 simple budget categories to determine total spending by categories that you can compare month to month. (I do this every month).
But if you get overwhelmed and don't get to that, it's not the end of the word as long as you use the digital cash envelopes and incentivized savings to reduce spending and stick to your budget.
Then set up your monthly budget for the next month.
Warning: This is an extremely effective way to budget. It's arguably the EASIEST And MOST EFFECTIVE way to budget available today. But it has one drawback.
If something happens to your phone… it dies, you don't have service, or it shatters and you can't use the screen, etc. You won't be able to open a Qube and your debit card won't work. There isn't a way to bypass needing to open the Qube.
How to work around that is to keep a backup payment method in your wallet that is not a credit card. The easiest way to do this is to keep the debit card for your main checking account (whatever you use now before you have Qube) with a $50 or $100 balance in your wallet.
If you're traveling and know that you won't have service for the next few hours or days, you have the option of opening a Qube for an extended period of time like a few days or a week.
If you're traveling internationally, the Qube card has been shown to work. I would have an alternate method of payment so you are always prepared.
In my case, I have a business debit card and I just keep that in my wallet in case that happens. I can use it and then transfer the money over after.
But it's never actually happened and I haven't needed to do that.
It's important to remember that while this is insanely powerful technology, in order to benefit from that, you have to accept that you may one day be in a condition where it's not possible to use it.
This system of digital cash envelopes is the single best tool to get you out of the "panic mode" with money.
Living paycheck to paycheck is a serious issue. I don't need to tell you that. You know that. You live with that stress every single day.
You have the tools to change this now.
I can't make you sit down and do this. But whether you read this and think "I should do that" and never actually do or you sit down tonight and actually implement this system is up to you.
You are the only person with the power to change your financial future.
Choose wisely.
You can do this. I can help.
You can join the (also free!) 90-day budget boot camp and I'll tell you exactly what you need to do in step by step simple instructions to get your finances under control. This program has changed the lives of over 65,000 people (many of whom have been trying and failing to get their money under control for years). Take a breath… We got this. 🙂
Join the budget boot camp here.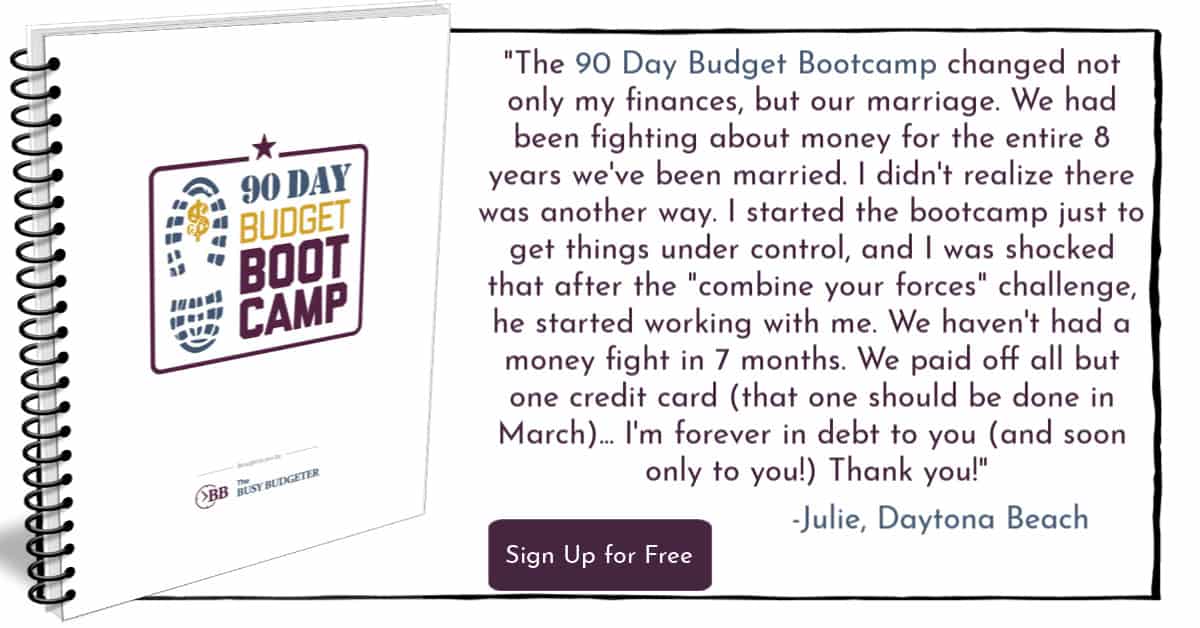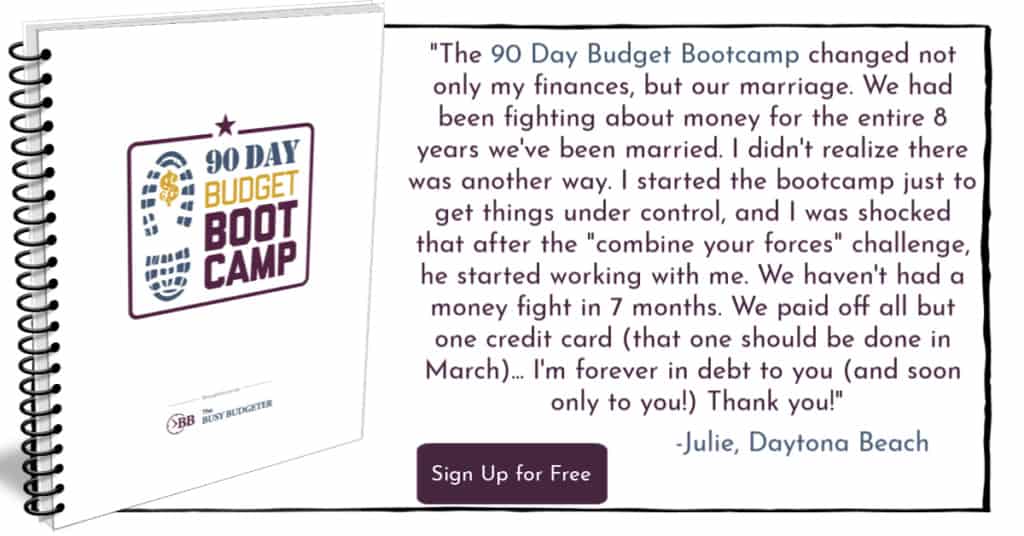 Update: 05/15/18 You can now join the 90 Day Budget Boot Camp for free! Get step by step instructions for how to set up a budget, maintain a budget, and save money. With hundreds of success stories and reviews, this is not an opportunity you want to miss! Join the Budget Boot Camp here.
What's the worst thing about living paycheck to paycheck?
Other popular articles…
How To Find the Best Budget App to Track Your Budget.
How 14 Bank Accounts Saved Our Budget.
Banking services for Qube Money are provided through Choice Financial Group, Member FDIC. Qube Money is a financial technology company, not a bank. The Qube Money Card is issued by Choice Financial Group, Member FDIC, pursuant to a license from Visa
This post may contain affiliate links. If you click & make a purchase, I receive a small commission that helps keep the Busy Budgeter up and running. Read my full disclosure policy here disclosure policy here.