Living paycheck to paycheck is a struggle. And most of the financial information out there doesn't apply to that situation. If you attempt a monthly budget when you live paycheck to paycheck and spend too much in any week, you'll overdraw your account, making your situation worse.
If you live paycheck to paycheck, there's only one budgeting program (system) that I would recommend. It's the one we used to claw ourselves out of over $40,000 worth of debt.
My days of living paycheck to paycheck are long over… and my sole purpose is now to help you leave those days in the past as well.
Update: 4/5/20 I know how stressful finances are right now with stay at home orders and the pandemic. I also know that I'm uniquely qualified to help you. I've helped hundreds of thousands of people get out of the paycheck to paycheck cycle (after trying and failing for years), by teaching them how to work with their unique personality to actually stick to a budget.
I'm giving you access to the insanely popular 90 Day Budget Bootcamp for FREE. Because I know that this program will change every aspect of your life. Take a look around. Because this is the LAST DAY you will ever sit around worrying about money. Let's get to work.
Join the 90-day Budget Bootcamp for FREE here…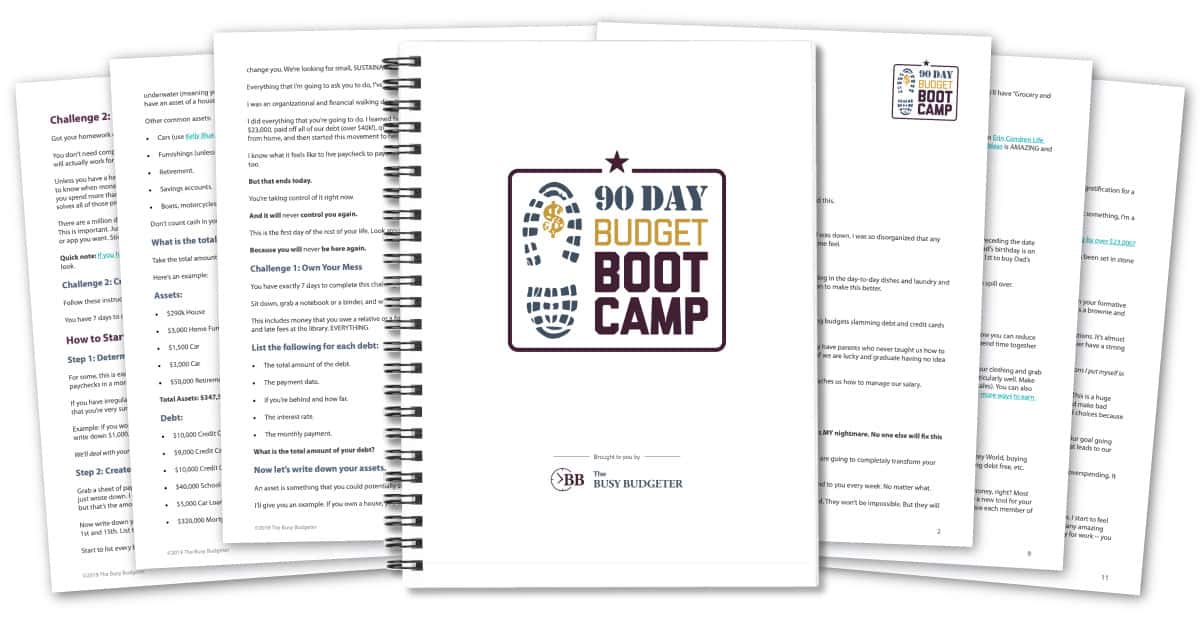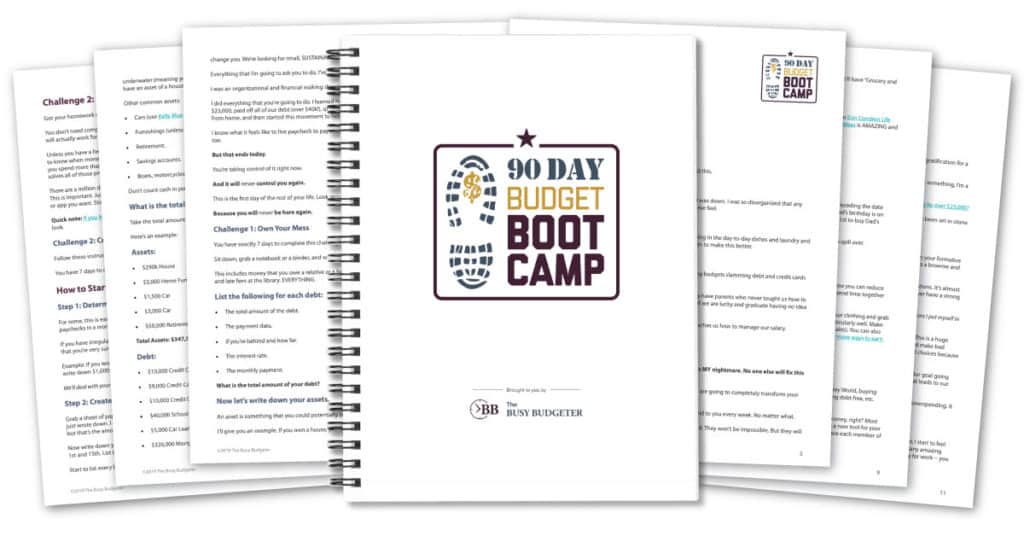 Or keep reading to get step by step instructions on the only budgeting program you should use if you live paycheck to paycheck…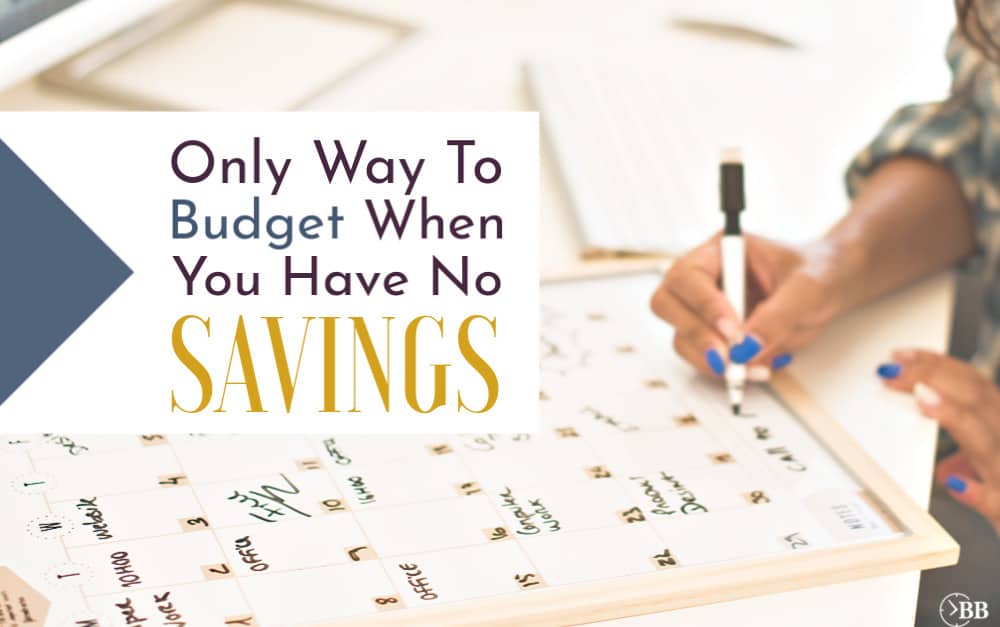 Once you have your budget down on paper, you may be trying to figure out how to track your budget. You can track your budget with paper for a while (and I highly suggest you do), but once you get into the swing of things, it's nice to have a program that tracks your budget more efficiently than you can on pen and paper.
They even have life planners now, that you let you track your budget right in with your schedule/organizer like the Living Well Life Planner.
If at any point, you find that once you start to track your budget on an app or a website, that you stop updating it, then abandon the app or website and go back to paper. The best way to track your budget is to use whatever method you will actually do. There's nothing wrong with a paper budget.
That being said, I love the convenience of using a program to do the work for me. There are 3 budgeting programs that I recommend. There are tons of others available but if you have no idea what you want, these are sure bets.
You can read more about which one is right for you here.
For detailed instructions on how to use YNAB, watch this and go here.
For detailed instructions on how to use Every Dollar, watch this and go here.
Calendar Budget is best if you're living paycheck to paycheck.
We'll spend today going step by step through how to use Calendar Budget. I spent 2 years straight using Calendar Budget and love it. Because it's cheap, it doesn't have the marketing budget that the other programs have, so there isn't as much info about it out there. Today, I'll walk you step by step through how I used Calendar Budget to set up a budget and stay under that budget every single month.
Who should be using Calendar Budget?
Everyone can use Calendar Budget. It's pretty ingenious, but you should absolutely be using calendar budget if you live paycheck to paycheck. There is no other budgeting program that I would recommend to anyone that lives paycheck to paycheck. Paycheck to paycheck means that you don't have $1,000 in savings. It means that if something unexpected happens, you could overdraw your bank account.
The problem with traditional budgets is that they look at your month as a whole. You're going to make $5,000, spend $4,000 on bills and pay off debt with the other $1000. That sounds easy until you attempt to pay your bills and pay off debt on the 1st of the month and $2,500 of that income doesn't come in until the 15th of the month. Then you're going to be overdrawing your account, racking up fees, and living off of credit cards until that mess gets cleaned up.
If you live paycheck to paycheck, you MUST know when money is coming in and when money is going out, and not just bills! You have to know when you need to buy a birthday present for an upcoming party, when you need money to meet your parents for dinner, or when you need to buy your Christmas tree. You need to know specifics! Calendar budget lets you put all of those dates on a calendar.
Sign up for a Calendar Budget account here.
Step by step instructions to manage your budget with Calendar Budget if you live paycheck to paycheck.
Step 1- Create an Account:
Sign up for an account here. Enter a starting balance (whatever is in your bank account right now).
What about pending charges?
You need to have a "start right now" date. There will likely always be pending charges. Enter your bank balance as it is right now and make sure those pending charges are reflected in your budget. So if it's 1/1/16 and you have a bank balance of $225, but $25 of that is pending for groceries, and $25 of that is pending for clothes, which means your actual bank balance is $175 once those clear; I would mark in Calendar Budget a starting balance of $225, then make sure that my budget can cover the $25 groceries, and $25 clothes within your months budget.
Step 2- Create Budget Categories:
Grab the budget that you did on paper in this challenge, and enter your budget categories and amounts. You can see an example of how to do this is this video.
Step 3- Enter Monthly Bills:
Look at your calendar outline on Calendar Budget. I want you to start entering due dates for your monthly bills. Everything that you haven't actually spent but are entering as a placeholder for something you know you will need to spend should start with "PROJ!!!" in all capitals. We use PROJ!!! to stand for "projected", meaning that it's a projected expense and not one that has already been made. That makes it really easy to see these and delete them as the actual charge comes through from the bank. Doing this allows us to project out how our money will flow this month and beyond.
Step 4- Enter Your Income:
Now, do the same with your income. Enter your pay dates into the calendar.
Step 5- Assign Budget Categories to Dates:
Now look at your other budget categories. Things like haircuts, groceries etc. Assign those categories to dates where you'll have enough money to cover it. For groceries, feel free to choose a weekly or bi-weekly amount. Remember to put in "PROJ!!!" for the amount since you haven't spend this money yet.
Step 6- Set up Recurring Expenses:
Go through and set those dates that will be occurring monthly (likely all of them) to occur every month at the same time like in the video below. This makes it so that you have a "basic budget" set up right in your calendar. You'll have to tweak it every month a little (like if you decide to reduce your grocery spending by $50), but it saves you from having to start from scratch every month.
This allows you to look far ahead into the future. You can say, If I keep to this budget, then I'll be a month ahead on all of my bills in 4 months. Or, I'll be debt free by next January! That's an incredibly powerful motivator to help you meet your goals.
I automate all of our household purchases by buying them online through Target.com and Grove Collaborative (Grove Collaborative beats the prices of Target and has a lot of freebies- but they don't carry everything I need). Shipping is free on both (you need a Target REDcard debit card for free shipping at Target. It isn't a credit card, although they have that option as well).
I set up subscriptions so they come every month and my spending on that stuff is extremely consistent. You can find out more about Grove Collaborative here if you want to try them and you can look at Target subscriptions here.
Now that you have a budget set, you can start spending your budget.
Step 7- Update Frequently:
As you make purchases, you should go in and update your purchases to Calendar Budget frequently. If you're brand new to tracking your budget, I want you to do this every day. Most days, you likely won't have much to update. But make a habit of logging on, either every morning or every night and updating your budget.
Go to your bank's website and log in. Figure out how to download your account activity (mine is a button on the side of the page when I'm in that account). You can download your account activity in a format for either Quicken or Microsoft Money (either file format will work). Save it to your computer in a place where you'll remember where it is.
Open up calendar budget and hit the scale button (balance reconciling assistant). Upload the file you just downloaded from your bank. All of your transactions will appear. One by one, drag them over to the date that the purchase occurred. Assign a category to each transaction as you do that.
Notice when you assign a category that your budget on the left-hand side automatically updates so that you can see what you've spent and how much left you have to spend in that category.
How often do I update?
In the beginning, I want you to do this every day, even if it's only for a week. I want to make this a solid habit for you. When you feel confident that you're taking it seriously then you can update it once a week. If you make a ton of purchases, stick with daily anyway- it will only take you about 5 minutes a day.
We update our budget weekly and that works out well for us, but we also don't have a ton of purchases. Back when we still were making a lot of purchases, I did it every day. If you choose to update weekly and you miss a week, start doing it daily.
This budget will save you so much money and will help you afford almost anything you want in the world. You can stay at home with your kids, go to Disney World, nothing is out of reach once you learn to budget. But… very few people actually budget because it's something that has to be done consistently. You can't spend hours making a budget and then never touch it again. It doesn't work that way.
Once you have $1,000 in savings or about $500 cash in a safe at your house, then set up automatic payments through your bank for bills. Wait until you have that "buffer" money. Like anything, this is a new skill set for you and you may a mistake in the beginning. I don't want you to make mistake and overdraw your account and have no access to money.
Credit cards are no longer an option for you if you're paying off debt or living paycheck to paycheck. Don't even think about them. Get the buffer cash available to you in case you make a mistake and then set up automatic payments through your online bank so you don't have to worry about paying bills late anymore.
Setting up automatic payments tells your bank to send out a check on a specific day of every month to pay your bills. You set the amount and it will do it every single month. You'll still need to make adjustments for bills that change regularly (like some utilities). You can also use the strategy of paying a high amount for those bills and then skipping a payment when you pay ahead enough.
At any point you can run reports to see your spending for any month by going to the report tabs. It will calculate your spending into charts and show you what your spending looks like.
When you do this, you'll quickly stop living paycheck to paycheck and you can upgrade into You Need A Budget or Every Dollar. Every Dollar is more expensive, but you don't have to upload your bank transactions… it does it for you automatically.
This is the single best tool to get you out of the "panic mode" with money. If you love using it though, feel free to keep it and not upgrade! It's free after all! We used Calendar Budget for almost 2 years before we switched.
Living paycheck to paycheck is a serious issue. I don't need to tell you that. You know that. You live with that stress every single day.
The problem with living paycheck to paycheck…
I can't make you sit down and do this. But whether you read this and think "I should do that" and never actually do or you sit down tonight and actually implement this system is up to you.
You are the only person with the power to change your financial future.
Choose wisely.
You can do this. I can help.
You can join the (also free!) 90-day budget boot camp and I'll tell you exactly what you need to do in step by step simple instructions to get your finances under control. This program has changed the lives of over 65,000 people (many of whom have been trying and failing to get their money under control for years). Take a breath… We got this. 🙂
Join the budget boot camp here.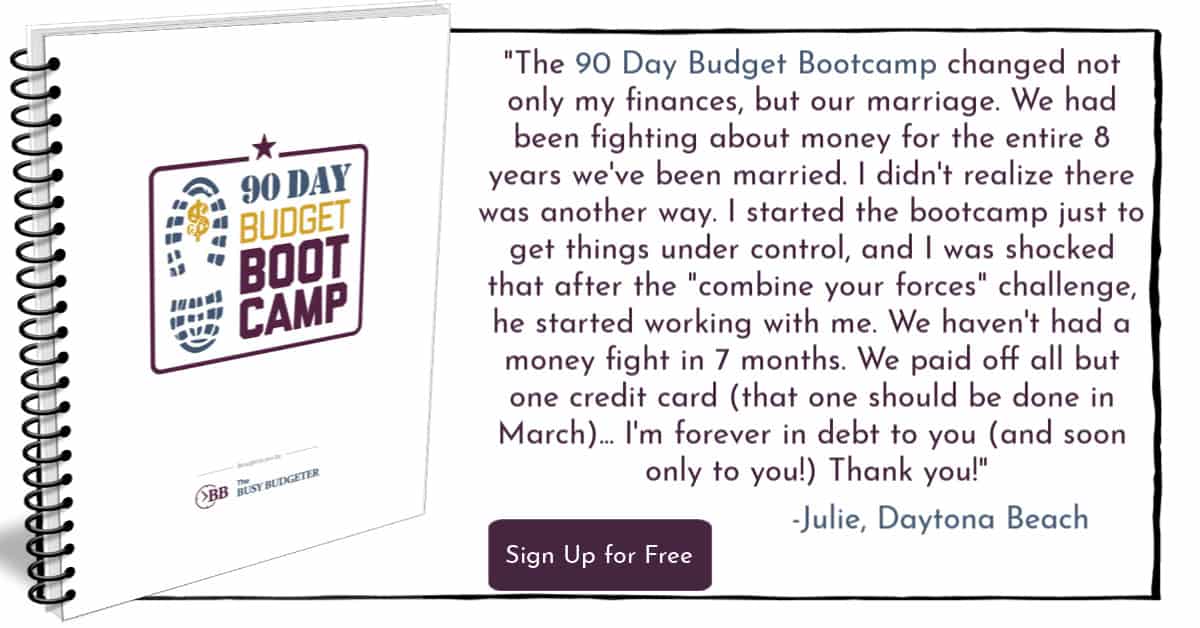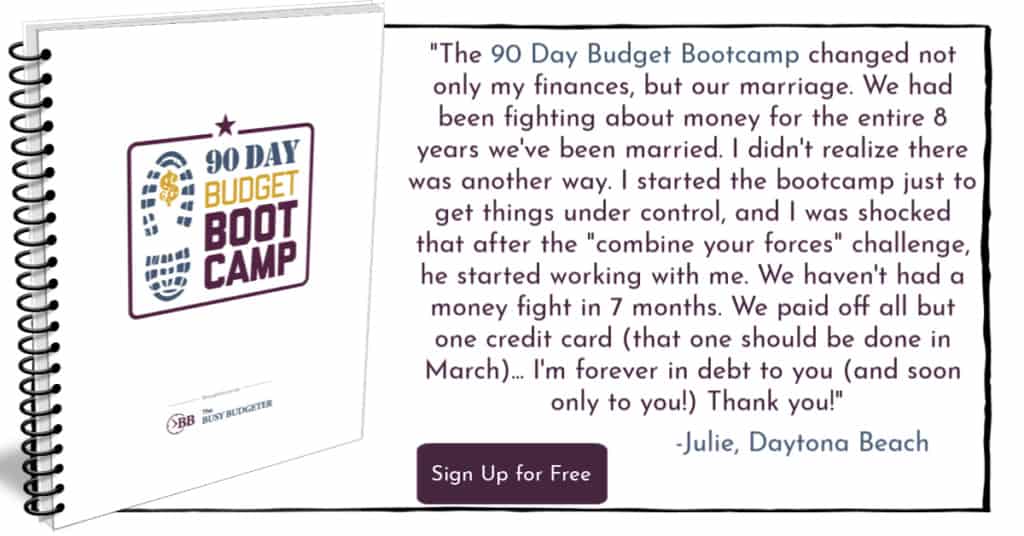 Update: 05/15/18 You can now join the 90 Day Budget Boot Camp for free! Get step by step instructions for how to set up a budget, maintain a budget, and save money. With hundreds of success stories and reviews, this is not an opportunity you want to miss! Join the Budget Boot Camp here.
What's the worst thing about living paycheck to paycheck?
Other popular articles…
This post may contain affiliate links. If you click & make a purchase, I receive a small commission that helps keep the Busy Budgeter up and running. Read my full disclosure policy here.disclosure policy here.