An absolute necessity to managing your money is a budget. From the young couple that doesn't have enough money to pay their electric bill, to the largest multi-million dollar company; everyone needs a budget. A sample budget is a budget from another family that you can look over to help you create your own budget. This isn't something that is discussed often, even amongst friends, so it's really hard to see specifics of how others spend their money.
Which is a shame, because seeing how other people spend their money is a huge help in deciding how to manage your own.
This sample budget is based on our current household budget. Everyone is at a different point in their financial journey; you may be well past us, or you may be behind us. Your budget may look different depending on where you are in your life. We already have our emergency savings account and a slush account established, so we don't have a set amount going to savings monthly.
I have a fairly irregular income where some months are fantastic and some months are… not so much. We have a budgeted amount that goes towards debt repayment based on my absolute lowest expected income and then we apply everything else we make towards that.
One statement of caution though: if you've never budgeted before, don't take my sample budget and say "That sounds good! We'll do that!" The only way to truly reduce your spending is by determining the true total amount of what you spent last month, and then trying to make substitutions to lower that amount. Reducing your spending in a category usually requires you to learn a new skill or get used to a new routine for it to work.
For instance, if our grocery budget is lower than yours, and you see that we eat almost everything from home, you might say "Great idea! I'll eat everything at home too!" But if you aren't used to it, you end up spending money on groceries, and then your groceries go to waste by forgetting to defrost meat, forgetting to pack lunch, etc. Let this sample budget be an example, not a guide. If there's something here you spend more on, then check the notes to see why our spending is in that area; maybe it's something you can implement.
If you spend less in an area, let me know! We've been on our frugal journey for almost 6 years and every year we get better. We have a long way to go; there are always substitutions that can be made and we take a few at a time to work our way through them slowly. In our first year, we reduced our spending by over $23,000. We used the money saving workbook to carve out a path to spend less and less every year.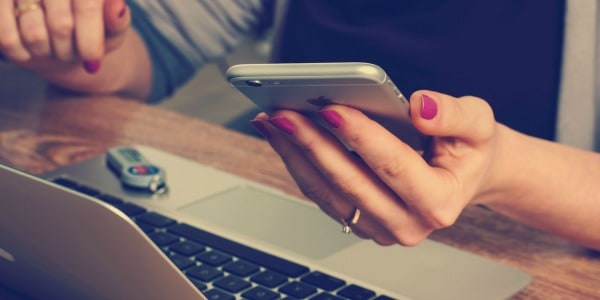 Our sample budget:
Mortgage/home/rent: $1,825/month
Granted we live in an incredibly expensive area, but this one drives me nuts. We got a fantastic rate (by moving two days after Christmas!), but this needs to change. Reducing this to $1,600 is going to be my goal for 2016.
It's very likely that we under spend in this area. We've really cut back on our clothing options the last few years to put that money towards other goals. We buy all of our jeans and pants from the thrift store on 50% off days, and fill in occasionally with other things as we need them. Our kids all have friends a little older than them, so we get their clothes when they grow out of them. We pass their clothes on to friends when our kids grow out of them. We don't regularly shop for clothes and good deals. When my husband says he really needs new work clothes, we check out of the promotions going on that weekend in all of the appropriate stores and grab everything from one store for the best price. So we spend several months (maybe even a year's worth) of the clothing budget in one trip.
Car payment or car fund: $120/month
We traded in our newer car that we had a loan on to get a 10 year old Chevrolet mini van for $5,000. It was such an awesome trade. We've had it for almost two years now, it came with a DVD player for the kids and is so cheap that we don't need to stress out over scratches, or spills.
Cell Phone: $91/month (Ting)
We average $34 for my bill and $57 for my husband, we both have iPhones on the TING network (it's in independent cell phone company available everywhere that Sprint is and it's amazing. I can't recommend them enough.
Debt repayment $580/month
We put $580/month into our debt repayment "snow ball" plan, and then any extra unplanned money that comes in.
We don't currently contribute to savings (except our retirement accounts, which is done automatically and we don't even think about), since we already have our emergency savings plan in place.
Varies, but averages out to $200/month. We live in too large a house for our needs that is a bear to cool. It's on my list to tackle in 2016 by reducing our home size. Keep in mind when you see that number that we have natural gas to heat the house so most of that is just cooling costs in the summer.
This is a catch all, that I can redistribute at the end of the year if we didn't need it. I'm an obsessive reader and utilize the library heavily. Occasionally life happens and I bring a book back late, or my two year old throws a library book in the bathtub. This covers those costs. It could also get used if you were to get a parking ticket, pay a bill late, or have to pay a cancellation fee.
Keep in mind that if we take a long trip, the fuel costs of that would go into vacation. Now that I work at home and Jon has a work car, our personal car rarely gets used. When it is used, it's only a few miles for trips to see friends, grocery shopping and errands.
This averages about $40/month, with higher bills in the winter and very low bills in the summer. This is used to provide us hot water and heat our home.
This is really an area that I need to tighten up on. I used to take a large calendar and plan for weddings, baby showers etc, as well as birthdays and each had an individual budget that led to a large yearly gift budget divided by $10. We plan to pay for our (frugal!) Christmas this year with Ibotta, (and we'll likely have quite a bit over what we need for Christmas) but I really need to go back to organizing the gifts like I used too. We have a gift closet so that when we see an amazing price on something that we know someone will love, we can pick it up then and store it. Keep a list on your phone though as well, so you don't forget about it and buy a second gift for that person later. Also, we're a huge fan of giving experiences instead of gifts, so that helps keep the cost down some.
We use freezer cooking, salad in a jar, menu planning, cheap stir fry, pantry meals and easy slow cooker meals to keep our grocery spending low.
I choose styles that don't require frequent maintenance, hubby gets his cut, but only every 6 weeks and goes when their on sale for $10 on Tuesdays at Fantastic Sams. I wait to get mine done until there is an amazing groupon deal that I can use. Jon cuts our sons hair using Wahl cutters (at 2, it's not like anyone is judging him if it's not perfect).
Holidays: $0 (but $200 through rebates)
We have amazing family that jumped on board with the $10 Christmas, we don't put specific money away for this this year because rebates from necessary spending through Ibotta will cover it.
Personal money: $100/month
Divided evenly. We also occasionally grab extra from overtime or additional earnings.
Life insurance: $60/month for both
Most of our life insurance is through work, this is just extra to make sure my sister (heaven forbid!) would have enough to raise our kids stress free if something happened to us.
We use this method so it doesn't come out of our budget.
Sigh. Sometimes I hate the suburbs,
Thanks to our awesome beater car! The home property taxes are included in our mortgage.
This is changing thanks to "couponing", we use this method and my new budgeted amount is $70 (includes diapers and wipes)
Vehicle maintenance: $20/month
But I think I need to increase that to plan better for needed car repairs. We use this system to save major on car repairs.
Vehicle insurance: $80/month
Through USAA.
Internet (you may have cable): $90/month
We just have internet since we're cable free. You can read about our cable free adventure here.
Amazon Instant Video: At $8.25/month
Amazon Prime is a steal for movies and TV! It comes with free 2 day shipping from Amazon, free unlimited digital photo storage, free Prime Music (Which lets you listen to popular songs and create playlists for free), and access the kindle lending library for free. We pay for prime because it's so cheap and has so many added benefits. Netflix and Hulu are also great options.
Join Amazon Prime – Watch Thousands of Movies & TV Shows Anytime – Start Free Trial Now
Which seems expensive to me… but momma needs her bubble baths.
Home improvement: $10/month
We usually fit kitchen gadgets into the grocery budget and we have incredibly messy toddlers right now, My personal philosophy is that we can have nice things when they know enough not break them.
Our vacations are usually limited to a week at the Jersey Shore when 60 members of my family take over a little mom and pop motel right on the beach. My very Italian family of insanely good cooks caters for everyone, (even homemade mozzarella!) so we only pay $100/person for food for the week. We've chosen to sacrifice larger vacations to make more progress on our goals.
All other additional income goes to debt repayment. We have the ability to make a lot of extra money through side hustles and overtime, so we make sure that we're paying down debt with everything we have. It's hard work; but it's also incredibly rewarding to see the progress.
Total Monthly Spending: $4,040 or $48,480 in a year.
My goal is to reduce this by $7,260 in the next year by reducing groceries (through couponing and backwards meal planning), moving, our stockroom couponing, and paying off one debt (although I'm aiming conservatively here, my real goal is to get everything but the mortgage paid off this year).
That's where our money goes every month. We've cut so much out of our spending, and we have so much further to go that if you don't have a system it just gets overwhelming. We use the free Ultimate Money Saving workbook: 200 Ways to Reduce Your Spending, Increase Your Savings and Achieve Your Dreams to make progress on our spending every single year. It helps us stay focused without sacrificing the things that are important to us. We just tackle one thing at a time, and hold the rest constant.
Do you have a category that you spend less in? How do you do it?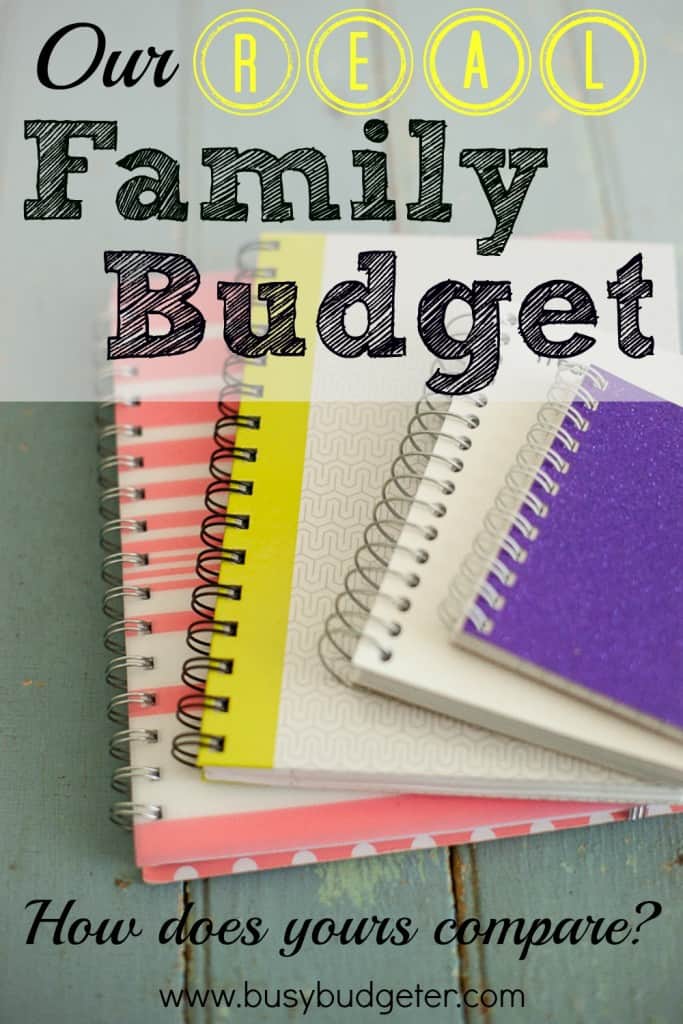 This post may contain affiliate links. Purchasing a product using that link will not change your purchase price, but I may be paid a percentage of your purchase for referring you to the product. I never refer products that I wouldn't use myself or don't love.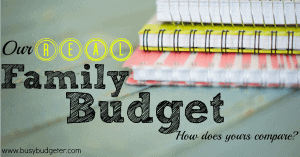 This post may contain affiliate links. If you click & make a purchase, I receive a small commission that helps keep the Busy Budgeter up and running. Read my full disclosure policy here.