This meal plan for a family of four came out of a need to spend no more than $70/week on our grocery budget and ended up being a delicious menu plan that we revisit frequently.
Update: 4/5/20 I know how stressful it is right now to be cooking 2-3 times a day while you're also trying to work, "home school", referee kids, and get your house under control. We created an epic inspiration binder of the easiest cheap meals. These ideas are field-tested by hundreds of thousands of our readers and are guaranteed to help even the most overwhelmed mom stick to a meal plan.
And we're giving it to you 100% free right now so you can use it to help you get through this time. And bonus: You'll end up using it long after the pandemic is over.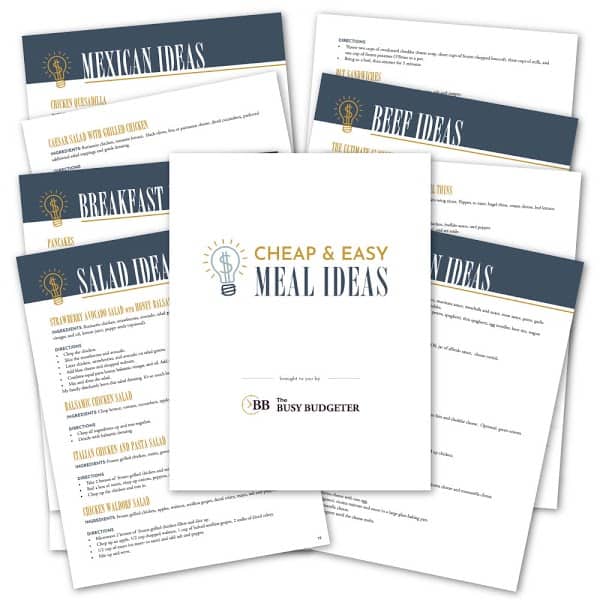 Our $70/week Meal Plan for 4 People
I think anyone that's ever met me knows how I feel about 15 minute meals. When we went through the 90 Day Budget Bootcamp and reduced our spending by over $23,000 a year, we realized that by planning for 15 minute meals every night we could actually stick to our meal plan (first time ever!) and because of that stick to our budget (also first time ever!) That program's actually free now and completely life changing- so you should grab it while it's free here. They make dinner so simple and easy that you end up eating at home because it takes longer to eat out than to go home and whip up one of these super simple meals.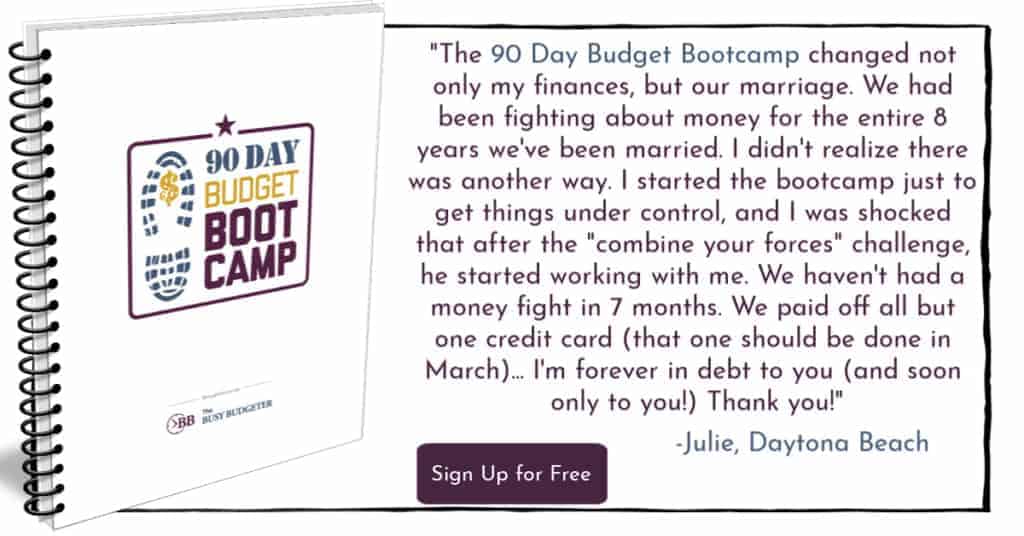 When I first started figuring out how to create a budget we could stick to, I used a ton of convenience foods because raw meat scared the dickens out of me (no laughing! This is a judgment-free zone). Now, I'm pretty much over my raw meat fear. We flip between Freezer Cooking, slow cooker meals, and 15 min. meals.
Then we discovered stir fry only takes about 20 minutes and it earned a solid place of its own in our cooking line up.
Because seriously, when you're creating a meal plan for a family of four you need easy solutions.

There are 3 major benefits to a stir fry: They are quick to cook, cheap to make, and can include tons of veggies. Jon used to love to get Chinese out and every once in a while, I would give in and we would head out.
Every single dish we made this week tasted better than anything I've ever had in a restaurant.

You don't technically need one, but we purchased this Wok for our stir fries. The wok makes stir fry so much quicker and easier!
Consider the idea of fitting cooking gadgets into your grocery budget. By freezer cooking for one month, I was able to purchase a food processor, giant mixing bowl, stock pot, giant measuring cup and a 6 quart slow cooker all within our $120/week grocery budget (and still came in way under). The idea here isn't to clutter your kitchen with useless gadgets, but to make intentional purchases of things that will make cooking easier for you.
If you eat 3 meals a day at home then you make 1,095 meals a year. You can consider yourself a professional chef with numbers like that and get the tools that make your job easier.
My favorites are a large slow cooker, a giant mixing bowl, a bread machine (mostly for the dough, I still bake in the oven), a wok, and a giant electric griddle (why make 12 pancakes when you can make 60 for the same time and effort and freeze them for super easy breakfasts? Or turn them into make ahead sausage, egg and cheese sandwiches).

Here's an example of how low you can get your grocery budget with a week of stir fry (example uses 2 adults and 2 toddlers to feed). We used this grocery plan for the week that we purchased the wok so that we could fit the wok into our grocery budget.
Obviously, you won't want to have stir fry every day for the rest of your life (although I'm seriously tempted).
This is just an example for the potential grocery savings. Most people don't know how much they spend on groceries for one dinner, but many know how much they spend for the week. (If you have no idea… consider menu planning to figure it out. It's the easiest way to save a few hundred dollars a month. Yes. You read that right, a few hundred.)


Need help reducing your spending?
If you need extensive help on creating and sticking to a budget, the best resource I can give you is the free step by step class called "Budget for Beginners Boot Camp" that walks you through not only how to create a budget, but how to set up the basic routines in your life that will support your efforts to save money. Because transforming your finances is about more than just the budget.
You can sign up for the Budget for Beginners Boot Camp class for free by clicking here.
Not a fan of stir fry but need super cheap quick and easy meals? Try these…
$70/WEEK MEAL PLAN:
Breakfasts:

Pancakes with Banana

Oatmeal

Cereal & Milk

Tomato and Cheese Omelet

Peanut Butter Toast with Honey and Banana.

Chocolate Waffles with Peanut Butter Syrup

Scrambled Eggs, Banana Boats with Peanut Butter and Chocolate Chips. (To make banana boats, just scoop out an indentation in the top of the banana. Spread peanut butter in there and sprinkle with chocolate chips, crushed nuts or raisins.)

Lunch:

Leftovers from dinner each night.

Dinner:

Make a little extra of each for lunches the next day. We usually made the sauce as directed and then added extra chicken and veggies to give us more of the good stuff and less of the sugar. Click on links for the recipes. We add the snow peas, broccoli, peppers and onion to each dish in place of the veggies they have in the recipe to make it easier/cheaper on us.


Grocery List for Week:

For the above meal plan for a family of four.
Bananas: .88

Eggs: 1.39

Milk: 2.79

Butter: 2.29

Tomato: $1

Cheddar cheese: 2.79

Siracha: 2.99

4 bags of Aldi frozen skinless boneless chicken thighs or breasts: $5.99/3 pound bag

Orange marmalade: 2.69

Garlic: .99

Broccoli: 1.99/pound x 4 pounds

Snow peas: 1.98/pound x 3 pounds

Onion: 1.69/2lb

8 Yellow green and Red Peppers: 2/1.39

Sesame seeds: 3.19 (optional)

Scallions: .99

Dried Thai peppers: 3.99 (optional- We skipped these)

Unsalted peanuts: 2.39

Chinese black vinegar (If you don't feel like making the trip to a specialty store, use 1 part rice vinegar, 1 part balsamic vinegar, and 3 parts water): $0 (We used the balsamic/rice vinegar from our pantry).

Sesame oil: 4.99

Pineapple rings: .89

Total: $69.50/week worth of groceries.

This would feed a family of four for about $278/month.

Feel free to add the cost of the wok into your list like we did.

Obviously, this isn't what we eat every week. We use a combination of freezer cooking, 15 min meals, and slow cooking meals, but these wok creations are quickly becoming our favorite!

Pantry Ingredients:
These items are stored for a long time and the recipes need a smaller amount, so likely you won't have to purchase a new container. Just run through the items and make sure you have each.

Ketchup: 1.19

Cornstarch: 1.19

White vinegar: 1.00

Garlic salt: 1.00

Chicken broth cubes: 2.29

Ground ginger: 4.29 (for a bag that will last you the whole year!)

White rice: 4.99 (10 pounds)

Rice vinegar: 1.99

Soy sauce: 1.19

Cocoa powder: 2.49

Chocolate chips: 1.79

Flour: 1.77

Sugar: 2.30

Peanut butter: 2.29

Honey: 2.49

Pancake syrup: 1.59

Oatmeal: 2.19

Brown sugar: 1.39

Salt: .35

Cheerios: 1.49

Canola oil: 2.69

Total: 40.96 (In the unlikely event you actually have to purchase these, you won't need to purchase them again for a while).
We didn't use coupons. We shopped at Aldi and then Wegmans for the things that Aldi didn't carry and ended up under grocery budget (we budget $120/week), even when you factor in the cost of the wok.
We do use Ibotta though for all of our groceries, which helps shave a few dollars off without any effort. Read my full review of Ibotta here.

Groceries: $69.50

Wok: $21.00

$90.50 Total for the Week!

What's your favorite meal pan to feed a family of four?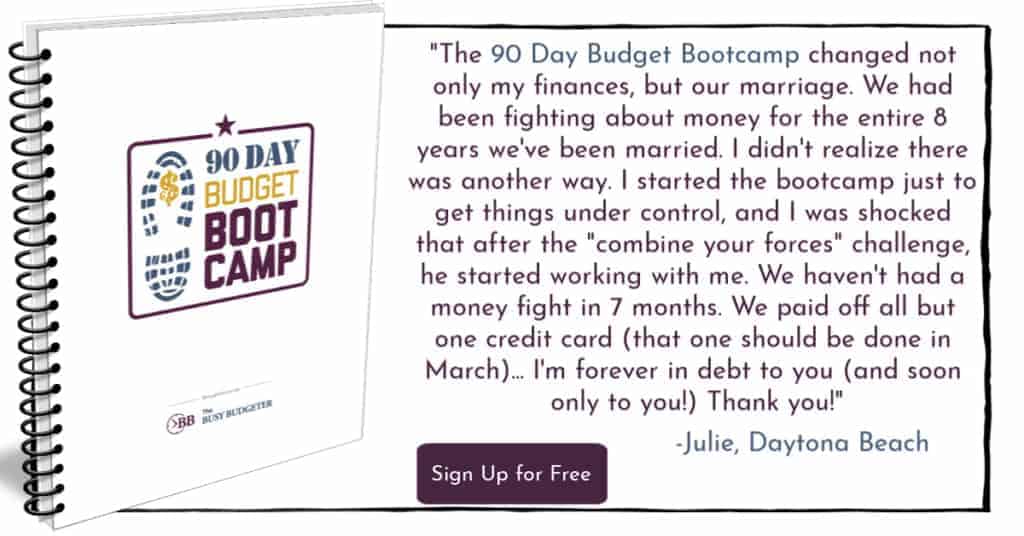 You can now join the 90 Day Budget Boot Camp for free! Get step by step instructions for how to set up a budget, maintain a budget, and save money. With hundreds of success stories and reviews, this is not an opportunity you want to miss! Join the Budget Boot Camp here.
Other popular posts…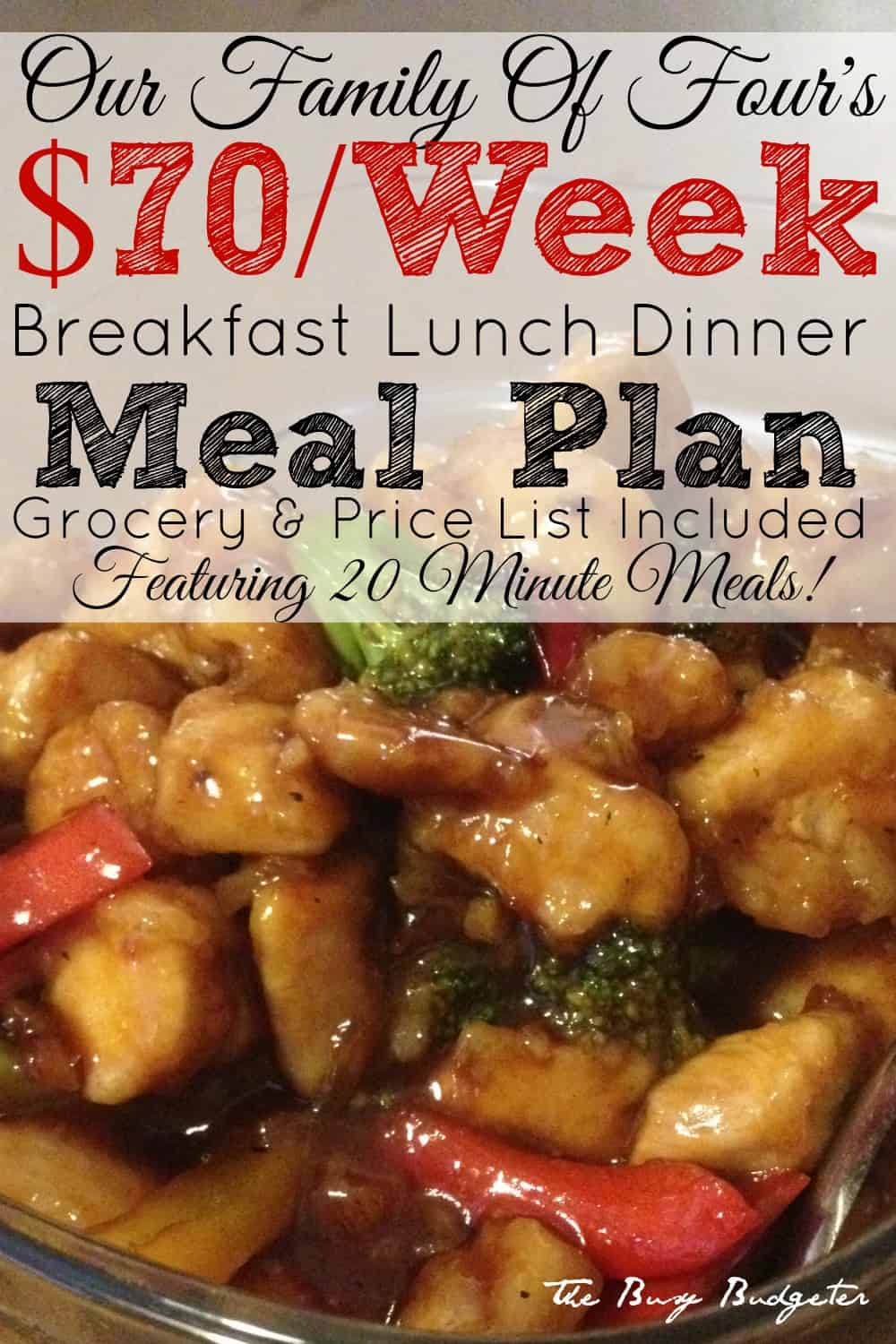 What's your favorite cheap and easy meal?
Linked up at Thrifty Thursday and Frugal Friday.
This post may contain affiliate links. If you click & make a purchase, I receive a small commission that helps keep the Busy Budgeter up and running. Read my full disclosure policy here.