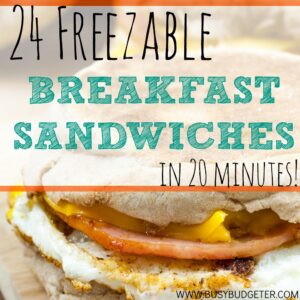 Breakfast is the most important meal of the day. It's also the hardest meal to fit in with mornings being so rushed. Sure you can start your day with a granola bar or a bowl of cereal. But why would you when you could have a delicious breakfast sandwich hot and ready to eat in less time then you could pour milk into your cereal?
By assembling these sandwiches ahead of time, and freezing them, you can have enough breakfast sandwiches to last you for a month. Just 90 seconds in the microwave and you have a delicious portable breakfast that you can even eat in the car. When you make these all in one session, you save both time and money. The ingredients can be bought in bulk and by creating an assembly line, you can make about 24 sandwiches in about 20 minutes.
Cost Analysis for 24 freezer breakfast sandwiches:
It should be noted that I made this list with the cheapest/quickest options available. We've made these with homemade sausage, homemade biscuits and farm raised eggs before. Use whatever ingredients you would like.
4 packs of English muffins or 15 bagels: (Aldi- .99 each) $4.00
24 eggs: $3.10
24 slices of American cheese: $2.99
24 slices of bacon, Canadian bacon or sausage: 4 packages of 10 count sausage at $1.29 each: $5.16
Wax paper: $1
4 gallon freezer bags:I don't count the cost of these, since I reuse the bags to refill with new sandwiches when they are empty.
---
Total cost for 24 sandwiches: $16.25
Total cost per sandwich: $.68
A sausage, egg and cheese breakfast sandwich at McDonald's in this area costs $2.79. This means that you save 75% by making it at home.
The tricky part of making perfect breakfast sandwiches is in the egg. There are a few ways to make the eggs. I'll go through your options and then tell you what we use. You can scramble a large batch of eggs and put a spoonful on each sandwich, you can attempt to bake your eggs in the bottom of muffin tins (I tried this and it took 25 minutes to make 12 in the muffin tin plus it completely ruined our muffin tin so I don't recommend it although I've had readers tell me that it worked for them).
The absolute best, healthiest and foolproof way is to use what we use. We use plastic egg cookers (this links to the exact ones we have), that steam an egg in the microwave in 90 seconds. We bought 5 of them, so we can cook 5 eggs in the microwave at the same time. The eggs don't stick at all, you don't need oil, butter or cooking spray, they're super easy to clean and ours have lasted for almost a year now with no wear and tear at all.

Batch Cooked Freezer Sausage, Egg and Cheese Breakfast Sandwiches
In less than 20 minutes, you can make 24 delicious breakfast sandwiches to stock your freezer. Never skip breakfast again! These are perfect for reheating in 90 seconds and eating in the car on the way to work.
Ingredients
24 English muffins (may substitute bagels, biscuits or toast)
24 Eggs
24 Slices American cheese (may substitute with your favorite cheese)
24 frozen, precooked sausage patties (may substitute with cooked canadian bacon, or bacon)
salt and pepper to taste
Instructions
Using 5 microwavable eggs steamers, crack an egg into each steamer and break the yolk with a fork.
Arrange all 5 steamers in a circle in microwave with the handles facing out. Cook on high for 90 seconds.
Check to ensure that the egg is cooked. Continue heating for 30 seconds if needed.
Lay out 24 half of english muffins on a clean surface.
As the eggs are done, remove them from steamers with a fork and lay one on each english muffin as they cool.
Repeat cracking eggs into steamers, cooking and laying on english muffins until all eggs are cooked and all english muffins have an egg.
Top with one slice of cheese on each English muffin.
Place a frozen sausage patty on each English muffin (keeping it frozen), then top with the other half of the English muffins.
Wrap each sandwich in wax paper.
Place 6 wrapped sandwiches in each freezer bag and label with date and contents,
To reheat from frozen, wrap sandwich in a paper towel, and heat on 60% power for 90 seconds, then high power for 90 seconds.
To reheat from thawed, wrap sandwich in a paper towel and heat on full power for 90 seconds.
Worth it?
Yes! These are amazing to start your day with! They're so cheap and easy when you buy them in bulk. This is such an easy way to start batch freezer cooking. In total, it takes me 17 minutes to assemble, wrap and freeze 24 breakfast sandwiches, then 90 seconds to heat them in the morning when I'm ready to eat.
It saves me both time and money.
What do you eat for breakfast now? Would this save you time or money?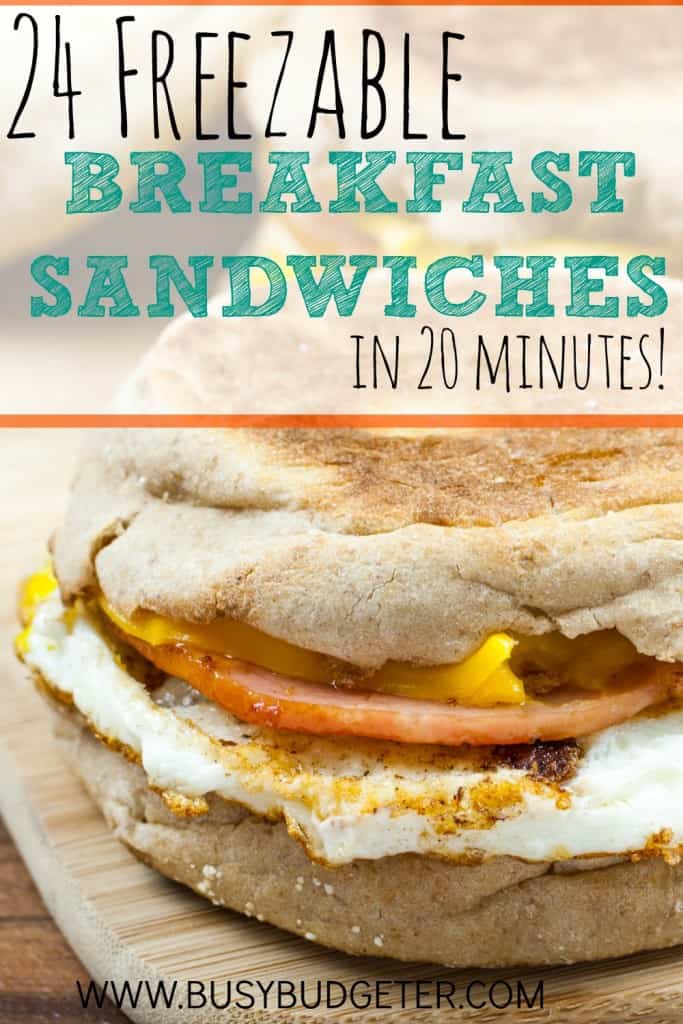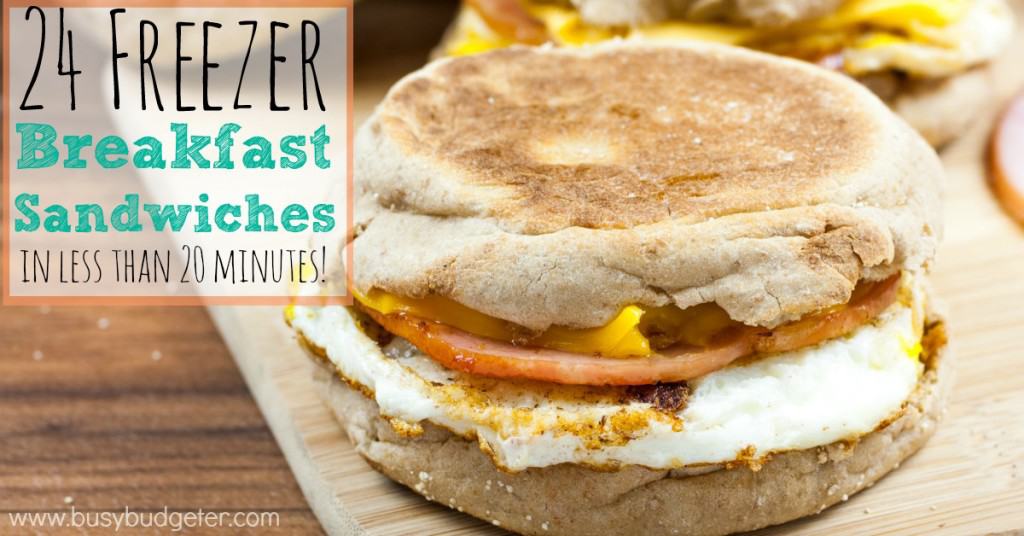 This post may contain affiliate links. If you click & make a purchase, I receive a small commission that helps keep the Busy Budgeter up and running. Read my full disclosure policy here.