How can pantry meals keep me from ordering pizza?
Have you ever noticed how the nights that you order pizza for delivery tend to be your worst days. The days that your routines went out the window, your life went astray and you have zero motivation to cook. I know exactly what that feels like.
I used to work at a really chaotic job with changing schedules, random days off, and long stretches of 10 days worked at a time. I wanted to cook for myself, I really did. But it wasn't just the 20-30 minutes of energy I needed to cook. I knew I would also have to find the motivation to cook in my (likely) messy kitchen, figure out what ingredients I had on hand to cook, and then clean up and do the dishes afterwards.
I was already so behind! So I would make myself a deal, "Order pizza tonight, but then make sure you get caught up". Occasionally, I did catch up, but at what cost? I paid $30 for a pizza that stuffed me full of calories and gosh know what else. Just to put this into perspective for you, I could have had an hour of professional house cleaning for the same price that I paid for that pizza (which I bought so I didn't have to deal with dishes).
Kinda silly right? This is called an emotional decision. I made a decision based on how I felt rather than what makes sense.
There is absolutely nothing I can say to you now to change how you view this situation when you're in that moment. Right now, you're caught up enough to be reading a blog, and thinking clearly. You aren't making emotional decisions right now.
If I tell you, "Hey! Next time you feel like that, just think of the big picture and find something that you can cook yourself!" It won't work. Because right now, you're at your best. When you're having a bad day and just want to get dinner out of the way quickly, you're at your worst.
The only solution is to plan ahead to trick yourself when you're at your worst. We can do this by making it easier to cook at home than it would be to order pizza. So when the moment comes, you think to yourself, "I can either order pizza, waste $30, have to wait 30 minutes to an hour to eat, and then have that stupid pizza box sitting on my counter until trash day (because it never fits into the trash bin), or I can grab (insert pantry meal here) and be eating in 10 minutes with almost no clean up. On a bad day, you will always choose the easiest path.
What exactly is a pantry meal?
A pantry meal is a meal that you can keep around for a while without it going bad. Meaning, you pick up the ingredients in your weekly shopping trip in February, but may not eat it until October. It's a backup meal. To me, the best pantry meals are extremely easy to make, don't require a recipe, and are something you like eating. They don't necessarily have to come from the pantry, but longer safe storage times are a must.
The two secrets to making pantry meals work:
Have your available pantry meals listed somewhere that you see often, and include a great photo (even if it's from the internet) so that when you walk by it, that meal entices you.
Know how to make the meal. Recipes, while they rarely create any extra work, create a mental block where we think it will be harder than it will be because we don't know what's involved.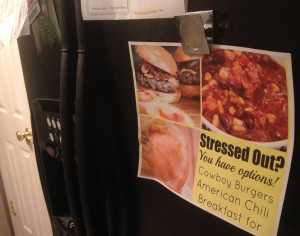 Our Favorite Pantry Meals:
Note: I wrote this up for you, using the quickest, easiest option available (i.e. a lot of convenience foods). If you're already comfortable with cooking and eating at home, feel free to use the guidelines and cook from scratch. Some are less healthy than others, but feel free to substitute the ingredients that work best for you.

Homemade macaroni and cheese: Homemade mac and cheese is just as quick to make as the boxed kind (I know, it blew my mind too). We've been making this one for years and love it. Also, if you're new to cooking or want to learn the basics for budget meals, this mac and cheese recipe came from Erin Chase's 5 Dollar Dinner Mom Cookbook which was revolutionary in this house. She taught me everything I know about cooking and brought us from 15 minute convenience meals to cooking from scratch. Technically this is a recipe, but once you've made it a few times, you memorize it since there are only 4 ingredients.
Peanut Butter & Jelly: It's a classic, I know. 2 Slices of bread, a thick layer of peanut butter and a thick layer of jelly. Yum! (Hint: Bread can be frozen!)
Pancakes and scrambled eggs: Pancakes from scratch are pretty easy, but if you know you won't make them from scratch, you can buy "just add water" pancake mix (Krusteaz makes a giant bag for about $4). Mix in the water, cook in a frying pan for about 3 minutes per side and you're done. Tip: For the Krusteaz mix, add in a small splash of vanilla.
Chicken Quesadilla: Drain a can of chicken, add a dash of oil to a frying pan on medium. Layer a flour tortilla, half a can of canned chicken, salsa, cheddar cheese, and another tortilla. Feel free to change the ingredients. If you have black beans, corn, green peppers or onion, those all make nice additions.
Ravioli: They sell frozen cheese ravioli (or tortellini if you prefer that), that you can boil in just a few minutes (follow package directions), then top with a jar of spaghetti sauce and mozzarella or Parmesan cheese.
Ready-made cowboy burgers: You can buy already cooked and frozen hamburger patties (Costco sells giant bags of them), but we make our hamburgers from scratch with a cheap hamburger press (its way cheaper to buy the ground beef in bulk and press yourself!), grill the whole batch (usually 13 pounds of burgers) and freeze them wrapped in wax paper and packaged in sets of 4 in a gallon freezer bag. We also keep batch cooked bacon in the freezer, as well as hamburger buns (frozen hamburgers buns warmed in the oven taste amazing). For cowboy burgers, we pile the burger with bacon, cheddar cheese, and barbecue sauce, along with anything else we have around (onion straws, diced onions, or even salt and vinegar potato chips).
Chicken salad sandwiches: You can use canned chicken breast, or frozen cooked and minced chicken breast, mix with mayonnaise (about ¾ cup per breast or just add a tablespoon at a time to the drained can until it looks right, a splash of lemon juice, and if you have it: onion, parsley, or celery. Serve as a sandwich.
Pizza Bagels: Bagels freeze beautifully, and Panera Bread has awesome deals on Bagel Tuesday. Take a frozen bagel, thaw in microwave for 60 seconds on 60% power, then toast. Top with pizza sauce (spaghetti sauce will work in a pinch), mozzarella cheese and any available toppings (we have about 5 pounds of pepperoni in the freezer from a major sale).
Frozen chili with cheddar and sour cream: If you make the chili ahead, you can freeze these in individual containers for the freezer. Then just thaw in the microwave for 2-3 minutes at 60% power and reheat. Add cheddar cheese and sour cream if you have it. We pair ours with Asiago cheddar bagels from the Panera Bread Bagel Tuesday sale.
Need to sweeten the deal? Include this frugal strawberry shortcake from the pantry. With just three ingredients and a 5 minute prep time, it's the perfect thing to convince you to eat home tonight.
How much can I save with pantry meals?
If you currently break down and order pizza three times a month, and spend $35 when you order for delivery, then over a year, you will have saved $1,260. Which is a lot. That's enough to buy two Apple watches (but you shouldn't!).
It would take you less than 10 minutes to choose one of the pantry meals above, add the ingredients to your shopping list and print a photo to tape to your fridge. Why not do it? It's just one step today that can lead to a better tomorrow.
How did you break up with the pizza guy (or do you still meet in secret some nights)?
Shared on Thrifty Thursday and Frugal Friday.
This post may contain affiliate links. Purchasing a product using that link will not change your purchase price, but I may be paid a percentage of your purchase for referring you to the product. I never refer products that I wouldn't use myself or don't love.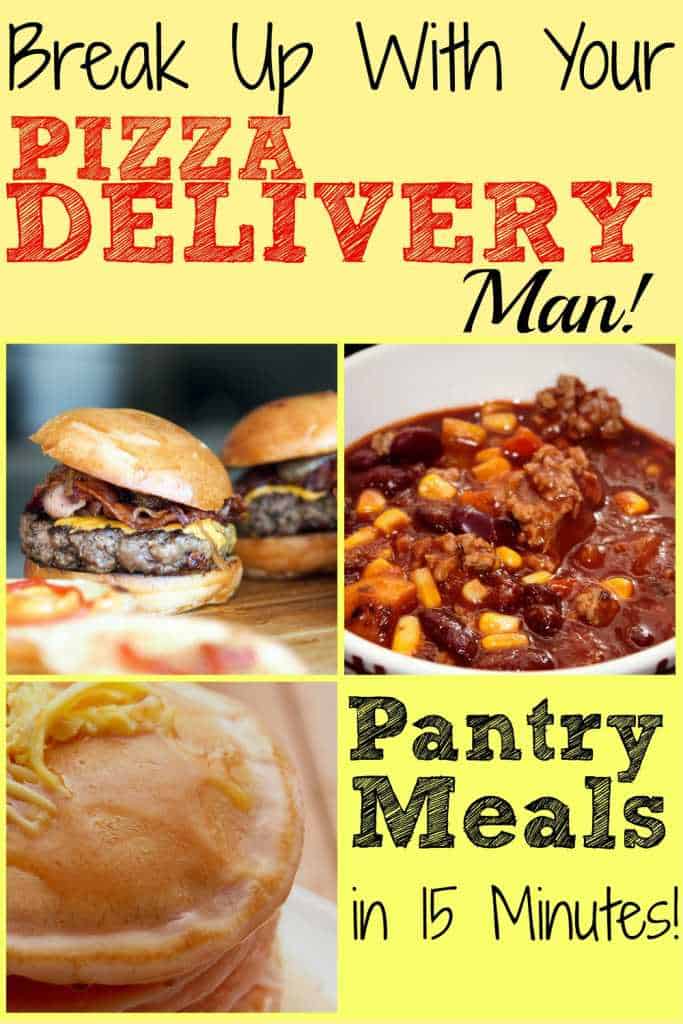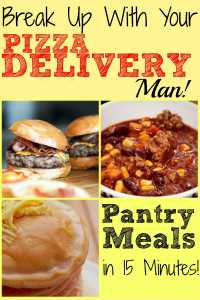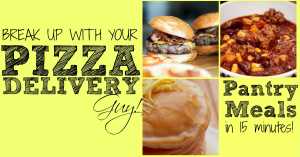 This post may contain affiliate links. If you click & make a purchase, I receive a small commission that helps keep the Busy Budgeter up and running. Read my full disclosure policy here.