1/15/20: If you're looking to get out of debt and get your finances in order, then you have to get the 90 Day Budget Bootcamp! This FREE program has transformed the lives of over 65,000 families and walks you step by step through the proven techniques that let you reduce your expenses without sacrificing, create a budget that's realistic, and a fail proof strategy to actually stick to your budget.
Grab it while it's still FREE here!
Figuring out how to track your budget is the most important budgeting tips. A budget is completely useless unless you keep up with it. If you don't track new charges and keep it updated, then it won't matter how fancy the budget that you set up was, it's useless.
I wanted to go over my recommendations on the best budget apps as well as talk about what I look for in a good budgeting system.
The most important thing to remember is that the best budgeting system is the system that you will actually use. I don't care if you chisel your budget into stone slabs in the backyard as long as you actually use it.
My ideal features in a budgeting app:
Automatically adds bank transactions for me.
Remembers common purchase categories (like it knows that "Starbucks" goes under "Jon's Personal Money").
Has a very user friendly app.
Allows me to attach notes to transactions (so I can remember what purchases were for if needed).
Allows me to update quickly (slow programs means I dread updating).
Allows me to run custom reports (so I can see where we're improving).
Saves my information indefinitely and lets me download it to my computer.
Has stability (I want to make sure if the system fails, they have customer service and that months of upkeep won't be lost).
Tracks things related to my "total picture" not just my budget. Things like my savings accounts, my debt pay off, how I'm doing financially in general. Bonus: Anything that makes it fun, like "goal tracking".
Lets me track cash purchases without affecting my bank balances.
Is cost effective (I'm actually willing to pay for a budgeting system that saves me time and makes updating easy because I know exactly how much this saves me in a month… It's money well spent).
My top 4 favorites and who they're perfect for:
1. Qube Money
Who it's perfect for:

Everyone that either struggles with setting up or sticking to a budget. People who are living paycheck to paycheck. People who are busy or overwhelmed and

don't have a lot of time to budget

.

Cost

: Free, or upgrade to $8/month for a joint account with partner permissions and

unlimited Qubes (digital cash envelopes)

, or upgrade to $15 for a family account with kids debit card, allowances, and chore charts.
Qube basically revolutionized the way people budget when it launched in 2021. It's not like anything you've seen before, it's not just an extremely effective budgeting app (that utilizes digital cash envelopes) but it's also an FDIC insured national bank account with free Nationwide ATM access (they reimburse you for ATM fees).
You sign up for a free account and they immediately send you a debit card.

You can add money to it instantly with a debit card or in 1-3 days by setting up a bank transfer (you can also set up direct deposit).

Then set up

Qubes (digital cash envelopes

) and you budget by directly transferring that money into the appropriate Qube.

When you go to spend money, simply open the app and select the Qube (digital cash envelope) you want to spend from then go ahead and swipe the debit card, the purchase will automatically come from that Qube.
This is by far the easiest and fastest way to budget because everything is done in one app. Your budget app is also your bank account so there's no need to track and ensure that they match. It's super user-friendly, intuitive, and easy to use too.
It also lets you budget seamlessly with your spouse. You can both have debit cards, and they have options for partner permissions, etc.
Qube is not only an effective way to budget, but it's as effective in curbing spending as using actual cash envelopes without any of the drawbacks that make using cash envelopes unrealistic in modern society (unable to order groceries for pick up, unable to make purchases online, having to handle cash and track a purchase with crying kids and a lot of people waiting behind you).
It's my top pick for best budgeting app and the one I use now personally. It makes it so easy to budget in just minutes a month. You can see my entire budgeting system with Qube here…
Who it's perfect for: People that are living paycheck to paycheck and having trouble making ends meet. People with sporadic income.
Cost: $3.99 a month.
Calendar Budget allows you to see your income and plan your expenses on a monthly calendar to ensure that you won't overdraw your account. Knowing that you make $4,000 a month and having a zero based budget doesn't help you at all if you attempt to spend $3,000 in the first week and overdraw your account. This is a common reason that budgeting doesn't work for people that live paycheck to paycheck.
With Calendar Budget you can see that you have $1,000 coming in on the 1st, and then see how each bill due will effect your bank balance. You can even add things like "8.15.15 $20 for Suzie's Birthday Present". Then when you buy Suzie's birthday present at Kids R Us, you can drag that transaction to "Suzie's Birthday Present" and combine them changing the amount to what you actually spent.
They have customize-able reports and you can't get a better price then free! You can set a budget into the left sidebar and it will compare it to your spending for the month to determine if you're on track.
The biggest drawback of Calendar Budget (and why I recommend it only until you have a good bank cushion in place) is that while it has a mobile site, it's lacks a user friendly app. The mobile site is almost useless but the full website is faster than doing the budget on paper, even though it's much slower than other budget programs out there. You have to manually save and upload your bank transactions and then you have to let the site reload after adding each transaction.
It used to be free and my secret wish was always that they start charging for Calendar Budget and then put the profits back into upgrading the system and rolling out an app. Guess what, it seems to be coming true! It's completely unique as far as budgeting systems go and there's nothing else out there like it.
I should also note that Calendar Budget's customer service is amazing. I've written in 3 times, and everytime I do, I get a response back from the creator himself that answers my question. It's hard to beat that.
You can sign up for Calendar Budget here.
Who it's perfect for: People that hate budgeting. People brand new to budgeting. People that are looking for step by step instruction on how to get their budget set up and keep it working.
Cost: $60 for lifetime download. (but FREE for college students!)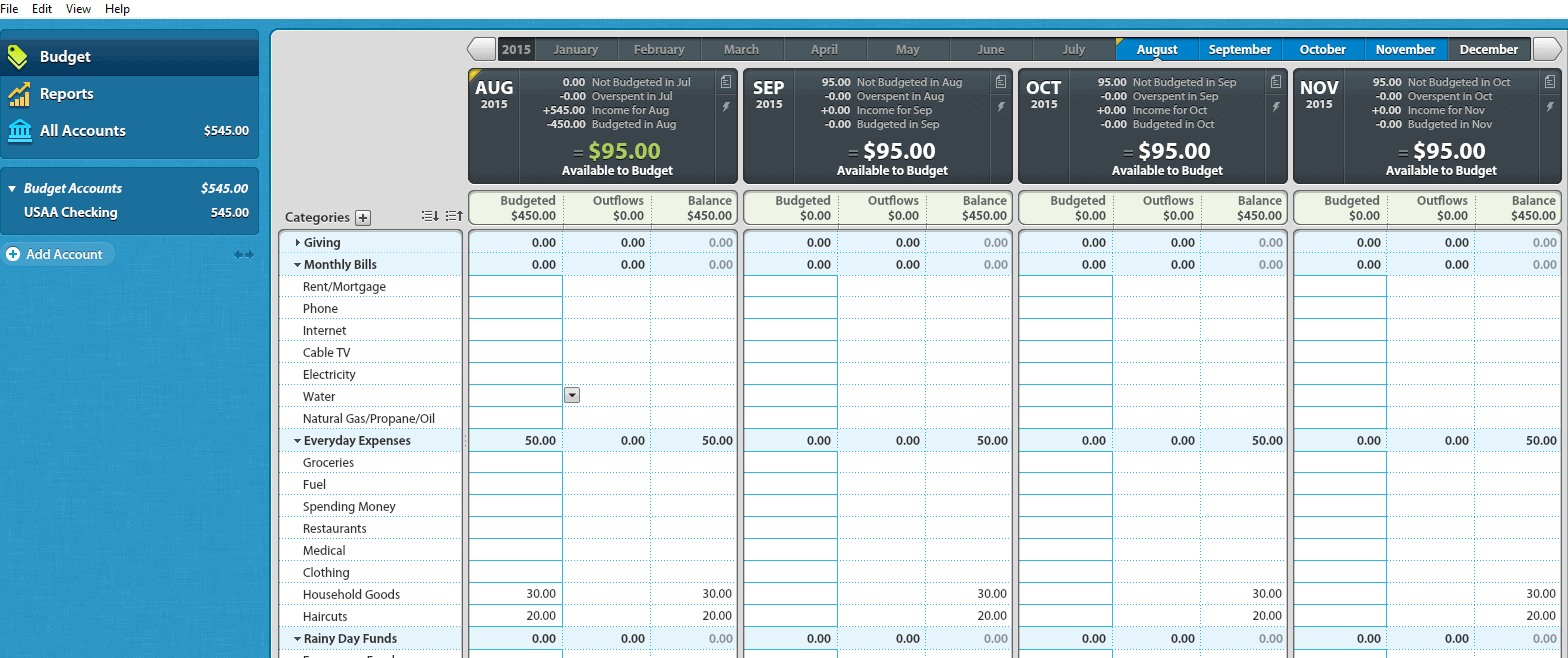 You Need a Budget follows the gold standard in business: "pursue simple". It takes you step by step through webinars and training to teach you what you need to do to create your first budget and make it work for you. It teaches you not to worry about yesterday and to just start your budget with what you have in your bank account today.
This is a philosophy that I wholeheartedly stand behind because I talk to people every day that try to get their budget "set up" perfectly, and then keep putting it off until they can give it the time it deserves. Totally wrong folks. Just start the budget.
You won't find a ton of bells and whistles here but for many people that I talk to, this is what they want. A simple, easy to use way to handle their budget.
You Need a Budget (or YNAB) is downloaded to your computer and needs you to upload files from your bank to sync it. So it's not automatic but it will only take a few moments. Reporting is limited, but will likely handle what you need.
You Need a Budget has a user friendly app and I think this a solid middle ground choice if you're ready for something faster and more user friendly than Calendar budget, but you're not ready to pay for Every Dollar. Especially if you can score the "free for college students" deal.
I'm a big fan of simple, easy to use with lots of support.
You can sign up for You Need a Budget here.
Perfect for: Fans of the Baby Step System and people that have a cushion in their bank account. (i.e. you won't overdraw if you don't track the exact dates that money is coming in and going out). If you use cash only, then this is ABSOLUTELY for you.
Cost: $99 a year for Every Dollar Plus (you want this unless you use cash only), or free for cash only (where you don't need it to sync to your bank).
It's no secret that I love Dave Ramsey. His Financial Peace University completely transformed the way my husband and I handle our finances together. So I was giddy with excitement waiting for this to launch.
It was worth the wait. It's a super easy to use, fast budgeting system that allows you to use either the web based version or the iOS app with equal ease. Reports are easy to customize and great for visual learners. They work in your baby steps with goal tracking which was a fun extra for us. (Hint: anytime your budget is fun- that's a good thing! It means you'll actually update it more).
One of my favorite things about Every Dollar is that they let you track cash only (a cash envelope system is what Dave Ramsey recommends anyway) for free. You need to enter your transactions in manually. If you want to sync to your bank account, you'll need to pay $99 for a year of service.
My second favorite feature of Every Dollar is that they make it easy to track monthly amounts that are "holding". Things like a vacation fund, where you put $25 aside every month to add to your vacation fund. Hint: If you end up going with a program that doesn't have this feature, consider opening up several savings accounts to handle that money. That's one of my favorite tricks from His and Her Money.
You can read my full opinion on Every Dollar here.
You can sign up for Every Dollar here.
What about the other budgeting programs?
There are tons of others out there. I've used most of them, and wasn't as impressed as these three.
If you're undecided and not sure which to get, I'd just get Qube Money. It's the only one that combines a budgeting app and an FDIC insured bank account and it's super intuitive and easy to understand.
In 7 years, I've always taught paper budgeting first, because it's typically easier for people to understand and get done. But Qube Money is so easy and intuitive, that I've started teaching that first now.
One important note though: If you know what you're doing budget wise and want more advanced features, then look into Quicken. Quicken has a LOT of bells and whistles and I don't recommend it to someone new to budgeting because you can get overwhelmed. But, for the price, it's great for an advanced budgeter.
What if I run a business?
I keep my business budget separate from my household budget. I have prior experience as a treasurer for a local non profit using Quickbooks and hated it. It's not very user friendly at all.
I begrudgingly tried the Quickbooks: Self Employed web based app (with a smart phone app as well) and fell in LOVE. WOW, What a huge difference from the Quickbooks that you download to your computer!
It's user friendly, very fast to update, has great customer service, and automatically updates my transactions. They even make it easy to separate business from personal funds if you break the business rule of keeping those accounts separate.
I happily recommend Quickbooks: Self Employed to anyone. This is different from the Quickbooks that you download to your computer- you won't be pleased with me if you buy and try to use that one. Just use this link to purchase if you aren't sure. That leads you to the right one.
I used this until I got an accountant and switched to Profit First (which is a business book that teaches you how to use 7 bank accounts for idiot-proof business budgeting). While it's not a budgeting app, it's a budgeting system that bypassing you needing an app and I would be remiss not to mention it here.
What do you use to track your budget? Have you tried any of these?
P.S. If you're feeling like no matter what you do you can't get your house under control (not to mention your budget!) we completely understand. If you are sick of spending all day "catching up", only to have it completely trashed again in a few days, then you should check out our FREE training "Why Your House is Trashed: The 3 Step Shortcut to Transform Your Home For Good With No Extra Time" which will walk you through how to break that cycle once and for all.
The training will walk you step by step through the three foundational routines that will help you manage all aspects of your home no matter how bad your situation is right now.
Implementing this core foundation allows you to work with your personality (and your specific situation) to create a custom plan to manage your dishes, laundry, schedule book, meal planning, budgeting, and a cleaning routine in less than one hour a day. You read that right, ONE HOUR A DAY.
If you want to take it a step further, we can teach you how to automate a ton of stuff in your home (without paying for it), giving you back HOURS of your life (yes, even your crazy life!). Then once you get the foundation set, we move on to more complex skills like meal planning, budgeting, and cleaning.
This is a proven system that's been field-tested by thousands of people. People that have tried everything and could never keep their house clean or stick to a budget.
Like Jenn, who said "I used to struggle with absolutely everything. I married a man with 4 amazing kids and suddenly found myself drowning in dishes, laundry, and cleaning. There was NEVER enough money to cover everything and cooking meals that everyone would eat was impossible."
"Then my dad got cancer and I also became his caregiver. The house and my stress level went from bad to worse overnight. I got the Hot Mess to Home Success course in desperation sitting in an ER waiting room at 3 am. I thought there was no way it could really help me since my situation was so unique with 4 step kids and being a caregiver for my Dad."
"I had probably always been a hot mess, but this was a whole new low for me. Fast forward three months into the course and I meal plan regularly and stick to it (that's never happened before), I use a planner every day, I have no dishes and laundry backed up (!) and I have significantly more time to do the things that matter (like helping my family battle cancer). You don't even realize how much of a difference this stuff makes until it becomes your lifeline. I can't imagine going back to how I used to live and I'm glad I never have to. I'm really grateful for that 3 am purchase!"
If you are ready to get started, you can sign up for the FREE one-hour training "Why Your House is Trashed: The 3 Step Shortcut to Transform Your Home For Good With No Extra Time" here…
Banking services for Qube Money are provided through Choice Financial Group, Member FDIC. Qube Money is a financial technology company, not a bank. The Qube Money Card is issued by Choice Financial Group, Member FDIC, pursuant to a license from Visa.
This post may contain affiliate links. If you click & make a purchase, I receive a small commission that helps keep the Busy Budgeter up and running. Read my full disclosure policy here.