How 14 Bank Accounts Saved Our Budget
Thanks to Talaat and Tai McNeely of His and Her Money for this guest post! We started using multiple bank accounts about a year ago when Tai first told me about it, and I would never go back!
Update: 4/5/20 I know how stressful finances are right now with stay at home orders and the pandemic. I also know that I'm uniquely qualified to help you. I've helped hundreds of thousands of people get out of the paycheck to paycheck cycle (after trying and failing for years), by teaching them how to work with their unique personality to actually stick to a budget.
I'm giving you access to the insanely popular 90 Day Budget Bootcamp for FREE. Because I know that this program will change every aspect of your life. Take a look around. Because this is the LAST DAY you will ever sit around worrying about money. Let's get to work.
Join the 90-day Budget Bootcamp for FREE here…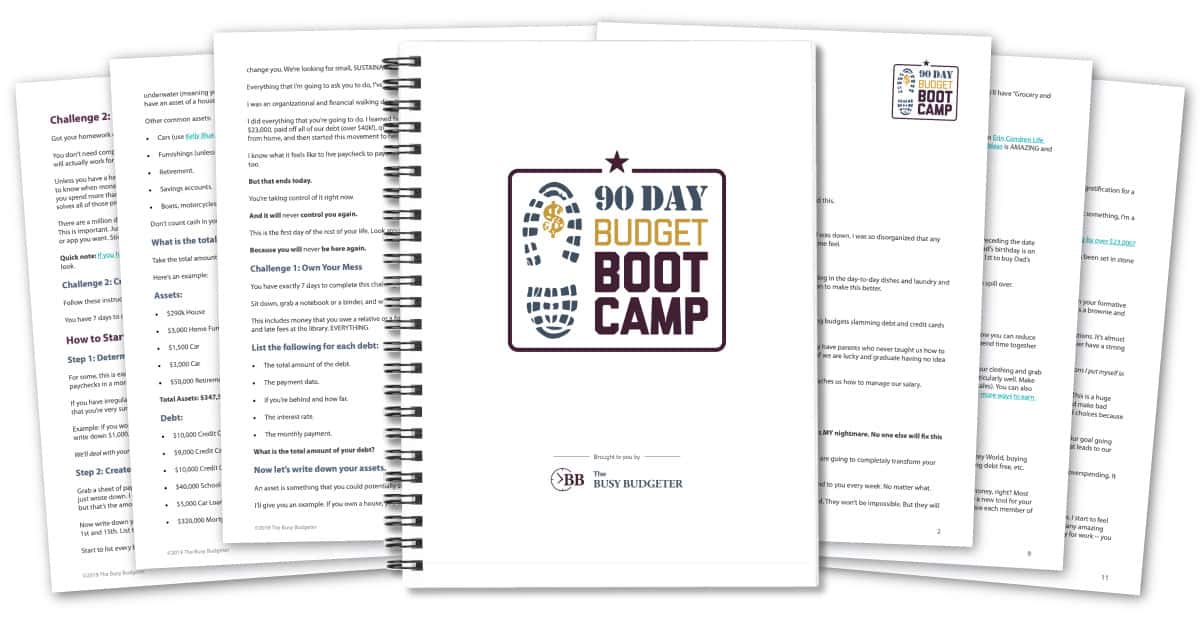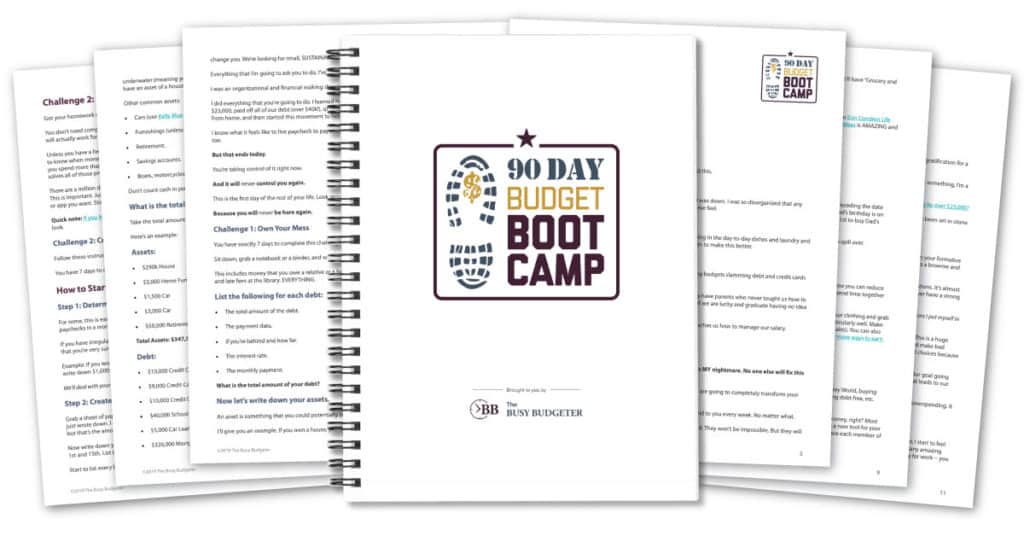 Have you ever wondered if there was an easier way to handle your money, that will allow you to get out of debt and build wealth? Look no more! We adopted a system over 7 years ago that has revolutionized the way we handle our income and expenses.
On our own personal journey to debt freedom, as well as the stories of the over 100 individuals that we've interviewed who have also become debt free; we have found that the key to debt freedom is consistently creating and sticking to a budget.
Some people cringe at the very thought of putting themselves and their family on a budget. However, the truth is, without mastering the art of budgeting, you will never achieve the financial independence that you so desperately desire. Now, before you come to the conclusion that this article is all about implementing a budget…it's not. Please keep reading.
One of the most effective strategies that we employ in our budgeting process, is the use of multiple bank accounts. We have what you might call an "online envelope system", to help us keep track of our day to day expenditures.
After getting married and combining our income and expenses, budgeting became a very overwhelming process. Whenever we would log into our online banking system, we would see a cluster of transactions moving in and out of one checking account.
In an effort to gain clarity and a firmer grip on our finances, we decided to break our finances down into sub categories. We then went to our local community bank and opened an account earmarked for each sub category of our household budget.
We have been using this technique for years now, and we LOVE it! It's a system that is extremely easy to maintain, and it's not very complicated at all. Not only has this strategy helped us to see where leaks in our budget had been happening, we were also able to build wealth as a result. We gave ourselves an immediate pay raise!
Although we only started out with about 3-4 bank accounts, as of this writing we are now up to a total of 14 accounts. Now to some, when they hear that number they immediately respond…"14 ACCOUNTS!"
Before you fall out of your chair, take a look at this break down of our accounts, and it will help to bring clarity to our process and why it's so effective.
Main Household Checking
This account is used for our main living expenses. Such as, mortgage, groceries, cell phone and utilities. Our income is directly deposited into this account, and we operate a good bulk of our monthly budget from here.
Dining Out
Every month we set aside money that is dedicated strictly to eating out. It's much easier for us to have a debit card attached to this account, to use only in the case of eating out. Whether it is ordering takeout or sitting down inside of a restaurant.
This has allowed us to stay on top of our monthly dining budget, without it affecting our main household checking account. Once the money that we budgeted for takeout food is gone for the month, then that's it for eating out!
Non-Monthly Bills Account
We absolutely LOVE this account! We use this account to set money aside monthly, for any bills that are due quarterly, semi-annually or annually. Certain bills such as, car insurance, homeowner's insurance, water bill, life insurance, and garbage disposal.
Each time, our car insurance payment was due every six months; it became difficult to come up with hundreds of dollars to pay the bill. So, we decided to take each bill and break it up into monthly amounts that we put away into this account. When the final bill comes due, the money is already put away to pay it.
Most insurance companies charge you a fee to set up monthly/quarterly billing. For this reason, we decided to pay the money to ourselves monthly, and keep it in a separate account.
Real Estate Taxes
This account is used to escrow our property taxes. Instead, of having our taxes escrowed in our monthly mortgage payment, we made the choice to pay ourselves. Each month we put money into this account, for future payment of our property taxes. Instead of the mortgage company making interest off of our money, we now make interest off of it instead!
**We do not recommend you take this approach, if you know that there may be a chance you will be unable to pay your property taxes on your own.
Tai's Fun Money
Every month we budget individual "fun money" for each of us. We get to do whatever we want with this budgeted amount, without having to check in with each other. I love having a debit card for this account, so that I don't have to carry cash all of the time. My husband is on the account with me, but it's strictly used for my pleasing.
Vacation
This account is used to put money away for vacations and trips! This account does not get funded each month. We don't feel it's necessary to make this a part of our monthly budget. However, we do put money aside from time to time, especially if we know there is a trip we would like to take in the future.
Wealth Building Account
We use this account to help build our retirement funds, pay down our mortgage, or store extra cash that we made. For example, we may buy a piece of used furniture from a thrift store, and then turn around and sell it on Craigslist to make extra money. The extra money that we make is then used to either build our retirement funds, or pay down our mortgage.
Child #1 Savings Account
We have savings accounts for each of our children. Any money that they may receive for birthday's or Christmas, is put into their own separate account with their names on it.
Child #2 Savings Account
Same as above
Child #3 Savings Account
Same as above
Car Fund
We don't believe in taking out loans for vehicles. We believe in self-financing our cars. We pay ourselves a car note and place it into a savings account. That way, in the event that we need to purchase another vehicle, we have the cash to do so.
Household Savings Account
This account is separate from our "Emergency Fund Account". If an appliance breaks down, or if one of our non-monthly bills is much higher than expected, then this is where we pull the money from. We always keep this account at a certain balance to cover small emergency situations.
Emergency Fund
This account is held at a separate bank, away from our other accounts. We don't want easy access to this money because it is used for EMERGENCY situations only. This money is used to cover any unforeseen layoffs or any other major financial emergency situations.
Business Account
We are entrepreneurs and choose not to commingle our business funds, with our personal funds. We do all of our business transactions in and out of this account for our company.
Keep in mind that these are our accounts. Some of these will fit your situation and some of these accounts won't. You'll probably have some sub categories for your family that wouldn't be a good fit for ours. The point is, take this formula and configure it to the needs of your family.
We have educated countless households on this budgeting strategy and not once has anybody ever said anything to us except, "THANK YOU!" If you take the time to put this technique into action, your personal finance management will be revolutionized forever.
This post may contain affiliate links. If you click & make a purchase, I receive a small commission that helps keep the Busy Budgeter up and running. Read my full disclosure policy here.