Ever thought about getting an RV? Or do you already have one? How about doing a DIY RV remodel?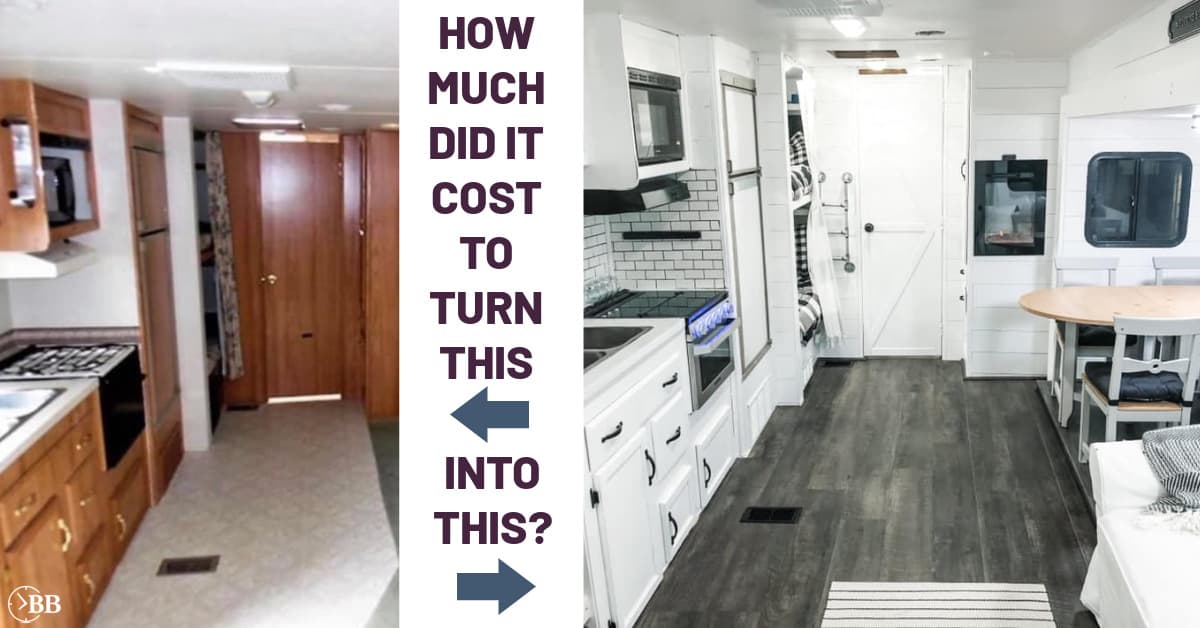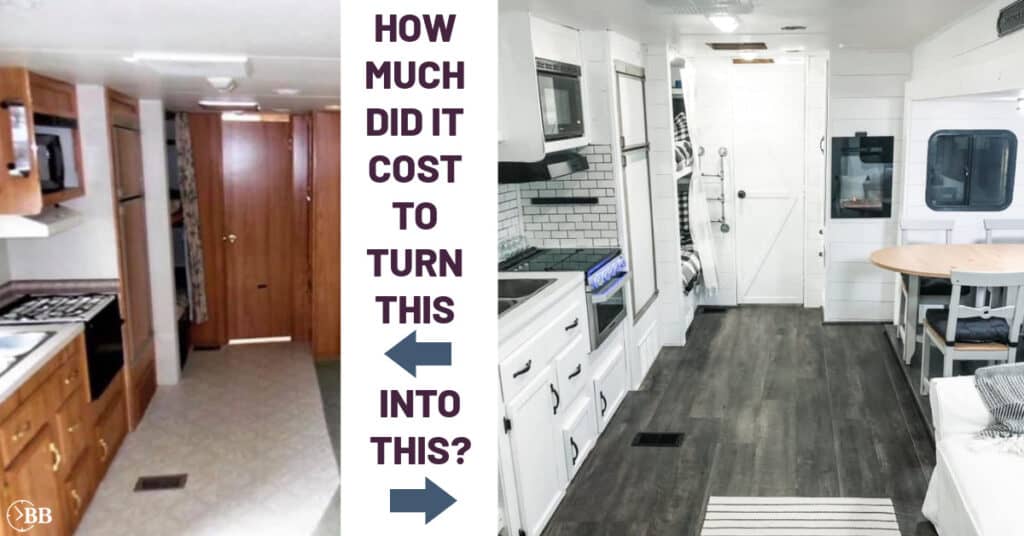 RV flipping got so popular during the pandemic that it became really hard to find an old RV. They're grabbed up as soon as they're listed.
Hint: If you have an old RV sitting in your driveway (even 25+ years with water damage) that you don't want, this is a GREAT time to sell it.
Which makes sense because international travel is tough right now and air travel isn't something that most people want to do. More kids have the option of doing school virtually and many office workers now have the option of working virtually from home.
So a lot of people are suddenly in a position where they can RV for weeks at a time without any crazy commitments of doing it forever.
And RV travel is super cheap compared to most other travel options.
We just did a week long vacation complete with ziplining, shopping for antiques, and ziplining for our whole family for under $500 for the week.
DIY RV Remodel or Buy New?
During quarantine, we bought a 20-year-old beat up RV with good bones for super cheap. Then we spent 6 weeks gutting it, repairing it, painting cabinets, laying flooring, and shiplapping all of the walls.
In total, we worked on it for about 3 hours a day when we had the time (weekends and a few evenings) for about 6 weeks.
How much did our DIY RV Remodel Cost?
You can do this with significantly different budgets, but it's still going to be a bit of an upfront investment.
Our best friends are renovating an old RV at the same time as ours so we can take trips together. They got a severely water damaged RV for free from a family member and had a total project budget of $3,000 (including the cost to gut the walls and floor and find and fix the leaks). They're almost finished with their bright teal boho reno) and they're rocking it!
We had a pretty high budget to work with of $16,000. We spent $5,900 on the RV, around $6,000 on renovation and structural changes like flooring, tiles, a new AC unit, shiplap, etc. The rest was furniture, bedding, decor, mattresses, and electronics like coffee makers, microwaves, etc.
In our case, we were debating between buying a new RV like this (or late model used), or renovating an old one…. the budget would be the same on either though obviously buying newer would be less work and less uncertainty.
We ended up choosing to renovate because I hated the interiors of the new RV's, I loved the idea of being able to customize it to what I wanted, and I loved the idea of learning how to rip it apart and put it back together.
Plus, now with renovating, when water damage happens we'll now how to rip it apart, fix the leak and put it back together.
6 months and several trips in, I have zero regrets about this decision.
I tell you all of our real numbers because that's usually helpful. But I don't want you to love this idea and be disappointed thinking you need to spend $16,000 to do this. I think $3,000 is a more reasonable budget. But we're debt free now, we saved up for this and we wanted some specific things. We were happy to spend the extra money on it.
RV's Can Save You a Lot of Money on Vacations!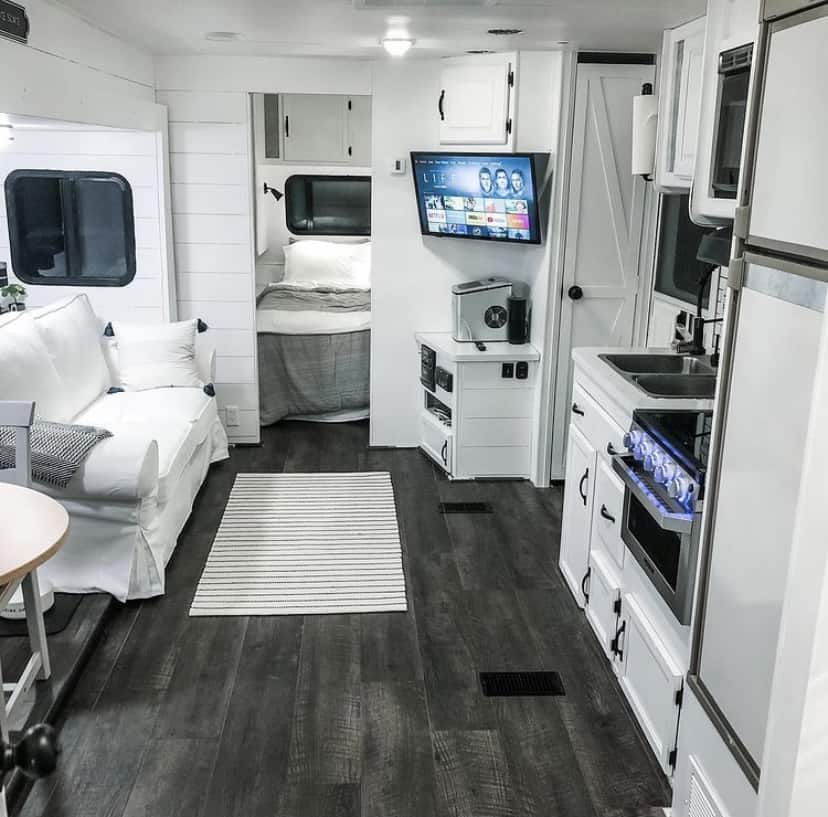 We finished the DIY RV remodel in September and immediately started taking it on long weekends and an occasional week long vacation. RV sites range from $20-$60 a night depending on amenities. There are a few resort like family RV parks like Jellystone Park that feels more like a resort vacation and less like the camping you grew up with as a kid.
We just did a week in Asheboro, NC and went to the zoo, ziplining on a tree to tree course, shopped for antiques, and went to a jump pad for just under $500 for the week.
View this post on Instagram
Since we have a kitchen in the RV, we just include the groceries into our normal grocery budget and only count the cost of the site, fuel to get there, and any activities that require a purchase.
Depending on where you live, you may be able to take trips like this year round (we're far enough in the south where we can do that, we just hook it up to the house heat for the few days we actually get freezing temperatures) or you can winterize your RV over the winter.
This won't work for everyone because…
You may not have the time or the skill to renovate one.

Maybe you're not able to find a free one or afford a cheap one.

You may not have a vehicle capable of towing it.
But even if it's not possible right now, I think this is a great item for your goals list.
There was a time when I felt so stuck in the chaos I had created that the idea of this would be impossible. Debt free felt impossible. Saving thousands of dollars for something recreational felt impossible. But I put it on my goals list and let that motivate me. I learned how to work with my unique personality instead of against it to get organized and actually stick to a budget, I reduced my spending by over $23,000 a year, quit my job to stay home with my kids, and then replaced my income form home with 4 side jobs.
So if you want to do this, but can't right now… put yourself in a position where you can. (We have a popular budgeting program that can help too – 90 Day Budget Boot Camp- I can give you free access to it here).
Who knows, Maybe we'll camp right next to each other one day. 🙂
All White RV Model (Including Kitchen Cabinets)- Do We Regret It?
I really wanted to paint my travel trailer white, but EVERYONE told me I was insane. I did it anyway and don't regret it at all. But I had a secret.
I used to run a home daycare with a cheap white couch from Ikea. It's the only couch that ever worked in the daycare because the cover was easily removed and could be machine washed in bleach. It looked brand new every time I washed it.
In fact… here's a photo of it 5 years old in a home daycare with cats and super destructive (but adorable) kids…
View this post on Instagram
Good paint scrubs up easily so I wasn't worried about the walls or cabinets. I just got the love seat version of that same Ikea couch (it's this one) and bonus points because it's super cheap and lightweight.
I keep it white by washing blankets and stripping that couch and bleaching it. Fun fact: it bleaches up so good. We even let our super muddy German Shepard onto the white RV couch during trips. 🙂
We only take trips once a month. So, it's pretty easy to bleach it clean once a month (and you may find that you don't care if it's perfect).
The worst case scenario is that I would need to replace the cover over many years of bleaching. But, IKEA's been selling those covers for $119 for years. (Fun Fact: We DESTROYED a pottery barn custom couch in our new house when we moved in. It was a tough lesson to learn that not all couches can be easily cleaned or bleached white).
Now that we're several trips in, and we've bleached the muddy dog prints off the couch cover, I can tell you I have zero regrets about going all white.
What We Used in Our DIY RV Remodel (furniture, materials, and tutorials)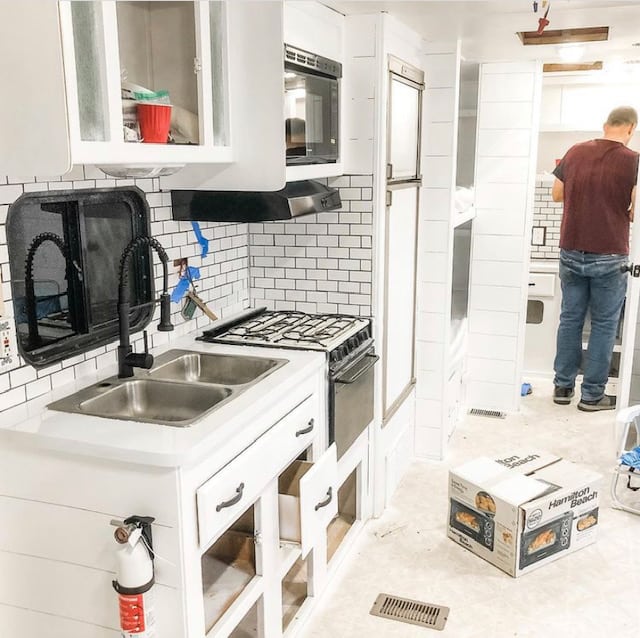 Flooring: Crescent City Oak from Lowes
Walls: Our walls were primed with this
Shiplap: We made our own shiplap using this method… then we painted the Shiplap with primer and for the color we chose Sherwin Williams extra white.
Tile: I couldn't find the exact tile we used at Lowes. It's sold in sheets that you apply to the wall, but it's real tile, not peel and stick. This one is similar…
Doors: (closet and bathroom) we used leftover shiplap pieces to create a bit of a barn door and then painted it.
Water damaged wall: You can check out this tutorial to replace water damaged siding if you need it. (Hint: If you do a DIY RV remodel- you're going to need this)
Furniture
Couch: Uppland Loveseat from IKEA
Dining Table: GAMLEBY from IKEA Hint: this is my only regret, I wish I had kept the original booth that was in the camper and stapled easy to clean leather over the whole thing. It would have been so easy and comfortable and fit perfectly with tons of storage in the benches.
Bedding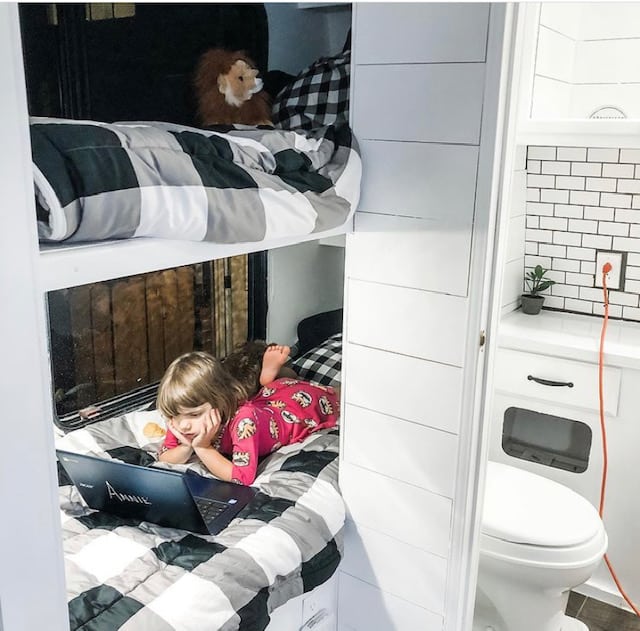 Bunk Bed Bedding- Beddys (love the concept, this was ridiculously expensive though and not a perfect fit because of the weirdness of RV bunk beds. I think this was a massive splurge and would probably just recommend a cute throw blanket and a bottom sheet to anyone else doing this. So the bed doesn't need to be made perfectly.
Comforter: Hearth and Hand comforter from Target. Sheets: For RV master beds, you need short queen sheets but you can use regular queen blankets. We got our sheets here from Amazon…
Decor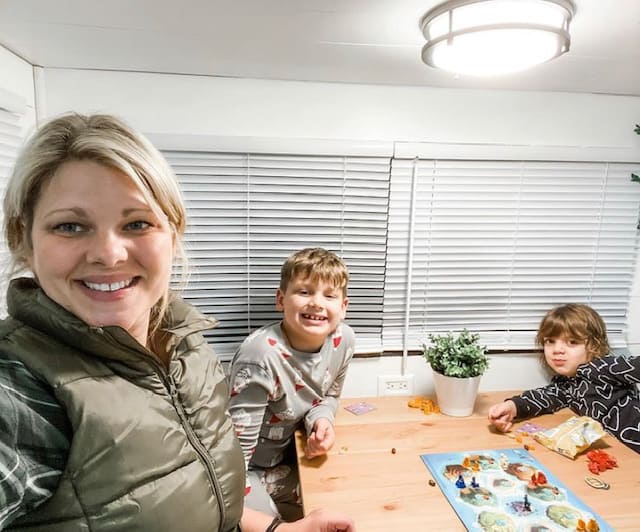 Blinds: Ugh. We got these super cheap from Lowes. I saw no options I liked. I wanted to skip the blinds but, Jon was horrified by the idea of no blinds. They're adequate. The ones at the kid's bunk area are already bending. But, I can't see it from the main camper so it doesn't bother me. If you see cute white blind ideas- let me know!
Bathroom Shower Curtain: We got one similar to this one from Target and used it to divide the kids bunks, then used this one from amazon for the actual shower.
Ice Maker: We have two now. (We love this so much, we stuck one in the bar upstairs at our house too.)
Rug: IKEA – but we don't recommend it. We couldn't bleach it and it didn't stand the test of time. It's the only "white" thing that didn't work out.
Wreaths: Hobby Lobby Magnolia Wreaths
General Decor: Hobby Lobby and Kirkland's.
Decals: Name and location decals (on the outside of the trailer- purchased from Signs.com.
Resources
Pro tip: There are two huge RV renovation Facebook groups that were a massive help.
Whenever we got stuck on something, we just posted a picture and described the problem. Someone gave us a solution (usually several) within minutes. It was a HUGE help! You Can find the groups here and here…
Inspiration Board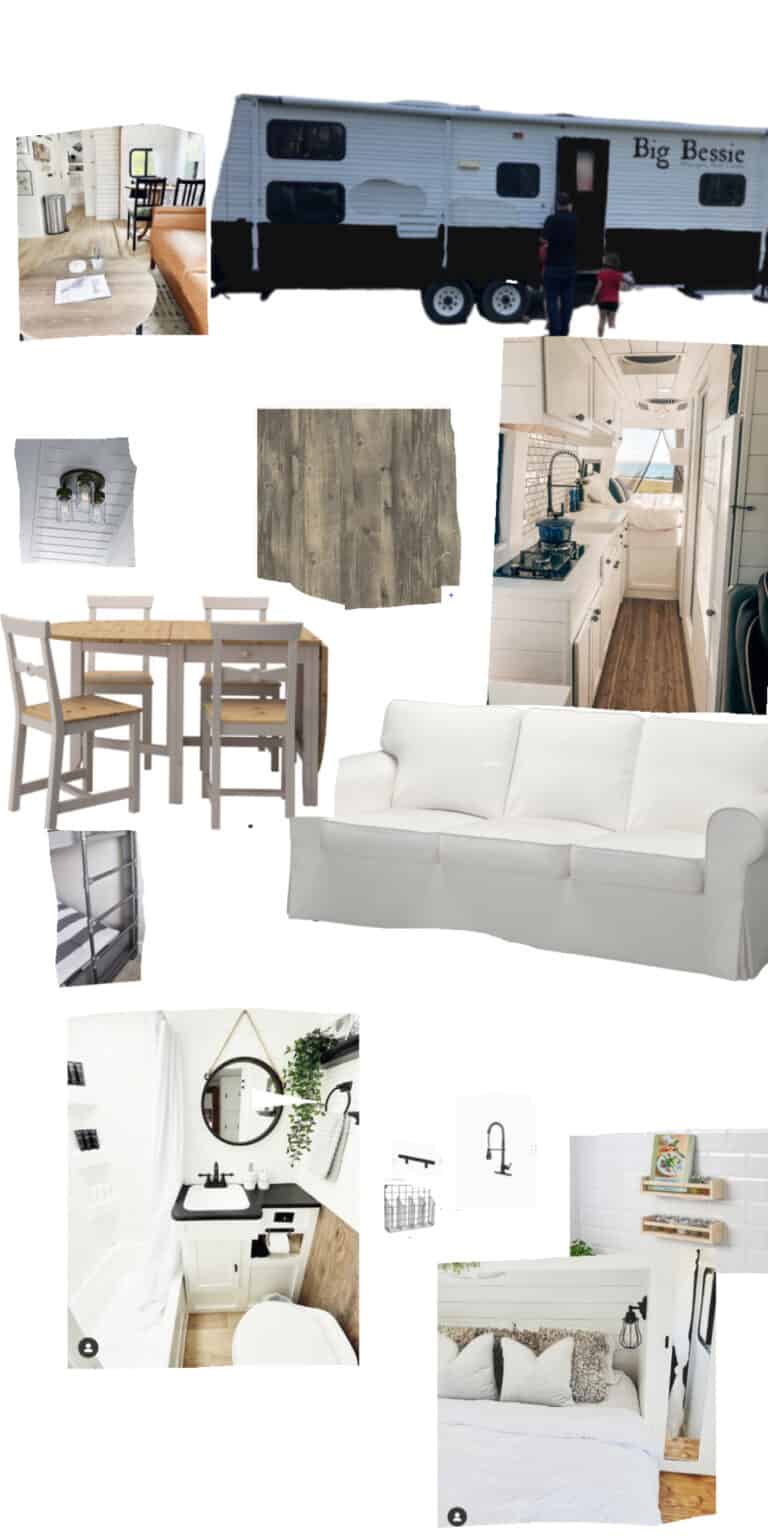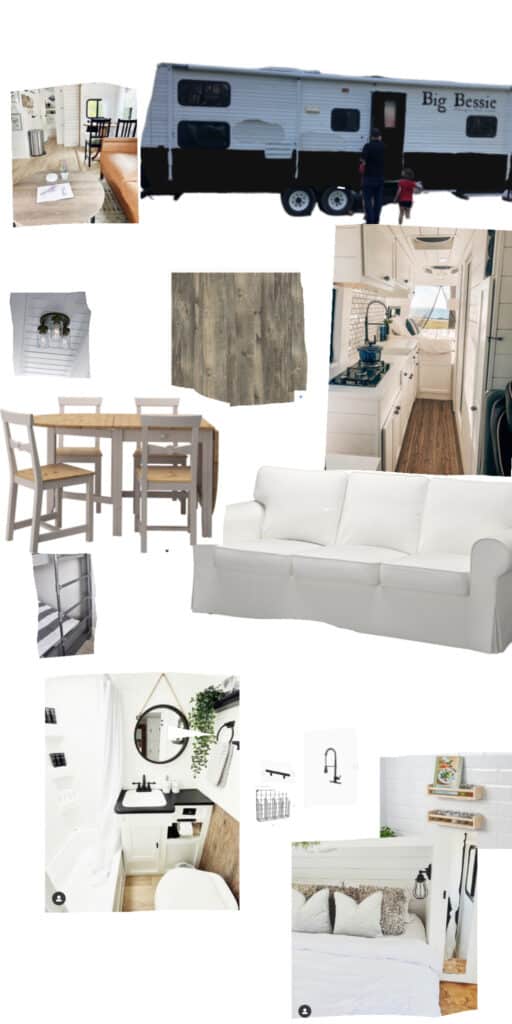 Before you start choosing paint and flooring etc. it's smart to make an inspiration board for your RV renovation. So you can see how things will look together. This is the inspiration board I made for our Bessie.
I also made a quick tutorial to show you how to make your own inspiration board easily for free (hint: I do this for every room in my house that I want to decorate) It saves me a ton of time and money. )
Want to see our full DIY RV remodel? Click through the images on Instagram below:
View this post on Instagram
Leave me a comment below if you have questions about what we used or how it went.