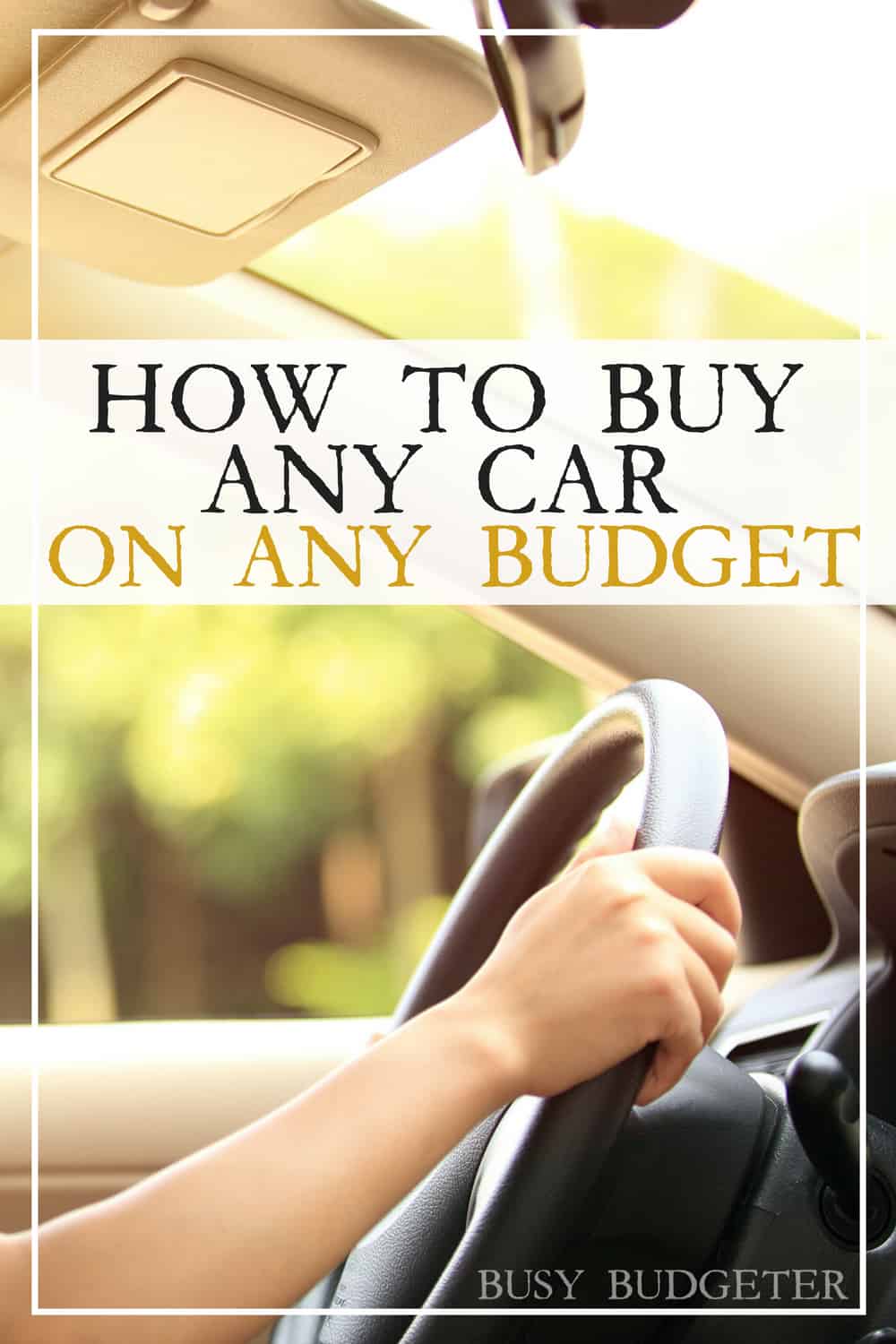 This is a sponsored post written by me on behalf of Navy Federal Credit Union. All opinions are 100% mine.
How to Buy Any Car on Any Budget
A few years ago when I left my career to start an at-home daycare, our top priority was paying off debt. We reduced our spending in every way possible. Anything we didn't absolutely need, had to go including cable TV, magazine subscriptions, and the second car.
Making the leap to a single car for our family was a big decision. While it seemed like an inconvenience in a lot of ways, we couldn't ignore the amount of money we thought we would save. Not only could we get rid of a car payment, but our car maintenance costs, gas expenses, and insurance payments would go down as well. With me working from home (and the kids being home with me) it seemed like the right time to do it.
I was an idiot.
If only I knew then what I know now.
We've learned so much about buying cars since then that I now realize we could have easily had two cars, even on our super tight budget.
And once we got smart and figured out how to buy any car on a budget, we got a second car and have never looked back.
In fact, we went a little nuts and have bought and sold 5 cars since that time. And we've spent $0 on all of them. How? We buy low and sell high.
Which sounds complicated, but it's actually so easy that most people could do it (even if you're like me and aren't super into cars).
After living for so long with one car… I cannot begin to explain the euphoria of not having to coordinate schedules with Jon first thing in the morning. Or the euphoria of not needing to drive 30 minutes to pick him up while I think of the 10,000 productive things that I could be doing.
If you need a new car or are currently surviving with one car… you should print this off and take notes. You can thank me later. 🙂
Determine How Much You Can Afford
There are several costs that come with purchasing a car. Generally, in addition to your monthly car payment or cost of the vehicle, you're also looking at:
Quarterly oil changes (more or less depending on usage of the vehicle).

Condition of the tires, will they need to be replaced soon? This can be an expense of well over $500 for most vehicles.

Insurance, registration, and inspection costs.

Gas expenses, which can vary greatly based on the fuel economy of the vehicle.
So take a moment to go through your finances and determine how much you can truly afford to pay for a car. A good rule of thumb is 10% of your income for monthly expenses if you're making payments and that 10% should include fuel and maintenance.
Buy Used
Cars are typically depreciating assets, there is not much getting around it. However, you can reduce the overall impact of depreciation by sticking with used and lease trade in vehicles. Often time lease trade in vehicles are a good bet because they typically had a service contract which means they were likely properly cared for.
Most lease trade ins are three years old. My experience has taught me that vehicles tend to lose the most value in year 1, the next most in year 2, and the third most in year three. After year three the depreciation tends to taper off much less dramatically from year to year. What that means for you is that buying a three year old vehicle, then selling it three years later would net you less of a loss than buying a new vehicle and selling or trading that in three years later.
Here is an example to make it a little simpler. This is a general rule of thumb I use when figuring the potential depreciation of a used vehicle.
Year 1, I buy a used vehicle for $20,000 – by the end of year one it has depreciated 20% and is now worth $16,000, by the end of year two it's depreciated 15% (of the $16,000) and is now worth $13,600. By the end of year three it's depreciated an additional 10% (of the $13,600) and is now worth $12,240. After that it may depreciate between 5 and 8% a year depending on the make.
So if you instead bought a three year old car for the (approximately) $12,240 after the same three years of depreciation (let's assume 8% a year) your vehicle is now valued at around $9,500. A loss in value of less than 3,000 over three years versus a loss of almost $8,000. And let's not even talk about the difference in payments on a $20,000 loan versus a $12,240 loan!
Plus, when you buy used, you're able to access the collective experiences of everyone who has owned that model before you. It's easy to see what will likely go wrong with the car, and it's a quick call to your mechanic to figure out how much that would cost if it did go wrong.
Car Buying: Step by Step
I'll walk you through the system we use with an example.
Let's say that I'm looking to buy a car that I can transport the kids in easily, that will fit beach gear and soccer gear, and still be relatively easy to drive. I can only spend around $17,000 which limits what minivans I can afford (since most are 20k or above). I want something relatively new since I'll be driving this daily and will use it for vacations etc.
Narrow Your Search
I research on Consumer Reports and narrow it down to the Kia Sedona. It's got good reviews and is cheap compared with other minivans. I can get a fairly new van without dealing with the problems that come from super high miles or much older cars.
In this case, I'm limited by the amount I'm willing to spend but in some cases, I may have several makes and models I'd be open to.
I start looking on Facebook store, craigslist, and Navy Federal Credit U nion's Auto Buying Program to see what's being offered.
Evaluate an Offer
I find a 2015 Kia Sedona that's being offered for $15,000 with no visible damage or reported issues…
My first step is to head to Kelley Blue Book to see what the typical private sale value is for this vehicle.
The private party value is $18,339. Which is well above the asking price.
Run a Report
My next step is to head to Consumer Reports (you'll need to pay a small fee to get access to reports) to run a report on the 2014 Kia Sedona.
That will give me information as to whether customers were satisfied with their purchase of this vehicle, the full tests, and most important- which problems previous owners have had with the vehicle.
That lets us know what will likely go wrong with this car if we buy it. In this case, the only consistent problems are with the power accessories. That's things like keyless entry, power doors, etc. I put a call into my mechanic and he tells me that those are relatively easy fixes or even optional fixes if they go wrong.
This means I may want to factor in the cost of that repair should it arise. This will allow me to compare the potential overall cost of one vehicle vs. another over a period of several years.
Avoid Money Pits
Sometimes when it comes to purchasing a car on a budget, we tend to go towards as-cheap-as-possible. I'm a frugal person, I totally get that. I've definitely made this mistake before and the car ended up being a huge money pit from constantly having to fix it!
Occasionally, dealerships will have deals on new leases and will lure you in with low payments. This is great if you want a new car every three years but you're going to pay for that privilege. If you're going for bang for your buck and the best overall investment, leasing is almost never the way to go.
Another very important step is to check the vehicles history for any questionable history of that particular car such as accidents, water damages, etc. This can save you a bundle down the road when you try to sell the vehicle only to find out that it's value is significantly less due to an (unknown to you) major event in its history such as reported frame damage.
Make An Offer
Again- research, research, research! Kelley Blue Book is a great way to find out what a car is worth ahead of time so you can evaluate whether the deal at the car dealership is, in fact, a "deal".
Make sure to utilize all the sites that price compare local dealerships so you can find a quality car within your budget without having to spend all day dragging the kids from dealership to dealership. Win-win!
Lastly here, don't be afraid to HAGGLE! The worst they can say is no! Many dealerships these days are getting away from haggling and claim to offer their lowest price. But if you notice that a vehicle has been on a lot for a few weeks, I bet they will be willing to deal. A good rule of thumb when haggling is ask for twice as much as you want off. So if a vehicle is listed for $15,000 and you want to pay $13,500 ask if they will take $11,000. Then when they say no ask if they can at least meet you in the middle at $13,500. Like I said, the worst they can say is no, and it's not the salesman's car so it's not like he'll be insulted!
Use Your Resources
I think we've all been there before– we spend hours at the dealership trying to get financing, which in the end is not a great deal.
My husband being a Army Veteran meant that we had access to Navy Federal Credit Union and their extremely low interest rates. You can apply by phone or online before you start looking for the car and you'll get a decision in less than 5 minutes.
This can save you a ton of money if you're eligible for membership.
You can find a step by step guide to help you navigate the auto loan: from understanding auto loans, qualifying for the loan, and financial considerations to actually securing the loan and other financial advice when you Visit MakingCents for clear, step-by-step information to help you meet your financial goals.
Trust me, this is well worth the time you'll put into it now. Not just for the car loans, but for the customer service, the insurance rates and even home loans with 0% down! Become a Member today.
Selling For Profit
We've used this system to buy or sell 5 cars now and have introduced it to countless friends and family. Because we buy cars that are significantly less than the current value, we can drive them a few months or years and sell them at a profit or even just to break even. Which means instead of spending thousands of dollars every year to drive a vehicle, we spend $0.
Plus, if you love cars, you can take the extra money and buy a nicer car next time. Using this system, you could drive any car in the world, if you buy them low in cash and sell them high.
Evaluate Often.
Finally, it's important to note that there are tons of offers out there that are an excellent buy, but you'll need to evaluate a lot of offers to find them. If you're on the hunt for a car- get your financing squared away first (you can do that here at Navy Federal Credit Union), then start evaluating 2-3 offers a night until you find the perfect deal.
Be willing to wait for the right deal though!
When it comes down to making a final decision for buying a new or used car, just remember to make the decision wisely. Impulsivity is the main cause of getting over your head with a car payment. Take the time to consider the costs, determine how much you can afford, and find a good source for your loan such as credit unions like Navy Federal.
Ready to get started? Apply for a car loan at Navy Federal Credit Union here to see what you'd qualify for! Navy Federal is insured by NCUA.