Time is a funny thing, isn't it? Sometimes it goes SO slow (like when we're waiting in line or doing something boring) and other times it just speeds by!
(Seems to me that it's speedy more often than it's slow around here.)
We all wish we had more time in the day to do what we love. We want to spend more quality time with our kids, we want more time for a date night with the husband, or just some time to get lost in a great book. Yet, it often feels like there's just not enough time to fit it all in, right?
If you wish you could accomplish more every day AND enjoy more fun activities—great news: you totally can!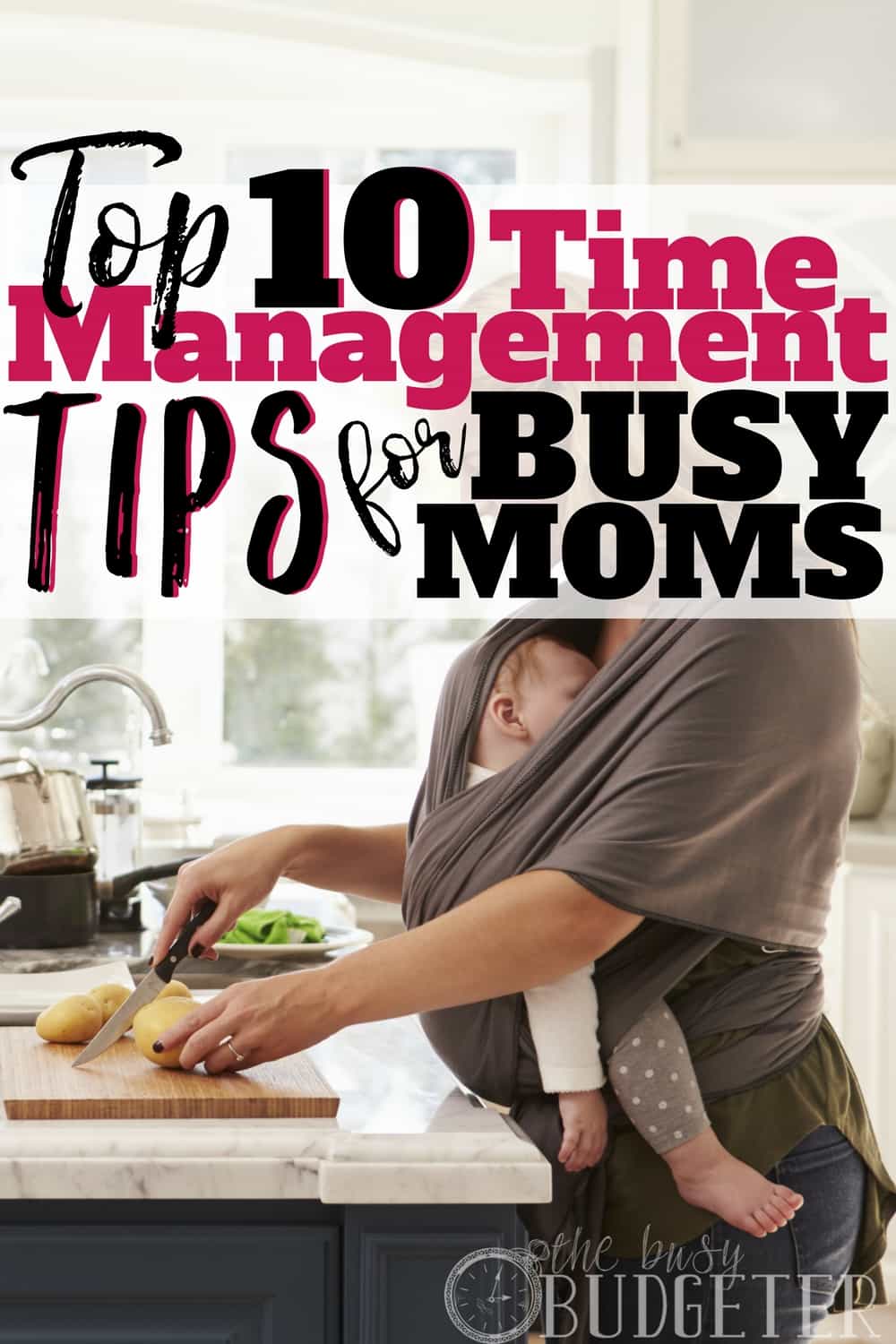 Many of us think of time management as a "work thing" or something only used by executives—but that's not true at all. Time management is an incredibly useful skill for busy moms. In fact, when we apply time management tips to our leisure time and in our home lives, we can unleash more free time (hear me? MORE FREE TIME!!) so we can both accomplish more AND occasionally relax for five whole minutes.
Many people lack basic time management skills. (So if you're feeling frazzled and like time is always slipping away, you're not alone!) Time management truly IS a life skill—and it's often a life skill that needs to be learned. It just doesn't come naturally to everyone. And there's no time like the present to start learning these top time management skills for busy moms!
Learning how to balance your schedule and your obligations at home, as well as chores and errands will allow you to fit more YOU time into your busy schedule and help you feel more accomplished. You'll ROCK your goals and eliminate the feeling that time is fleeting.
Here are my top 10 time management tips for busy moms—whether you work in the home or outside the home, or if you'd just like to feel like you have more time to get it all done every day!
1. Make a Plan
You don't have to be a planner addict like me, but establishing some sort of daily or weekly plan really helps with time management. You might need a formal planner or a DIY version—whatever works best for you is just great. I've found that having an actual physical planner (as opposed to an online calendar and a bunch of notebooks) works better for me.
If you're new to keeping a written schedule, I want you to go with a paper calendar to start. Find something that's big enough to write in, but small enough to bring with you wherever you go.
2. Get Friendly with Lists
It's hard to know where you're going if you don't have a map or directions, right? Well, writing out a good to-do list works the same way. Writing out lists helps you achieve more because it simply helps you get a handle on the stuff you'd like to accomplish, big and small. It gets it all OUT of your head and onto the page so you can clearly think through everything and prioritize.
To start out, try writing down a simple list for the next week or two—what would you like to get done? Include work goals or keep a separate list for your work and your home. List out everything you hope to get done from buying a birthday present or paying a bill to putting clothes away and organizing your closet.
3. Try Block Scheduling
Block scheduling is a simple schedule method that works really well for many people, especially those who are overwhelmed. Simply "block out" a set amount of time to accomplish each task on your list. A good place to start is to assign time in 15-30 minute blocks.
Include your work time in your blocks or block out work time on a separate calendar or planner. If you have a reactive job where things are unpredictable, simply block out the time you'll be at work. For at-home tasks, set a timer on your phone and work until the timer goes off. If you finish beforehand, move to the next task or take a break (and adjust your schedule on the next round).
4. Automate
Automating your schedule will for real change your life! Think of all of things you do that can be streamlined or made simpler. This might mean freezer meal planning and doing all your cooking for the month in one fell swoop. (Read my post on Meal Planning for Beginners here!) It might mean setting up automatic delivery services for prescriptions, pet supplies, groceries, and more.
Look at your schedule and the tasks and errands that eat up your time, like running to the grocery store or the library, or picking up and dropping off items. What can you do to streamline these processes? Plan out how to tackle these tasks only once a week or even less often if possible.
5. Double Up
Cook once, eat twice! Do two chores at once! Women are natural multi-taskers, but sometimes, when it comes to simple jobs, we forget about doubling up. Can you throw in a load of laundry while you cook dinner? Can you use a hands-free phone to catch up on a call with your friend while you're driving?
Whenever you cook a meal, think of ways to stretch it a little and make extra so you always have lunches for the next day. Items like sandwiches and wraps can be awesome as cold leftovers. Think of ways to make one activity cover two needs!
6. Create Good Habits
Start creating good habits today. Good habits are HUGELY IMPORTANT for effective time management for busy moms. For example, always rinse your dishes after you eat to keep dishes from piling up and becoming overwhelming. If you take just five minutes after dinner to rinse and fill the dishwasher, then you won't have to take an hour later on down the road to soak, scrub and wash. Plus, the house will always feel clean! (I LOVE a clean kitchen, don't you?)
When bills come in, put them in the same place or address them right away. Establish a daily routine with habits that keep you productive, like keeping your gym bag right by the door or laying out your work clothes the night before. You'll be amazed at the time, hassle, and energy you'll save with just a little prep time!
7. Put Down the Phone
You knew this was coming. I'm a huge fan of technology (obviously) and all of the amazing ways it connects us. However, how many times have you been scrolling mindlessly through your social media on your phone only to realize 15 minutes have passed?
Install a phone app like Forest to keep you focused on real life and off your phone. Forest motivates you to stay off your phone by growing a cute little tree that dies if you pick up your phone before the time is up. It can keep you from getting distracted by your phone when you should be doing other things.
8. Do the Worst Things First
When we start working or start doing a chore at home, we often begin by organizing. We check our email. We look over our lists. Maybe we organize a drawer or start looking for a recipe, or we try to build the perfect house cleaning playlist rather than doing any actual cleaning.
To be more productive, tackle the hardest task first. Pick the task you're dreading the most or putting off for the longest. Whether it's cleaning the toilet or organizing your pantry—do it first. Set the timer and tackle it. I'll bet you'll be surprised at two things: 1. It will probably take less time than you think and 2. Once it's done, you won't believe you spent so much time avoiding it. It'll free you up to get through the rest of your list and you'll feel like a huge success for the rest of the day!
9. Simplify
Want to get more done? Learn to say no—even to yourself. Often our schedules feel overwhelming because we're trying to fit in too much. We say yes to the bake sale and we feel like we have to make something from scratch. Pick up some cookies at the store and be done with it—or even consider saying, "I've got too much going on right now, I'm sorry but I can't."
Say no to things that cost you extra money and take time you don't want to spend. It doesn't mean giving up on fun, it just means being choosy about the ways you spend your precious resources. Similarly, buying things because they're on sale or buying on impulse makes our lives more cluttered and overwhelming. Buy less and you'll have less to deal with. Simplify, simplify, simplify!
10. Get Your "Defaults" in Place
In life, we can always expect the unexpected. Something that throws us off will come up at some point, whether it's an emergency to deal with or maybe dinner just got burned (or we forgot to put it in the slow cooker). It happens. Instead of stressing out or hauling off to the store, set some defaults in place.
Keep simple meal components in your pantry. Kids can have PB&J if need be or you can whip up an easy pasta salad for dinner using ingredients from your cupboard. Store a change of clothes in the car, a garbage bag, a few granola bars, and a backup charger for your phone. Set up default "emergency plans" for when something comes up unexpectedly, and it will save you from having to go out of your way to deal with a problem.
When it comes to managing your schedule, some of the best advice I can give you is to be organized—and yet, don't stress about it. Things come up! But when we have the tools in place to deal with the unexpected, we can be confident that it won't derail our best laid plans.
If you're looking for more ways to manage your household and bulk up on life skills, check out this Build Your Own Life Skills course.
Time management is a critical skill—but know that you'll definitely get better with practice! Build up your time management abilities and you'll find you suddenly have more time to fit in the fun!