Do you ever wonder how much work gets done in an 8 hour work day? Like how many productive hours in a day are people really working?
I mean actual work. Not water cooler chatting, bathroom breaks, phone calls, staring into space, shopping on your phone, or scrolling your Instagram, and checking text messages.
With the exception of jobs where just being present counts as work (like a daycare provider or a police officer), it's 2 hours and 53 minutes.
These results aren't that surprising since we live in a world full of distractions with complicated and messy work-life balance. It's hard to even find out how many productive hours in a day you worked.
Hint: If you're ready to quit a job you hate and land the one you'll love, we have a step-by-step proven process that will walk you through everything (no leaps of faith required!).
You can learn more about that here…
Why Be More Productive
Mastering productivity within those hours isn't something that's easy to do.
So very few people care enough to try.
Because most people don't get paid more if they're able to be more productive during those hours.
Entrepreneurs, people who get paid on commission (which means they get paid more if they are able to get more work done), and the people who see direct and immediate rewards from higher productivity…
Those are usually the people who care about productivity.
In fact, those that are super career-focused need only to be better than average (say 5 out of 8 hours?) in how many productive hours in a day they work. That would make them significantly more productive than their co-workers.
What I really wish is that we could make it so that you work (really work, in concentrated focus blocks of 25 minutes with a 5-minute break after each block) for 3 hours a day, and then your work is done.
Complete Freedom
What if your boss did that?
I'm pretty sure you'd tuck the phone away where it can't distract you, use Focus At Will to help you stay focused for your 25-minute block, and you'd use noise-canceling headphones so people understood that you can't be bothered with chit chat.
Because then you'd be walking out the door at 11 and you'd have complete freedom for the rest of your day.
You'd have freedom for the rest of your life really.
And you'd be more productive rather than less productive.
(Fun fact: That's what I do now. I'm fairly famous in my industry for reduced work hours, but every single minute I spend at work is actually doing work. And I only do the work that matters. The stuff that has the highest ROI (return on investment).
Bare Minimum Consistency
Heads Up! You asked for it and I'm delivering! Starting NOW, you can grab the Trashed to Total Home Transformation Survival Guide For FREE!
It teaches you step by step how to work with your personality to not only set up home routines that will work (no matter how many times you've failed in the past), but that you'll stick to… long after the pandemic is over.
We've taught hundreds of thousands of people how to use bare minimum consistent effort to completely transform their home (and life!). You're up next.
You can get your Survival Guide here for FREE…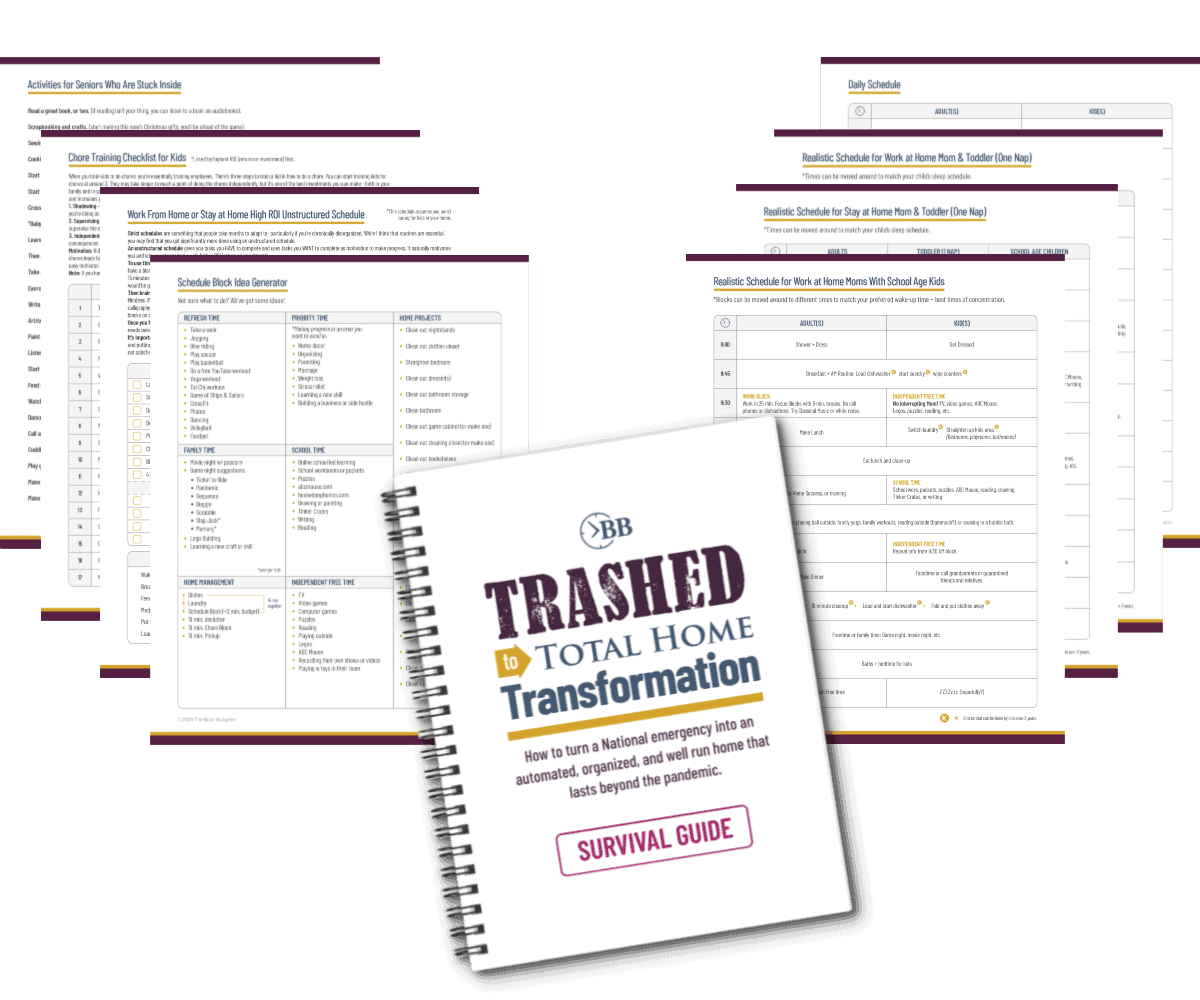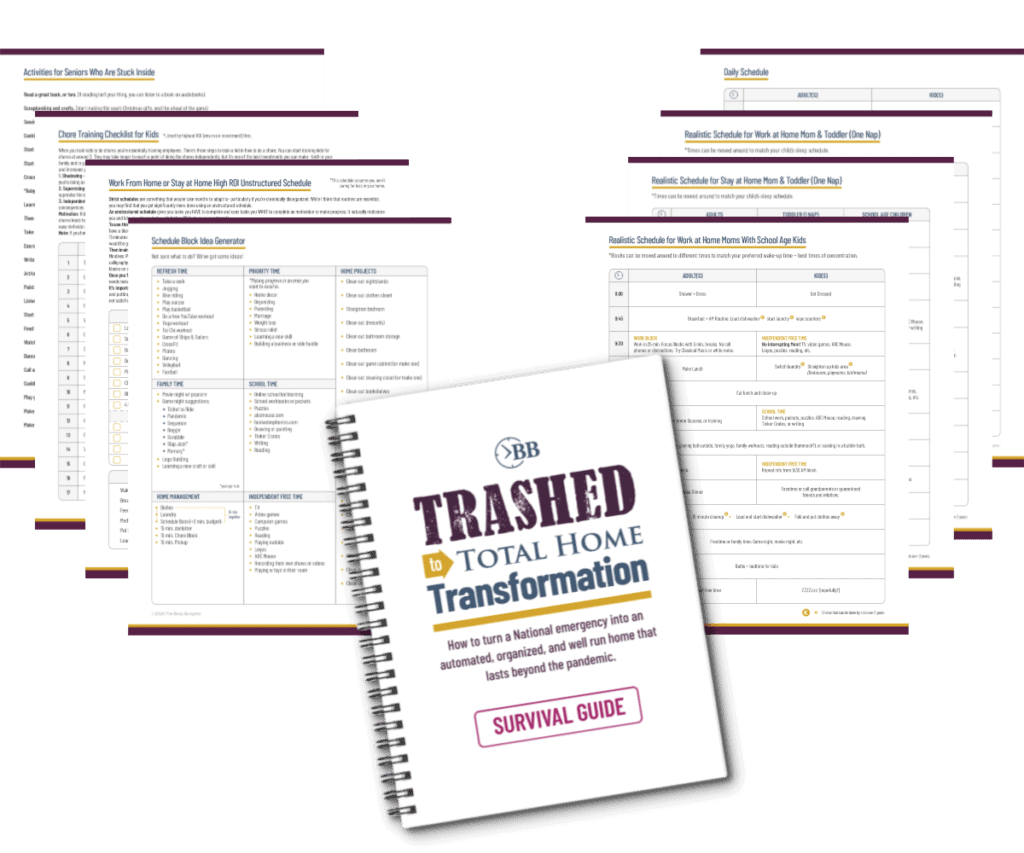 I can't control your boss.
But at home, you're your own boss.
That's why we teach our simplified home management system.
I never want you to spend more than one hour total on your home every day. Because every second spent at home after that hour should be spent doing the things you LOVE doing.
Whether that means taking your kids to the aquarium, laying in bed all day Sunday with your hubby, or reading books in the bubble bath.
Life is not productivity.
Life is what you get when you use productivity effectively.
Productivity is a trap that says the more you do, the more you can do. It creates the illusion that "how many productive hours in a day can you jam in?" is somehow going to make your life better
WE TEACH YOU TO DO THE BARE MINIMUM EFFORT ON A CONSISTENT BASIS SO YOU CAN HAVE THE LIFE AND FREEDOM OF YOUR DREAMS.
P.S.
We teach you to be productive during your home hours because that's easier to do. We have control over that. But one of the best things I've ever done for my life is taking control of my working hours too.
I did this by looking at my personality, strengths, my unique needs and skills, and finding ways to match my old income that let me control my hours.
Then I reverse engineered my budget so I could quit my job without making any terrifying leaps of faith.
I replaced my income from home first by running a home daycare and then by starting a blog teaching people how to budget when they're stuck in the paycheck to paycheck cycle.
Once I left my traditional job, I had full control over my working hours too (and my life).
If you want to do the same but have no idea where to start: I created Exit Strategy to help you…
Identify the job that works with your unique personality.

Learn the skills you need to be successful.

Formulate the steps to quit the job you hate.

Start the job you love (as soon as possible).
You can learn more about Exit Strategy here…