Is summer fun burning up your budget? Are your air conditioning bills out of control? Are your travel plans eating up your gas budget?
Saving money is a year-round goal, so there's no time like the present to follow a budget to keep your finances under control. While summer is a great time for vacations, it's not the time to take a vacation from financial responsibility.
But don't worry, I've got you covered. Here's how to kick butt at summer savings!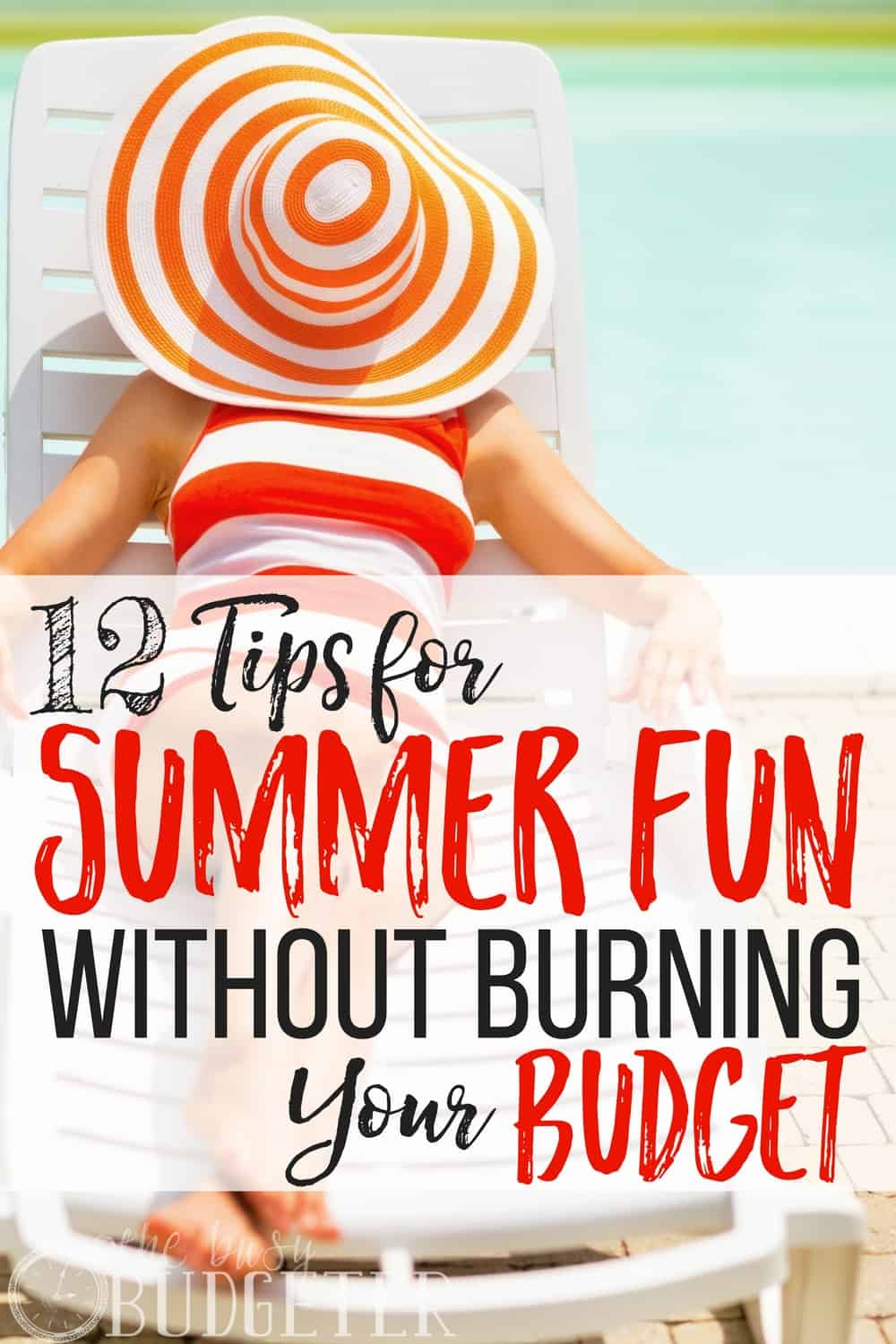 I totally get it: fun plans always come up in the summer. Concert season's here, vacation and family reunions are happening. There are baseball games, barbecues, and trips to the beach. You don't want to miss out and depending on whether your spouse is a saver or a spender, you probably also don't want to say no to all the summer fun.
Plus, let's face it—summer's freakin' hot. When it's 98 degrees out, no one wants to skimp on the A/C or turn down a weekend trip to the beach.
Well, you don't need to miss out, but I want you to get realistic about your budget as well. If you don't have the finances to do every activity on your list, there are plenty of summer savings tips to help you enjoy a great time without spending money you don't have.
The first baby step is to separate your wants from your needs. Sure, you want to go to Six Flags. You want to take a vacation. But you don't NEED to go. I have a standing policy with my readers—if you are having a hard time determining if an item on your wish list is a want or a need, email me! I'll tell you! (No guarantees you'll love the answer, but I'll be honest.)
The great news is, summer is a fantastic time to save. No one feels like eating heavy meals and tons of food. Errands are easier to run because the weather's nice and you can even get in extra steps and exercise. There's plenty of free or cheap entertainment in the summer and lots to do.
So reach for the lemonade, get out the sunscreen and whip out your budget! Here are 12 summer savings tips to keep your budget from burning up!
Before You Start Your Plan for Summer Savings
Check yourself before you wreck yourself. Do you have a budget? How well are you following it? If you want to save money in the summer or any time of year, you need a budget. If your budget could use help, I want you to check out my 90 Day Budgeting Boot Camp to get started.
In the Boot Camp plan, I've included every step to get your budget under control and moving in the right direction. Your budget is your roadmap and guideline. Once your budget's in place, you can focus on ways to start saving!
Start Your Summer Savings At Home
1. Embrace Easy Summer Meal Options
Eating light and easy in the summer is simple! No one feels like heavy food when the weather's hot, nor do they feel like hanging out in a HOT kitchen. So use the weather to your advantage! Rather than throwing in the towel and going out to eat, set yourself up for success with simple meal planning. Plan make-ahead meals so you can cook once and eat all week long. Experiment with easy slow cooker options so you don't heat up the oven. Enjoy simple salads, sandwiches and no-cook options ready in 15 minutes or less—quicker than going through the drive-thru and ending up with a bag of fried food. And let's face it: all that heavy food never tastes that good when it's so hot out anyway.
2. Take Little Steps to Save on Utilities
These energy saving tips for summer will reduce the cost of your utilities. Yes, the air conditioning's AMAZING when it's sweltering, but setting your thermostat only two degrees higher can save you money while keeping the air plenty cool enough. Whenever possible, opt for a fan or open window instead. Take advantage of the great weather by hanging out your clothes to dry instead of using your hot dryer. Air dry your hair and pull it up in a ponytail. (Bonus: the style's cooler and your hair will sustain less damage from blow drying.) Turn your water heater down to 120 degrees. Take advantage of the longer days and sunshine by turning off lights and electronics and going outdoors!
3. Cancel Cable
Thinking of cutting the cord? There's SO much to do in the summer, so it's a great time to put down the remote, step away from the TV and cancel your cable to see if you can really live without it. If you're a huge baseball fan, give Sling a shot. Sling is an "a la carte" options where you can pick and choose certain channels rather than paying for all of them. Summer is also a great time for a break from Netflix, Hulu and other movie services. Get your movie fix by borrowing from the library instead. If you miss the services, you can always rejoin when you go into winter hibernation mode.
4. Work Out at Home
Do you know where you don't want to be at in the summer? A hot, smelly gym full of sweaty people! In the winter, a gym membership is a great way to work out when you can't go for a walk or run outdoors. But in the summer, memberships often languish unused for months. WHY ARE YOU PAYING FOR A GYM YOU AREN'T EVEN USING?! Cancel your membership and take advantage of the warm, beautiful weather. Go for a swim at the community pool or rec center. Take long walks, go for hikes or play at the park. Many cities offer fun workout opportunities in the summer too—yoga in the park? Meetup groups for hikes and walking tours? Think of alternative ways to get your move on. Fun AND free!
5. Sell Your Stuff
Summer is a great time to ditch all the junk you spring-cleaned and moved into the garage. If you cleaned your closet, get rid of those winter clothes you were sick of by the end of the season. If you're finding now that summer has begun, there are sports items you aren't using or garden tools and lawn furniture that didn't make the cut, it's time to say goodbye. I want you to gather up the stuff you've been hanging on to and start posting on Craigslist or start selling on eBay! It's tempting to plan a garage or yard sale in the summer months. If you live in a community with a group rummage sale, I say go for it. However, yard sales are time-intensive and you'll earn more money selling items on Craigslist and community boards. The good news is, summer's a great time to sell because people are more willing to come out and pick up items. They're in the market for sports gear, lawn, garden and outdoor items, so post 'em if you've got 'em.
6. Schedule Playdates (for Yourself & the Kids)
Take full advantage of the summer by scheduling plenty of friend time for you AND your kids. You can swap babysitting duties with other moms who are also looking for summer activities and breaks. Watch kids in trade and skip spending on a sitter. Another great solution is to invite friends over for a potluck or simple backyard get-together. Spending time with friends doesn't need to cost money. You can hang out, play games, enjoy each other's company and enjoy fun in the sun while saving a bundle. We love rotating game nights with our pals, where we can bring the kids along for cheap fun together.
7. Streamline & Automate Your Errands
I love automating my errands. Automation saves me a ton of time, energy and money. When it comes to meal planning, I use MyFreezEasy, which gives me an easy list for once-a-month freezer cooking. I simply plug the shopping list into my grocery delivery service (like Peapod) and the groceries show up right at my door. Yes, there's a small fee, but when I'm not tempted by impulse purchases at a brick-and-mortar store, I still end up saving. I use automated services for household items through Amazon, Target (using My REDcard to save 5%) and Grove Collaborative. My prescriptions are delivered and I order ahead at the library. Automation really saves time and streamlines your errands, which is vital in the summer when you don't want to spend time driving around in a hot car (and wasting money on gas).
Take Your Summer Savings On Vacation
8. Book Travel Off-Peak
If you want to save on summer travel, avoid peak travel times and days. Memorial Day, Labor Day, the 4th of July are more expensive. Watch for events happening in your destination location as well. Unless you're traveling to a city specifically FOR a special event, booking your travel during less popular times can help you score better deals. Book flights for the middle of the week (over the weekend) and embrace flexibility with layovers and preferred airports. Always pack light and bring only a carry on whenever possible. Travel with your own snacks and bring along a refillable water bottle. Airport prices are ridiculous!
9. Travel In-State & Get Creative
Local travel can save you a bundle! Each state has a few attractions and many times we don't even think to explore them. Going for a road trip's typically much less expensive than traveling by plane, especially with kids. If your friends or family live more than a few hour's drive away, turn your visit into a weekend vacation! You'll save on lodging, dining and more. Our family shares a vacation destination when we visit Wildwood, NJ every summer and we save TONS! My uncle does the cooking, the kids play at the pool, and we all have a blast spending time together. A vacation doesn't require travel across the country or internationally for you to enjoy a great time!
10. Get Outdoorsy
Exploring the great outdoors seems like a natural fit in the summer. Go to the beach, hike in the mountains or visit a National Park. When you go for a "nature-friendly" vacation, you can save money by camping out. Not the nature-girl-staying-in-a-tent type? Even renting a camper, RV or trailer is a fun way to camp and explore (while still experiencing a few of the accommodations of home). If you rent a van or RV, you'll still come out ahead over traditional lodging and airfare costs. Many rentals feature a small fridge and stove so you can save money on dining as well. It's an adventurous, inexpensive way to see the sites!
11. Watch Groupon for Discounts
Save on your summer vacation and at home by checking out the options on Groupon! There are all kinds of awesome savings opportunities on Groupon for local attractions and activities as well as options at your destination or vacation spot. You can check out their travel deals under the "Getaways" tab or change the zip code in the location bar to your vacation destination. Check out the pages for the visitors bureau in your destination town as well, before your trip. Local listings will clue you in to free concerts, art shows and cool "locals only" attractions.
12. Consider a Staycation
I know it's summer and you really want a vacation. I get it. But if a vacation isn't in your budget, don't put yourself in more debt and derail your finances by forcing it. You can create plenty of memories and enjoy just as much summer fun staying right in town. If you have a few days off and can't afford to travel, pick a few fun options at home. Explore your city like a tourist—wander around town, sample local food and see the sites your hometown's famous for. Rather than pouting and feeling bummed you aren't on a tropical island, go into "vacay mode" at your local pool. Paint your toes, put on a cute pair of sunglasses and your suit, grab a trashy beach novel and chill.
Summer shouldn't cost a lot but the season SHOULD provide fun and relaxing times. There are tons of summer savings tips to still take full advantage of all summer offers. Make the most of your summer savings and don't burn your budget! What are your favorite summer savings tips and tricks? How do you save while still enjoying fun in the summer sun?