Get your sandals, grab your towel and bathing suit—we're going on vacation!
Is there anything better than vacation? A chance to take a break from the hustle-bustle of life and connect with your family and/or significant other? Vacations rock!
A lot of us think of vacations as a luxury item—something that we have to splurge on and go all out, but there are plenty of ways to have a great vacation without blowing your budget.
If you're wondering how to plan a vacation on a budget without making it, well, lame…don't worry! There are lots of great budget-friendly vacation options that will still ensure you and your family are building sandcastles or going to museums or enjoying yourselves at theme parks. Budget-friendly family vacation ideas just require a little bit of creativity and thinking outside the box.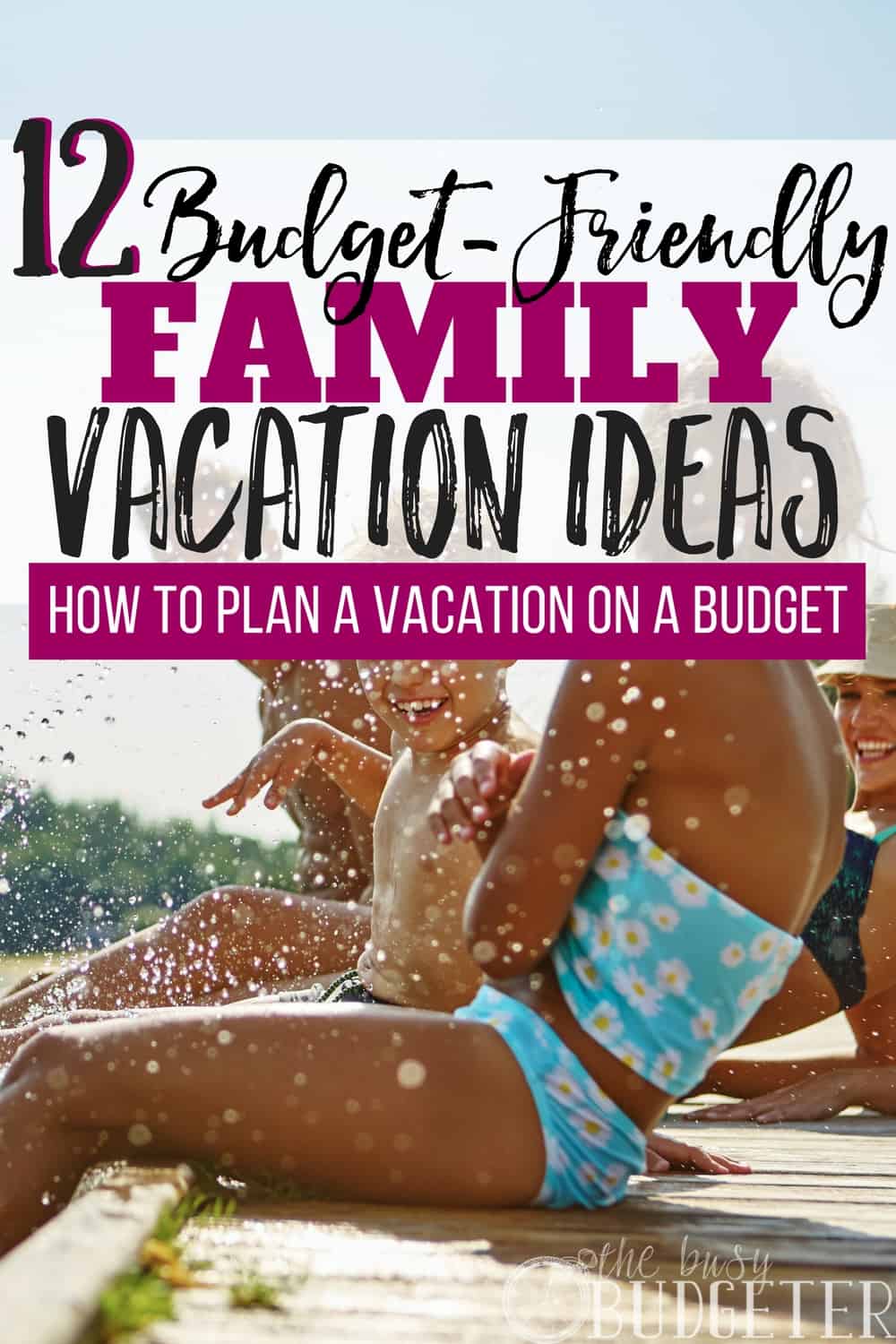 The first step when it comes to planning a budget-friendly family vacation is to figure out your actual budget. How much can you realistically afford and how much do you have saved up?
Real talk for a minute: If you plan to go outside of your budget and spend money on a vacation, don't! If you can't afford a vacation this year, it's okay. You can still have an awesome summer without putting yourself in more debt. There's no rule that says you have to go on a family vacay every year. None. Vacations are always an optional item on your list—they are a want, not a need. (I know you think you NEED a vacation, but trust me, you can still take a much needed break without flying to Bermuda.)
Now that that's out of the way, let's assume you've been saving up and a family vacation IS in the budget (even if it's a small budget). Hooray! Commit to staying within your budget for the entire experience. Make it easy on your family and your wallet by using these ideas to keep it budget-friendly.
1. Go Local
You don't have to vacation right in town, although taking a staycation is always a great option if you can't afford to go away. Vacationing in a local spot—less than a day's drive away—will help you save on gas, mileage, and an extra night at a hotel.
Going local can also be a lot of fun. Find a less-explored area of your state or a fun local attraction. What's a strange museum in your town? What attraction do people come to see when they visit your state? The biggest ball of twine? A cheese museum? A giant dinosaur statue? Check out historical landmarks and natural attractions, national monuments, and parks as well. You might be surprised at the treasures that are within just a day's drive.
You can also explore the closest big city—look for local discounts on museums for in-state residents. Take a photo-tour or walking scavenger hunt around the city and look for things you've never noticed before. Check out your local visitors bureau or historical society for plenty of ideas for awesome things to do in your neck of the woods.
2. Visit Friends
The next best thing to exploring your own locale is letting a friend be your tour guide. When you visit friends or family, lodging is often free (provided they have the room and invite you) and most people are really excited to show off their town and give you the inside scoop on local happenings and fun.
Visiting friends and family is also great because you often don't have to worry about transportation and you can save on meals by buying groceries and eating with your hosts. Ask them to check out local deals on theme parks and attractions as they may be able to secure resident-friendly prices or become members of their city's museum.
When visiting friends and family, always try to be the best guest possible by keeping your stay short, cleaning up after yourself, and planning some time to explore on your own so your host can get some downtime.
3. Travel Off-Peak
Memorial Day, the 4th of July, and Labor Day might seem like great times to go on vacation—after all, you and your hubby are probably off work and the kids are on a break from school, camp and other obligations, right? Unfortunately, EVERYONE has the same idea and ticket prices skyrocket during these busy weekends.
Book travel for off-peak times, like the middle of the week (it's generally cheaper to fly on Tuesday, Wednesday and Thursday). You can save money by opting to not travel direct and taking a layover as well, but weigh the options. A four-hour layover might not be worth a $50 savings to you and your family.
Watch for events and happenings at your destination as well. Traveling to Mount Rushmore during the Sturgis South Dakota Annual Motorcycle Rally or visiting New Mexico during their famous International Hot Air Balloon Fiesta can result in much higher prices on hotel stays and airfare. Unless you're trying to go for a specific event, check the calendar to find less popular times.
4. Road Trip!
Save money by taking a car over a plane. Unless you have airline miles or you're going to a hub destination (like New York, Las Vegas or Los Angeles), it's almost always cheaper to drive with a family of three or four than to fly. This is especially true if you're going to have to rent a car when you get to your destination anyway.
Road trips are particularly fun because you can stop along the way and take it at your own pace. Check out your route and plan some cool stops along the way. Explore interesting places to eat. Stop to take photos by signs and scenic outlooks. Take some snacks and entertainment for the car and make the journey part of the vacation!
5. Go for Quirky
Rather than picking a traditional vacation spot like Florida or California, try something a little more off the beaten path. Every year, we go on the BEST family vacation EVER in Wildwood Crest, New Jersey and it's super amazing. We plan it out ahead and we bring our own food. It's close to Cape May, the beach, Atlantic City, and other locales so we can always do some exploring and yet, it's much cheaper than a more traditional vacation spot.
Nearly every state has at least one or two spots (probably more) that are perfect for vacationing but aren't a destination spot like San Francisco or Maui. These spots can be great money savers and make for amazing budget family vacations.
Look for unusual museums, roadside attractions, and fun activities like riding a tram, zip lining, or exploring caves. There are so many fun and interesting things to do outside of the traditional.
6. Camp
If you want to save money, camp. Camp spots can range from free to around $50 a night. Now, I know camping isn't for everyone, but renting a pop-up trailer and paying for a cheap campsite can still save you money over a hotel.
Check out available sites on Reserve America where you can search by amenities, locations and more. If your family is more "indoorsy" and newer to camping, try a local test run for a night or two somewhere close to home. That way, if it's an absolute "no," you can always pack up and sleep in your own beds.
Camping doesn't have to be a full experience either—you don't have to cook over the fire or shower in a solar shower. Many campgrounds offer nice, clean bathrooms and camp showers, plus, you can just pack sandwiches and cold items to eat.
7. Check for Discounts
If you're a member of AAA, a service member or veteran, or even part of a business affinity group (like a chamber of commerce), you might be entitled to many travel discounts. AARP members receive discounts on travel and hotels, and some museums and historical sites offer educator discounts as well.
Always ask about student discounts and lower fees for children under 12, under 18, or other options. You might be surprised at just how much you can save. Check out Groupon, Living Social and Kayak for any available discounts on travel and activities on your trip.
Lastly, don't forget to check out the visitors bureau for your destination and their website for any activities you plan to do. Sometimes discounts and special deals aren't advertised up front, but can be found online and with a little digging. Do your homework beforehand and you might just save a bundle!
8. Plan Ahead…or Book Last Minute
To save on airfare, car rentals, and hotels you have two options: 1. Book six weeks in advance to score the best price in most cases, or 2. Roll the dice and book last minute to possibly score crazy deals.
I recommend booking ahead, especially if you're traveling with kids. Believe me, no one wants to risk missing a flight or shady accommodations with a three-year-old. BUT if you're adventurous and traveling with just your spouse, you can find some amazing weekend getaways last minute, especially if you aren't picky about where you're planning to go.
One thing about last-minute booking is that they can lead to expensive situations. A missed connection or a hotel that doesn't work out can cause you costly issues. So try it at your own risk…
9. Focus on Activities over Accommodations
Being choosy about accommodations can make your trip much more expensive. Most of us don't go on vacation for the awesome hotel suite, unless it's an all-inclusive resort or a cruise. If you plan to spend most of your time outside of your hotel room, look for something that's clean and simple.
Opting for a hotel room with a kitchenette can save you money on meals outside of the hotel, so that's always a consideration. Most basic hotel suits have everything you need for a night's sleep—a bed, a shower, electrical outlets and a TV. Fancy suites can be lovely and fun, but outside of honeymooning, there's really no reason to splurge on accommodations.
10. Eat In
Food adds up on vacation. One of our biggest savings on our family vacation in Wildwood Crest was the fact that we ate at the hotel. My uncle loves to cook so we prepared meals for 80+ people, which saved us a TON of money. The entire family brought food and prepped it in our kitchenettes, then ate around the pool. It averaged out to about $12.22 per day!
Even if you don't have an Uncle Jeff to cook for your family on vacation, packing some sandwiches and making one or two meals in your hotel can really keep you under budget. Food on the road costs a lot, plus there's tipping and more to consider.
For many of us, our digestion gets a little "off" when we travel. Eating familiar foods can really help make sure no one ends up with an upset stomach on the trip. Sometimes trying too much restaurant food and eating rich treats on your journey can end up derailing the whole vacation. Do some culinary exploration and try local favorites, but also ensure you keep some familiar options on hand.
11. Enjoy the Journey
My son would tell you that the best part of our family vacation was the ferry ride. Seriously: it was the highlight of his whole trip. For most kids, the wonder of riding the train, the excitement of playing with new friends, meeting cousins, hanging out with grandma and grandpa or just playing outside is awesome. Yes, they might really love seeing dinosaur land or going to a deer park. They might love a waterpark or riding rollercoasters, but for kids, often the joy is in the journey. It's all exciting!
We would do well to take a lesson from our little ones in this case. As adults, we tend to jam-pack our schedules with a flurry of activities and plans. We spend a fortune taking toddlers to Disneyland when later they barely remember the trip.
Instead, enjoy the trip and give yourself some downtime. Vacation is a chance to relax and rejuvenate. It's an opportunity to get some rest and just enjoy your time together. Don't exhaust yourselves by trying to see it ALL. Pick some highlights and just enjoy the trip.
12. Explore Off the Beaten Path
Enjoying nature costs almost nothing in most cases. Beaches, lakes, hiking, and the desert are all beautiful places to explore and vacation, but they cost much less than a city or theme park.
Help your kids explore and learn by creating a goal—find seashells or heart-shaped rocks, or identify as many different birds as you can on your trip. Let them collect little items or play real life "Pokemon Snap" by taking photos of each thing they come across. Not only will then end up with free souvenirs, but it will give them a chance to really connect with the world around them.
Use this same "off the beaten path" mentality when it comes to travel activities as well. Stop at the local diner or stay at the fun little hotel on the edge of town, rather than the hotspot. Think like a local rather than a tourist to find the attractions locals enjoy.
Wherever your travels take you this year, remember that you don't have to spend a lot of money to make great memories. You can have a fun vacation with your family just playing cards on the beach or chilling together around the pool. Make the most of your vacation by really making it a chance to get away and relax!