Some nights even 20 minutes in the kitchen seems like too long, am I right??
Who wants to be chopping, baking and boiling when you could be crossing off any of the thousands of other things on your to-do list? Better yet, when you could actually be having some fun?! After all, life is just TOO SHORT to be spent hiding out in the kitchen (at least that's how I feel).
Take out, fast food, or ordering something for pick up is always an option, but for many of us that can get expensive, and be a budget breaker.
What you need is a quick solution. So how about Quick Family Dinner Recipes – just 15 minutes or less to the table!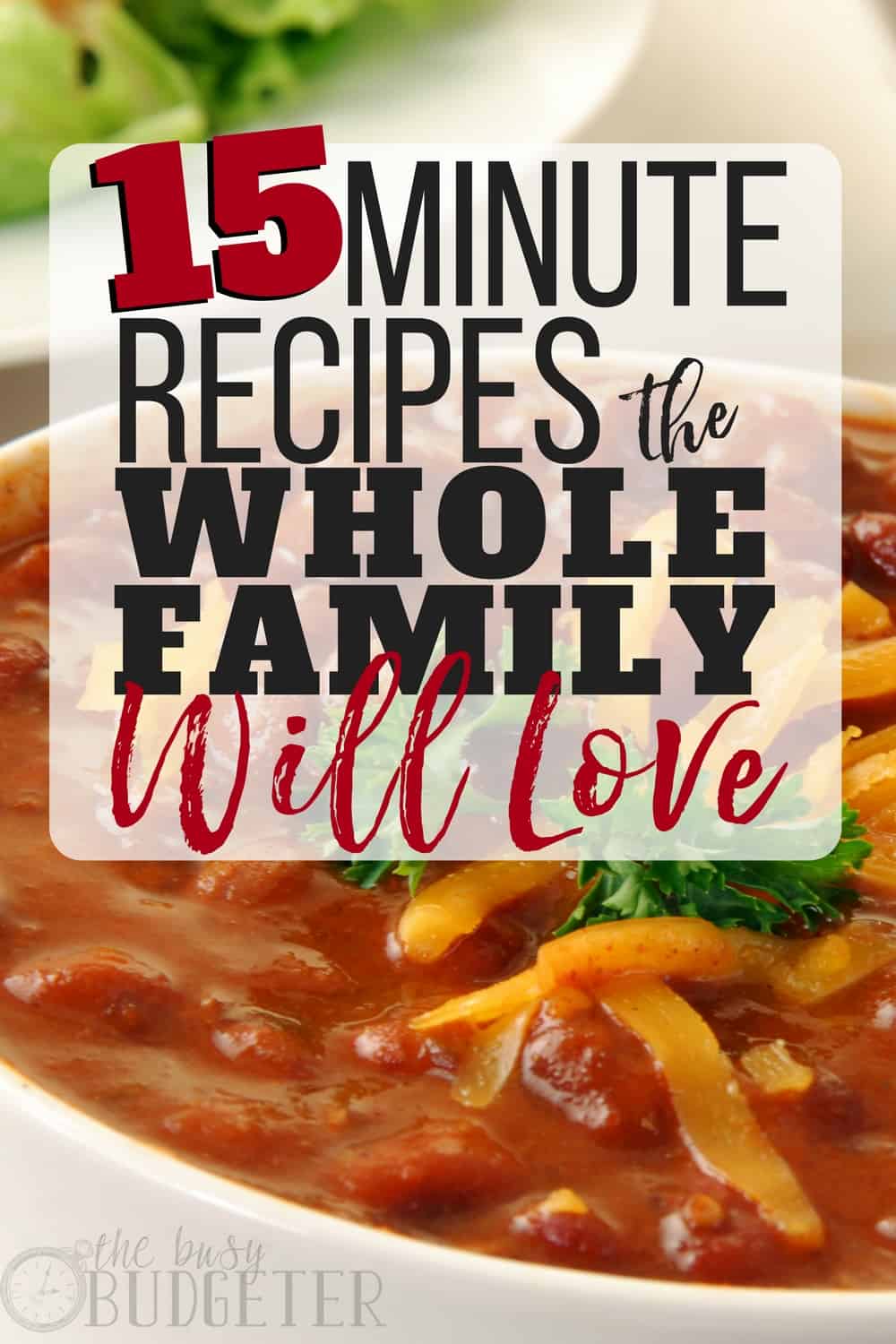 Once you start down the 15-minute dinner path, it actually becomes a fun game. (For real!) Call me competitive, but I really like seeing how quickly I can cook up something presentable and get it out of the kitchen and onto the table. Most importantly, it gives me more time to spend enjoying my kids and my husband as we hang out at the table together…rather than getting stuck cooking while everyone else is together. (Ugh.)
So here's a roundup of some of my favorite quick family dinner recipes! Try a few of these quick dinner ideas today!
Also, feel free to mix it up and add your own "flair" (or just use up whatever is in your fridge and freezer). Most of these can be subbed out with different veggies, ground turkey or soy crumbles instead of beef, etc. Let me know what you come up with!
15-Minute Crispy Tex-Mex Chicken Wraps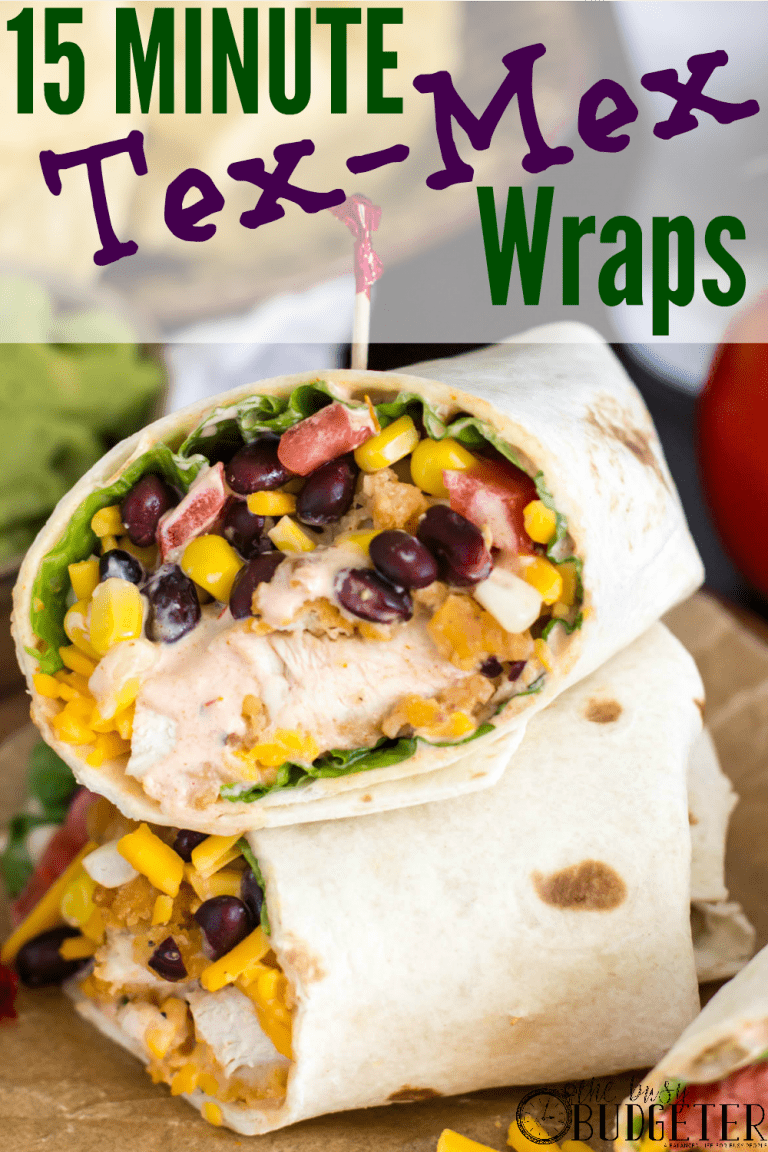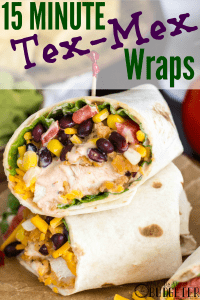 These wraps say "15 minutes," but once you have the sauce-making down and your wrapping "skillz" perfected, you can totally get these together in even less time. They are SO good and they're one of my very favorite meals. You can swap out the crispy chicken tenders for rotisserie chicken or pre-grilled pieces from the deli and it's ready even faster!
Ingredients:
Tex-Mex Ranch Sauce:
1/3 cup ranch dressing
1/3 cup mild or medium salsa
1 Tablespoon reduced sodium taco seasoning
Wraps:
6 Flour tortillas (10-inch)
6 Romaine lettuce leaves
2 medium-large tomatoes, sliced into 12 slices
1/2 cup frozen sweet corn kernels – thawed
1/2 cup black beans — rinsed and drained
1 lb crispy chicken tenders — cooked according to package directions and chopped
1 cup shredded cheddar cheese
Instructions:
Prepare your Tex-Mex Ranch Sauce by whisking together ranch dressing, salsa, and taco seasoning in a small bowl until completely combined. Set aside.
Warm your wraps in the microwave briefly (about 15-20 seconds) and lay each out on a clean work surface.
Spread about 1 Tablespoon of Tex-Mex Ranch Sauce in the bottom center of the tortilla (leaving about 2 inches of space around the edges of the tortilla).
Top with 1 leaf of lettuce, then two slices of tomato.
Sprinkle about 1 Tablespoon of corn and 1 Tablespoon of beans over the tomatoes (try to keep everything building up on top of the lettuce — it will make it easier to wrap the finished product) and then top with a handful of chicken (about 1/3 cup).
Sprinkle shredded cheddar cheese on top (about 2-3 Tablespoons) and evenly drizzle remaining ranch sauce on top of chicken /cheese.
Fold the left and right side of each wrap inwards and then roll into a wrap. Secure with toothpicks, if needed.
Cut in half and serve.
15-Minute Ham & Cheese Sliders with Homemade Honey Mustard Dressing
Click here for an easy, printable recipe card!
These are so good, and they're great for parties and get-togethers, too. The "slider" idea makes these pretty portable and simple to serve. Plus there's a sweet/savory/salty combination that's out of the park.
Ingredients:
8 dinner rolls
8 slices of Hillshire Farm black forest ham
4 slices Swiss cheese
2 tablespoons honey
2 tablespoons Dijon mustard
2 tablespoons of butter
¼ teaspoon of poppy seeds
Instructions:
Preheat oven to 425 degrees.
Split dinner rolls in half and stuff them with 1 slice of ham and ½ slice of Swiss cheese.
Brush tops with butter and sprinkle with poppy seeds.
Bake for 5 minutes.
Mix honey and mustard together and serve on the side.
The Ultimate 15-Minute Chili
Head over here for an easy, printable recipe card!
Oh man, chili is so good, isn't it? This recipe comes together fast, even though chili is one of those things you often think of as taking a long time to make. This simple chili tastes like it took a lot more effort, and the flavors are fresh and good. Make a big batch and you can have leftovers for tomorrow.
Ingredients:
1 Tbsp olive oil
1 lb ground beef
1 large yellow onion – chopped
2 cloves garlic, minced, or 1 teaspoon garlic powder
14 oz diced tomatoes, undrained
16 oz tomato sauce
15 oz kidney beans, drained
1 4-oz can green chilies
1 Tbsp brown sugar
1 Tbsp chili powder
1 tsp ground black pepper
1 tsp paprika
½ tsp cumin
½ tsp salt
Instructions:
Heat olive oil in a large pot. Add ground beef and onion and cook until beef is browned. Drain off excess grease.
Add garlic, if using, and cook until fragrant (about 30 seconds) – If you're using garlic powder, skip this step and add the garlic powder in with the rest of the spices below.
Add all remaining ingredients and stir well.
Bring to a boil, and cook 1-2 minutes, stirring frequently.
Reduce heat and simmer, stirring occasionally, for at least 15 minutes (the longer you simmer the better it will be!).
Serve with preferred toppings (like sour cream and corn chips).
Rotisserie Chicken Meals
Click here to check out all the recipes!
One of my go-to secrets in the kitchen is buying Rotisserie chickens. I pick one up in the grocery line almost every week. (They're usually less than $5 and often on 2-for-1 sale.) They smell amazing, and they can go in all sorts of recipes. They make simple dinners like quesadillas feel like a full meal.
Super-Simple Rotisserie Chicken Quesadillas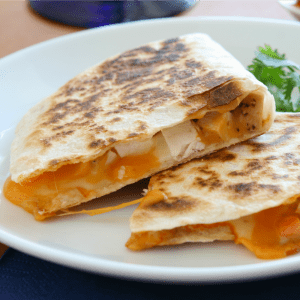 Chop up the chicken, then add cheese and extras (try black beans, green pepper, onion, and salsa to taste) to create the filling. Place a flour tortilla in a buttered hot skillet on medium high, add filling, layer with another tortilla, turn when cheese is melting and cook the other side to a crisp.
Strawberry Avocado Salad with Rotisserie Chicken and Honey Balsamic Dressing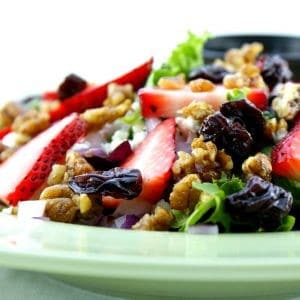 Chop up chicken. Slice strawberries and avocado. Layer chicken, strawberries, and avocado on salad greens, then add blue cheese and chopped walnuts. Combine equal parts honey, balsamic vinegar, and oil. Add a splash of lemon juice (and poppy seeds if you have them). Mix and dress the salad.
This is our FAVORITE salad dressing. It's a million times better than any store bought and we make it frequently. (Seriously: SO YUMMY.)
Buffalo or Barbecue Rotisserie Chicken Pizza
Buffalo Version: Preheat oven to 400 degrees. Coat chopped chicken in hot sauce (we add some melted butter to ours). Layer a Boboli pizza crust with room temperature cream cheese, then sprinkle with ranch seasoning (the dry dip kind), then a little mozzarella cheese. Finally add the spicy chopped chicken, sprinkle with more mozzarella and bake for 10 minutes.
BBQ Version: Preheat oven to 400 degrees. Spread a thin layer of BBQ sauce over a Boboli pizza crust. Sprinkle Monterey jack cheese over crust, add finely chopped chicken and red onion then more cheese. You can add extras if you have them on hand (crumbled bacon is super good!) then bake for 8-10 minutes.
Buffalo Chicken Bagel Thins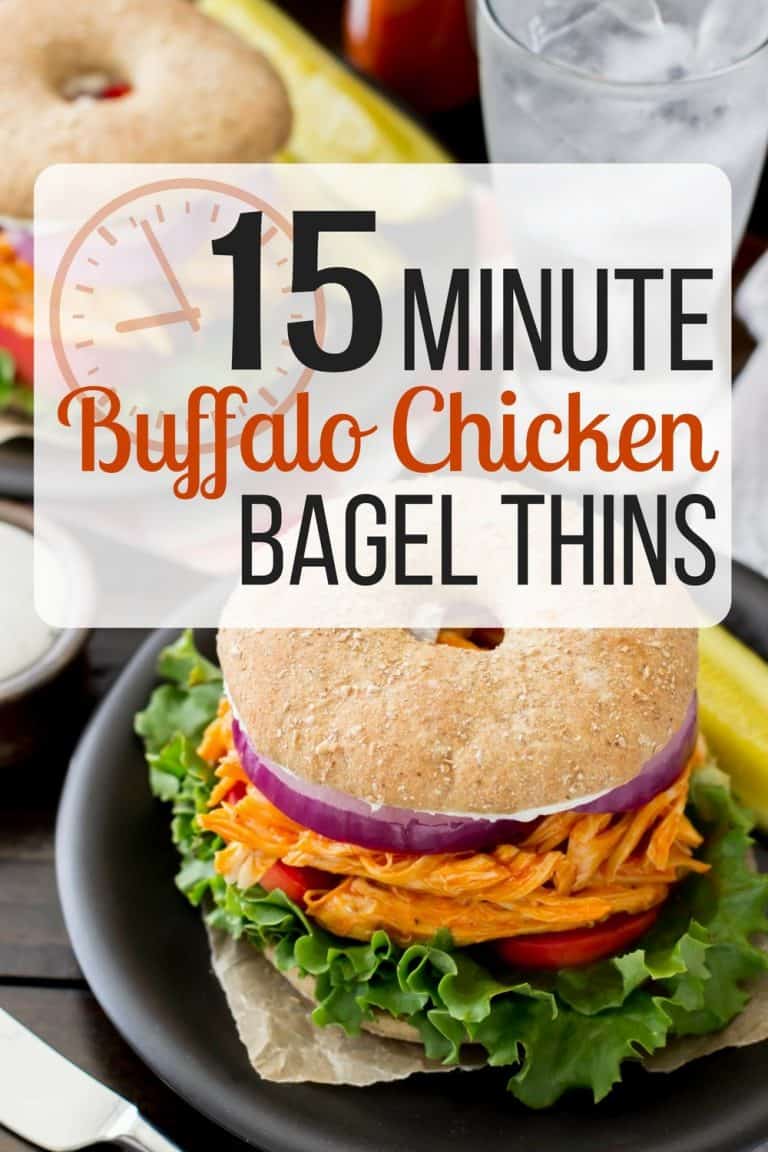 Head over here for an easy, printable recipe card!
These little bagel sandwiches seem like something you'd get at a café, or at a nice lunch place. They're super filling and yet another awesome use for rotisserie chicken! You can put them together in no time flat!
Ingredients:
3 cups shredded rotisserie chicken
⅓ cup buffalo wing sauce
Pepper, to taste (up to ¼ tsp)
4 Bagel thins
2 oz cream cheese
4 pieces leaf lettuce
1 tomato, sliced
½ red onion, sliced
Instructions:
In a medium-sized, microwave-safe bowl, combine shredded chicken, buffalo sauce, and pepper.
Heat in microwave for 1-2 minutes (until warm), and set aside.
Lightly toast bagel thins.
Evenly spread cream cheese over the inside of the top half of each bagel, evenly dividing among bagels.
Place one lettuce leaf on the bottom half of each bagel. Top with tomato slices.
Neatly heap shredded chicken on top of the tomatoes, evenly distributing meat.
Top chicken with onion slices and then top with cream cheese covered half of bagel thin.
Serve immediately.
Enjoy!
15-Minute Leftover Turkey Alfredo
Download a printable recipe card here!
I'll let you in on a little secret about this recipe—you don't have to use turkey! You can use the same grilled or rotisserie chicken, if you like. However, this recipe is amazing if you need to use up some leftover turkey. Plus, it comes together so fast!
Ingredients:
6 oz dry linguine noodles (this is a little less than half of a standard 16 oz package — you can estimate this)
1 Tbsp olive oil or butter
1 15-oz jar alfredo sauce
⅓ cup milk
4 oz can sliced mushrooms — drained
2 cups shredded turkey
10 oz package steam-in-bag frozen broccoli florets
½ cup shredded parmesan or mozzarella cheese (optional)
Instructions:
Prepare pasta according to package instructions.
While pasta is cooking, heat olive oil or butter in a large skillet over medium heat.
Stir in alfredo sauce, milk, and mushrooms. Bring mixture to a simmer/slight bubbling.
Add turkey and stir occasionally while pasta finishes boiling.
Once pasta has finished cooking, strain well through a colander and pour into sauce mixture (don't let pasta sit in the colander too long or it will begin to stick together). Stir well and reduce heat to medium-low.
Microwave broccoli florets according to package instructions and stir into alfredo sauce until all ingredients are well-combined.
Top with parmesan cheese, if desired, and serve once cheese is melty.
15-Minute One Pot Lasagna
Click here for a printable recipe card!
15 minute lasagna?? Sounds crazy, I know!! But while this dish doesn't exactly "look" like traditional lasagna…guess what? It totally tastes the same! You get the melty, gooey cheese, the yummy tomato and beef flavors, and even the curly pasta, but you don't have to do all that baking, and mixing in the eggs and ricotta and layering! This comes together in 15 minutes flat!
Ingredients:
1 lb ground beef
1 medium onion, chopped
½ cup water
8 oz pasta noodles (I used "Mafalda" noodles but rotini, bowtie, or any similar noodle will work!)
1 14.5 oz can diced tomatoes – undrained
8 oz can tomato sauce
1 tsp garlic powder
1 tsp dried basil
½ tsp oregano
½ tsp crushed red pepper
Salt & pepper, to taste
2 cups mozzarella cheese
½ cup ricotta cheese — optional
Instructions:
In a large skillet over medium-high heat, combine ground beef and onion. Cook until beef is browned and onion until soft.
Drain excess grease.
Add water, pasta noodles, undrained tomatoes, tomato sauce, garlic powder, oregano, basil, crushed red pepper, salt, and pepper. Stir well.
Bring contents of pot to a boil. Reduce heat to simmer and cook until noodles are cooked through, about 10 minutes.
Stir in ricotta cheese and 1 cup mozzarella cheese, stirring until cheese is melty.
Top with remaining 1 cup mozzarella cheese. Allow it to melt over the top of the dish and then serve.
Some Easy 15-Minute "Throw Together" Dinner Ideas:
Canadian Bacon, Egg and Cheese Sandwich:
Throw a skillet over medium heat. Spray skillet with cooking spray (or oil). Heat each side of bacon on medium for two minutes, then lay on paper towel to drain. (These instructions are for Canadian bacon sold in the US only…Canadian bacon sold in the US is only sold precooked. In Canada, it's sold uncooked and requires longer cooking times!)
Break an egg into the bacon pan (Yay! Less dishes!) and fry as desired. I'm lazy, so I normally just scramble (or even microwave, if you have a microwave egg scrambler). While the egg is cooking, throw two slices of toast in the toaster. When they pop up, layer with bacon, add eggs, and top with any cheese you have available. Cheddar? Mozzarella? Monterey? Swiss? All delicious! I'm convinced any cheese makes this better.
Shrimp Tossed Pasta:
This one came from my mom and sister. I couldn't try it out because the idea of eating seafood makes me gag… but I grew up watching them devour this stuff so it must be good. Boil water in a pot. Heat 1 TBSP oil in a separate pan and heat shrimp over medium heat until pink and curled. Add 2 cans of minced clams with the juice and heat. While shrimp is cooking, add pasta to boiling water and cook as directed (8-11 minutes). Drain pasta, toss with shrimp/clams/oil mixture. Enjoy! (Or gag if you're me. Haha. Sorry!)
Caesar Salad with Grilled Chicken:
For this, you can cheat and use the rotisserie chicken again or do a little planning ahead. When you have a little time, grill up a pack of chicken breasts and freeze. (I wrap in waxed paper, and then seal in a freezer bag, removing all air.) When you need one, microwave for about 2 minutes or heat in a skillet.
For Caesar Salad, I chop up romaine lettuce, heat the chicken and slice up, lay the chicken on top, add random extras that I have around – black olives, feta or parmesan cheese, diced cucumbers etc. Then just drizzle with Greek dressing.
Chicken Salad on Pita Bread:
Again, use either pre-grilled chicken or rotisserie chicken works as well.
For Chicken Salad, heat chicken, then dice up and mix with mayonnaise until it reaches the desired consistency, then add a little mustard (any type you have is fine), salt, and pepper. You can also use up any extra leftovers you have around: dice up and add carrots, celery, onion, green pepper, or even apples (though I wouldn't add apples to the onion)!
Broiled Steak:
When it comes to quick family dinner recipes, this is great for when you're in the mood for a quick dinner that still feels special. Heat your oven to a low broil and move your oven rack to the highest or next to highest level. Take any steak (This works best for well done lovers if it's thin cut – if it's a thick cut, don't stress you can just reduce the oven heat to 350 and shut the door after broiling, cook it another 5-10 minutes and you're in well done territory) and lay on your broiling pan. Add spices or a salt and pepper rub if you would like, then broil with the door propped open an inch or two for 2 minutes per side. Take it out and slice through. Is it too pink? Broil in the same way for another two minutes per side. Enjoy!
Greek Pasta Salad:
Boil shell pasta as directed. While pasta is cooking, slice up fresh basil, carrots, green pepper, and red onion. Dice up pepperoni. Drain pasta and mix with veggies and pepperoni. Add feta cheese. (I buy Mediterranean feta cheese with sun-dried tomatoes and spices.) Toss with Greek dressing and serve.
Ideas for Quick & Easy Dinner Sides
Most of these dishes can stand on their own, but sometimes you're probably looking for a side to round out the meal. We usually keep our sides very simple, and I generally keep these ingredients on hand in the fridge or pantry so we can add them to our meals as we go.
Cut apples or pears
Fruit salad
Applesauce
Bagged salad
Coleslaw (ready-made)
Baked beans
Chips and guacamole (Super simple guac recipe: mash avocado with a whisk, add lime juice, cilantro and finely-chopped onion. That's it!)
Canned or frozen corn
Canned or frozen green beans
Frozen broccoli, cauliflower or peas
Baby carrots and celery with ranch dressing
So the next time you're facing the eternal "what's for dinner" question, try one of these quick family dinner recipes to ensure you spend less time in the kitchen and more time enjoying dinner. You might even find that you can add some of these to your regular rotation.
Now get yourself out of the kitchen so you can start having more FUN!!
You may also need: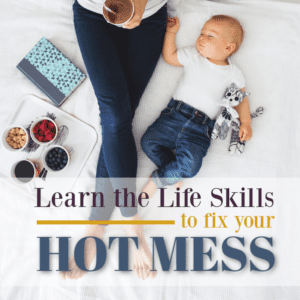 If you're struggling to manage life as an adult… go back to basics and learn the 3 foundational routines that will change your life as an adult.