What? High School and college didn't prepare you for the basic life skills you need for adult life? Yeah, me neither.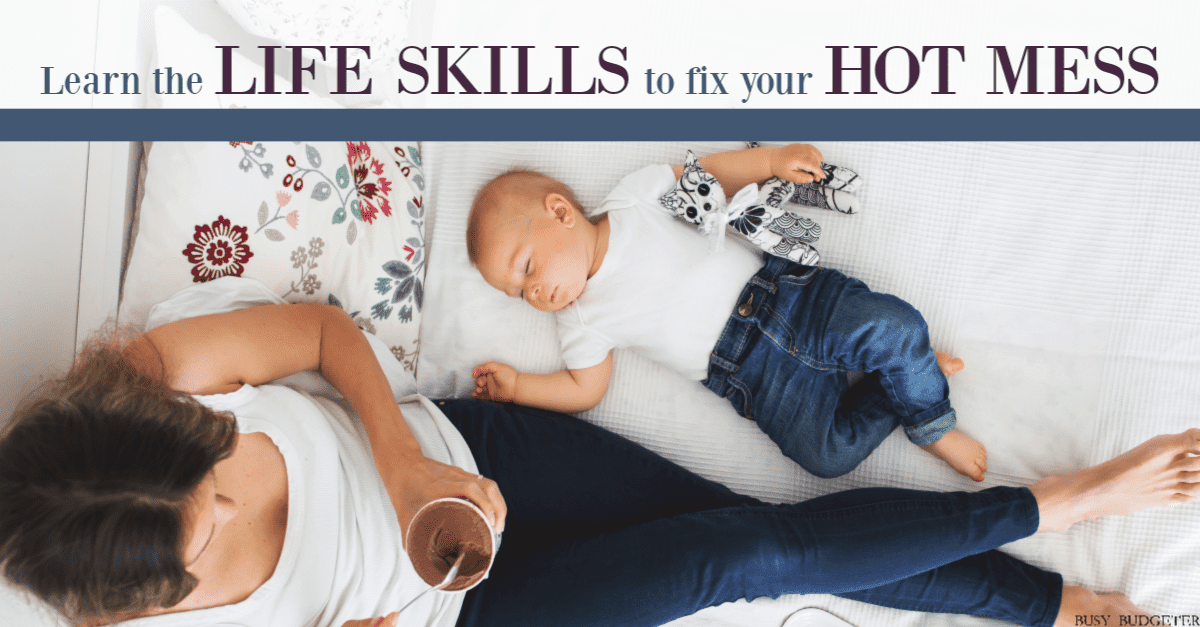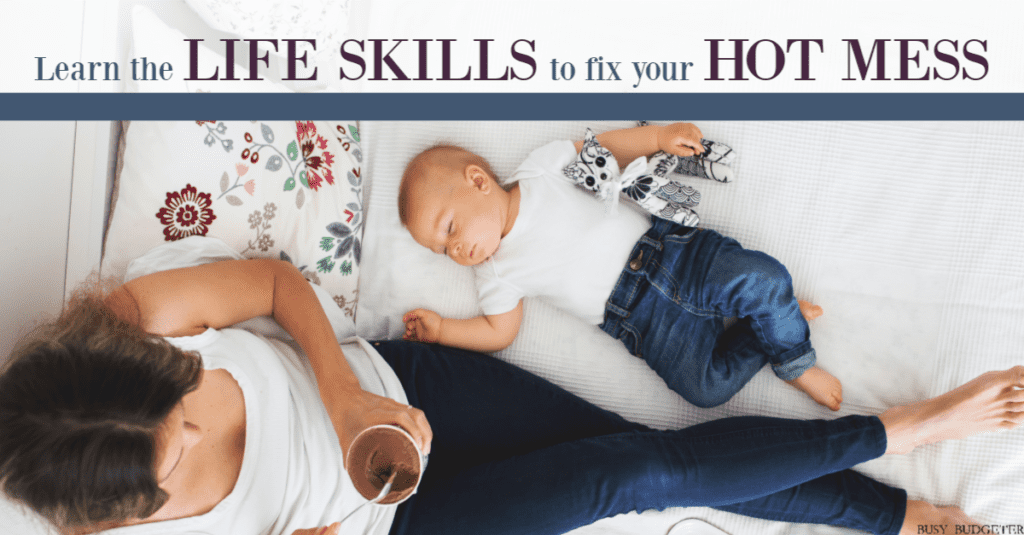 Reading, writing, arithmetic, sure…but adulting? Most of us didn't learn basic life skills for adults in school—even in college.
In high school, trade school, college and beyond, we're so focused on training for our careers we never really learn the basics of home management, like budgeting, cleaning routines, planning meals, or simply how to be a grownup. Yet, we spend way more of our lives OUTSIDE of work than we do on the job.
How many of us hit adulthood with no clue? Is this you…?
You got a credit card offer in the mail at eighteen and started creating a wardrobe that would make Gossip Girls proud. Except you're not 18 anymore, and you never actually stopped.
You take out student loans, because that's what you think you're supposed to do, but didn't completely understand that those loans meant you'd be poor for like forever. (Especially when added to those credit cards!)
You don't have the time to cook (and if we're being honest, raw chicken scares the crap out of you) so you end up in fast food more nights than you would ever admit to your friends.
Your schedule seems packed with appointments and obligations, but you're forgetful, chronically late, disorganized, and always forgetting important events.
Your house? Well, it's a total disaster. Dishes, laundry, junk…Sometimes it seems like it's easier to buy new clothes (or even dishes) than wash it all. Except for that point where you don't have any money and lots of debt.
Then there's navigating everything else – husbands that don't understand why you can't get the laundry done (insert eye roll here), adorable kids that suck up almost every second of your time (and your money), and your social life (or lack thereof).
Seriously—why didn't we spend 12 years learning this stuff?!?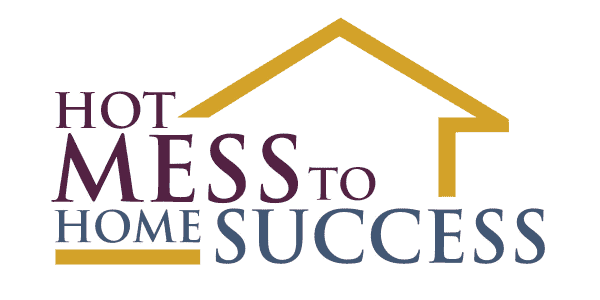 From Hot Mess to Home Success
All of those bullet points above? I KNOW them. Why? Because I've been there. I was chronically disorganized. I had a messy house and plenty of debt. I fought with my husband EVERY DAY over the state of the house and how much money we spent. (I married a spender, and I wasn't much better). I loved the Chick-Fil-A drive-thru, and any attempts I made to start a new program, routine or get organized failed within a few days.
But, I knew my hot-mess life wasn't working. It was stressful, especially after I had my first baby. I was overwhelmed and frustrated. It was killing my marriage and I spent most days looking at everyone else who seemed to have it all together and thinking "Why am I broken? What's wrong with me?"
I wanted to stay at home with our soon to be first child, but our budget was out of control, our house was a mess, and Jon and I fought constantly.
I was determined though.
I started where we all do—with Google. Then I hopped on Pinterest. I looked for any (and all) of the life skills courses out there I could find. But here's the problem, there are a lot of life skills courses out there focusing on ONE area, like budgeting, marriage, or parenting. But there aren't any courses that teach you everything in one home management system.
And worse, they don't explain to you the order in which you tackle those skills.
There's two different types of skills, simple (like laundry), and complex (like meal planning). Almost all of the courses taught you how to tackle one complex skill, but they didn't teach or explain the simple skills you need to master in order to have success at the complex skills.
Which is why I was constantly failing every single time I tried to change.
It's like sending a kindergartner who eats glue into calculus and being disappointed when he can't pass.
I spent the next two years of my life learning about basic life skills and my personality and how to get the organizational results that I wanted, despite my chronic disorganization.
I a/b tested everything and found what works. We reduced our spending by over 23,000 our first year, I got to quit my job and stay home with our first born child by his first birthday, and then I made up my old salary at home by running a home daycare, which let us pay off our over $30,000 of debt.
Then in the free time that I had from getting our home (and let's be honest, my life) in order, I started a blog to help other women who felt like I did.
That little blog turned into a big blog that has helped over 15 million readers and has been featured in Forbes, Entrepreneur, Motley Fool, Fox Business, and Country Living.
I took everything I'd learned about how to finally get your life organized and poured it into one comprehensive course (that's not available now, your best bet is to join the waiting list here) called Hot Mess to Home Success. It walks through the basic life skills you need to know.
We start small with simple skills (like laundry, dishes, keeping a schedule, and automating as many home tasks as possible), leaving nothing to chance. Then we build on those simple skills to learn the complex skills (like budgeting, realistic meal planning, and short cut cleaning).
We walk you through a plan that works for your life and personality (not the life of some imaginary superwoman on Pinterest) to get from where you are to where you want to be.
Even if you're chronically disorganized and have tried and failed before.
Hot Mess to Home Success works because it teaches you how to work with your unique personality to get you what you really want, while it shows you how to automate and create short cuts with everything else. I know it works because it worked for me, and then I taught others. I've helped hundreds of others get their life under control and take their home back from chronic disorganization.
The bad news, of course, is that because it takes a herculean effort to be able to serve so many students and get them the results they need, that we open the doors to Hot Mess to Home Success only once per year.
In the meantime, let's get you started with small changes you can make now to start seeing results.
Here are three basic life skills for adults that you never learned in school.
1. Basic Finances: Start By Reducing Your Grocery Spending
As the Busy Budgeter, I guess you could say budgets are kind of my jam. That said, I wasn't always great at maintaining a budget. Starting a budget, sure! Sticking with a budget? Eh. Not so much.
See, I'm impulsive. That's just my personality. If I want something, it's really hard to tell myself no. More often than not, I just buy it, budget be damned. I tried for YEARS to use willpower to get my spending under control and it never worked. (shocker right?)
You can learn how to set up a realistic budget here (created specifically for people like me who suck at budgeting), but if you need to go even simpler than that…
Don't worry about your budget. Keep doing what you're already doing and ONLY tackle the grocery budget. Print out your bank activity for the last full month (Like October 1st – October 31st) and add up every single charge that was used to feed you.
Write down somewhere prominent (where you'll know where to find it next month) how much you spent on groceries last month.
Now, your only goal this month is to spend less on groceries. That's it. If you're able to do it… send me an email at Rosemarie@busybudgeter.com with the subject line "ROCKED IT!" and tell me how much you spend last month and how much you spent this month and I'll send you a little present. 🙂
Hint: If you have no time to cook, you can reduce your spending by a lot if you stick with "no recipe needed" 15 minute meals. This is a game changer! We have a ton of cheap and easy 15 minute meals you can find here.
Create a list of five or six 15 minute meals you can make quickly and then you can add in a few for breakfasts and lunches. That's your first very basic meal plan. (Trust me it's a lot easier to stick to when your meal plan requires no recipes and dinner is only 15 minutes away!)
If you want to get more in-depth, then you can sign up for my free 90 Day Budget Boot Camp.
2. Basic Home Management: Start with Dishes & Laundry
When you get overwhelmed staring at a messy house with every closet and space full of clutter and you're really just trying to keep the floors and tables free of stuff… ignore it all and just focus on your dishes and your laundry.
You see, when you're facing a pile of nasty, crusty dishes in the sink, there's no way to use your kitchen.
That sink full of dishes bleeds into other parts of your life… now making dinner won't take 15 minutes. The meal will only take 15 minutes but first I need to empty the dishwasher and shove clean dishes into the overstuffed cabinets and then I need to wash the dirty dishes, but they've been left so long that they're super gross and won't get clean unless I scrub them.
And then you think, "Or I can just stop by Chick-Fil-A on the way to soccer practice?" Problem solved! Except then your house stays messy, you stay overwhelmed, you eat 900 calories for dinner, you spend money that you could have bought something better with (fall boots? planner? hobby lobby trip?) and you face the exact same dilemma tomorrow night.
So for the next month, I want you to only focus on doing the dishes every day and leaving the sink clear when you go to bed.
If you're side-eyeing the sink right now and wondering how to tackle it, you should see the easiest routine to wash dishes and never get behind again.
If you still struggle with getting the dishes done every night, and your budget allows, I want you to go buy a giant pack of recyclable paper plates, cups and silverware (are they still called silverware if they're plastic?).
You'll still need to wash the dish you use to cook, but it's a lot less overwhelming. The point is that I need you to see what life is like without a giant pile of dishes in your sink.
The other area to tackle is the mountain of laundry. I know, it feels like the worst job in the world, but laundry is SO much more manageable if you keep up on it regularly. When you do a small load of laundry on a regular basis, it takes almost no time at all (seriously, I've timed it). All you're doing is washing the clothes you wore yesterday… that's it!
As I outline in my post, the secret to never getting behind on laundry again is to establish a routine and stick to it. Start by throwing in one load per day until you're caught up and used to a regular routine. By learning these two basic life skills for adults, you're on your way to becoming an official grownup…or at least not a home management disaster.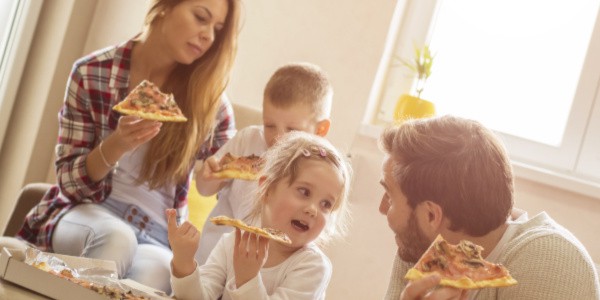 3. Basic Meal Planning: Go With Your Gut
How many times have you looked up meal plans, bought a whole bunch of fancy ingredients and then ended up ordering pizza while real food rotted in your fridge? Maybe you even signed up for one of those meal-in-a-box deals where you get all the ingredients delivered to your door, but then gave up after your first meal took 45+ minutes (and cost $30!?)
Wondering how I know? Because girl, I've been THERE. Oh my gosh, I've SO been there.
See, I'm not a gourmet by any means. I'm not really a foodie. I like the foods I like—regular stuff like tacos, pizza, and hamburgers. But I also want to be healthy and I want to encourage my kids to make healthy choices too.
Here's the deal, we have a lot of options available to us and we don't have to make monumental life changes in order to see results. If you love fast food, sub out the fries with prepacked baby carrots and ranch dip or whatever healthy side you like. Come home and make easy 15 minute meals from convenience foods without needing recipes.
You can follow a healthy(ish) meal plan and not go all crazy about it. You can create meals ahead so even if you hate cooking, you only need to be at the stove once a week. You can plan meals around your pantry and eat foods you love—even boxed macaroni and cheese.
The whole secret is to plan meals you like. If you love going to Subway for lunch with your work buddies, for example, plan it into your weekly menu. Bring along an apple or a bag of carrots for your sides to save money and calories. Order a pizza but skip the wings, breadsticks, and lava cakes and add a salad and apples to enjoy alongside.
There are many different types of meal planning, but the key to success is to only plan the foods you and your family enjoy. If you guys love spaghetti night or taco night, keep it in regular rotation. Eat what you like and enjoy those meals regularly.
It's simple but the key to successful meal planning (aside from fixing and eating only what you enjoy) is to simply plan it out. If you know a certain day is crazy busy and you're going to succumb to fast food anyway, it's totally fine to just plan to eat fast food that day. Simply budget it in and plan ahead. If you want to cook all your meals on the weekend, plan them out so you're successful (we used Freezeasy to do this for years!). If you shop without a plan or wait until you're starving, you'll always make less-savvy choices.
For more on meal planning, look over basic meal planning for beginners.
Hint: If you're on a bare bones budget and need to eat SUPER healthy (or have allergies) this system of making 74 healthy freezer meals in four hours lets you make food for weeks that are allergy friendly and ridiculously healthy. (But let's keep it real- not as delicious as Big Macs).
Do You Want More Basic Life Skills for Adults?
Are you looking for a more in-depth guide to basic life skills for adults? Do you want the whole system full of detailed tips and a step-by-step guide to improving your life and your life skills?
If you're ready to get your life under control, join me for Hot Mess to Home Success, an easy home management plan for the chronically disorganized.

In the meantime, if you're ready to get a jumpstart on more basic life skills for adults, check out the FREE 3-Day Home Rescue Challenge. In just three days you'll start to learn all the basic life skills you need but were never taught in school. These are skills every adult should know (but most don't).
If you're ready for a rescue, take the challenge today!