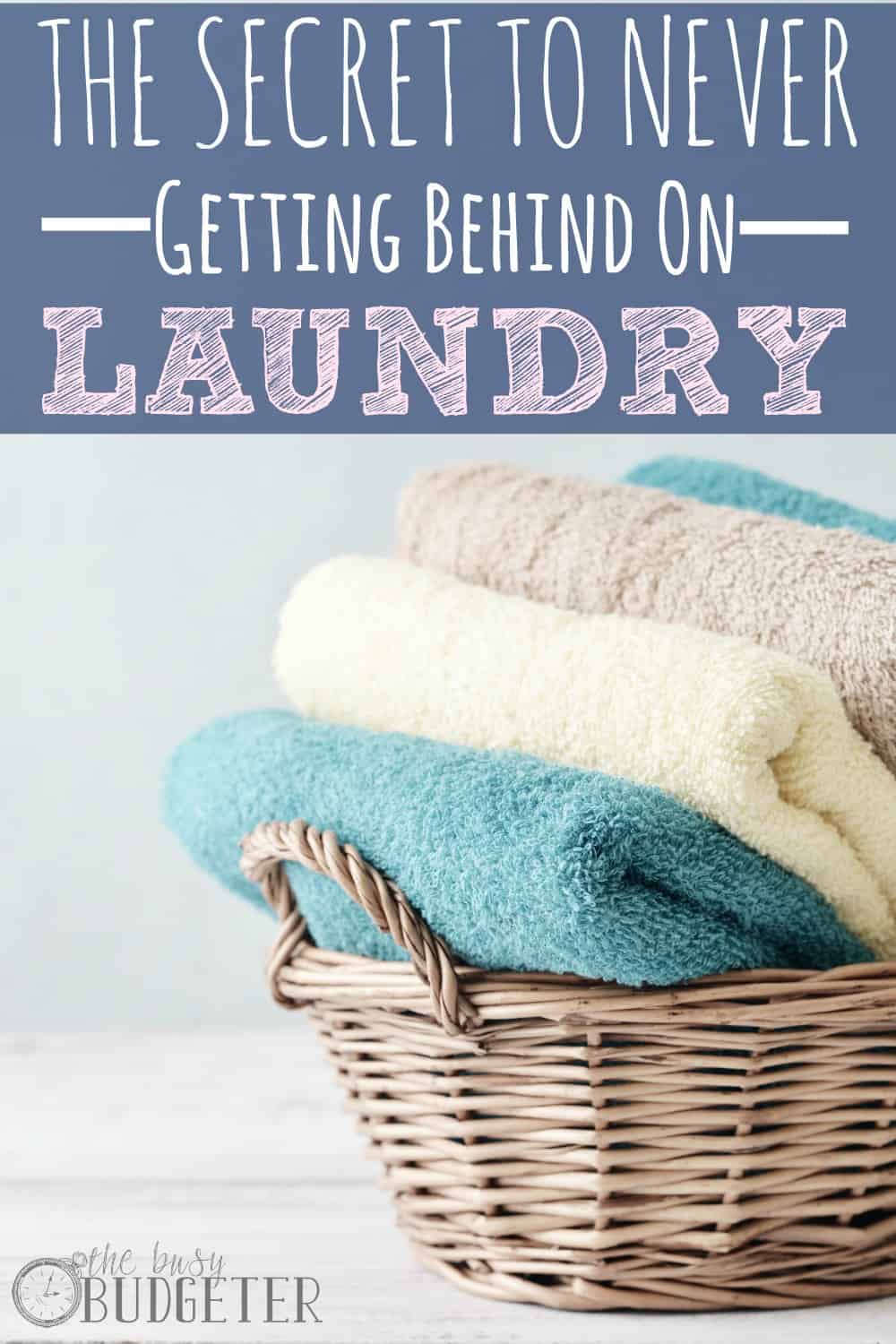 One of the first things you should do when you're trying to save money is set up laundry routine so you can stay on top of it easily. Sound ridiculous? Let me convince you.
Saving money is about 20% plugging numbers in and making financial decisions, and 80% establishing routines to support your new lifestyle. If you try to tackle the budget alone, it's an endless cycle of "life getting in the way". You fail, get disappointed and start the cycle all over again. Let's just skip that whole mess.
Most people fail at implementing a budget because they try to implement only one solution (like creating the budget) and don't understand that several things need to change at once in order to be effective. For example, you can't cook at home to save money if you haven't established a routine of dish washing, a routine to go grocery shopping, and a routine to plan menus.
There are only two things that make your home and life run smoothly. They are the basis of everything that you do, and when these routines are established they will positively affect your finances, health, your weight, your social life and your attitude. Laundry and Dishes.
If you can keep on top of those, your life will improve dramatically almost instantly. By "resetting" both the dishwasher and the washing machine every day, you will be caught up in a few days and you will never be behind again.
The secret to the perfect laundry routine is to never do more than one load each day.
The best part? Very likely this will be less work than what you're doing right now. The secret is simplicity.
Don't do more than one load a day. EVER. Do your one load, and then move on. (Unless you have a ton of people in your house… We'll talk about that in a minute).
Establish different baskets (piles on the floor would even work in the beginning), one for whites, one for darks, and one for towels/blankets. We use a 3 bag laundry sorter that works perfectly for this. Rotate through the piles each day. When we don't have the clothes we need clean (gym clothes, uniforms, awesome "going out" clothes that fit), we tend to just not do that activity so we can "catch up".
When we don't have the dishes clean that we need to cook, we tend to order in or eat out. While we might have the energy to cook for 15 minutes, we don't have the energy or the patience to put away the dishes, load the dishwasher, wait an hour, unload the dishwasher and then cook. By establishing a routine in these two areas, you immediately have a load off your back! If your apartment isn't dusted and clean it honestly doesn't matter as long as you have the things you need to live your life.
How to establish the laundry routine:
Find a time that works for you. It needs to be consistent, every day. We're not looking for hours. I want you to find three time-blocks of 10 minutes each that you can fit this in every single day at the same time.
Example: Put a load of laundry in every morning before you leave for work, switch it to the dryer as soon as you get home, fold and put it away before you relax for the night.
I know how overwhelming laundry can seem. It's so incredibly easy to put it off. "Just one night… I'll just take tonight off and I'll do two loads tomorrow." Here's the thing though… if you do this for 28 days straight, it won't be overwhelming.
Is it overwhelming to use the bathroom every day? Brush your teeth? Get dressed? You don't even think about those things because you have a well established routine for them. It takes 28 consecutive days to create a routine.
It's not easy. There will be days that you don't want to do it. But you're not giving up on me. Put that laundry in every single day for the next 28 days. Put an alarm on your phone to go off every day at the time you want to switch the laundry.
In 28 days, the laundry won't be something that's looming over you all day. It will be easy to keep up. You will never stare at a giant pile of laundry or sacrifice a Saturday to wash clothes all day ever again.
"But I can't fold and put away laundry in 10 minutes!"
You can, In fact you can do it in less. I timed myself just a few minutes ago. Keep in mind that I'm not a star athlete. I'm a mom with an 11 month old crawling up one leg and a 3.5 year old screaming that he flushed his underwear as I did laundry… so, yeah. You can beat these times.
Putting laundry into an empty washer: 55 seconds (including washing my hands because I hate touching laundry detergent).
Switching laundry over: 23 seconds
Folding and putting away laundry (into three bedrooms all on the same floor): 4 minutes 49 seconds.
Don't believe me? Prove me wrong. Time yourself and leave me a comment.
"But I'm REALLY behind in laundry! Don't I need to catch up first?"
Nope! In fact, I'm going to forbid it. (I'm just kidding, I can't actually forbid you to do anything. But seriously… just do one load).
When we play catch up like that, we tend to skip days after. Either because we're absolutely sick of laundry or because we feel like we earned a day off since we're caught up. When we methodically do one load a day, you'll catch up automatically, over time without getting burned out.
In my family, on average we need to wash 2 adult pants, 2 kids pants, 2 adult shirts, 2 kids shirts, 8 socks, 3 pairs of underwear, gym shorts, a gym top and a sports bra. I can easily fit in about 5 or 6 more things. Depending on your washer, maybe even more. You'll catch up automatically, over time and you'll never get back into this cycle if you do this the slow way.
Delegating to others:
Keep in mind too that you aren't the only person in your family. Laundry is a great job to delegate. If your husband can't stand folding, but doesn't mind switching laundry out, have him put the laundry in and switch it. Then you swoop in, fold it and put it away.
Giving teenagers the laundry routine (assuming you don't have very expensive clothes), is a great idea! Even my 3 year old loads clothes in the washer, switches them over and piles them on the bed for me. (Granted this takes about 3x longer than when I do it… but I'll count it as time well spent.)
It's incredibly hard for many moms to ask for help or admit that they can't do it all. If you have someone that you can get to help, jump on that. Keep in mind that if he's never done laundry, this is a new routine for him too and he'll have similar struggles as you.
"But one load isn't enough! I have a huge family (or a teenage girl!)"
If you have 1-4 people in your house, do 1 load. Never more than one load.
If you're a family of 4-6, you can do two loads (often times 1 is enough, start by doing one and see what happens).
If you're a family larger than 6, then buy a high capacity washing machine or delegate extra loads to other members of the family.
What about towels, linens, sheets etc.?
Work smarter, not harder! Assign everyone in your house 2 towel sets. They make fancy color matched sets of towels, but between you and me, a sharpie initial in a corner of your old towel works just fine. Drying your clean body on a clean towel doesn't make that towel dirty. Everyone uses their towel for the week, then tosses it in the laundry at the end of the week. Distribute the second set of towels, wash the first set and reset.
The same can be done for linens and pillow cases. One set per bed, every week. Then switch them out. Depending on how full your loads are, you can divide these up and wash a set with each days load or just add an extra load on a weekend (or whatever day you have off). Depending on how many guests you routinely get, you can decide if you want to have special guests towels and sheets or if you just want to put both sets into action when you have guests.
Action Steps:
Determine how many loads a day you need to do.
Find a time that you can put in a load, switch it over, fold, and put away, every day.
Decide if you will delegate part of this task.
Set a phone alarm to remind you of the time to switch laundry.
Sort through your towels and assign two towels for every member of the family and label them (Sharpie works).
Sort through sheets and pillow cases to make sure that every bed has 2 complete sets and label them.
Don't wait. Do it right now!
Well, how long did it take you to fold your laundry and put it away?
This post may contain affiliate links. If you click & make a purchase, I receive a small commission that helps keep the Busy Budgeter up and running. Read my full disclosure policy here.disclosure policy here.