Need quick and easy Monday night dinners the whole family will love? Trying to save time and money on what feels like an "impossible to win" schedule?
I can't wait to tell you about this.
You know how you always end up making the same few things for dinner over and over again because they're so easy and everyone likes them?
We'll call them "replay dinners."
Because they tend to get replayed every week.
I mean, sure… you get bored of them and you want to branch out, but your life is crazy and you know this dinner will actually work and get eaten.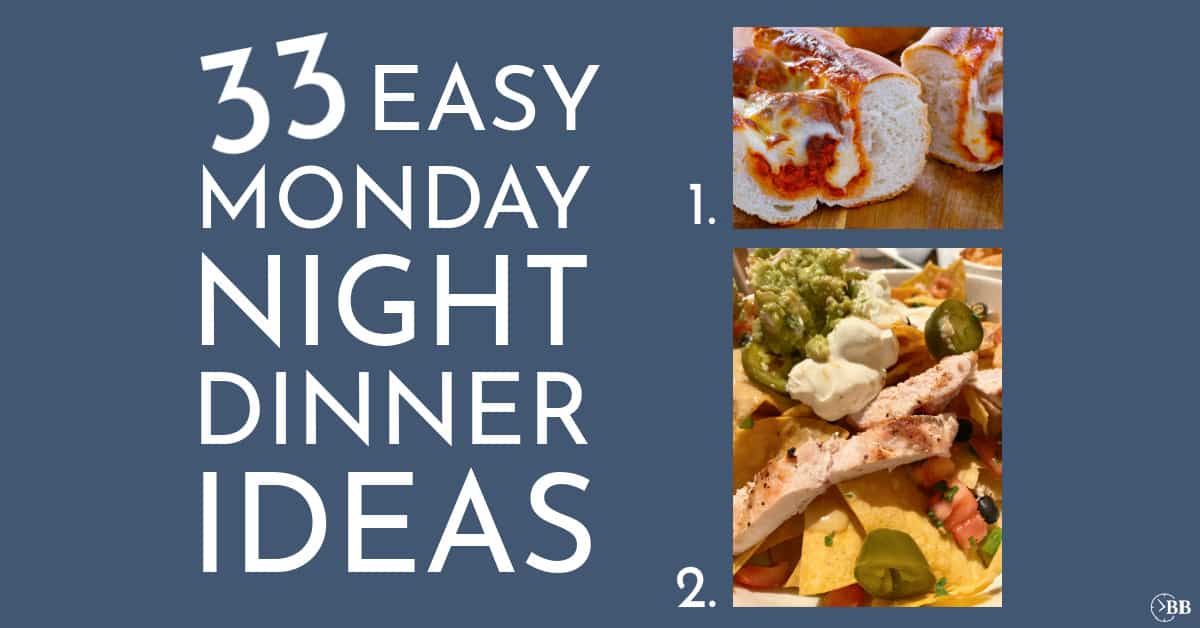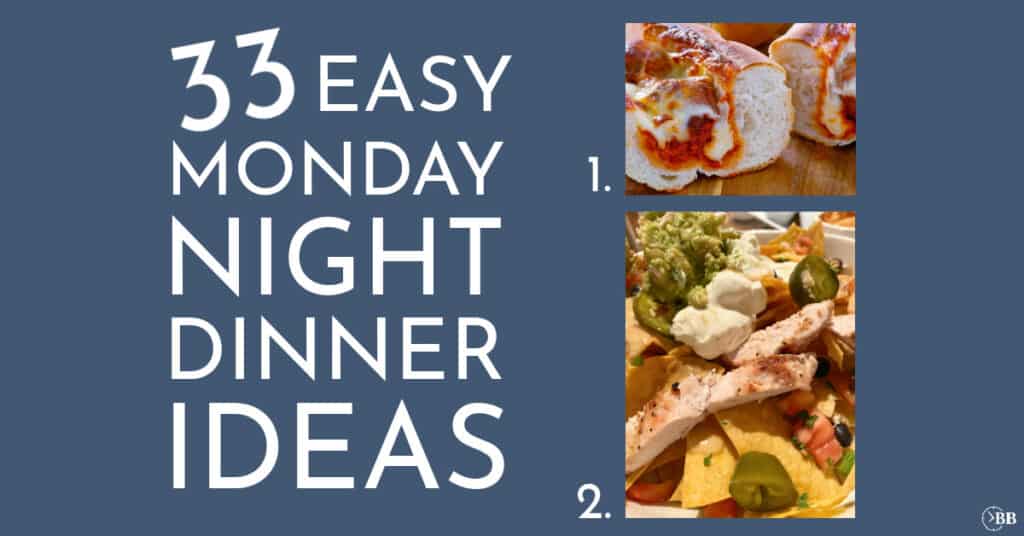 (Fun fact: If you eat fast food 5 days a week… That's a "replay meal." You don't have to actually make it, for it to be a "replay dinner". )
Replay meals aren't bad. It's actually a form of automation. You found something that works, and so you did it again.
The problem is you need more.
Because most people do this. They have replay meals they make every week.
Update: 10/23 Hate meal planning? And wish you had a giant list of easy suggestions (like tacos, spaghetti, quesadillas, chicken salad sandwiches, etc.) and not complicated recipes? So did I. So I spent several weeks creating a master list of cheap and easy dinner ideas. And you know what? It completely revolutionized meal planning for us.
These ideas are field-tested by hundreds of thousands of our readers and are guaranteed to help even the most overwhelmed mom stick to a meal plan.
And we're giving it to you 100% free right now…
So what if we got together and crowdsourced everyone's replay meals so you can find a few more for your stash to build out a repetitive menu plan?
Like a list of easy Monday night dinners that anyone could make.
That's what I've been up to this week. And it was the best idea ever.
There were SOOOO many gold nuggets in this list!
I'm listing them all below… or you can Pin it or save it for later.
My Easy Monday Night Dinners Are…
Sheet Pan Nachos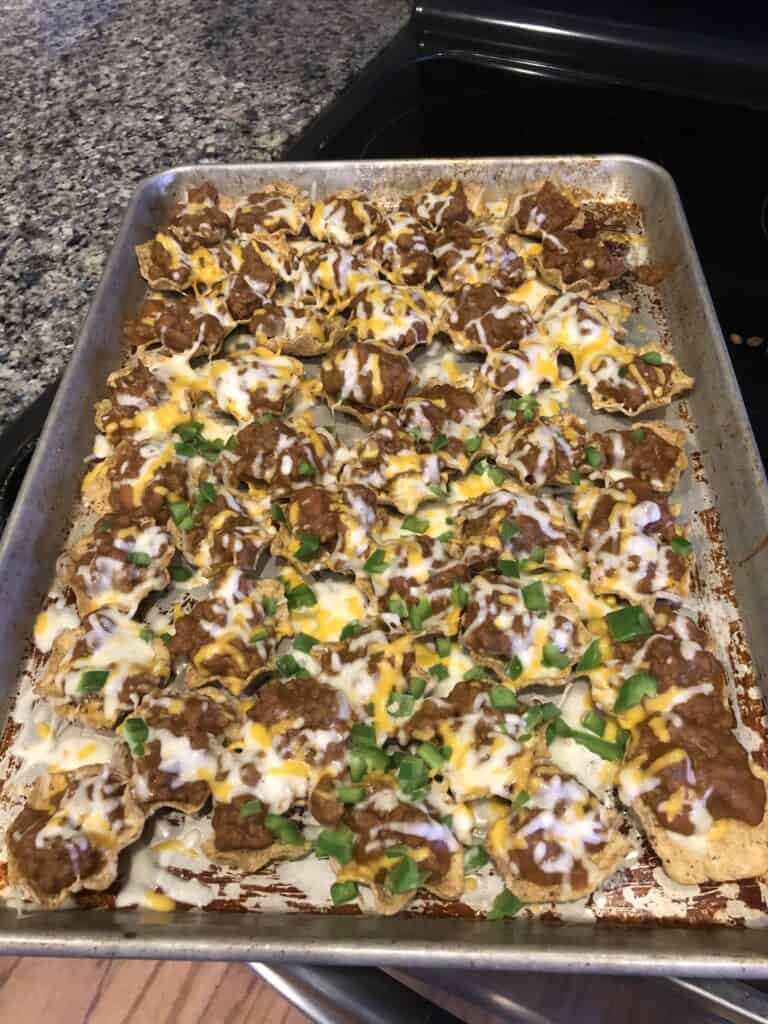 I use Costco pulled chicken (I freeze it in half pound bags) or 1 pound of ground beef mixed with one can of refried black beans and for toppings…
Cheese

Sour cream

Beans

Salsa
If I have it, I also add sliced fresh jalapenos, red onion, cilantro, and avocado to the toppings.
I could honestly eat that nightly haha.
Note: I always thought that Costco pulled rotisserie chicken sold in bags would be gross, like canned chicken or something. But my best friend, who is an uber foodie swears by it, so I started buying it and now can't live without it.
You should try it if you have a Costco near you! You can divide it into 4 freezer bags to use to make anything, BBQ chicken pizza, chicken salad sandwiches, add it to salads, add it to tacos etc.
You can see a ton of recipes here that I use precooked chicken for here…
Slow Cooker Chili
(I tend to use the same toppings as the nachos (jalapeno, red onion, sour cream, and cilantro) so they work great back to back after the sheet pan nachos).
Chicken Nuggets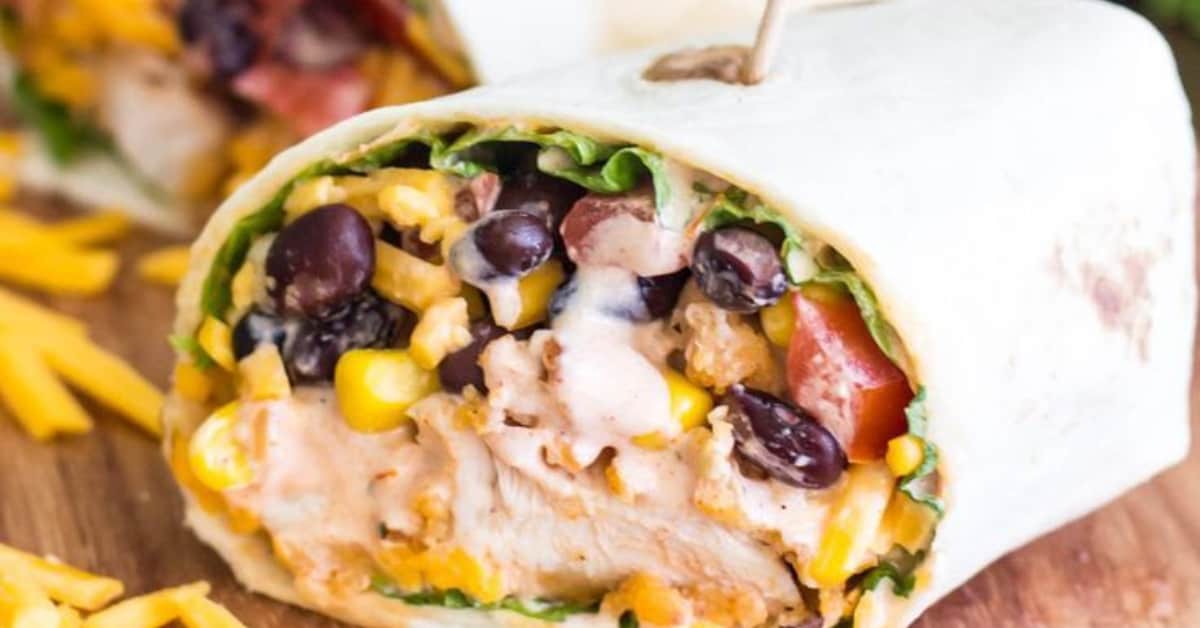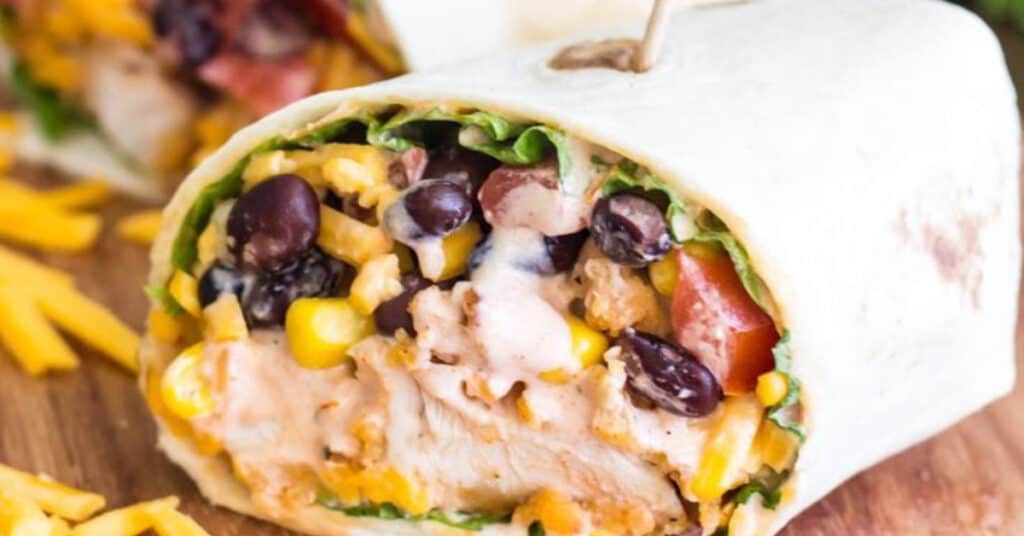 I'm not ashamed to air fry some chicken nuggets and call it an easy Monday night dinners. I mean french fries fit right in the same basket. 🤷 .
I usually turn these into Tex Mex Chicken Wraps for the adults by adding…
Lettuce

Corn

Tomatoes

Black beans

Cheddar

"Liquid gold" (a delicious blend of salsa, ranch, and taco seasoning,

recipe here

)
And then I just give the kids chicken nuggets.
Meatball and Provolone Subs
I stock frozen meatballs, and provolone and I freeze the Italian sub bread. These subs make an awesome back up meal too. You can thaw the sub bread on the counter and heat the meatballs in pasta sauce, in the crockpot, in the microwave, or on the stovetop.
You can see how I make them here…
Everyone Else's Easy Monday Night Dinners…
Pulled Pork Nachos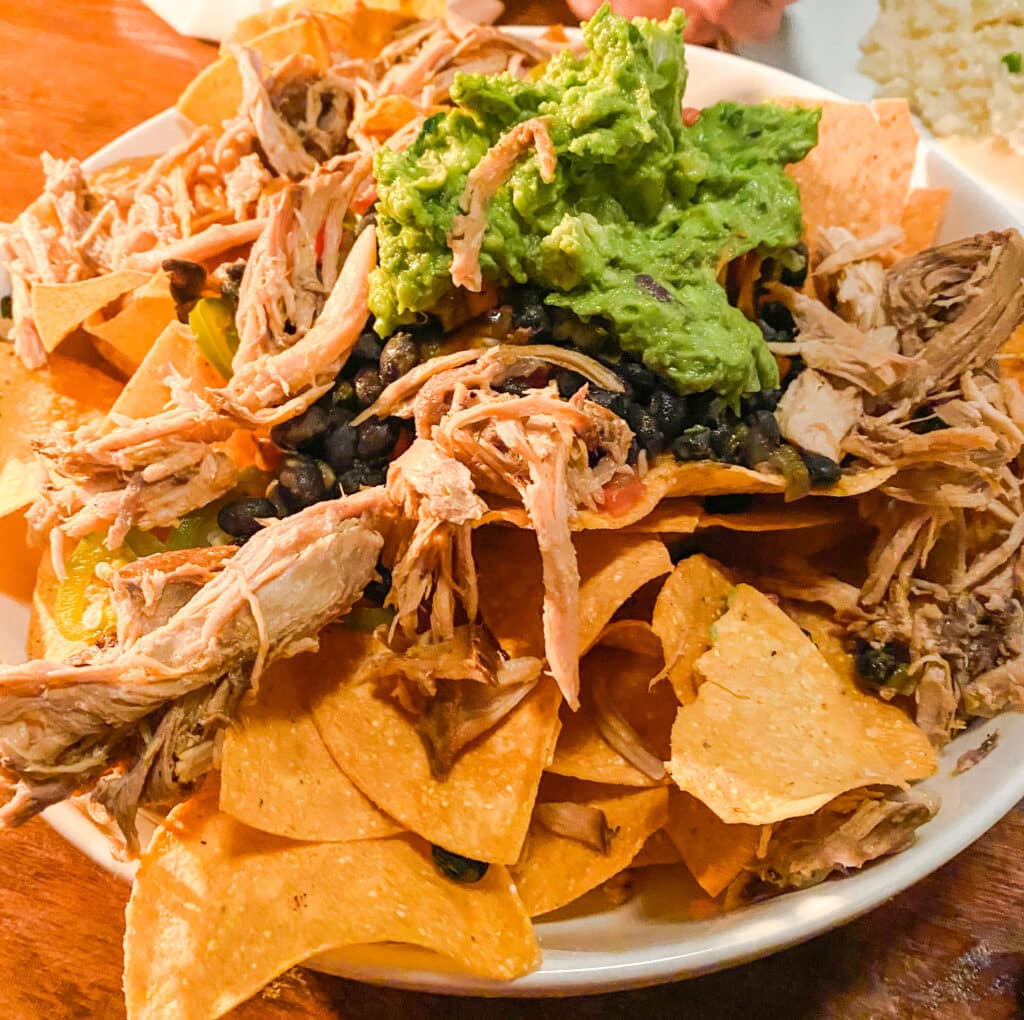 "Costco pork loin with a jar of salsa in a crockpot on high for 4 hours, or low for 8 hours. Then shred it and package any extra in zip lock bags.
Serve with chips, a jar of queso, tomatoes, cilantro, and onions."
Mediterranean Chicken
"We make this so much!
Place frozen chicken tenderloins in a 13×9 pan

Add olives (green or kalamata)

Artichoke hearts

Cherry tomatoes
Bake at 350 degrees for 30 minutes. Cover it with a little lime juice, oil and Italian season.
Serve with rice.
(Hint: You can buy rice in microwave pouches or add 2 cups of brown rice in an instant pot with 2.5 cups of water or chicken broth and set at high pressure for 15 minutes. Let it come down in pressure for 10 minutes then quick release. FYI: If you like rice, a pressure cooker is worth the cost for rice alone FYI). "
Tiktok Viral Pasta
This is the baked feta and tomato pasta that apparently went viral on TikTok (where have I been?). It came up more than once.
You can see the recipe here, but you're basically putting cherry tomatoes, oil and a block of feta in the oven while you boil pasta. Once you're done, you mix in the pasta. Lot of people add chicken to it too (I'm adding Costco rotisserie chicken to it when I make it this week).
DIY Personal Pizzas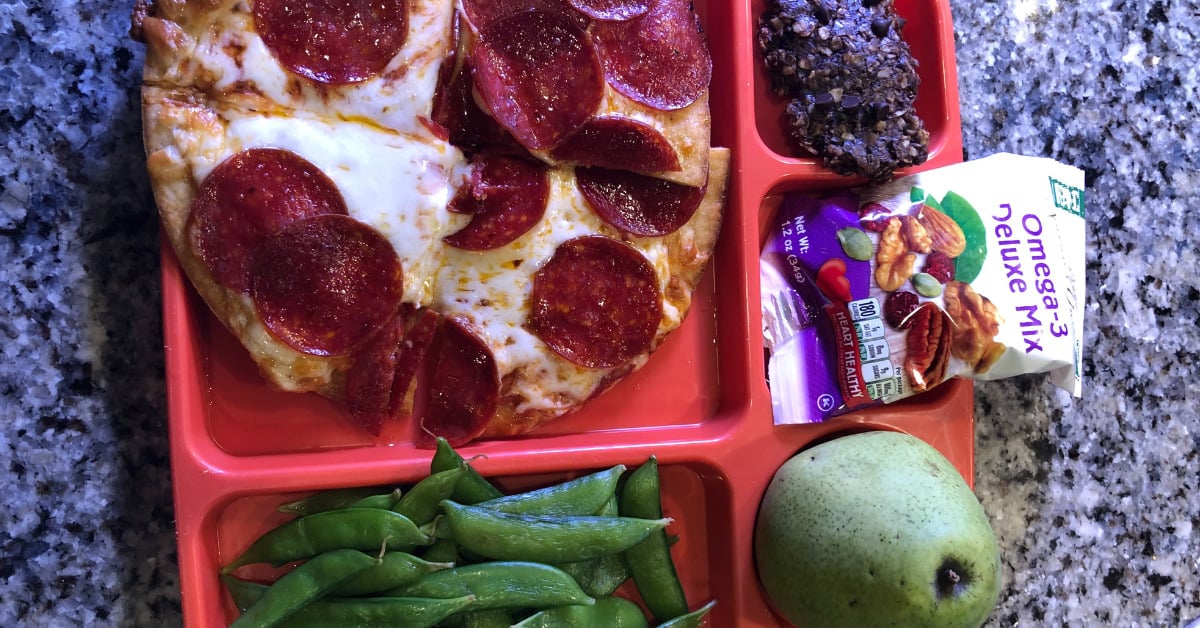 "I love the Mia personal pizza crusts (they have them at Walmart, King Soopers, Kroger's, etc. There's other brands, like Boboli too). If you brush on some olive oil then add pizza sauce (I use Blue Parrot spaghetti sauce), cheese (I use Miyoko's non-dairy mozzarella), and whatever other toppings (like pepperoni), then cook it for a few minutes directly on the rack in the oven, they are so good.
But you could easily make this for dinner for everyone and either let each person make their own, make them custom for each person (I'm the only non-dairy one in my home) or just make a whole bunch that are all same at once."
Taquitos
"A super simple but yummy meal that is not super healthy.
Get frozen taquitos and thaw them in the microwave.

Get a cookie sheet and spread them out.

Top with cheese.

Broil for a few minutes.
We usually have some green chili in the fridge (or freezer) and they are so good with a small bowl of green chilies."
Pizza Pockets
"I literally survive on whole wheat pitas with…
Spaghetti sauce

A ton of kale and spinach

Shredded mozzarella cheese.
I stick them in the microwave for 55 seconds and put a little parmesan cheese on top.
Super quick, easy, inexpensive, pretty healthy, and tastes great."
Meatloaf Pie
"Our favorite easy Monday night dinners definitely include…
My husband was raised on "Meatloaf Pie" from the Campbell's soup recipe book.
1lb hamburger

1 can vegetable beef soup

A sprinkle of oregano.
Cook uncovered at 350 degrees for 1 hour so the soup boils.
My hubby is part Japanese so it's always served with rice. Super easy!"
Velveeta Skillets Dinner Kits
"Not the healthiest but we like the Velveeta skillets chicken & broccoli variety except I use sliced smoked sausage instead of chicken and I always add extra broccoli because it's the one vegetable we all agree on."
Tacos or Tostadas
"Use ground beef, beans, or shredded chicken with taco seasoning.
Add toppings that everyone likes…
Lettuce

Tomatoes

Onions

Olives

Guacamole

Salsa

Corn

Rice
If you make beef, pork or shredded chicken in the crockpot then make enough to freeze extras for the next few weeks."
Crockpot Chicken and Noodles
"We eat this all the time:
1lb chicken

2 regular size cans cream of chicken soup

3 cans of chicken broth (approx 40-45oz)

1 bag (24oz) Reames frozen egg noodles

Salt/pepper to taste
Put everything, except noodles the noodles in a crockpot and cook all day (or until done).
One hour prior to serving shred up the chicken and stir in the noodles. Put the lid back on and cook for the last hour.
You can add frozen veggies if you want (frozen pea/carrot mix works well). Then serve with salad or bread or over biscuits… or all on its own."
Tenders and Tots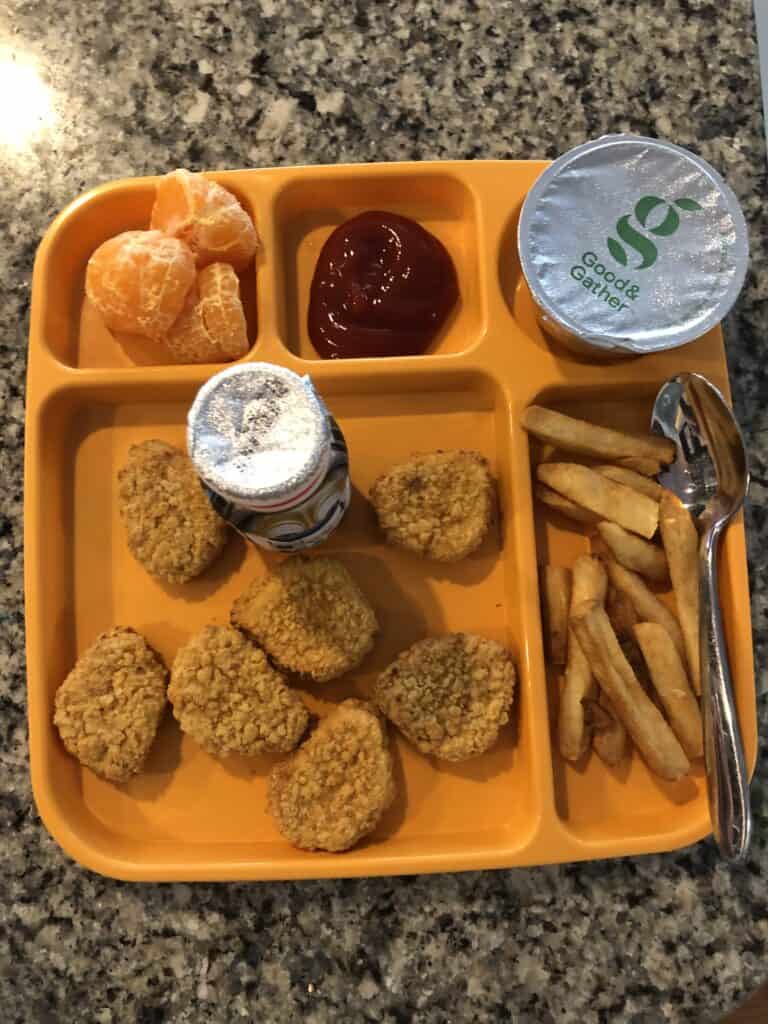 "Aldi's Kirkwood parmesan crusted chicken breast/tenders and (reheated) frozen tater tots.
Both can cook in the same oven at the same time. 20 min to cook (plus however long it takes to heat up the oven). If you're wanting some extra veggies, boil some water for frozen veggies at the same time."
These are PERFECT for a variety of easy Monday night dinners.
Quick Chicken Pot Pie
"We had chicken pot pie so often, my family won't eat it anymore but it was super easy and good.
Rotisserie chicken

Can of cream of chicken

Can of drained diced potatoes

Can of peas & carrots

1/2 c milk

1 c cheese.
I put the filling directly in a glass deep dish pie pan and did top crust only (pre-made in the refrigerator section).
375 until crust is brown (about 35 minutes.) (Note: another use of that Costco rotisserie chicken!)"
To-Go Quesadillas
"We do Taco Tuesday pretty much weekly. Then Wednesday's lunch is taco salad, and my kids usually get quesadillas on Wednesday nights.
Sometimes if we have activities that we go to straight from school, I'll take quesadillas with me to my school (I'm a teacher's aide), microwave them when I clock out, wrap them in foil, and voila! We have car-sadillas on our way to wherever!"
Breakfast for Dinner
"Keto (or regular) pancakes with berries and a side of breakfast sausage. You literally can't get any easier for easy Monday night dinners that everyone will eat."
Chili Cheese Dogs
"My hubby requires chili cheese dogs weekly. So this is a great addition to my easy Monday night dinners. I make a big batch of slow cooker chili every 3 weeks or so and just freeze the leftovers for the next few weeks.
If I don't have homemade chili we are not afraid of Nalley, but that gets expensive week after week so making a big batch every few weeks is far more economical."
Instant Pot or Slow Cooker: Beef Stew
"I love my instant pot! I make stew weekly.
Stew meat

Carrots

Potatoes

Onions

Peas

Worcestershire sauce

Onion soup mix

2 cups of beef broth.
Cook on high for 25 min and quick release after 10 min. I also love to cook a lot of chicken and freeze it in several bags for many different meals throughout the week. ( You can also slow cook this on high for 4 hours, and on low for 8 hours)."
Pork Roast and Potatoes
"Rub some seasoning on a pork roast. Toss it in the crockpot with some chicken broth & let it cook for 8-9 hours. When I get home, I take a couple of sweet potatoes (pierce, wrap in paper towels and nuke for 6 min), shred the roast & dinner is done."
Note: Love this one because if you work long days and have a slow cooker than can switch to warm automatically then this can keep for 12 hours!
Crockpot Mongolian Chicken
"Recipe is here, but you just throw things in the crockpot and come back in 4 hours (high) or 8 hours (low) to sticky Chinese chicken.
You can serve it with rice and frozen Asian veggies. "
Mediterranean Lunch Cups
"We love these:
Per person:
1 Avocado (cut up)

3-4 fresh mozzarella slices

Small tomatoes (cherry, comet, etc) cut in half.

Sprinkle with garlic powder and drizzle with extra virgin olive oil.
To modify you can add cut up bacon, pork, chicken or any other protein. It is so filling, fresh and delicious.
**This can also be easily packed up to go."
Spaghetti
"It's easy, and everyone likes it. I can make a bolognese meat sauce in the slow cooker and freeze extras for several weeks of sauce or, just use jarred sauce if I'm in a hurry."
Costco Stirfry Chicken Packs
"This is a ready-to-eat meal, that you can find in the prepared foods section of Costco.
These are soooo good and they're huge portions. For like $20 it lasts us for dinner + lunch for work and even my toddler eats it!"
Easy Fried Rice
"I make the rice in the instant pot. Then I fry an egg in a large skillet.
Once the egg is done, in the same pan I add…
Splash of oil

Small diced white onion

Costco shredded chicken

Frozen peas

Frozen carrots

Frozen corn

The cooked rice
Once cooked, I sprinkle in hoisin sauce, soy sauce, and Sriracha to taste. We eat this for dinner and then for lunch the next few days."
Sweet Chili Crockpot Chicken
"We make Crockpot chicken like once a month, and it's super easy. When it's done we usually serve over white rice or roasted potatoes.
Chicken (thighs and drumsticks work the best in our opinion)

Mix together in a bowl: brown sugar, fresh garlic, salt and pepper.

Rub the chicken with mixture and put in crockpot.

Pour 1 (ish) cup of sweet chili sauce on top.

Cook on high for 3-4 hrs (it's done when it's falling off the bone)"
Steak Fajitas
"I make a flank steak in the Ninja Foodi (no marinade, I just season it with salt and pepper).
Once it's cooked, I slice up the steak.

Brown onion and pepper slices in a skillet using a splash of oil.

Serve on fajita shells with avacado, cheddar cheese and sour cream. "
Italian Sausage Sandwiches
"I make Italian sausages (which are already fully cooked) in the same pan that I brown pepper and white onion slices in a splash of oil. Then serve in a hot dog bun with mustard.
Everyone loves them."
Loaded Potatoes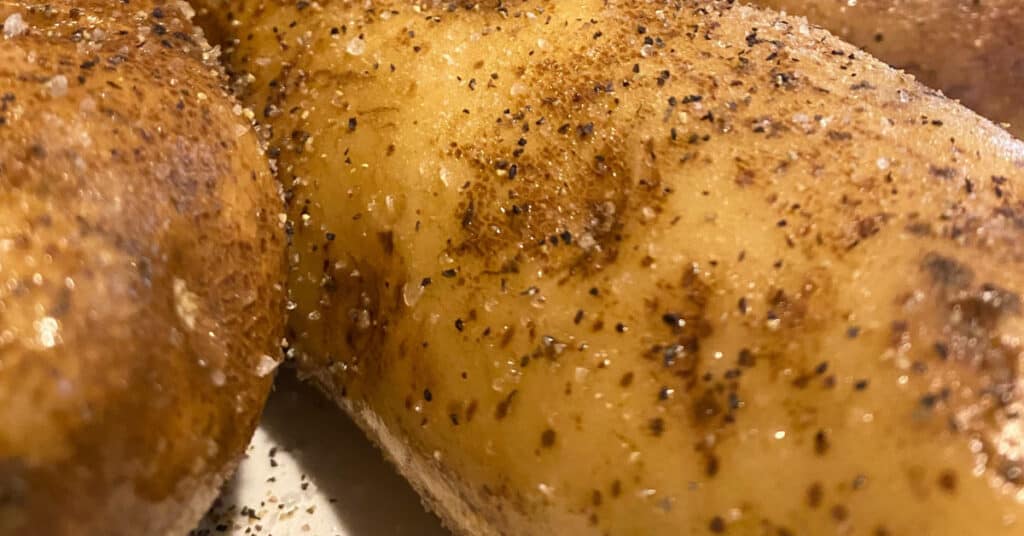 "Pile on canned baked beans, pulled pork (my husband smokes it and we freeze it, but you can crockpot it too, also Costco sells a tray of pulled pork that is actually pretty good).
Top with bbq sauce, cheese, sour cream, green onions, jalapeños, etc!
Sooooo good and my kids love it!"
Burgers
"Your homemade Big Macs are in the weekly rotation over here. We can't get enough of them!"
"Monster sauce" and Pasta…
"Use store brought pesto mix and add a ton of extra spinach in a blender. Serve it on any pasta."
Egg Roll in a Bowl
"It's keto, it's done in 15 minutes and is so delicious! Here's the recipe…"
Crockpot Loaded Baked Potato Soup
"You don't even peel the potatoes! Just dump the ingredients in and come back in four hours. Here's the recipe…
For toppings, I use a dollop of sour cream and real bacon pieces (Which you can buy premade in a store) and serve with a roll or a bagel makes this an easy filling meal."
P.S. Don't forget: If you want more easy meal ideas (not just easy Monday night dinners)… I created the Ultimate Cheap and Easy Meal Ideas that you can get for free here. It's kind of like this list on steroids. 🙂