Want an easy 15 minute meal? Make meatball subs with frozen meatballs. We have these at least every other week.
Hint: This is a sponsored conversation written by me on behalf of Bertolli®. The opinions and text are all mine. But it's also our easiest 15 minute dinner. 🙂
Our family is insanely busy. We aren't unique at all though. Most families these days barely have time to make dinner. Between full-time work, school, sports and rehearsals for the kids, and social events it's no wonder that the popularity of "eating on the go" keeps rising. We're running from the time we wake up to the time we go to bed.
I get that. I really do.
But stop a few minutes and think about this. Family dinners are incredibly important to the family dynamic. It gives everyone a chance to catch each other up on their day and brings family values (literally!) to the table every night.
I don't have time to bake my own crusty french bread every day and roast chickens from scratch. Maybe one day I will. But that doesn't mean that we're missing out on that family dinner tradition.
I look for ways to bring delicious comfort food to our table as quickly as possible on those busy nights.
Meatball Subs Are An Easy Weeknight Dinner:
One of my favorite recipes to achieve that are these 15-minute meatball subs with Bertolli® tomato and basil sauce. While the recipe may only take 15 minutes to whip up, it certainly doesn't taste like it! The flavors in Bertolli® pasta sauce taste like something you spent hours cooking from scratch. It tastes like the flavors of Tuscany brought straight to your dining table; sun ripened tomatoes, summer leaf basil, and extra virgin olive oil.
If you love delicious Italian food, follow BertollI® on Pinterest by clicking here… They have tons of amazing recipes!
This recipe can be made and on the table in less time than it would take you to go through the drive-thru.
The best part? This recipe is budget-friendly! We buy our Bertolli® pasta sauce at BJ's wholesale club. We can get this premium pasta sauce at Bj's for less than $2 per jar!
Bertolli® pasta sauce is our choice because of its premium taste and quality ingredients. For 150 years, Bertolli® has brought the flavors of Tuscany to dinner tables around the world. If you've never tried Bertolli® before, this is a great time to change that. You'll be hooked in one meal.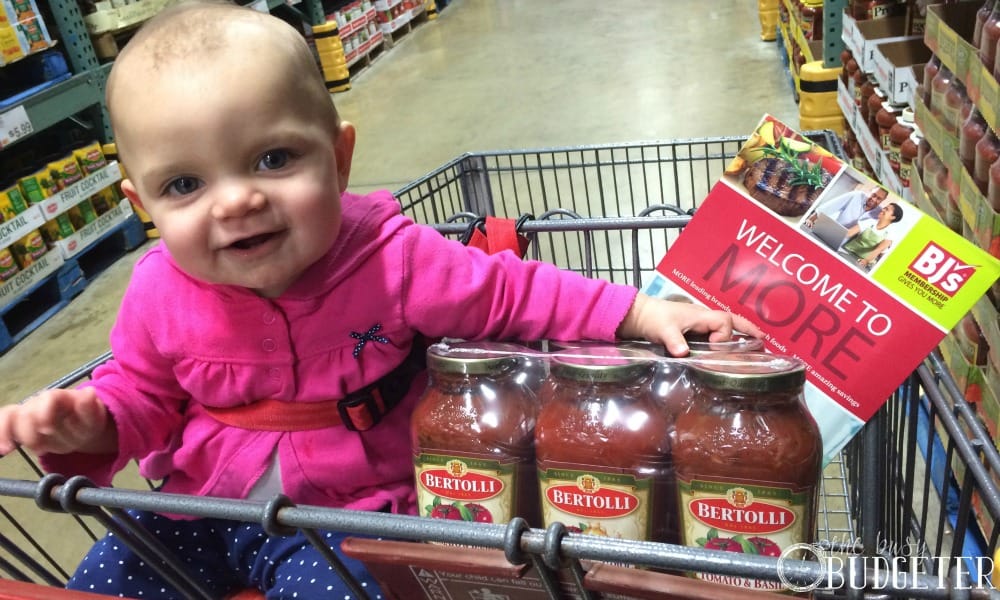 BJ's warehouse is one of my favorite stores to grab great deals. Plus, they accept manufacturer's coupons
You can also pack these subs for lunch the next day using leftovers. It's one of my husband's favorite lunches! Pack the meatballs and sauce separately in a small container. Pack the cheese, bread and a side dish in another container and you have a word class lunch ready to go.
Meatball Sub Topping Ideas:
Variations: Don't be afraid to change these up a little bit! We love adding extras to our subs depending on what we have around. Here are a few of our favorite extra topping:
Parmesan cheese
Spicy pepperoni
Salami
Green pepper
Onions
Olives
Mushrooms
Italian blend spices
Hint: Making these for a party? Make it a meatball sub bar by heating the sauce and meatballs in the crockpot on low for 4 hours, then leaving out sub rolls, and some of the extras above to build your own sandwich.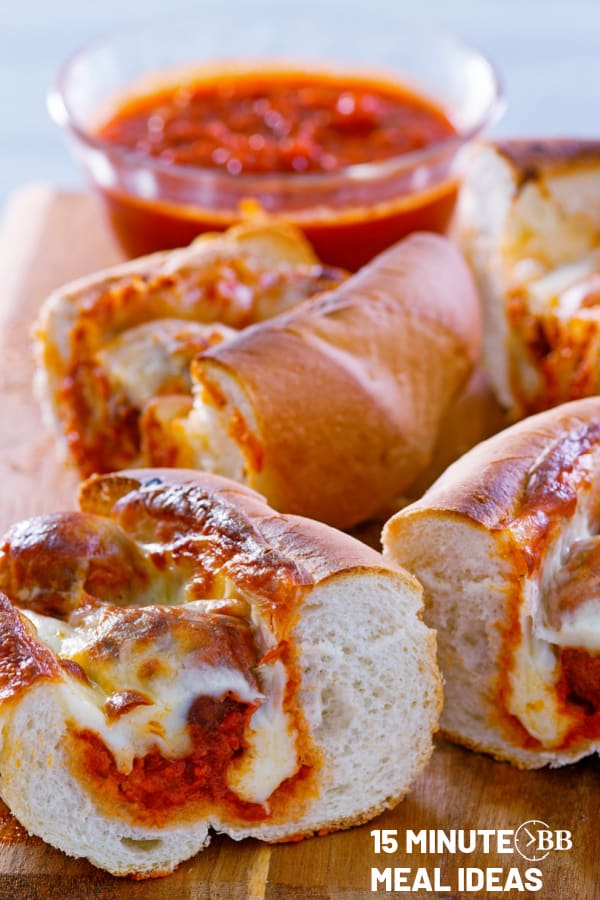 15 Minute Meatball Subs with Frozen Meatballs
This is the perfect easy dinner to throw together when you're running short on time. It's absolutely delicious and you can whip it up in less time than it takes to go through the drive-thru!
Ingredients
4 sub rolls
16 frozen pre-cooked frozen meatballs
1 jar of Bertolli® tomato and basil sauce
4 oz. of mozzarella cheese or provolone cheese
Instructions
Pre-heat the broiler on low (optional for toasted sub).
Combine meatballs and sauce in a medium sized bowl.
Microwave meatballs in the sauce according to meatball package directions.
Spoon meatballs and sauce into sub rolls.
Top with cheese.
Broil for 2 minutes or until bread is toasted and cheese begins to melt.
Need a side dish for meatball subs?
If your trying to figure out what side dish goes with meatball subs, here's what we typically serve them with….
Good side dishes for Meatball subs that are ready in 15 minutes:
Frozen steam in bag vegetables (corn, green beans, broccoli, peas, or carrots).
Complete salad kits in a bag (where the dressing, nuts, and cheese come with the kit).
Fresh fruit like apples, oranges, grapes, or bananas.
Homemade mixed green salad – where we grab some mixed greens, with pistachios )or any nut), cranberry (or any dried fruit), and feta cheese then dress it with a squirt of balsamic reduction and extra virgin olive oil.
For a "Meatball Sub Bar" party menu:
Salad Bar with lettuce, cheese, nuts, dried fruit and dressings.
Veggie platter – fresh carrots, cucumber, peppers and celery with ranch and blue cheese dressing or hummus.
Fruit salad- Grapes, strawberries, melon, and pineapple drizzled with honey.
You can find out more about Bertolli's® delicious Tuscan-inspired products by clicking here.
What's your favorite way to use Bertolli® Pasta Sauce?
#BertolliTuscanTour
This is a sponsored conversation written by me on behalf of Bertolli®. The opinions and text are all mine.
This post may contain affiliate links. If you click & make a purchase, I receive a small commission that helps keep the Busy Budgeter up and running. Read my full disclosure policy here.