Winner winner, chicken dinner! Is there any ingredient easier and better than regular ol' chicken? No? Take your chicken recipes to the next level by using frozen pre-cooked chicken tenders!
Update: 7/23 Do you just need a bunch of super easy dinner ideas to help you meal plan every week? We created an epic inspiration binder of the easiest cheap meals. These aren't recipes, they're just super easy but often overlooked dinner ideas to help you quickly plan out meals you'll actually make.
And you can get it for free if you use this link.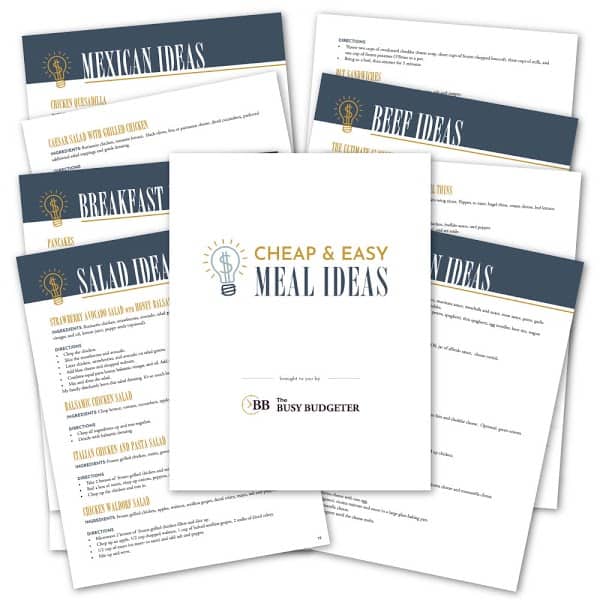 These easy recipe helpers are seriously life changing. They cut cooking time way down and they work great in almost any chicken dish.
Tyson's pre-cooked grilled chicken (or whatever brand your local store has) is healthy, simple and found right in your grocer's freezer (often on sale). There's also a refrigerator version, if you plan to enjoy them all right away. I've used these pre-cooked strips in TONS of recipes and I totally love them.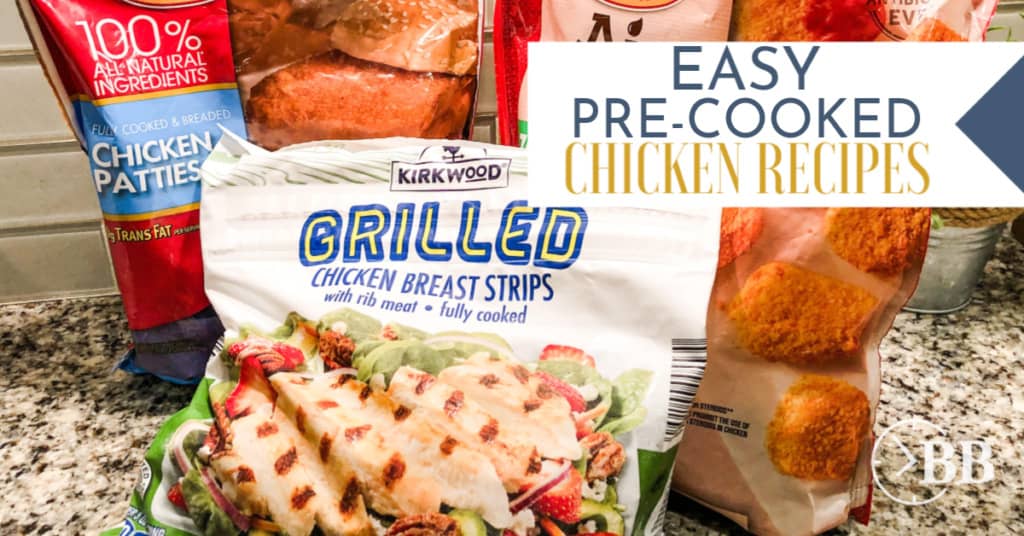 Using pre-cooked chicken saves you from touching raw chicken if you're squeamish about such activities (or if you're a bit of a food safety nut like me). No worries about "cross contamination" and other kitchen hazards.
Plus, they work in almost any dish. If you want to up the protein on your salad, add meat to your mac and cheese, or find a quick sandwich filling, here's your answer!
I learned to meal plan in the Hot Mess to Home Success course, which taught me how to reduce our spending by over $23,000 a year and actually organize my house (and keep it that way!). Which is pretty crazy considering where I started (you should have seen our fast food bill!). One of the things I learned in that course was to create change with bare minimum effort that I don't need to have willpower to stick to. (I.e. I need to stop buying ingredients for chicken picatta and just give in to the fact that I'm not cooking full dinners.) It worked!
By far my favorite bonus about using frozen pre-cooked chicken in my recipes is how easy and FAST it is to make dinner for my family! I don't have to worry about extra cooking time or last-minute trips to the store to buy new chicken (because how many times do we let the raw chicken sit in the fridge a few too many days before we get around to actually cooking it?). Meal planning and dinner prep is so much easier with pre-cooked chicken on hand. It's always a win-win.
My kids love them, my husband loves them, and they're made with white meat so they're healthy, lower in calories, cheap and convenient. It literally doesn't get any better.
Here are 12 awesome recipes using frozen pre-cooked chicken to get you in and out of the kitchen lickety-split. Enjoy chicken for dinner tonight!
1. Healthy Avocado Chicken Salad from Family Fresh Meals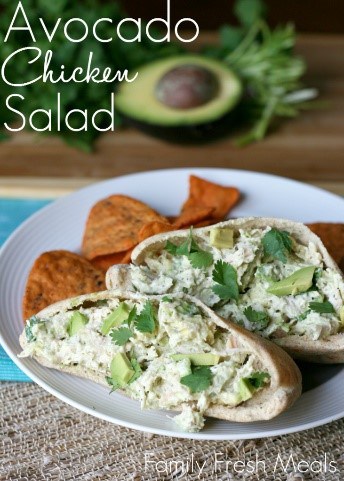 Easily use Tyson Grilled and Ready Premium Grilled Chunk White Chicken in this recipe (you could also use shredded rotisserie chicken or any other leftover chicken on hand). The avocados are creamy and delicious. Cutting half the mayo with Greek yogurt is a great way to reduce your calories (if you're watching your weight) without sacrificing on the flavor. Serve this yummy, different chicken salad in a pita or enjoy with crackers.
2. Baked Honey Sriracha Chicken Tenders from Meatloaf and Melodrama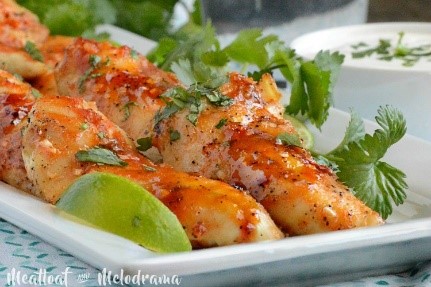 Swap out the chicken tenders for pre-cooked chicken tenders (like Tyson Grilled and Ready Chicken Breast Strips) and you'll shave off 5-8 minutes from your cooking time. The secret to this dish is all in the sauce! The honey, sriracha sauce is sweet, spicy and perfect! Use this sauce to liven up chicken for a salad, as a sandwich filling, or simply as a great main dish for dinner. Serve over rice, with your favorite veggie on the side.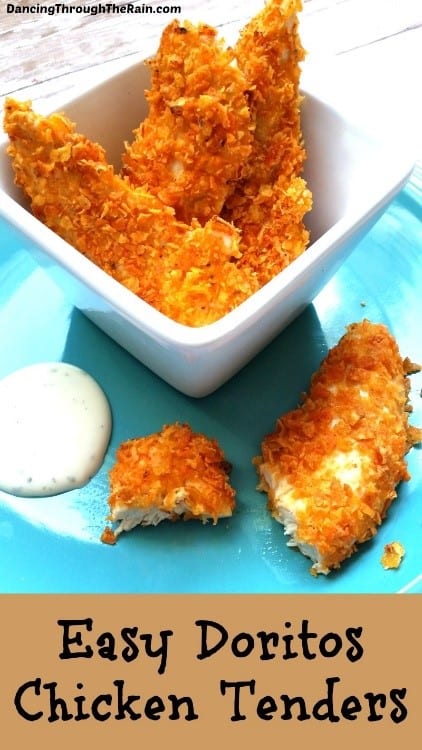 This recipe uses a secret to get the breading to stick—mayonnaise! Mayo adds plenty of moisture to the recipe and the breading sticks to pre-cooked chicken just as well as raw. Even better, you only need to bake until it's heated through and the breading crisps up—10-15 minutes, as opposed to the full 20 called for in the recipe (test it's warmed to the center). Doritos are the best cheesy, crispy coating. It only takes a few chips to create the breading but you get a lot of flavor!
4. 10-Minute Chicken Cordon Bleu Pasta from Homemade Hooplah
You had me at ten-minutes! This pasta bake combines the great flavors of chicken cordon bleu in a savory pasta dish that comes together with only ten-minutes of prep time. It goes in the oven long enough for the cheese to melt and you'll get the entire dinner on the table in fifteen! Plus, it's got all the flavors of the original dish but in a super crowd-pleasing pasta.
5. Light and Easy Bruschetta Pasta from Tobin's Tastes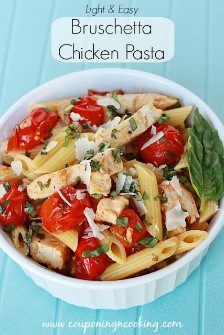 I love bruschetta—those great little toasts at Italian restaurants with chopped tomatoes, basil and parmesan. They're simple and super delicious. This pasta recipe takes all the flavors and adds chicken to create a pasta dish with great flavor and a protein boost. It's healthy, simple and satisfying. It's ready to be on the table in 15-minutes, so it's a great weeknight dinner option!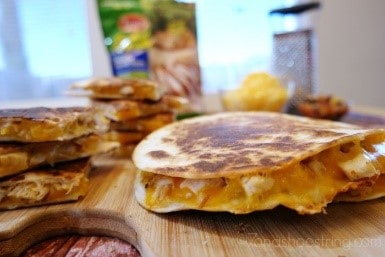 My kids (and my husband and I) really enjoy quesadillas! They're so simple and easy, plus they cost next-to-nothing. It's another easy grilled cheese option swapping tortillas for bread. This recipe uses pre-cooked chicken to give quesadillas a little more dinner-power! Add a side of salsa (she suggests corn salsa to get in extra veggies), sour cream or guacamole for dipping, and you've got a great dinner for the whole family! Pull this recipe together in five-minutes or less!
7. Tyson Honey Barbecue Chicken Strip Pizza from Cooking in Bliss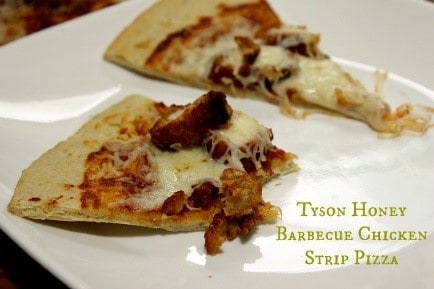 For this recipe, she uses the Tyson Honey Barbecue Chicken Strips (oh yes, they come in flavors too!). if you love barbecue chicken pizza, this is an easy-peasy create-at-home version with hardly any prep. It's out of the oven and on the table in less than half an hour. Serve with a salad as suggested for a healthy, satisfying meal to totally knock out your pizza craving!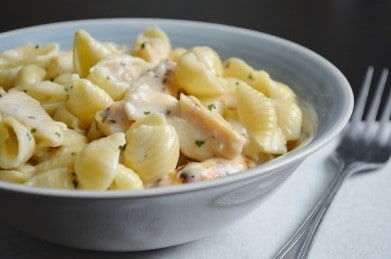 She cooks up her own riff on creamy cheese sauce using butter, garlic, cream and a few other ingredients. The entire recipe comes together fast (about fifteen minutes) but if the sauce intimidates you, you could always use your favorite boxed shells and white cheddar, adding garlic. This is essentially dressed up macaroni and cheese with a little extra flavor and grilled chicken—simple, easy and comforting!
9. Buffalo Chicken Crescents from Plain Chicken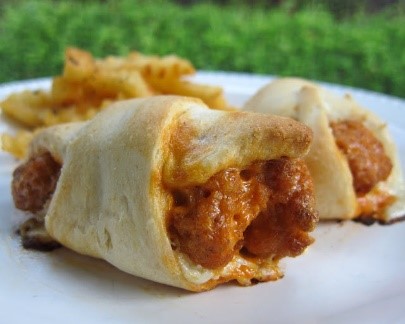 These little "buffalos in a blanket" are the ultimate fun, easy and a little different dinner options. Using Pillsbury crescent dough is genius, because it's simple, bakes quickly (these take 18 minutes to cook) and the rolls are almost always on sale! Using Tyson Buffalo Crispy Chicken Tenders adds the awesome fried chicken wing flavor along with a little hot sauce. Use ranch or blue cheese to dip!
10. Grilled Chicken Caesar Salad Wrap from Eating Well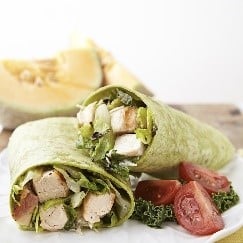 Caesar brings to mind images of salad, right? That's why I love how this recipe puts it in a wrap form instead. It's much more satisfying and easy-to-eat. Save time by using Tyson Grilled Chicken Tenders (or Crispy Chicken Tenders if you prefer). The sauce is easy to pull together and if you use pre-cooked chicken this recipe comes together in a flash.
11. Teriyaki Chicken Alfredo from Bombshell Bling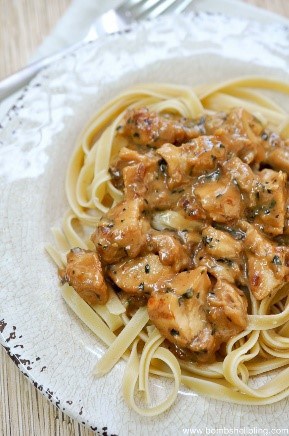 Teriyaki Alfredo? I had to check this recipe out, because the combination sounded strange, at first, but totally delicious. A creamy, sweet, salty savory sauce? With pasta? It sounds like the perfect dinner combination to me! Using pre-cooked chicken helps this entire meal come together in less than thirty minutes from start to finish. Try using Tyson Sweet Teriyaki Chicken Fillets to knock even more prep-time off! Easy and yummy—you'll fall in love!
12. 15-Minute Mediterranean Pasta Salad from Busy Budgeter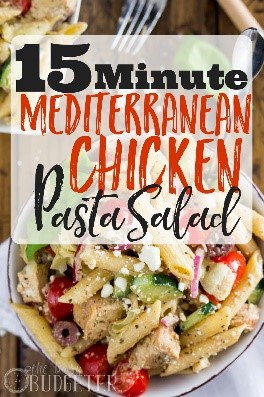 This is hands-down my favorite potluck recipe, but it also works for an awesome dinner solution. For some reason the combination of feta, olives, artichoke hearts and tomatoes is unstoppable. You know how we all know one recipe that's a sure-fire hit? Well, this is my go-to. Using pre-cooked chicken means the whole meal comes together in 15-minutes. It's seriously unbeatable.
Bonus Ideas: 15 Minute Meals Using Precooked Frozen Chicken Breast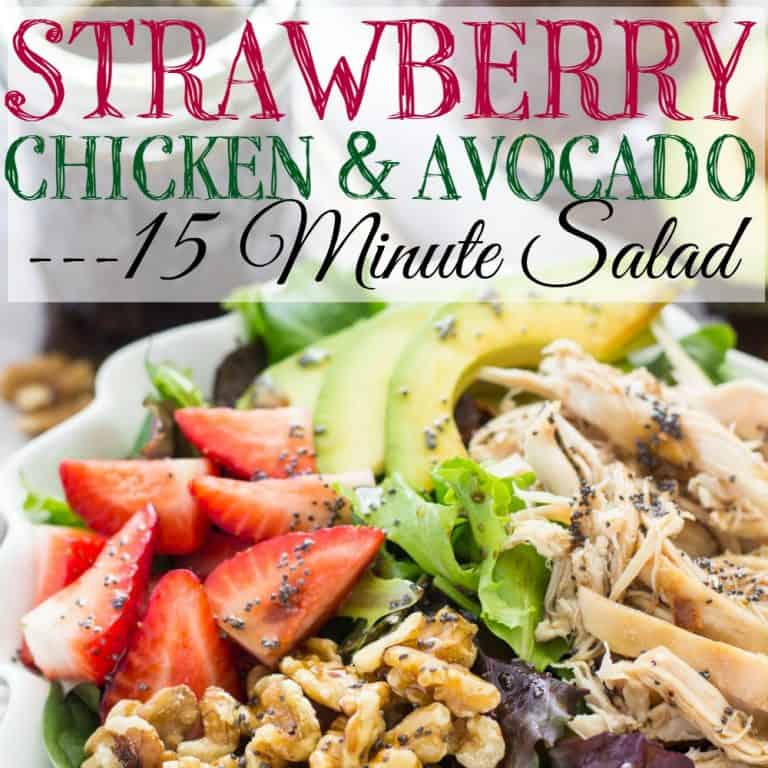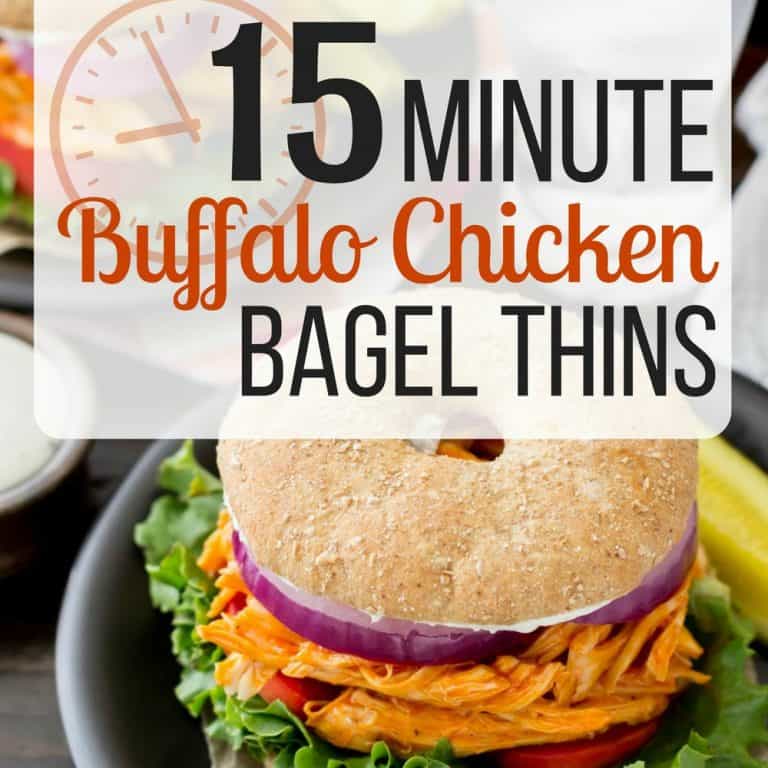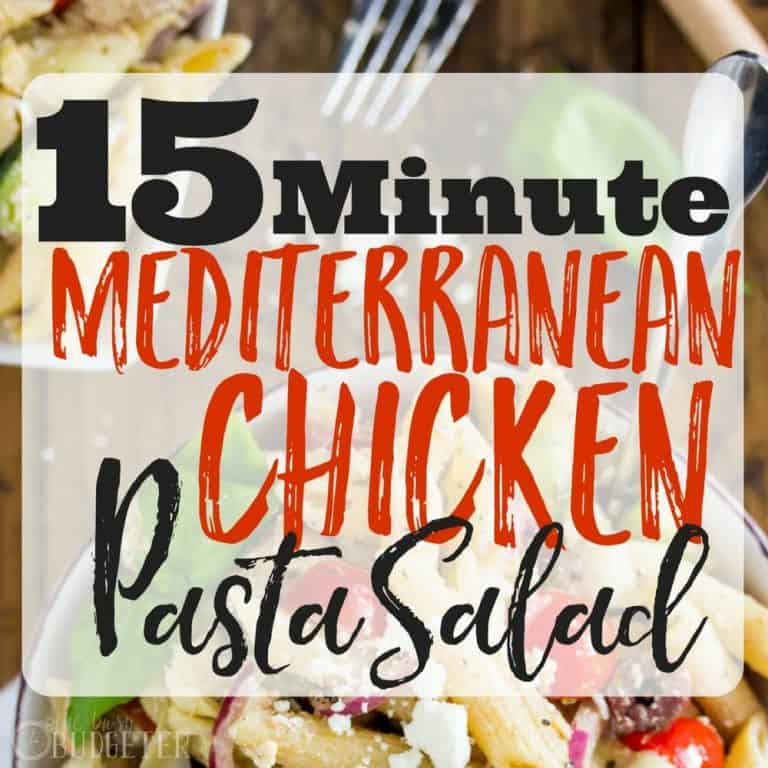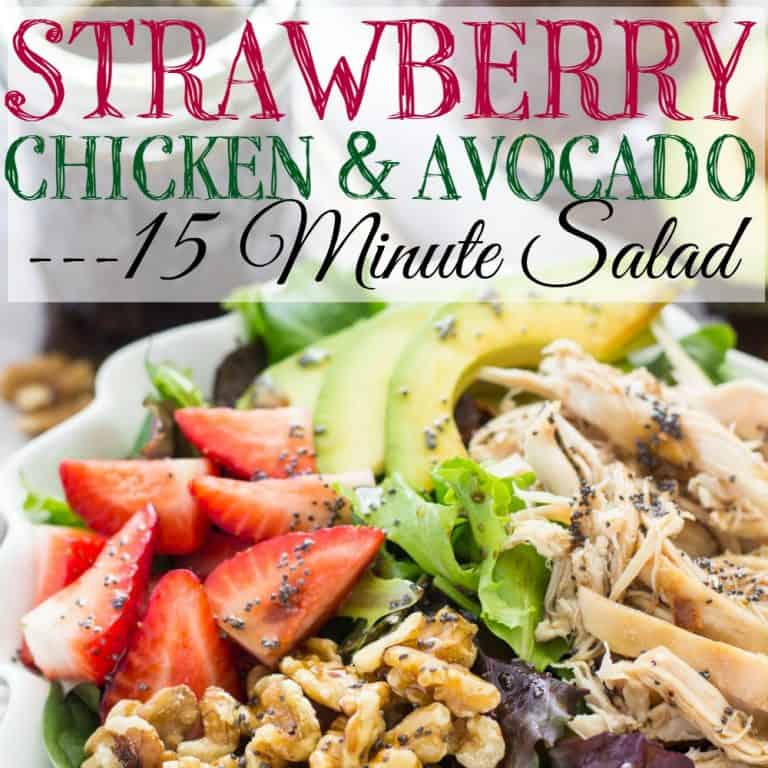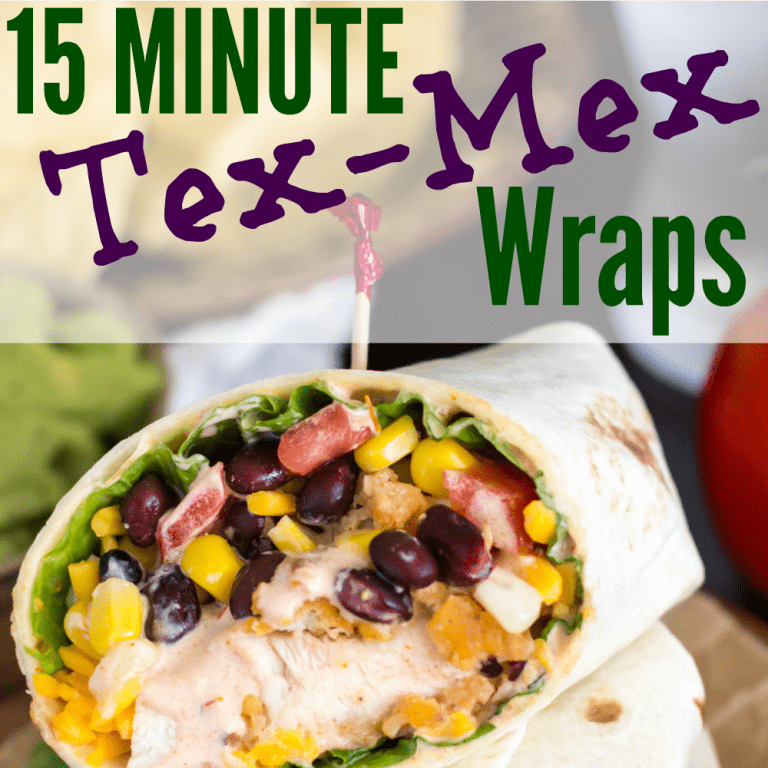 Want MORE chicken inspo? Check Out 13 Fast & Easy Family Favorites Using Tyson Grilled Chicken.
Pre-cooked chicken is bomb, guys. It's yummy, simple, time-saving and easy. Plus, you'll often find it on sale for the same price or less than raw chicken. What's not to love?!
If you're looking for great go-to recipes to use frozen pre-cooked chicken, check these out. Don't stress about cooking from scratch or worry about prep times and whether or not the chicken is cooked enough. With frozen pre-cooked chicken, there's never any worry – just delicious dinner, and fast! I'm sure you and your family will be glad you did!
So, guys what's your favorite chicken dinner recipe? Do you have a crowd-pleasing chicken recipe you love? Would you make the switch to using frozen pre-cooked chicken?
Wish every dinner was as easy as these ideas? It can be!
We use this free printable cheap and easy meal ideas as an inspiration binder to plan our entire weeks worth of meals that take less than 15 minutes to make. You can grab a copy for free here.