Need a quick family dinner idea for tonight? These fast and easy grilled cheese recipes are the perfect solution!
I mean, is there ANYTHING better than an ooey gooey grilled cheese sandwich?
Served with soup, salad or a side of chips and veggies, grilled cheese is a perfect EASY family dinner!
Plus, easy grilled cheese recipes you can make at home are WAY better than grilled cheese from a fast food joint. (Seriously, it tastes soooo much better hot off the stove. Yum!)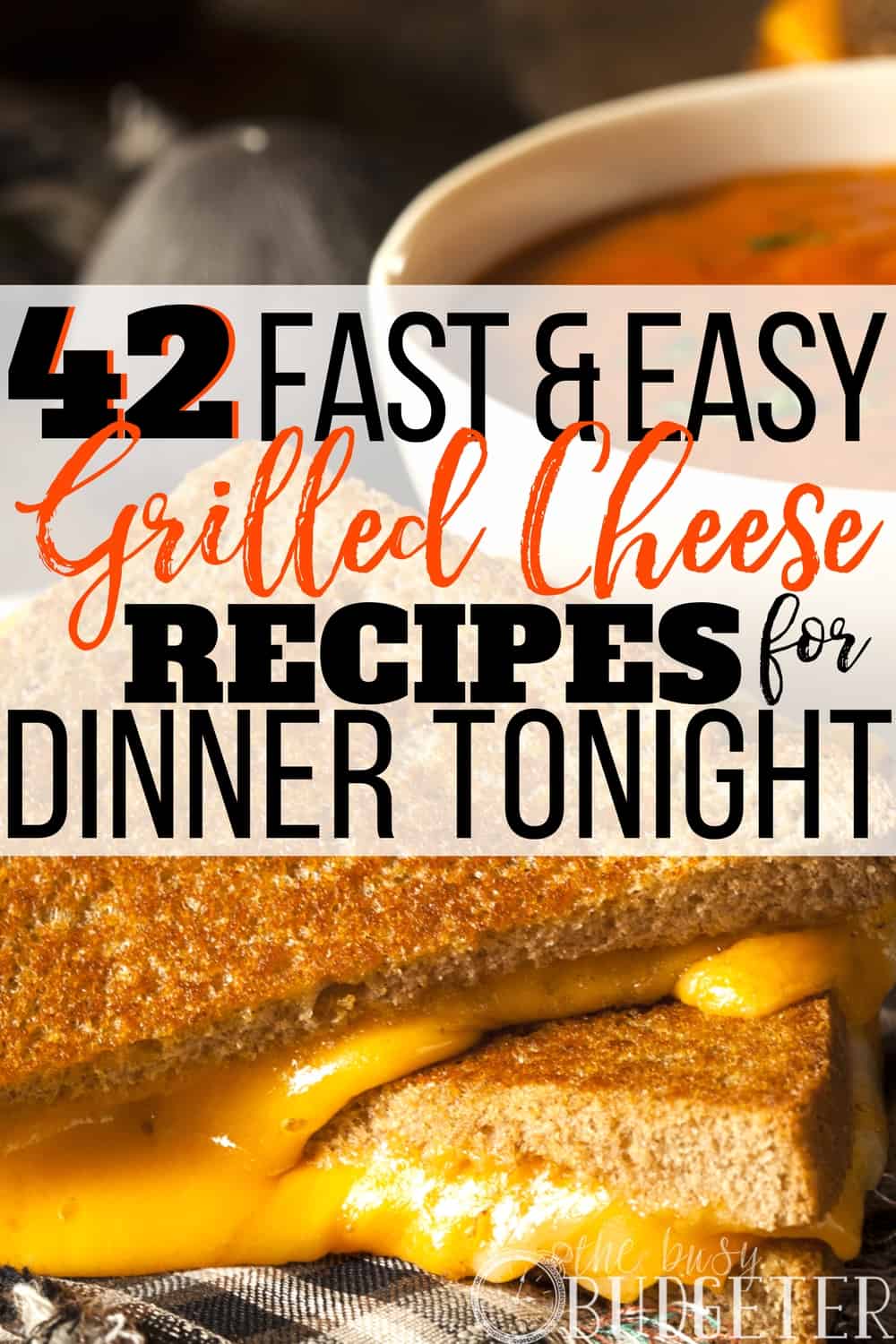 Even making (a little bit) FANCY grilled cheese takes less time and effort than hopping in the car and driving to the closest drive-thru. If you keep all the ingredients right on hand, you'll be ready to make grilled cheese any time you need a fast and easy solution to the "what's for dinner?" question.
Yeah, it might seem a bit basic or boring at first, but hear me out—grilled cheese is serious comfort food! Not only is grilled cheese comforting, but it's FAST. In about 5 minutes you can whip up an amazing, delicious dinner on the table to feed your hungry crew!
I know what you're thinking though—"My husband and kids will get kind of tired of the same ol' grilled cheese." Well, guess what?! It's time to take your grilled cheese game to the next level (and it'll be easy, I totally promise). There are plenty of super easy ways to make seriously amazing grilled cheese sandwiches.
In fact, I have a fun challenge for you: try to see how many different versions of grown up grilled cheese you can serve before your family notices. I'm going to bet you can get away with a week or two of different fancy grilled cheese recipes before they catch on (and I also promise there won't be any complaints).
So, skip the drive-thru and serve one of these easy grilled cheese recipes tonight.
How To Make Easy Grilled Cheese: The Basics
To master grilled cheese making, you don't need much. Just:
Bread
Sliced cheese
Margarine
The process is simple. First, you heat a frying or skillet pan on medium-low heat. Butter the bread on the outside and put a slice of cheese on the inside. Put the sandwich on the frying pan and cook until golden on one-side (about two minutes). Then flip and brown the other side (1-2 minutes more). The trick is to cook it on low enough heat that the cheese melts before the outside gets too dark or burns.
That's it! With those simple instructions, you can make a basic grilled cheese sandwich. Now it's time to take it to the next level!
Super-Easy Ways to Change Up Your Easy Grilled Cheese
If you want to take your grilled cheese from basic to awesome, there are SO many options!
1. Try a Different Pan
Take your cooking up a notch by trying a cast iron grill pan instead of a frying pan or skillet. Cook grilled cheese on an electric skillet for more temperature control (and if you need to make more than four sandwiches at once). Another option is to put your George Foreman counter-top grill to good use by using it as a sandwich press to make panini-style grilled cheese!
2. Try a Different Bread
Try all kinds of different bread to buff up your grilled cheese sandwich. Use a tortilla to make a quesadilla (still pretty much a grilled cheese, right?) or try it on flatbread. Challah bread, French and Italian bread all make awesome bases for grilled cheese. Keep in mind—with different breads your cooking time and temp might change, so play around to find what works.
3. Try a Different Spread
While most people use margarine for their basic grilled cheese, real butter adds a richness and "restaurant" depth. For the ULTIMATE grilled cheese hack, try mayonnaise on the outside of your bread instead of butter! Mayo browns more evenly and adds a slight crust to your sandwich that is to DIE for! You can also add a sprinkle of Kraft Parmesan Cheese (the stuff in the green can) to the OUTSIDE of your sandwich to create a cheesy, crunchy outer layer. SO GOOD.
42 Delicious EASY Grilled Cheese Recipes
Now the real secret to awesome, easy grilled cheese recipes is to mix up the fillings! There are literally a bazillion easy grilled cheese recipes out there but here are 42 delicious grilled cheese ideas to get you started!
When it comes to dressing up grilled cheese, the sky's the limit! You can even incorporate leftovers like chicken, steak, vegetables and fruit. Try cherries with chicken and swiss, or shredded turkey with mozzarella and a spread of cranberry sauce! Go nuts!
1. American Classic: Kraft Singles, Wonder bread, margarine
2. Level 1: Cheddar (shredded or sliced), sliced bread (any type), mayonnaise
3. Quesadilla: Monterey Jack, pepper jack or cheddar shreds, tortilla, margarine
4. Cheesy Tomato: Cheddar, Swiss or American, sliced bread, fresh tomato, margarine
5. Diner Classic: Cheddar or American slice, sliced bread, bacon, tomato slice, mayonnaise
6. Scrambled Egg: Cheddar or American cheese, bread, scrambled (or microwave scrambled) egg, margarine
7. Pickle & Swiss: Layer Swiss cheese with dill pickles and jam, sliced bread, margarine.
8. Maple Bacon: Thin layer of maple syrup (on INSIDE of bread), white cheddar, bacon, sliced bread, butter
9. Cheesesteak Quesadilla: Layer leftover steak with provolone and cream cheese in a tortilla, spread with margarine and grill
10. Bacon Guacamole: From Closet Cooking: Bacon Guacamole Grilled Cheese
11. Guacamole Quesadilla: Monterey Jack, prepared guacamole, tortilla, margarine
12. Buffalo Quesadilla: Shredded chicken (great way to use up leftovers), barbecue or buffalo sauce, blue cheese or mozzarella on a tortilla with margarine
13. Shrimp Quesadilla: White cheddar, cooked shrimp, jarred roasted peppers, tortilla, margarine
14. Tuna Melt: Make tunafish with mayo, spread on sliced bread, top with cheddar and broil open face OR spread with mayonnaise and grill
15. Ham & Cheese Sliders: From Busy Budgeter: 15-Minute Ham & Cheese Sliders (Sliders can be considered grilled cheese, right?! Today, I say yes!)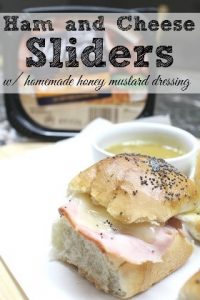 16. Ham & Apples: From Happy Hooligans: Ham & Apple Grilled Cheese
17. Pizza: Mozzarella, pizza sauce, sliced bread, mayonnaise (on outside) with Parmesan cheese
18. Pepperoni Pizza: Mozzarella, pizza sauce, Pepperoni slices, sliced bread, mayonnaise (on outside) with Parmesan cheese
19. Three Cheese Pizza: From Cupcakes & Kale Chips: White Pizza Grilled Cheese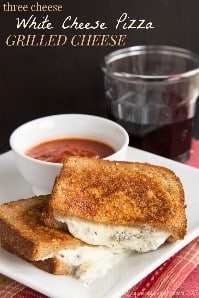 20. Heirloom Tomato: From All She Cooks: Heirloom Tomato Grilled Cheese Sandwich
21. Ricotta Spinach: From White Lights on Wednesday: Ricotta Spinach Grilled Cheese
22. Blue Cheese and Pear: From Clean Eating: Grilled Pear and Blue Cheese Sandwich
23. Cream Cheese: From That Which Nourishes: The Grilled Cheese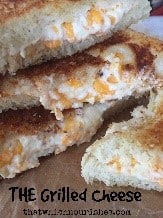 24. Jalapeno Popper: From Small Town Woman: Jalapeno Popper Grilled Cheese
25. Apple & Jalapeno Jelly: From Healthy-Delicious: Gourmet Grilled Cheese with Jalapeno Jelly
26. Fontina & Mozzarella: From Avery Cooks: Cheese Lover's Grilled Cheese
27. Brie with Steak: Layer slices of brie with fig jam and leftover steak
28. Macaroni & Cheese: From Spend with Pennies: Grilled Mac & Cheese Sandwich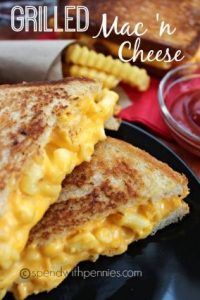 29. Panini Style: From Classy Clutter: The Ultimate Gourmet Grilled Cheese
30. Mozzarella & Prosciutto: From Blue Grass Bites: Mozzarella and Prosciutto Grilled Cheese
31. Swiss with Tomato on Texas Toast: From Can't Stay Out of the Kitchen: Grilled Swiss Cheese & Tomato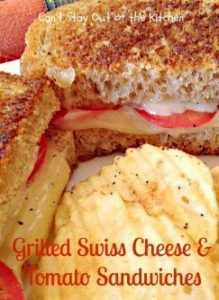 32. Apple & Smoked Gouda: From Domestic Superhero: Gouda & Apple Grilled Cheese
33. Three Cheese: From Two Peas & Their Pod: Grilled Cheese & Dole Garden Soups
34. Fancy Three Cheese: From Simply Scratch: Fancy Three Cheese Grilled Cheese
35. Loaded Veggie: From The Dreaming Foodie: Loaded Veggie Grilled Cheese
36. Roasted Veggie: From Living Well Kitchen: Roasted Veggie Grilled Cheese
37. Cheesy Vegetable Melts: From The Kitchn: Cheese Vegetable Melts
38. Roasted Vegetable: From My Suburban Kitchen: Roasted Vegetable Grilled Cheese
39. Apple Pie Grilled Cheese: From Kitchy Cooking: American as Apple Pie Grilled Cheese
40. Nutella Cream Cheese: From The Kitchn: Dessert Recipe Baked Nutella Cream Cheese Sandwich
41. Gruyere Peach Grilled Cheese: From Macheesmo: Peach Grilled Cheese
42. PB & Cream Cheese: Layer creamy peanut butter with cream cheese and Nutella on sliced bread with butter
So next time you're wondering what's for dinner, try making the most of a simple basic meal with these easy grilled cheese recipes. Add some personality and pizzazz to whip up an easy grilled cheese dinner for the whole family. We all have a favorite go-to grilled cheese style, what's yours?