This Mediterranean Chicken Pasta Salad is simple to make — only 15 minutes to throw together thanks to pre-cooked frozen chicken breast! Made with fresh veggies, feta cheese and a simple homemade dressing, this pasta salad is an explosion of flavors that's sure to delight your tastebuds.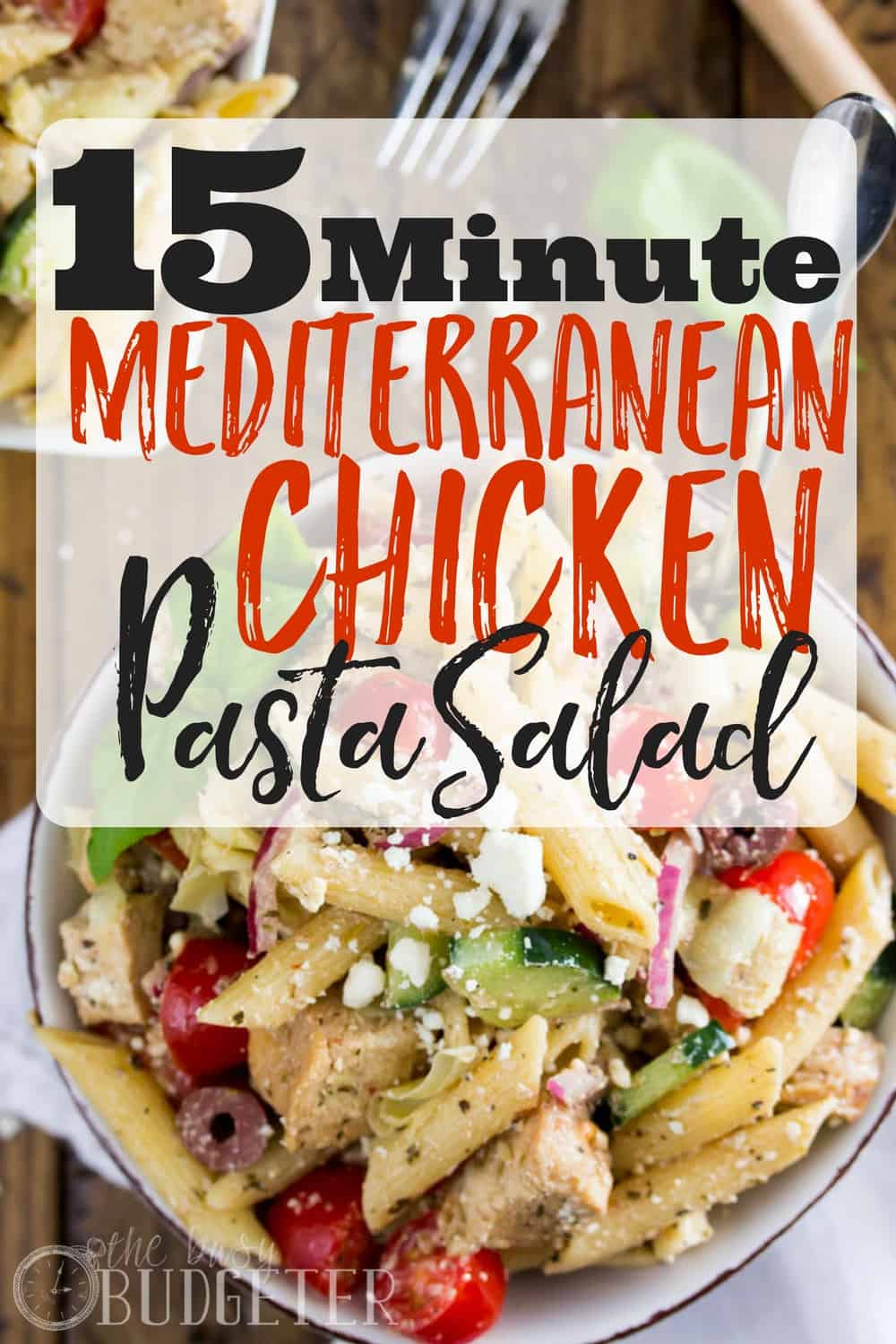 I brought this Mediterranean Chicken Pasta Salad to a potluck last weekend and not a single person left without asking me for the recipe.
That might sound like an exaggeration, but it's not. Literally everyone wanted the recipe.
The giant Rubbermaid container that I brought might as well have been licked clean, there wasn't a crumble of feta left in the place. I'm not trying to brag, this pasta salad is just that good.
It's made with pre-cooked frozen chicken breast, fresh veggies, and a homemade salad dressing that is as delicious as it is simple.
So let's walk through the steps so that you can get off the computer and get to making your very own batch of Mediterranean Chicken Pasta Salad.
First, the dressing.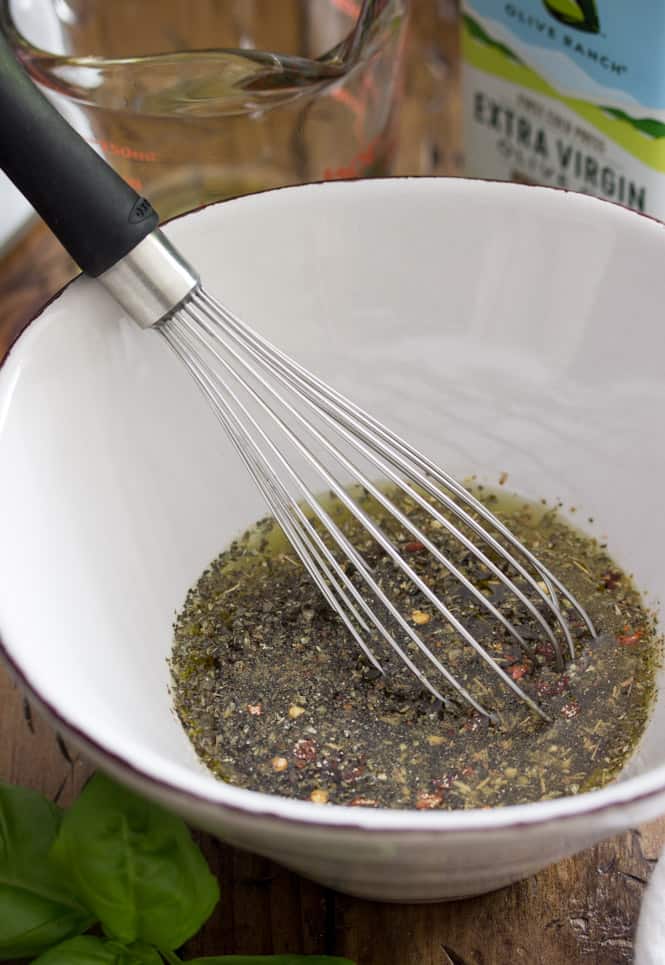 I made my own Mediterranean salad dressing because it is extremely easy to whip together and I happen to keep all the needed ingredients on hand.
However, if you're in a rush (or just don't feel like dirtying another bowl — I feel ya there), store bought bottled Greek (preferred) or even Italian dressing would work just fine instead — I'd suggest using about ½ cup as a substitute but make sure to do some taste testing as a little more may be needed.
If you do choose to make it yourself, though, it's just a matter of whisking together olive oil, vinegar, lemon juice, and a few herbs. Whisk it well!
Next, assemble your ingredients.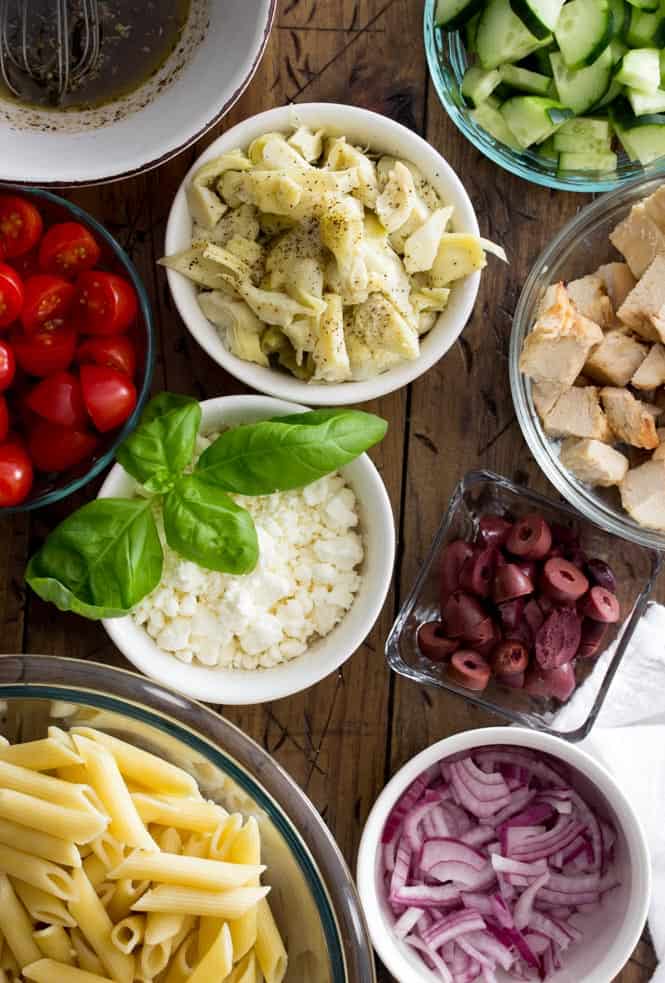 We are using chopped chicken breast, halved grape tomatoes, sliced cucumbers, finely sliced onion, artichokes, olives (I used Kalamata olives because I got them on sale, but sliced black olives work wonderfully, too), canned artichoke hearts, feta cheese, and, of course, pasta.
To make this extra easy, I use Tyson frozen chicken breast that comes pre-cooked and lightly seasoned. All I do is pop it in the microwave for about a minute, chop it up, and it's ready to add to the salad!
Cook your pasta according to package instructions and combine all ingredients in a large mixing bowl.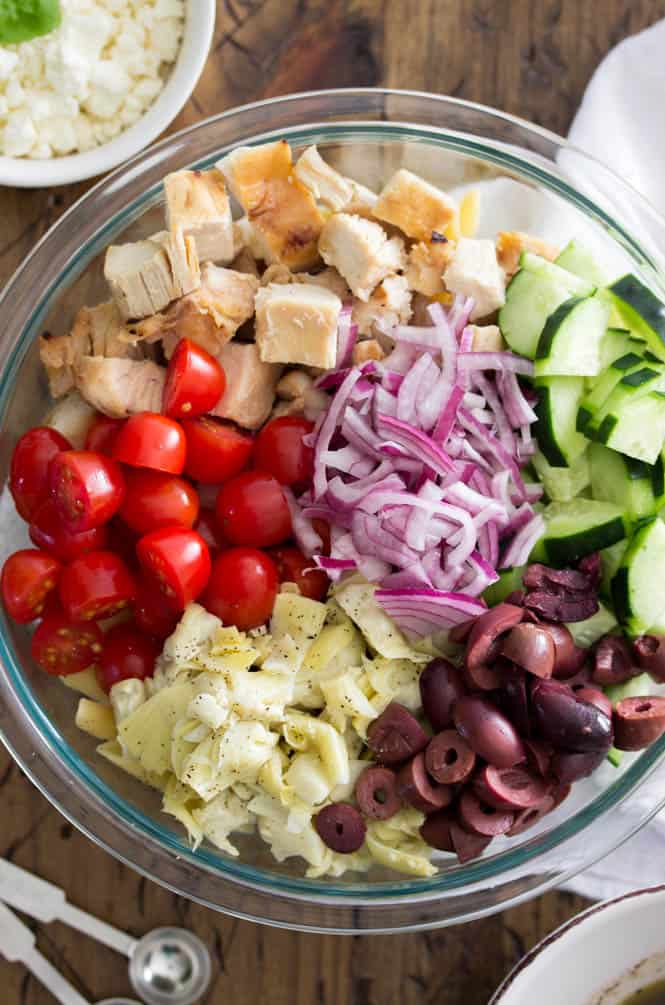 Before tossing everything together, pour on your salad dressing.
If you're using the homemade dressing, make sure you whisk everything together again really well just before pouring, as it separates.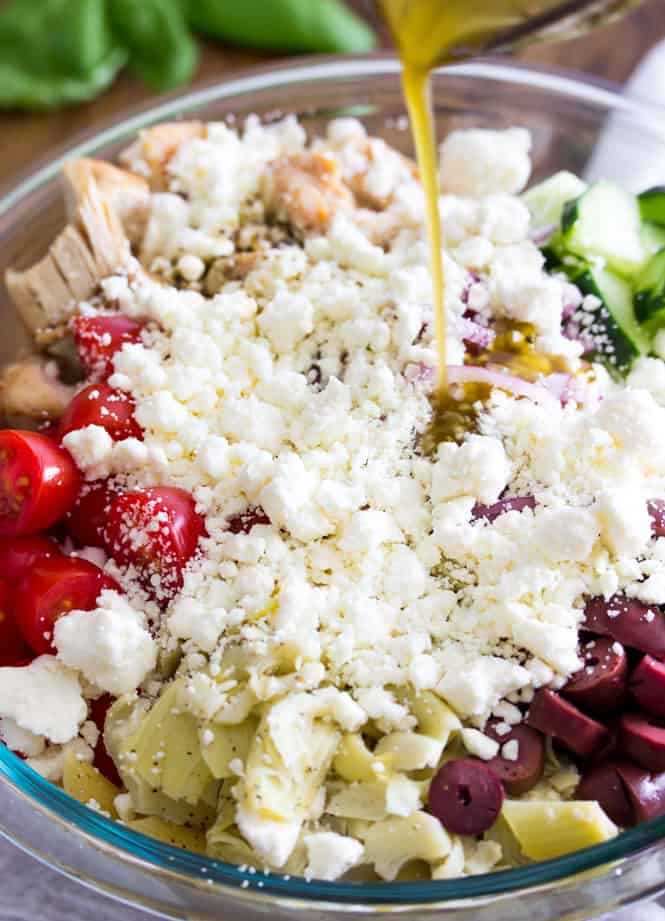 Using a large spoon or salad forks, toss everything together very well.
If you're not serving this dish immediately, keep the pasta salad refrigerated and make sure to toss the ingredients again very well again just before serving.
I have a feeling your family is going to love this meal, it's light and refreshing, but also makes a protein & veggie-rich family dinner.
Enjoy!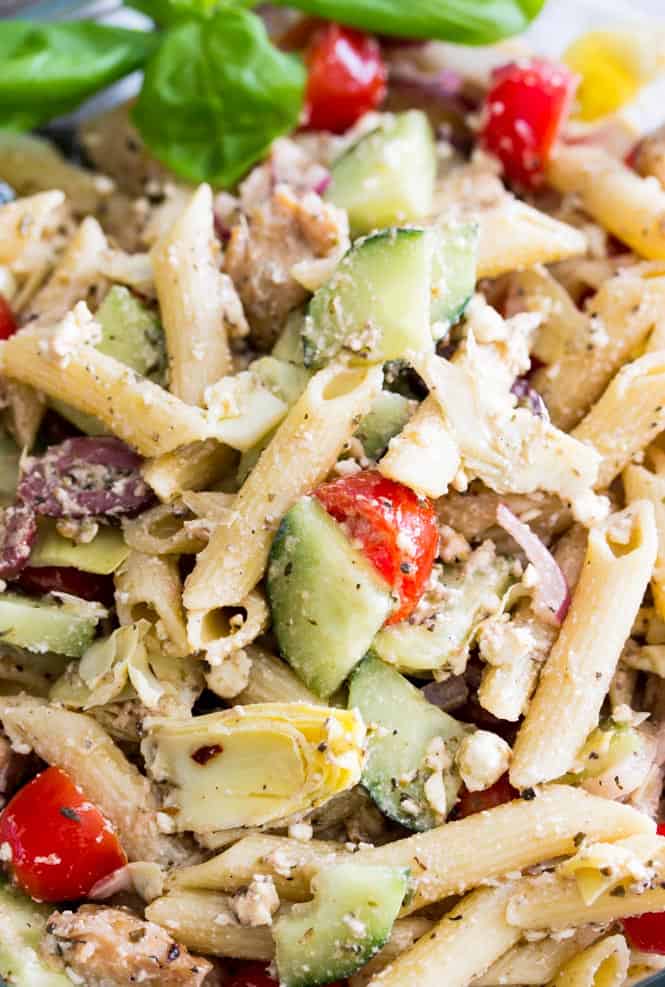 INGREDIENTS
For the Dressing (or use ½ cup bottled Greek or Italian dressing):
1/3 cup olive oil

1.5 Tbsp red wine

or

balsamic vinegar

1 Tbsp lemon juice

1 tsp dried oregano

1 tsp dried basil

3/4 tsp garlic powder

1/2 tsp salt

¼ tsp pepper

¼ tsp crushed red pepper
For the salad:
12 oz pasta

2-3 Tyson frozen chicken breast, cooked according to package instructions and chopped (should be 2 cups chopped)

13 oz can artichoke hearts, drained and chopped

1 pint grape tomatoes, halved

1 cucumber, diced

⅓ cup thinly sliced onion

2 oz can drained sliced black olives

1 cup crumbled feta cheese
INSTRUCTIONS
Prepare salad dressing by combining all dressing ingredients and whisking well. Set aside.

Cook pasta according to package instructions.

Drain well and transfer to a large mixing bowl.

Top with artichoke hearts, tomatoes, cucumber, onion, olives, and feta cheese.

Whisk salad dressing well and pour over ingredients.

Stir very well or toss with salad forks.
If not serving immediately, keep refrigerated and stir well before serving.
If you try out this party AND family favorite Mediterranean Chicken Pasta Salad, let me know in the comments! What are some of your favorite easy pasta salad recipes? Did you family love this recipe? I'd love to hear from you!