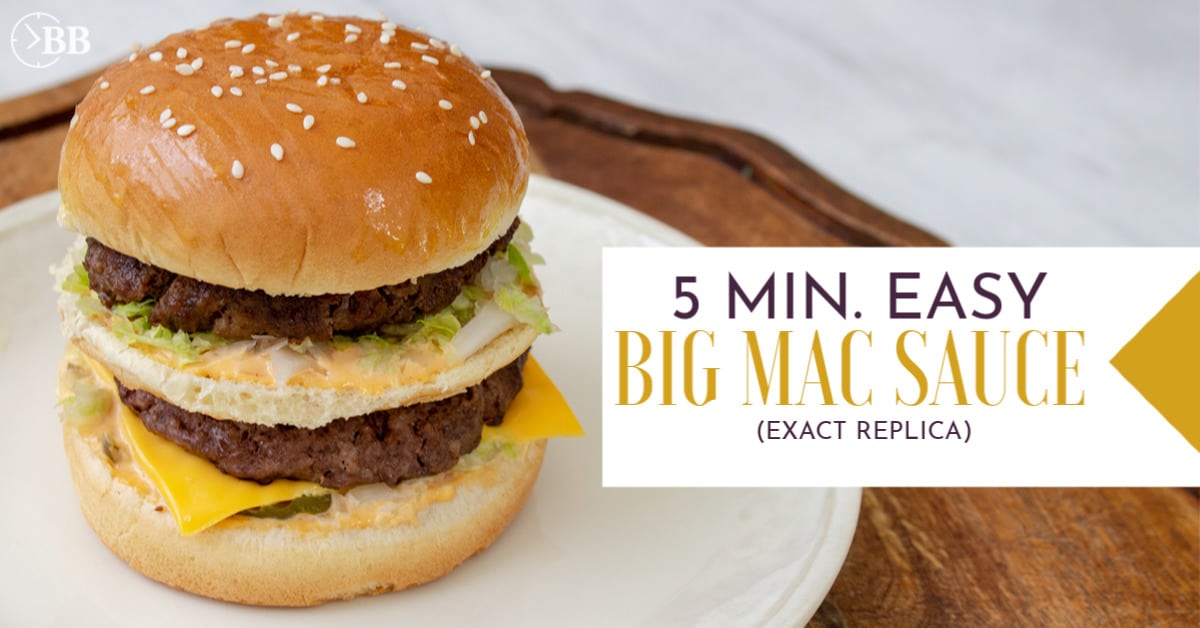 Here's my dirty little secret… As I'm entering my 32nd week of pregnancy, Big Macs have become my kryptonite. As a former junk food junkie, I had given up fast food completely for 2 years prior to this pregnancy. Now I watch enviously as the other pregnant girls crave pineapple, kiwi, and kale smoothies (seriously?!?) and all I can think about is Kool Aid and Big Macs. Not to bash Big Macs (or Kool Aid for that matter), but I'm pretty sure my unborn child isn't benefiting from the zillion unpronounceable ingredients in these. Knowing that I'm weaker than pregnancy cravings, I made myself a deal. I can have all the Big Macs that I want, as long as I make them myself. Is this the healthiest deal? Not by a long shot. Hopefully, by the time we get to baby #3, I'll be with the yoga momma's craving kale smoothies. I can dream right?
This is the result of many nights of research (I sacrifice for you guys!), to bring to you the best homemade Big Mac recipe.
Homemade Big Macs with Big Mac Sauce
Got a craving but don't want to waste $5 on something with hundreds of unpronounceable ingredients? Make your own!
Ingredients
1 pound ground beef
½ white onion
⅛ head of iceberg lettuce
2 slices of American cheese
3 sesame seed hamburger buns
4 slices of pickle chips
2 tablespoons French dressing
½ cup mayonnaise
4 tablespoons sweet relish
1 teaspoon white vinegar
1 teaspoon sugar
⅛ teaspoon salt
2 tablespoons finely minced white onion
⅛ teaspoon black pepper
Instructions
Mix together the French dressing, mayonnaise, sweet relish, white vinegar, sugar, salt, finely minced white onion and black pepper in a bowl. Refrigerate until ready to serve. This will taste better if the flavors blend overnight, but is still pretty delicious if served immediately.
Separate ground beef into 4 equal parts and flatten into large thin patties.
Preheat the broiler to high (about 6-8 minutes).
Place patties on a broiler pan and broil each side. (There's a big debate about leaving the door open a bit during broiling- I close mine, but I know plenty that don't).
Check the temperature to ensure it reaches at least 160 degrees.
Mince the ½ white onion finely.
Finely shred iceberg lettuce, then chop the shreds.
Take two of your hamburger buns and flatten them with your hands.
Placing the cut side up, broil all hamburger buns (even the flattened ones) on low for about 1 minute.
Assemble as follows:
Bottom bun
Big Mac sauce
Onions
Lettuce
piickle chips
American cheese
Beef patty
Flattened middle bun, cut side up.
Big Mac sauce
Onions
Lettuce
Beef patty
Top bun
Cost Analysis:
Using Current Local prices (I don't include the cost of pantry items that I buy in bulk since the cost in negligible.)
1 pound ground beef: $3.29
1/2 white onion: $0.34
1/8 head of iceberg lettuce: $0.14
4 pickle slices: n/a
4 slices American cheese: $0.28
French Dressing: n/a
Sweet Relish: n/a
White Vinegar: n/a
Sugar: n/a
Pepper: n/a
3 Sesame Seed Hamburger Buns: $0.75
Total Cost: $4.80 for 2 Big Macs ( or $2.40 per Big Mac)
Cost of a Big Mac at the local Mcdonalds: $4.19
Total Savings: 42.8% (Not bad considering that cost wasn't even a factor in this!
Like what you've just read? Follow me on Pinterest and I'll fill your feed with the best ways to save money, cheap eats, and easy projects. If you're a blogger in a similar niche, let me know so I can follow you!
This post may contain affiliate links. If you click & make a purchase, I receive a small commission that helps keep the Busy Budgeter up and running. Read my full disclosure policy here.