If you're looking for an easy weekly budget printable, look no further because you've found it!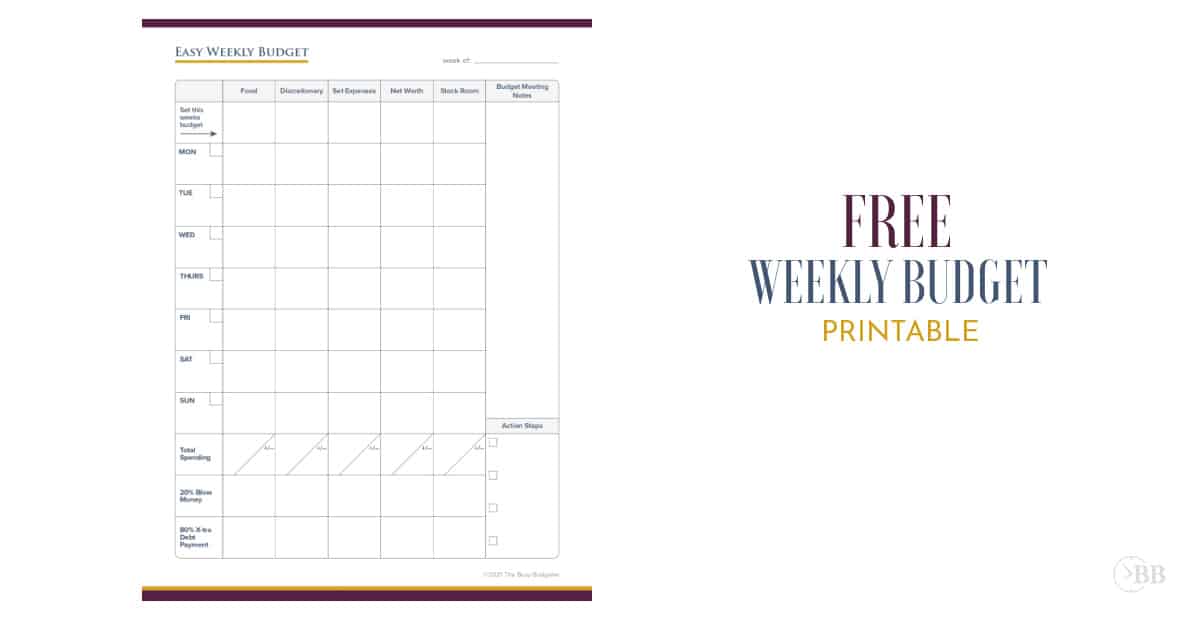 This weekly budget printable lets you set your weekly budget, track your weekly spending, and complete your weekly budget meeting all on one easy page.
This is specifically made for people who are chronically disorganized or who struggle with sticking to a system.
We've had a ton of success working with the toughest cases of chronic disorganization and completely transforming their budget (and their homes!)
While you can, get this weekly budget printable for free here…
If you're the type of person to set a budget and then not actually stick to it…
Don't just get this for free and then cross your fingers and hope you'll stick to it.
Let me teach you our admittedly unique approach to sticking to this budget.
Fair warning: It's a little… different.
But it's EXTREMELY effective.
We've been teaching this successfully for 7 years to hundreds of thousands of families.
And we receive overwhelmingly positive feedback on an everyday basis.
We've been able to help the absolute toughest cases of chronic disorganization.
People who have been trying (and failing) to change for years.
And if your spouse isn't on board, our system fixes that too.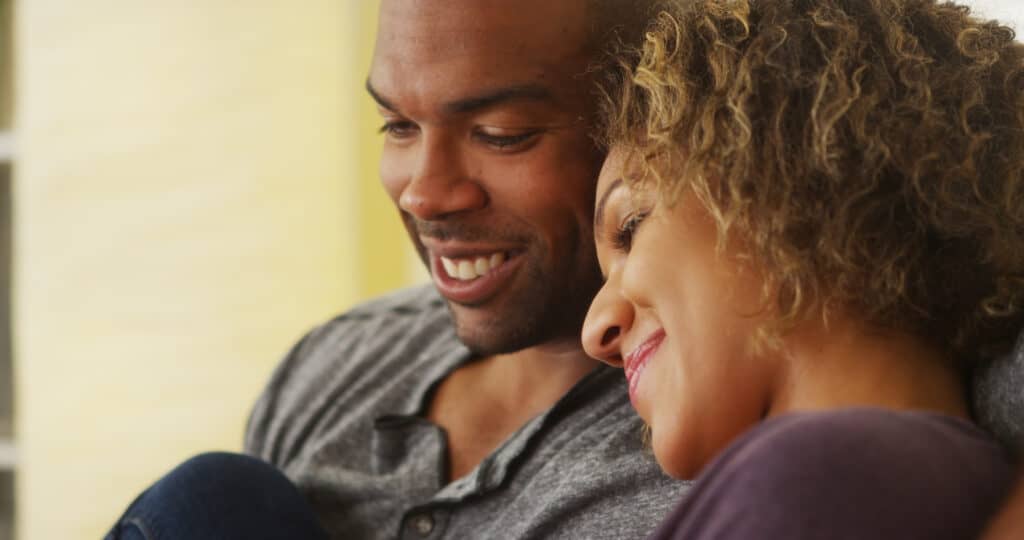 As a reward for committing to getting serious and sticking to your budget this time, once and for all…
I'll personally teach you our unique but insanely effective way of budgeting that literally ANYONE can stick to.
Even if they…
Have no willpower.

Have a reluctant spouse.

Can't meal plan to save their life.

Have never stuck to a budget.

Are ridiculously in over their head with debt.

Have hit rock bottom.
Because this system will teach you how to…
Do the bare minimum effort on a consistent basis.

Work with your personality (instead of against it).

Only do the things that matter because very few things in budgeting actually matter (and no, you don't need spreadsheets or fancy apps).

Master things in the right order. Because your life has to support your effort to save money.

Automate your home management foundation.

Simplify meal planning for chaotic lives (I mean REALLY simplify), so that when you start to budget, it's incredibly easy because it all works together.
Don't believe me?
Well, I've been featured in Forbes, Fox Business, Motley Fool, Country Living, Entrepreneur, and more.
And I'm doing this for you for free.
Because this is what I wish someone had done for me.
So I didn't have to figure it out on my own.
You can get the Easy Weekly Budget Printable here for free… 🙂
Let me show you a quick walkthrough of how to use the weekly budget printable:
Treat each week like its own month.
Set yourself a budget using our super simple 5 category system.
When you use simple budget categories, everything you spend fits into one of the five categories.
The reason this works so well is because it's crazy easy to track. Keep in mind, not all spending is bad. For instance, we WANT you to spend more in Net Worth (that means you're paying off debt, investing or saving. That's good "spending" or saving.
Using these categories lets you focus on just a few areas that you can focus on reducing.
Net Worth
This includes your mortgage, car loans, credit cards, savings accounts, retirement, or investments.
Basically, anything that has a positive effect on your net worth when paid into.
Set Expenses
These are things that you aren't making decisions to purchase, they're just set up as monthly purchases. Things like rent, taxes, insurance, internet, electric bills, etc.
We also put fuel and medical expenses in here as well, since few people make the decision to overspend on fuel or medical expenses.
For the most part, these aren't impulsive purchases, they're set up ahead of time (but you can still reduce your spending on these!).
Food
This is the single biggest area of overspending. It includes groceries, eating out, and school lunches for kids. Basically, if you put it in your mouth and it travels to your stomach, count it here.
Stockroom
This is all of the stuff you need to run your home, from toilet paper to deodorant and air filters. If you've automated this fully and you know the set monthly amount you spend on this, you can add this to your set expenses and eliminate this category.
Discretionary
This is everything else. Things like personal spending, outings, date nights, home goods, new shoes, hair cuts, vacation, fun, and even things you didn't plan for.
Almost all overspending comes from just two categories… Food and discretionary.
While it's absolutely possible to reduce the spending across each of the categories, you're going to find the biggest savings in those two categories.
Daily Tracking: Because you only have 5 categories to worry about, it's easy to track your spending every day. You can use the daily spending tracker in the Easy Budget Binder or just draw 5 columns on a piece of paper with 4 or 5 rows (like below).
But having simple categories isn't suddenly going to turn you into a saver.
Because you don't have the willpower to stick to the budget no matter what system you use.
If you did, you wouldn't be here. You'd have been successfully budgeting for years and reading this in disbelieve that this isn't common sense easy to everyone.
Everything we do is built from the ground up to work for the toughest cases of chronic disorganization.
Which means, we expect you to have zero willpower.
Because we flip the way your brain works when you follow our systems.
The only way I get what I want is by doing the things that I NEED.
You want money to be FUN.
You want to be able to walk into your favorite store, fall in love and just buy it.
And you don't want to be limited by the fact that you shouldn't.
Our way of budgeting gives you a way to win.
You'll have blow money every month (yes, even you, who's completely up to your eyeballs in debt. Not much, but some), and you can earn more blow money by coming in under budget in your other categories.
Like if you have $200 to spend on groceries this week, but you only spend $100…
Then you get to take 20% of that savings ($20, I use percentagecalculator.net to make these calculations super easy) and add it to your blow money.
To spend it on whatever you want. No purchase is too stupid.
The only rule is that no one else can have an opinion on how you spend that money. (Worried about how your spouse will feel about that? Let them reduce your spending in the set expenses categories. They get that 20% recurring every month).
Then take 80% of that savings ($80) and add it to Net Worth in the following order…
Emergency fund (up to $1,000).

Debt payments (

using the snowball method

starting with the smallest debt first).

3-6 months of expenses saved.

Investments.
Boom.
Now you get to guiltlessly spend money and you'll pay more towards debt then you've ever had before.
And you are constantly rewarded by doing the right thing without trying.
How to fill out the Weekly Budget Printable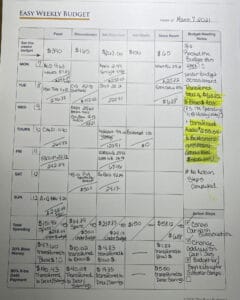 Set your weekly budget in the top line.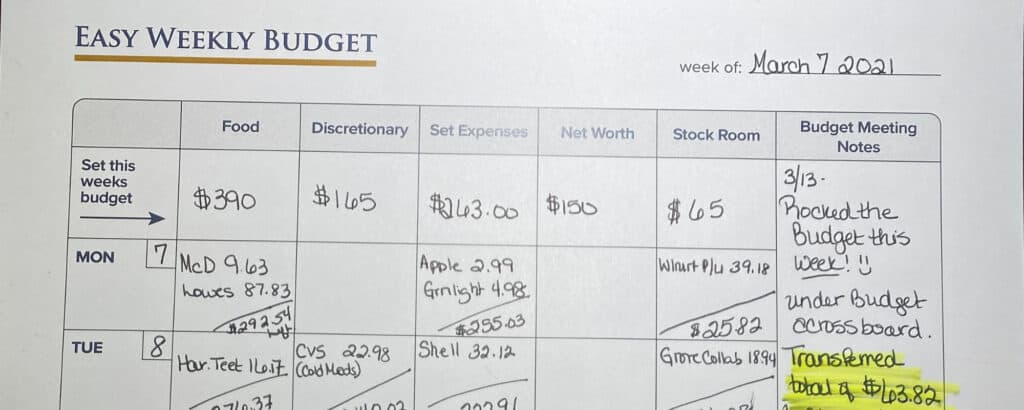 You can get these numbers by doing a monthly budget and then from those numbers you can figure out what you can spend weekly.
Every day, you should spend about 2 minutes filling in purchases on the sheet (I suggest leaving it right on your kitchen counter with a pen where you're bound to walk by it several times a day.)
At the end of the day, subtract your spending from the day to come up with your leftover budget
You can grab the Weekly Budget Printable for free here…
For instance, in this weekly budget printable…
She had $390 for food for the week, but after she spent $9.63 and $87.83 on Monday at Mcdonalds, she calculated how much of that $390 budget she had left ($292.54 so she could keep track by the day.
When she spent money on food on Tuesday, she did the same thing.
Hint: In case you're wondering, why her food budget is $390 a week when she's clearly able to spend much less than that.
It's because we want you to budget no less than 10% of what you're currently spending.
It's not a commonly known thing but we've tested and proven it over and over again.
If you have a budget that you KNOW you can stick to, you'll spend less and contribute more to savings (via the 80% of what you don't spend that goes to debt or savings). Then just set a 10% lower grocery budget of what you think you can do.
It's an abundance mindset versus a poverty mindset…
Call it what you want, but it works.
And if nothing else just do it to prove me wrong.
At the end of the week, calculate your spending, and how much under budget you are.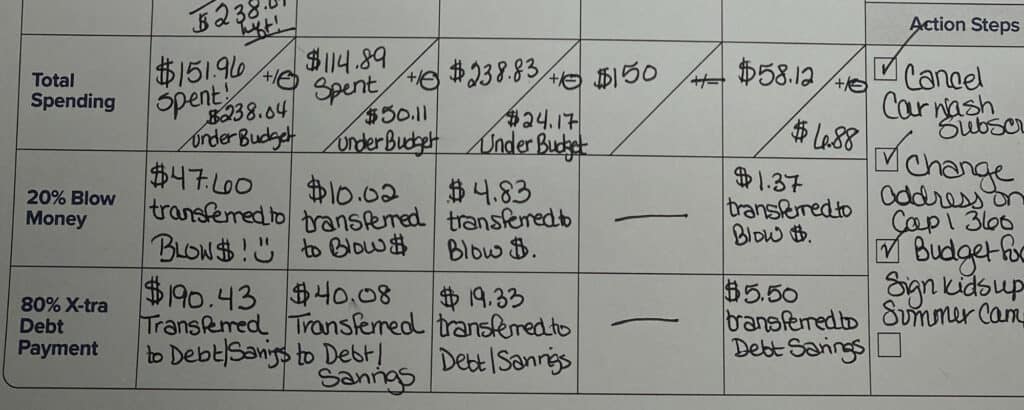 Then take 20% of what you were under budget and transfer it to your blow money account (make sure your blow money account is a separate account with its own debit card).
Transfer it right away at the end of the week!
Then take the 80% and apply it to debt or savings.
Hint: If you don't already have a separate bank account set one up (no need to get a debit card for it) and call it "check holding." Transfer the 80% to that account first and then do a bank transfer to your savings account (off shore) or make an online payment to your debt so that money disappears from your regular account.
This is a huge secret to never over drafting your bank account and screwing up your budget…
You can get the FREE Weekly Budget Printable here…
Write notes about your week on the right hand side under Budget Meeting Notes.

Did you rock it?

What mistakes did you make?

What wins did you have?
Then choose 1-3 action steps to complete by next week's meeting. Like eliminating or reducing subscriptions, calling to submit a medical bill, or even just reminding yourself to have a budget meeting next week.
That's it! You're done.
This is literally the easiest way to budget in the world.
And it works with your unique personality.
Get the free Easy Weekly Budget Printable here…