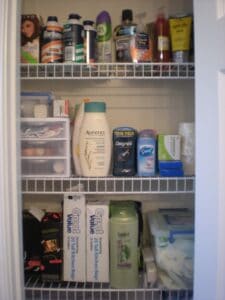 I'm not a fan of buying food in bulk (except for emergency supplies), because I feel that it clutters our pantry and makes it hard to remember what we actually have and what we need. With that being said, I'm a huge fan of establishing a stockroom (or "Home Walmart", as I like to call it) of basic supplies that are needed daily.
Update: 4/5/20 You asked for it and I'm delivering! Starting NOW, you can grab the Trashed to Total Home Transformation Survival Guide (Pandemic Edition) For FREE!
It teaches you step by step how to work with your personality to not only set up home routines that will work (no matter how many times you've failed in the past), but that you'll stick to… long after the pandemic is over.
We've taught hundreds of thousands of people how to use bare minimum consistent effort to completely transform their home (and life!). You're up next.
You can get your Survival Guide here for FREE…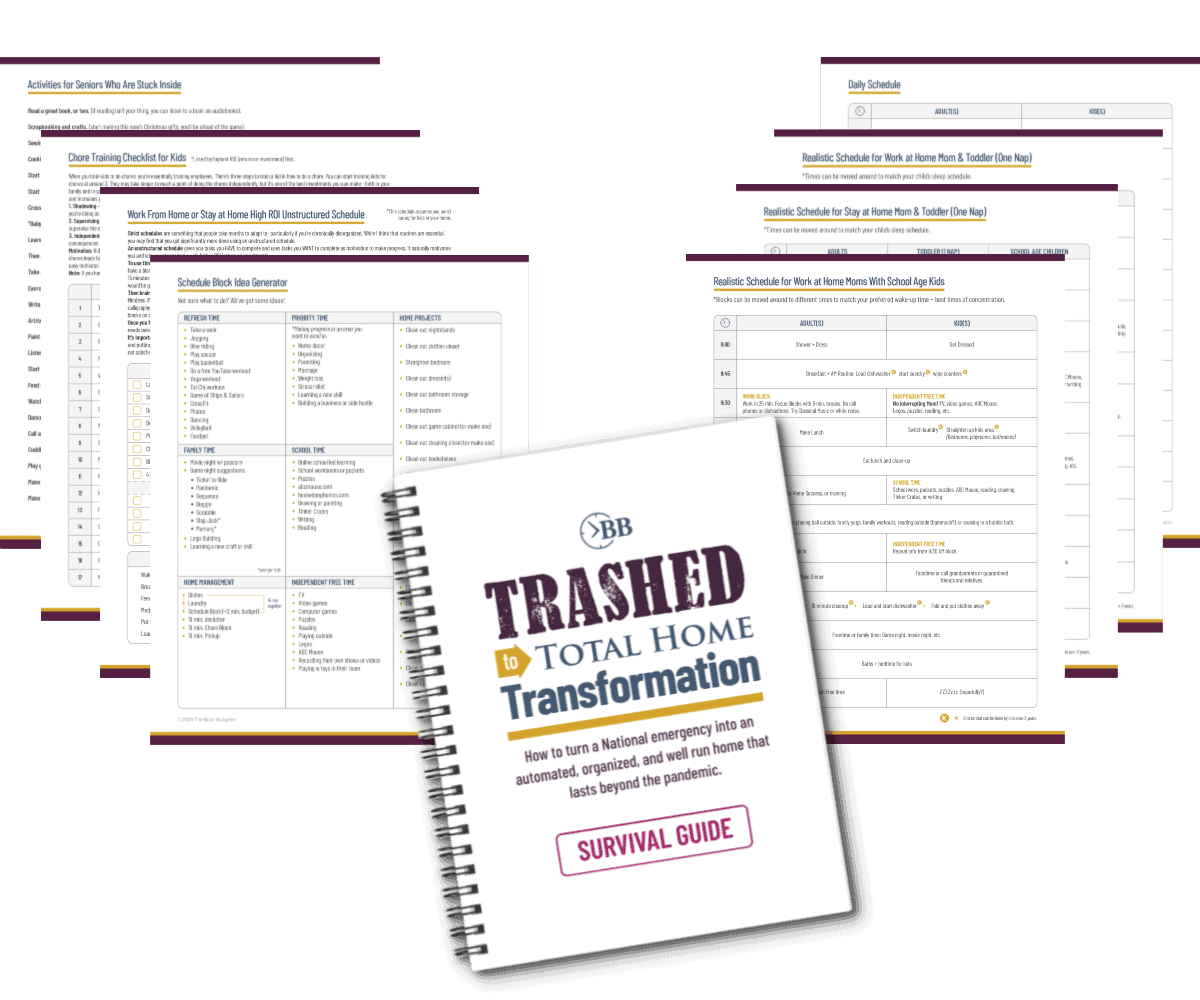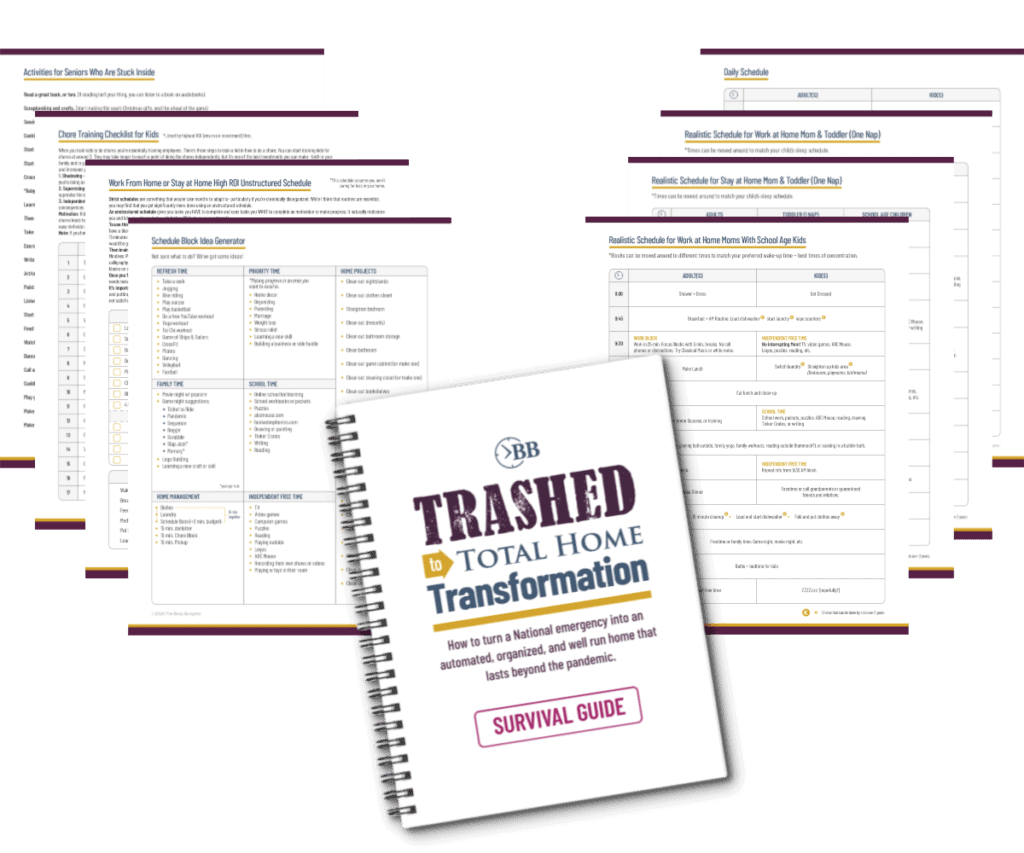 I started our home stockroom almost two years ago and can't imagine life without it. There are several benefits to a stockroom:
1. Finances- You will save a considerable amount of money by buying the things you need at the lowest price. Rather than running out of shampoo and buying it at the grocery store where it costs 30% more, you are planning ahead and buying it for the lowest price. Because you are only making one Walmart trip every 4 months, you are saving a small fortune in impulse buys (unless you have much stronger willpower than me). By thinking ahead and making an organized list of what your basic essentials are, you can shop around and find the best unit price. When you list your unit prices, you can anticipate exactly what your home essentials cost will be, which will help you plan your budget.
2. Time- With an established home stockroom, you will never again have to run an unexpected errand. Ever. If I ran out of cat food, it would take me 40 minutes to get to a grocery store, buy the cat food, take it home and unload it. If you multiply that by every home essential you have, you could waste a lot of time on last minute errands. I have one errand to run a week (not counting my once a week grocery day), often I can skip errand day since I don't actually need to run any errands.
If you live in a multiple level home, establish a stockroom on each level. This encourages you to use the stockroom like you should and saves the frustration of running up and down stairs. If you live in a small apartment and don't have a designated closet, etc… Find a clean corner of a less used room, and start piling. This is one of the most important steps I took to gain control over my life. There's a million excuses you can give yourself for not doing this, such as "I don't have the money", "I don't have the room", or "I don't have an hour to go get all this stuff". This is the only time that I would encourage someone living paycheck to paycheck to use their credit card. If you don't establish this stock room, you'll spend almost 50% more to get the same things later.
Rules for a home stockroom:
1. Don't over do it, Establish a 4 month supply of what you need. Don't buy a 5 year supply, and don't buy anything that you haven't used routinely for over a year. An example of this would be if I said "Oooh! Glade plug ins! What a great idea!I'll buy 20 and I'll use them everyday!" The idea here isn't to start new routines, it's to keep a supply of essentials. Make a list, and don't deviate from the purchase list at all. If you have a partner, have them come with you as the "enforcer", they can ensure that you don't slip extras into your cart.
2. Give yourself at least 2 weeks of making and adding to your list before you go to buy your supplies. You'll be surprised to find how many things you use everyday that slip your mind. If you have a note feature on your phone, use that to keep your list since you'll likely have it with you all the time.
3. If your not sure how much you need for four months, (I certainly didn't when I started!), just guesstimate. You'll figure it out soon enough.
4. While keeping your stockroom functional is essential (shampoo should go with shampoo etc.), your goal is not to land the cover of Better Homes and Gardens. Don't agonize over labels and containers and wicker baskets and color coordinated back walls. If you make this too big of a project, it becomes overwhelming and it's hard to complete. Just stick the stuff in the closet (or in a corner) and let it be.
5. As soon as you have extra time, start comparing unit prices. Many items can ship directly to your door for free from walmart.com at the same prices that you find in the store. Also pay attention to sales, and if you see coupons (see my coupon exchange post in my archives) for items that you buy on this list, stockpile them.
Examples of what to stock:
1. Deodorant- Hers
2. Deodorant- His
3. Toilet Paper
4. Toothpaste
5. Toothbrush
6. Mouth Wash
7. Mascara (This may be just me- It makes my eyes burn after a month, so I constantly switch them out)
8. Body Wash
9. Shampoo
10. Conditioner
11. Razor Cartridges
12. Shaving Cream
13. Feminine Hygiene Products
14. Over the counter medicines that you take daily- Like Claritin or Allegra.
15. Hand Soap Refills
16. Paper Towels
17. Small trash bags
18. Kitchen Trash bags
19. Home Air Filters (I'm religious about these)
20. Laundry Detergent
21. Dishwasher detergent
22. Paper Towels
23. Batteries- AA, AAA, C, D (I store mine in Ziploc baggies)
24. Light Bulbs
25. Cat Food
26. In-Fridge Water Filter
27. Stamps
28. Ziploc Baggies
29. Aluminum Foil
30. Wax Paper
You get the idea. You can personalize it to meet your needs. Good Luck!
This post may contain affiliate links. If you click & make a purchase, I receive a small commission that helps keep the Busy Budgeter up and running. Read my full disclosure policy here.