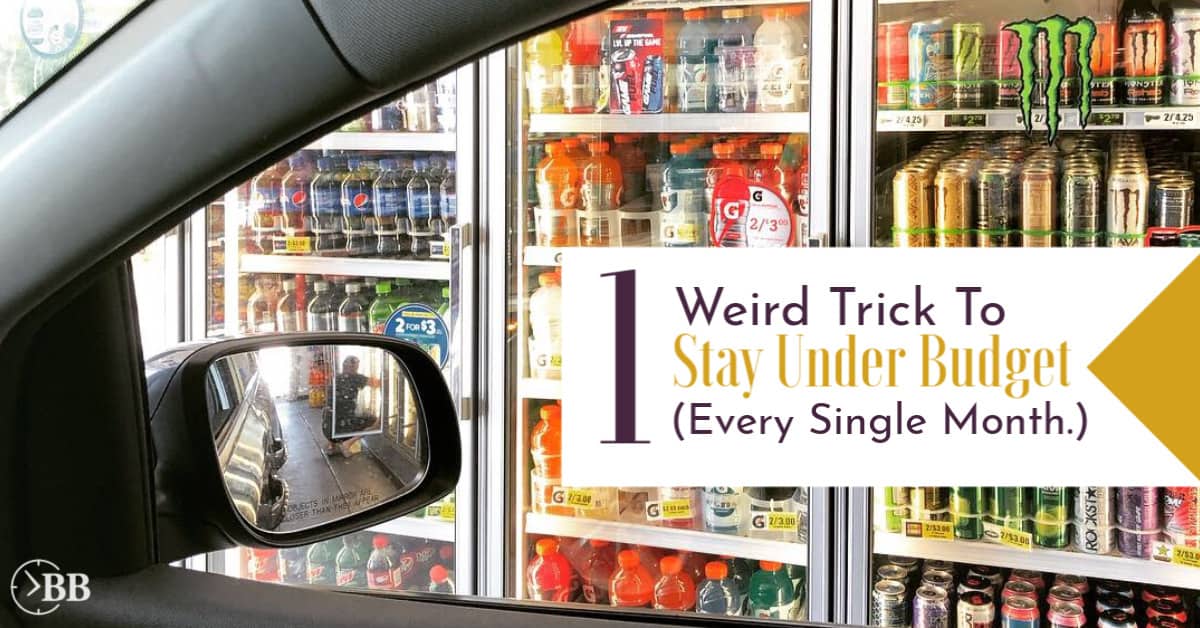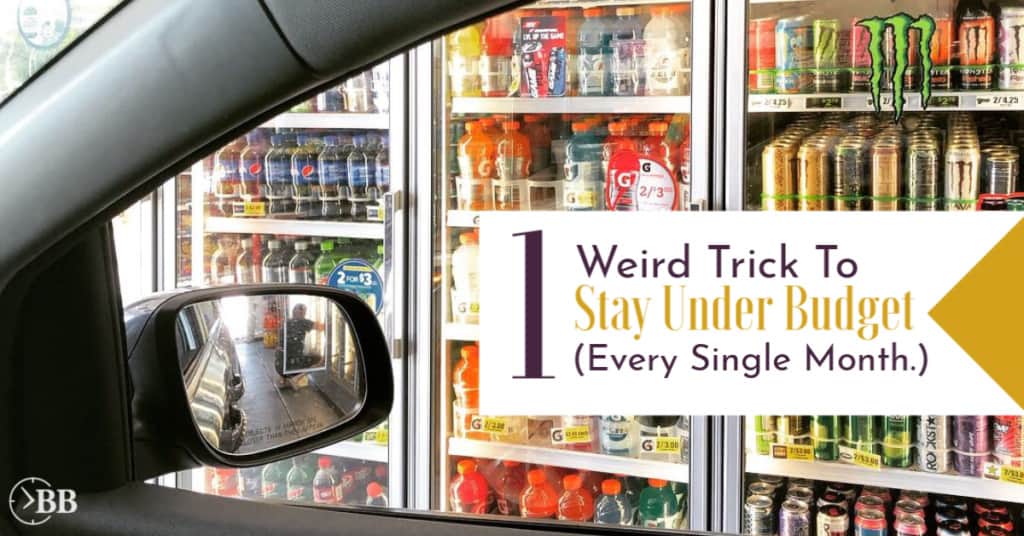 Update: 4/5/20 I know how stressful finances are right now with stay at home orders and the pandemic. I also know that I'm uniquely qualified to help you. I've helped hundreds of thousands of people get out of the paycheck to paycheck cycle (after trying and failing for years), by teaching them how to work with their unique personality to actually stick to a budget.
I'm giving you access to the insanely popular 90 Day Budget Bootcamp for FREE. Because I know that this program will change every aspect of your life. Take a look around. Because this is the LAST DAY you will ever sit around worrying about money. Let's get to work.
Join the 90-day Budget Bootcamp for FREE here…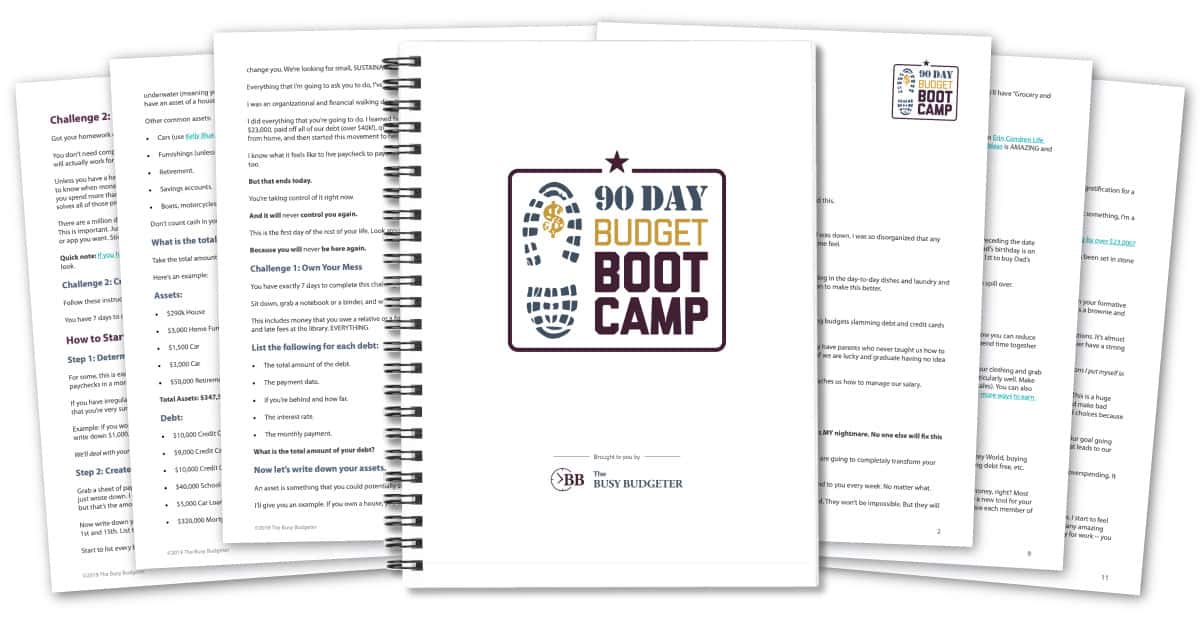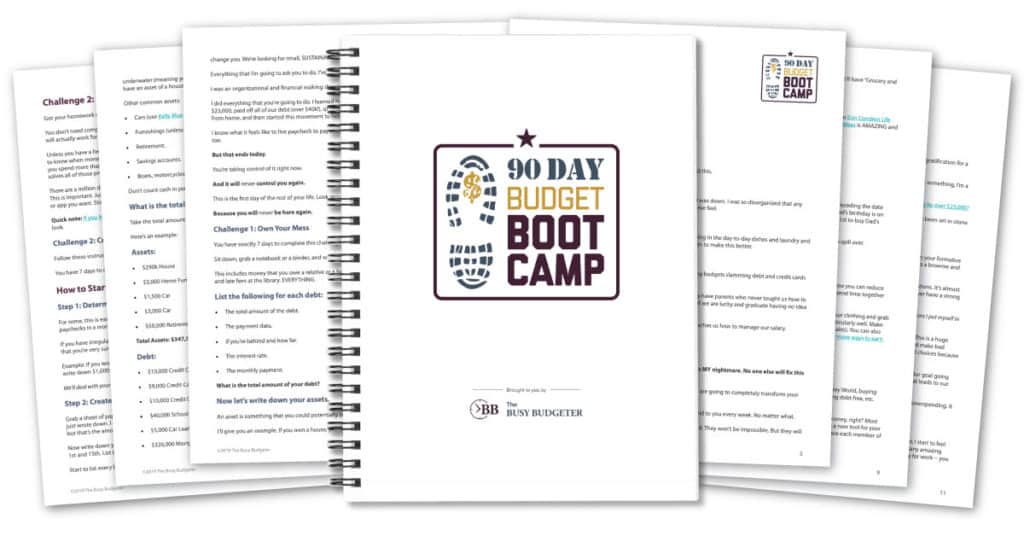 Staying under budget is one of the hardest parts of budgeting. Even people that are awesome at sitting down and making a budget every month struggle with sticking to it.
I struggled with it too.
I would set unrealistic goals for myself and feel awful when I couldn't meet them. I knew that I could buy groceries for the month to feel all of us for $400. So I would set that budget and then go way over. I would feel like a failure and swear to do better next month and just repeat the cycle all over again.
Occasionally, we would have a lot of extra money in a month, either from my side hustles or Jon's over-time. We would set our budget with higher amounts as a treat. I loved those months!
I started to notice an unusual pattern.
When I set a budget amount over what I thought was reasonable, I would spend less that month than when I set a goal just under what was reasonable.
Sound confusing? I'll illustrate.
If I usually spent $600/month on groceries and I set a budget for next month of $500 in order to save a $100- I almost always blow the budget AND spend over the usual $600.
If I usually spend $600/month on groceries and I set a budget for next month of $700, I almost always come in under $600, (sometimes as low as $350 or 400!) despite having more money to spend.
So, when I set the budget to allow myself to spend more, I actually spend less… much less!
Weird, right?
When I restrict myself with the budget, I feel stressed and overwhelmed. I worry about making that amount work. One tiny wrong step (like forgetting my lunch and needing to buy one out), makes me feel like I've blown it and I may as well just do whatever I want.
It makes me feel like a failure.
The issue here isn't the budget, it's my attitude.
But changing the budget is much easier than changing my attitude. Changing my attitude would take years and I'm not even convinced that it's possible. But tricking myself into the desired results works every single time for me. I've successfully done it before with losing weight, ordering delivery, eating fast food, and eating out.
When I set the budget over what I know I can spend, I feel empowered and motivated to "save" as much as possible. I love texting my husband "Guess what?!?!?! I'm $200 under this month in Groceries!!!!"
I feel like I'm winning. That motivates me to keep winning and to save as much as possible.
If I make a tiny wrong step, I know it won't kill me and I move on.
And that's half the battle folks. The problem with budgeting isn't calculations. It's knowing ourselves and how we respond to things. Don't force yourself to change things about your personality that have been set in stone since your formative years. Find ways to work around them to get the end result you need.
Find a way to win.
P.S. Easy Dinners help!
If you struggle with getting super easy and cheap dinners on the table, I can tell you what's worked for us.
You can see our favorite 15-minute meals here and then we found out about this freezer cooking service that cut our grocery budget in half.
Neither requires much cooking skill and you can save a fortune on your grocery budget!
What's your favorite budget trick?
P.S. If you're feeling like no matter what you do you can't get your house under control (not to mention your budget!) we completely understand. If you are sick of spending all day "catching up", only to have it completely trashed again in a few days, then you should check out our FREE training "Why Your House is Trashed: The 3 Step Shortcut to Transform Your Home For Good With No Extra Time" which will walk you through how to break that cycle once and for all.
The training will walk you step by step through the three foundational routines that will help you manage all aspects of your home no matter how bad your situation is right now.
Implementing this core foundation allows you to work with your personality (and your specific situation) to create a custom plan to manage your dishes, laundry, schedule book, meal planning, budgeting, and a cleaning routine in less than one hour a day. You read that right, ONE HOUR A DAY.
If you want to take it a step further, we can teach you how to automate a ton of stuff in your home (without paying for it), giving you back HOURS of your life (yes, even your crazy life!). Then once you get the foundation set, we move on to more complex skills like meal planning, budgeting, and cleaning.
This is a proven system that's been field-tested by thousands of people. People that have tried everything and could never keep their house clean or stick to a budget.
Like Jenn, who said "I used to struggle with absolutely everything. I married a man with 4 amazing kids and suddenly found myself drowning in dishes, laundry, and cleaning. There was NEVER enough money to cover everything and cooking meals that everyone would eat was impossible."
"Then my dad got cancer and I also became his caregiver. The house and my stress level went from bad to worse overnight. I got the Hot Mess to Home Success course in desperation sitting in an ER waiting room at 3 am. I thought there was no way it could really help me since my situation was so unique with 4 step kids and being a caregiver for my Dad."
"I had probably always been a hot mess, but this was a whole new low for me. Fast forward three months into the course and I meal plan regularly and stick to it (that's never happened before), I use a planner every day, I have no dishes and laundry backed up (!) and I have significantly more time to do the things that matter (like helping my family battle cancer). You don't even realize how much of a difference this stuff makes until it becomes your lifeline. I can't imagine going back to how I used to live and I'm glad I never have to. I'm really grateful for that 3 am purchase!"
If you are ready to get started, you can sign up for the FREE one-hour training "Why Your House is Trashed: The 3 Step Shortcut to Transform Your Home For Good With No Extra Time" here…
This post may contain affiliate links. If you click & make a purchase, I receive a small commission that helps keep the Busy Budgeter up and running. Read my full disclosure policy here.disclosure policy here.