One of the toughest questions that come up when you start to get your money under control is whether you should get a personal loan to pay off your car so you can sell your car if it's worth less than is owed and pay for a cheaper car with cash.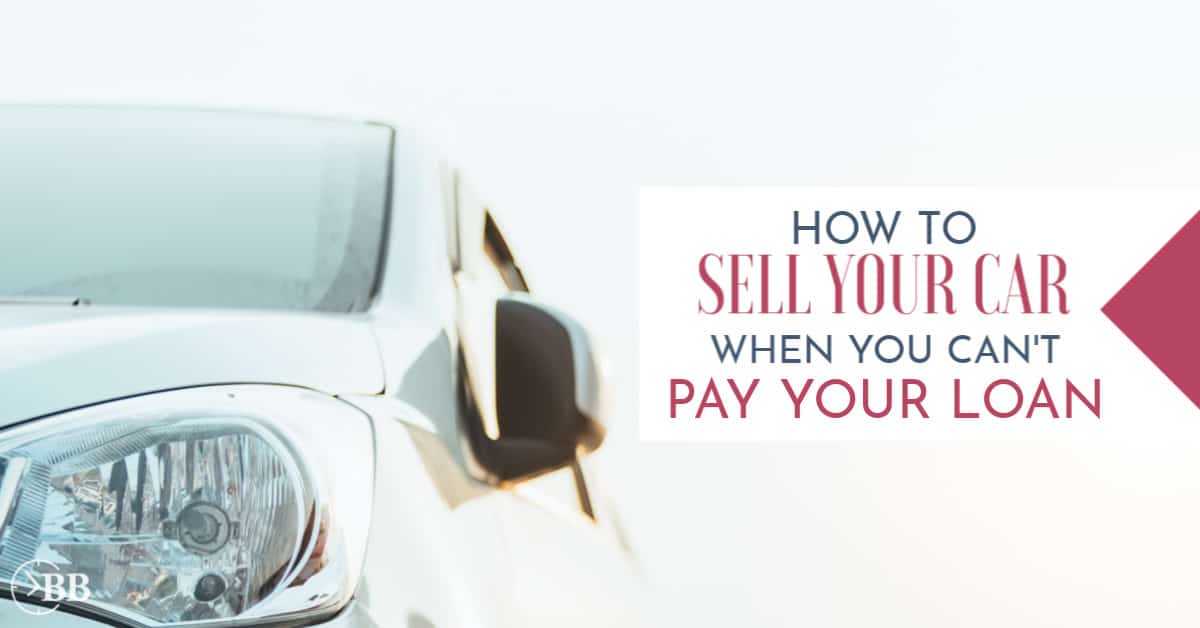 When you get a personal loan to pay off your car when you're car is worth less than you owe, there are a few benefits:
Eliminate the monthly car payment.

Save a bit (or a lot depending on what you used to drive) on monthly car insurance.

Increase your net worth.
Common Problem: Owing More Than Your Car is Worth
Almost all of the people I've worked with 1:1 with budgeting have had a car that's underwater (meaning they owe more than the vehicle is worth) and each of them questioned how they should handle it.
It's an extremely common problem to have based on how new cars lose value quickly and how interest repayments work on car loans.
The Best Way To Ditch Your Car Payment
The best way to get rid of your car payment and save a ton of money is to use a tax refund or use cash from savings (never use funds from an IRA or retirement though) to pay off the balance when you sell your car (that's what we did), but that's not always an option depending on how much cash you need to pay off the loan after you sell it.
We used a tax refund to finish paying off what was left of our car loan and we sold an expensive car with high monthly payments. Then we paid $5,000 cash for a 9-year-old minivan. We drove that minivan for two years and then sold it for what we paid for it.
Flipping Cars
Since then, we've really nailed down the art of buying and selling cars for cash and haven't paid for the privilege to drive a car since 2013. We sell the cars for what we paid for them after a year or two. You can learn more about how we flip cars (without knowing a ton about cars) here.
This was a big factor in us…
Paying off our $30,000 of debt.
Being able to quit my job to stay home with my kids.
(Hint: if you're trying to do the same- I can't recommend the 90 Day Budget Bootcamp enough! It walks you through getting your budget and life back on track, even if you've never stuck to a program before). You can get it free for a limited time here.
While it's not for everyone, getting a personal loan to pay off the remaining balance due after you sell a car so you can buy a much cheaper car can be a great way to pay down debt quickly. Doing this frees up your monthly payment to pay off credit card debt or student loans as well.
The secret to this working though- is to buy a cheap car with cash for your next vehicle.
More of a visual person? You can watch the video highlights of this post below.
Below, we asked Ozella Stephenson from theintentionaldollar.com to stop by today to explain how she did this to drop $35,000 in debt right away and completely turn her family's finances around.
Here's what Ozella had to say…
Success Story:
How I Paid Off $35,000 In Debt By Getting a Personal Loan To Pay Off My Car
Ever wondered how you could free up extra money in your monthly budget? Have you ever considered taking out a personal loan to pay off your car?
Did you know that you could buy cash cars to pay off debt even if you owe more on your car than it's worth?
I did just that. $35,000 worth, in a matter of a few weeks. It didn't come easy, but I hit my rock bottom so something had to give.
With all the debt I had, I honestly felt like a slave to it. My husband and I both have great paying jobs, but we never seemed to have enough money left over each month to actually enjoy life.
We were behind on our utility bills, water, electric, cable/internet. We were two months behind on the water bill, had received two disconnect letters from the electric company and the internet was cut off twice.
I felt like I had failed my family. I'm the planner and organizer, it comes naturally to me. But my biggest struggle had been implementing my budget plan.
We had to make some changes…
We were paying well over $2,000 in monthly payments each month to creditors.
Ultimately, my husband and I got rid of our cars and the car loans attached to them which ended up releasing about $35,000 of our six-figure debt. By using a personal loan to pay off the car, we bought 20-year-old cash cars.
Essentially, we traded $50,000 of car debt for a $15,000 personal loan.
I feel like we can breathe now. Instead of paying over $1,000 toward car payments, we now pay less than a third of that every month. And, we have a snowball amount that we can throw at our remaining debts each month.
I am a living testimony that it is possible to get out of an upside-down car loan when you owe more than the car is worth.
Taking that leap really gave us a nudge in the right direction. I finally feel like we are on the right track and can actually pay our debt off to create a life of financial freedom. And it's all because we made the decision to take out a personal loan to pay off our car.
But, the best part is, you can do this too!
Did you know that the average car payment is $530 in the United States? Americans borrow close to $20,000 for a used car on average, and most opt for the longest loan period, 6 years. (source: Lending Tree).
All that interest paid is just like throwing away your hard earned money.
If you don't want to be part of that statistic…
Consider trading your financed car and car loan for a cash car, even if you owe more than the car is worth.
There are so many ways you can increase and multiply car payment funds each month, investing in stocks, putting that money in a high-yield savings account, investing in a business, investing in real estate, etc.
Buying a cash car has its perks too. I mean sure you probably won't be driving the nicest car with all the latest and greatest tech in it. BUT, you will still have a reliable car doing what it's supposed to do… getting you from point A to point B.
Your car insurance will go down.
In the eyes of a car insurance agency, the less valuable your car, the lower their liability is. This means a better car insurance rate for you.
Something else to think about… when you buy a cash car, you don't have to have full coverage on it. Full coverage covers both you and the other driver if you get into an accident and are found at fault. Liability only covers the other driver if you're at fault in a wreck. Just having liability insurance on your car decreases your rate significantly.
I had full coverage on both my husband and my previous cars that had car loans attached to them. When you finance a car, the lender requires that you get full coverage on it. I was paying just about $200 a month to insure a 2016 Ford F-150 and a 2013 Chevy Traverse.
When we bought our 1999 Lincoln Town Cars, our car insurance went down to about $65/month. Since we switched vehicles before our insurance policy period was up, we ended up getting a check in the mail AND skipping the renewal month's payment because we had so much credit left over. Nice WIN!
You may end up spending less on property taxes.
Property taxes are based on the assessed value of your car. When you buy an older used car, the value of the car is so much lower than newer cars. Therefore, you end up with a cheaper tax bill.
Your cash car may still have a lot of great updated features.
We all love the techy features the new cars have. I mean society has trained us to like shiny objects. However, these features are not required to do what we need our cars to do on an everyday basis, which is just be reliable enough to get us around.
Even still, you may end up purchasing a car that has some nice features built in. The previous owner may have made some upgrades to the car beforehand.
If none of the above apply, there's always an option to pay for the aftermarket features you just have to have. There's plenty of audio/video shops that would be more than willing to take your money to install an updated stereo system with Bluetooth capabilities, a backup camera, remote start, etc. You'll still make out cheaper than financing a car that comes with all of these features.
You will pay significantly less in sales tax when purchasing the car.
This is simple math here. Your financed car cost you $20,000. The sales tax rate on the vehicle purchase is 4.15%. The tax amount you pay on that financed car is $830 which is typically rolled into your car loan. So not only is the tax almost $1,000 on this financed car, but you're adding interest to it for the next 6 years.
That $830 sales tax just got multiplied a few times.
You buy a used car for $3,500 using the same sales tax rate. The tax on this car is only $145.25 as a one-time payment. Do you see the savings here? It's a no brainer.
How To Take Out a Personal Loan to Pay Off Your Car
Here's how you can use a personal loan to pay off your car, get out of your car loan and lower your debt obligations.
1. Figure out how much cash you have that can be put toward a new (used) car.
Start by doing some research on cars and coming up with the top two or three cars that you want to buy. Then start looking into how much these used cars are selling for on the market right now.
This will help you set a reasonable budget for your cash car purchase. You may find that you have to make more money to realistically achieve your goal of buying a car in straight cash.
Tap into your savings. Pick up some extra shifts at your job. Sell things around your house that you no longer have a need for. Take on some of the side hustles you hear about: DoorDash, Uber, Lyft, take online surveys, become a part-time virtual assistant, etc.
Basically, find ways to increase your funds until you have a reasonable amount of cash to buy a reliable car without financing.
2. Find out what your car is worth
Knowing how much your car is worth will give you a ballpark of how much money you might get for your car.
A good source for this is Kelley Blue Book. There, you'll put in the make, model, and year of your car, features, condition, etc. In return, you'll get a trade in value as well as a private party value. Typically, you'll get more money from selling your car to an individual than selling it to a dealership.
3. Determine how much money you still owe on the loan
You have to know how much money is left on your car loan because ideally… this is the amount you want to get for your car. Because cars depreciate so fast, chances are you'll end up owing more on the car than it's worth.
Your best bet would be to try to sell to a private party. However, most people are just looking for deals and a lot will not be willing to give you what you want for your car. It can take significantly longer trying to sell your car to a private individual.
4. Sell your car to a dealership
Carmax and Enterprise Sales are two dealerships you can sell your car to, with no strings attached. This means that you can take your car to get appraised… and walk out with an offer letter having made no commitment to buy one of their cars.
Carmax's appraisal is good for 7 days. Enterprise's appraisal is good for 7 days or 300 miles, whichever comes first.
5. Have a plan in place to sell a car you owe more on than it's worth
This is what they call being "upside down" on your car loan. Being that cars start losing their value as soon as you drive off the lot, you probably have an upside-down car too.
But here are your options to sell an upside-down car.
Selling an upside-down car
You can go to the bank where you financed your car and let them know your intentions. The bank will try to work with you and get you a personal loan. Then you can pay off the car and cover the difference between what you owe and the appraisal amount. To get the best interest rate, I recommend going to a local credit union.
Once your personal loan is approved, the bank will work with the car dealership to finalize the transaction. Once the dealership has paid its portion of the car loan and the personal loan is applied, you are free and clear of that car loan.
If Neither Of Those Are An Option For You
Hang tight.
My final options for you are to either work aggressively at paying your car loan off ASAP. Or work aggressively at paying your car loan down to its current value. You'll want to throw any and all extra money at the car loan. Your best bet might even be to temporarily get a second job, or a side hustle to bring in some extra cash.
Our Recommendation: You Should Get a Personal Loan to Pay Off Your Car Under The Following Circumstances if…
You plan to pay cash or buy a vehicle that costs less than $5,000 for your next car.
You need to sell your vehicle, and can't pay the remaining balance in cash.
You unsuccessfully tried to raise the money to pay cash, such as a side hustle and selling unused things around your house.
You plan to take your current car payment (or close to it) and apply it to the personal loan every month (to avoid paying more with the higher interest rates of a personal loan (average 14.5%) than your current interest rate of a vehicle loan (average 4.75%)
Under those circumstances, the benefits of getting a personal loan to pay off your car far outweigh any risks.
What do you want to gain from getting out of debt? And, what are you willing to do to make that happen?
P.S. If you're trying to get your budget under control and just need a step by step guide that tells you what to do and in what order, you can sign up for the 90 day Budget Bootcamp for free here (it's free for a limited time, so don't wait on that!). It walks you through every step of getting your money under control… even if you're starting from a place of utter chaos.
Ozella Stephenson is a personal finance enthusiast who is documenting her journey to becoming debt free to live a life of financial freedom. She inspires and motivates others to do the same by sharing tips and information on budgeting, saving money, making money and getting out of debt. Get our free debt payoff printable set here...