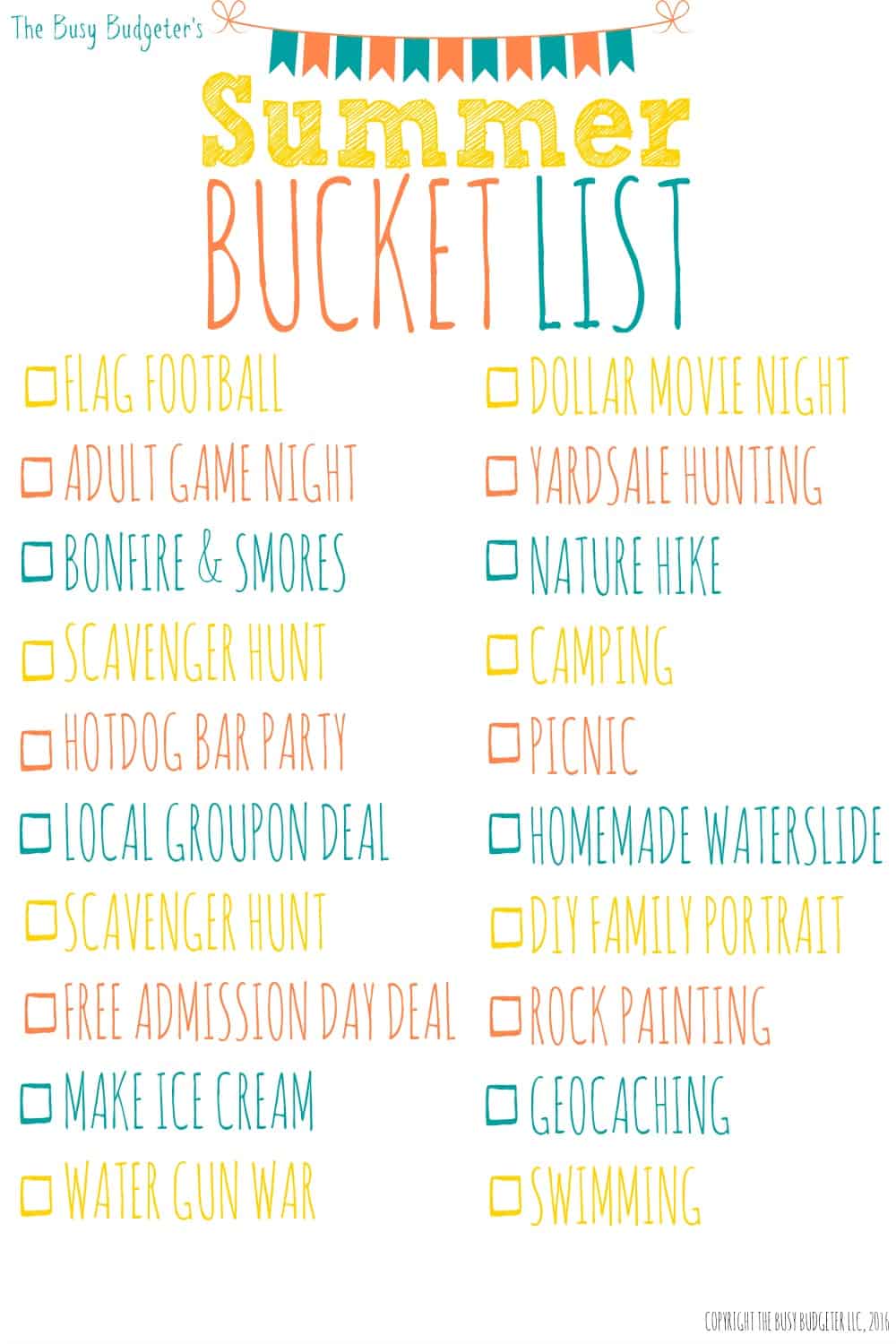 Cheap and Unique Summer Bucket List
Summer brings thoughts of warm sun, beach vacations and events around every corner. Kids are home from school and you're trying not to let the whines of "I'm bored!" have a detrimental impact on your bank account. This cheap and unique summer bucket list is the answer to your prayers.
You've given up on ideas like "read a book" or "take a walk!" You need unique but cheap ideas and budget buys to keep everyone entertained and quickly!
I know how you feel, I've been there. You want to have an amazing memorable summer and create memories with your family, but you're also struggling to pay off debt and to get ahead of your financial goals.
It seems like every time you turn around someone's inviting you out to dinner, or to the beach, or to a summer concert.
Spending less in the summer doesn't mean missing out!
If you struggle with telling people "No", I have a complete guide here to teach you the art of saying no. It explains how to tell your friends that you can't spend money without losing them. That worked so well for us, that almost all of our friends embrace the cheap entertainment and skip the expensive stuff.
Every season, I create a bucket list of things that I want to tackle for the season. I actually schedule these things in so that they actually get done. I learned a long time ago, that if we don't schedule things in, that time gets eaten up by less fun things that aren't as important to us.
Here's our cheap and unique summer bucket list this year. Feel free to print out the list and tape it to your family command center.
Dollar Matinee Movies- FREE
Summer is the best time of year for free and cheap movies! Google "free and cheap movies summer" and your location to get a list of what's available in your area. If you're in Northern Virginia with me, we have TONS of options for free summer movies. Movie theaters have several $1 or $2 options in the area, and there are even more free outdoor screenings of popular family friendly movies. We pack chairs, blankets, and snacks to go with us.
Yardsale Hunting- $10
I adore yardsales. I love finding things for just pennies or a few dollars that I would have spent a small fortune on. We've bought everything from a pottery barn chair to a $300 kids ride on train and track system at yard sales (for about 98% off retail might I add!).
It's important to me that my kids grow up trying to buy used first. Yardsaling is one of the cheapest ways that you can achieve this. If you give a kid a few dollars and bring him yardsaling with you, he'll love yardsales forever and ever. He'll be poring through batman figurines for 10 cents each for an hour while you try to drag him to the next sale. (Ask me how I know!).
Nature Walks or Hiking- FREE
We aren't huge into hiking, so we're not talking about 20 miles or anything. We usually cap it at 2 miles and aim for some gorgeous scenery. Waterfalls are my personal favorite. If you're in Northern Virginia with me, Great Falls is one of my favorite places. It's breathtaking. We pack lunch when we go.
Camping- $15
Camping is one of the cheapest vacations you can have. Most sites are $15 or less a night and all you need is a tent, a sleeping bag and a cooler. We have a super simple menu plan (hot dogs for dinner, sandwiches for lunch and donuts for breakfast,. Totally balanced and nutritious. And we have a super strict "unplugged" rule. No cell phones, laptops, or tablets. There's a ton of rummy, a homemade craps table and buckets of change, and more talking than we probably have the rest of the year combined.
Picnic at a Free Summer Concert- FREE
Picnics are actually an area of the budget that I can splurge in. Because it comes out of the grocery budget, if I plan accordingly and keep costs of the other meals that week low (thank goodness for freezer to slow cooker meals) than we can splurge with a gorgeous picnic.
My favorite is cold fried chicken, potato salad, and homemade chocolate chip cookies. We pack it up and find a good place to relax for a while. Almost every area has free summer concerts but we also head to places that we don't get to visit a lot but enjoy seeing). Pack a kickball and a frisbee for the kids.
Homemade Water Slide- $20
We used hills to do this when we were kids, but you can also put one on level ground like a slip and slide)
It's as simple as getting a giant sheet of tarp and running a water hose on top of it down a hill. They were my best memories as a kid. You can also follow these instructions to set it up Slip n' Slide style.
Start a Basic Garden- $5
Gardening can be really expensive if you're not sure what you're doing. I suggest starting with a small herb garden. Starting from seeds take a little extra time but are well worth the extra effort. Both you and the kids will learn a lot, and there's nothing like eating something that you grew yourself.
DIY Photography Sessions- FREE
I love the current trend in family photography, the outdoor professional family photo shoots. We've done a few in our past. But they're really expensive. I'm not knocking a professional photographer, they're well worth the money and the shots that they can get are amazing. But I do think it's really fun to do our own as well.
We may walk away with one or two shots that we love instead of the 40 we would get from a photographer, but we have fun and it's free. No fancy camera? You'd be shocked at how well an iPhone does for family photos. Get together with another couple or family and take turns taking photos of each other.
Rock Painting- $4
This can be silly for a kid or serious for an adult. It's one of our favorite camping activities but there's no need to wait until you go camping. All you need is some acrylic paints and small brushes. Small rocks can easily be transformed into mice or rabbits with this simple rock painting tutorial. And before you think, "What am I going to do with a pet rock?", let's remember Digipets… Seriously. That was a thing.
Geocaching – FREE
Geocaching is a real life treasure hunt. They give clues and coordinates, you go out and find the treasure. The only rule is that after you take the treasure, you have to leave another in its place. While most treasure are things like coins or tokens, it's not unheard of to find high dollar gift cards from a benevolent treasure hunter. It's completely free and a ton of fun! You can find out more about geocaching and how to start in your area here.
Swimming- FREE
Kind of a no-brainer, but we make sure we have at least one lazy beach day every summer. Even if it means we head to a local lake or a friends community pool.
Lawn Games- FREE
Invite a bunch of kids over and organize a game. If you don't have a yard big enough look for a local free or community park.
The easiest game to organize without needing to buy equipment is kickball. You just need a decent kickball (likely you have a ball in the house you can make work). We use old towels for bases. Never played before? Here's a super simple tutorial.
Game Night for Adults- FREE
Poker night or Cards Against Humanity are popular in our house (DO NOT get Cards Against Humanity if you are easily offended or playing with anyone who is).
This is my all time favorite thing to do ever, Remember when you were young and crazy and stayed up until all hours of the night with friends? This brings a little bit of that back. We head over to a friends house, put the kids to bed for a sleepover (we actually wake them up to go home when we're done but they still call it a sleepover and it means we can stay as late as we want.
The adults play board games and have a kid-free blast. If you're drinking- obviously, you'll need someone to be a designated driver unless you really want to spend the night.
Make Your Own Ice Cream- FREE
There's a tutorial here to make ice cream in a plastic bag. Super cheap ice cream and the kids love getting to make it themselves.
Bonfire and S'mores- FREE
No need for a fire pit, you can create your own by clearing out a circle and encasing it in large rocks. Add some chairs and find some sticks. Bring out the chocolate, graham crackers and marshmallows and you have a legit party.
Scavenger Hunt- FREE
This is kind of like geocaching for kids. They love finding things and crossing them off of their list, You can make them for almost every ability and location. They even have some pretty entertaining adult scavenger hunts.
Free Admission Days- FREE
Take advantage of free admission days at your local favorite places (like zoos, museums,and parks).
Follow your local events blogger (are you in Northern Virginia? Ours is Prince William County Moms) They'll keep you updated on freebies in your area so you can take advantage of them.
DIY Hotdog Bar Party- $15
This costs less than $15 and can easily be fit into your grocery budget. Grab hotdogs on sale early (aim for buy one get one deals- they freeze beautifully), buns, and toppings like relish, sauerkraut, mustard, ketchup, onions, chili and cheese. You can get everything for less than $15 for about 10 people if you shop smart (and make your own chili!).
Local Deals- $15
Keep your eye on Groupon for summer experiences under $15. Every city is different in what it brings to the table. We've found everything from zombie apocalypse games to stargazing trips on there.
Water Gun War- $15
Every person gets a water gun. Set teams. Determine a team tee color (white and black works well for this). Set boundaries. Leave two buckets of water balloons in the middle of the boundaries (i.e. hard to get to without cover) and a flag at a hidden location. The driest person at the end of a predetermined time or the person that captures the flag wins.
What's on your cheap and unique summer bucket list?