Your phone rings. It's your neighbor, Sue. She says she's "stopping by in about 15 minutes."
You hang up and look around…um, YIKES! The house is a disaster—a total HOT MESS!
Well, don't freak! I've got you covered! Here's a speed cleaning checklist to take your house from disaster to company-ready in 15-20 minutes! I've even included a handy printable to keep on the fridge. Easy! You got this.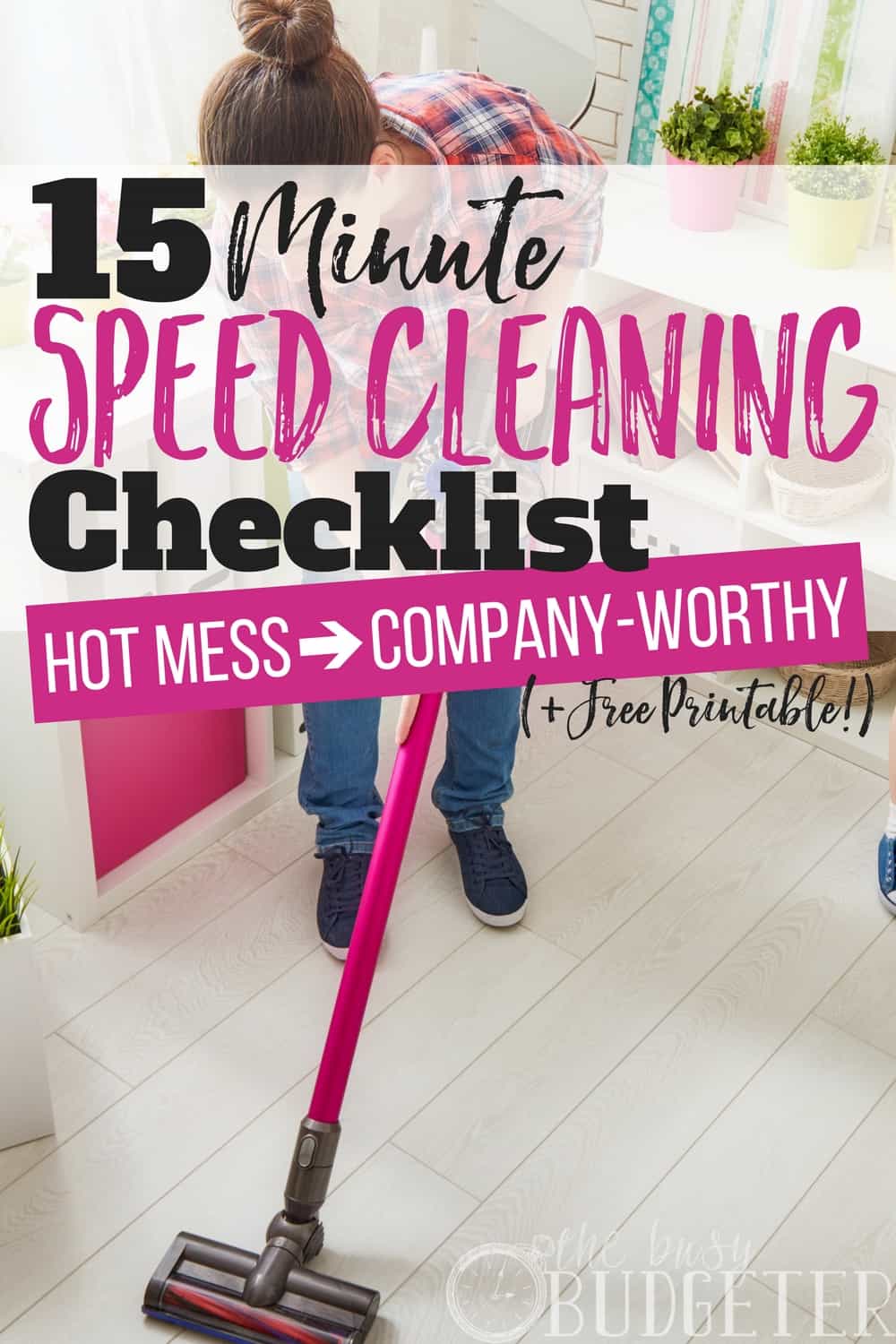 Will these quick cleaning tips get your house sparkling and ready for every situation? No. This isn't a deep clean or a total overhaul. This is a quick and (un)dirty speed cleaning checklist to get your house to presentable status FAST.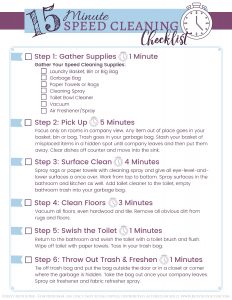 So yea. Sue's coming over! It's time to get cleaning STAT! Let's get your house under control and presentable with this 15-minute speed cleaning checklist. (Print out the printable to make the process even easier!)
Step 1: Gather Supplies (1 Minute)
In a best-case scenario, you own a free/empty laundry basket. This is the easiest and fastest method, but I realize it's not always practical. Don't dump out your clean or dirty laundry just to free up a basket (unless you're desperate). Dumping laundry will just give you another mess to clean up.
No free basket? Do you own an empty storage bin or box? If not grab the biggest bag you own—an IKEA bag works great or a big trash bag. Bags are a little harder to work with but you can make do. You'll need one bag for picking up and a bag for garbage.
You're also going to need a rag or paper towels, cleaning spray, toilet bowl cleaner and a vacuum. If you don't own a vacuum, a broom will work but sweeping takes more time. You may also want to grab your air freshener/Febreze.
Supplies:
Laundry Basket, Bin or Big Bag
Garbage Bag
Paper Towels or Rags
Cleaning Spray
Toilet Bowl Cleaner
Vacuum
Air Freshener/Spray

Step 2: Pick Up (5 Minutes)
Now, run around your living room entryway area (any parts visible to company) and put everything out of place in the bag. Don't stress about where the items should go or what you need to do with them; after Sue leaves you're going to put everything in this bag in the right place. For now, get it all up and off the floor. Put any trash in the trash bag.
Hit the living room, entryway and the bathroom closest to the door (in case Sue needs to use the facilities). Put anything out of place in the basket/bin and any garbage in the trash bag.
If you have time, hit the kitchen as well, especially if the kitchen's visible from the living room. Stash the basket of items to put away in your bedroom, a closet or another hidden area. Keep the garbage bag with you for now.
Step 3: Surface Clean (4 Minutes)
Next, you're going to spray the cloth or paper towels and do a very quick surface clean and simultaneous "straighten up." This isn't the time to go through every DVD or video game and match them to the case. It's not the time to organize your books or other items. Just push everything in a home.
As you straighten, wipe the damp cloth over the surfaces. Start on the highest surfaces and work down. Move fast. Skim surfaces to ensure they aren't super dusty. Don't bother with surfaces above eye level.
When you get to the bathroom, spray the countertop, the sink, and the toilet seat. Squirt toilet bowl cleaner in the toilet (don't flush yet).
Wipe down the counter top and the sink. Wipe off the fixtures. If the mirror is dirty, use the spray to remove any visible gunk and dry the mirror off (it might be streaky but at least it won't be gross).
Check your toilet paper and ensure there's a clean hand towel. Toss your paper towels in your garbage bag and empty the bathroom wastepaper basket in there, if needed.
In the kitchen, spray off the countertop and quickly wipe it down. If there are dishes on the counter, move every dirty dish to the sink. Spray off the stovetop and any other visible surfaces. Again, don't waste time with areas that need extra attention. Give the room a cursory once-over.
Step 4: Floors (3 Minutes)
Next grab your vacuum and quickly run over the entryway, the living room, the bathroom floor and the kitchen floor, if needed. Don't worry about corners or the baseboards. You are simply removing any visible dirt.
Even if your floors are wood, tile or laminate, run the vacuum in every room. Swiffer or wet mop cleaning takes too long if you're in a rush. A vacuum will pick up any obvious debris and you can get the rest later.
Step 5: Toilet (1 minute)
Now, go back to the bathroom and quickly swish the toilet with the brush. Flush and return the brush to the holder. Use a paper towel to go once around the rim and back of the toilet. This should remove most of the "ick" factor from the toilet.
Step 6: Throw Out Trash & Freshen (1 Minute)
Tie off the garbage bag and place it in the garbage bin, outside the backdoor, or in a closet or corner.
Grab your room spray and give the air a spritz. If you own Febreze or a fabric refresher, spray the couch. Then fluff the cushions and straighten up.
15 Minutes Are Up! If You Still Have Time…
Step 7: Get Rid of Dishes (3 Minutes)
If your doorbell hasn't rung yet, I want you to go to your kitchen and check out the sink situation. If the dishwasher is full of clean dishes, empty it as quickly as possible.
Put the dishes in the sink into the dishwasher. Hopefully you'll fit every item in there. If your dishwasher's not particularly loud, you can even start it. Since you didn't pre-rinse, clean on the pots & pans setting. If you'd prefer, start the dishwasher after your visitor leaves.
Going Forward:
Speed cleaning your house is a little stressful. But having a clean house will be worth it when you aren't embarrassed when company comes over. You can run through this speed cleaning checklist every time, of course, but what about when company (surprise!) stops by? Wouldn't you love to feel this way all the time?
I want you to take 10-15 minutes a day to speed clean your house. You don't need to do the floors or clean the toilet every day, but take time to run through your house and pick up. Change the dishes in the dishwasher. Do a load of laundry each day.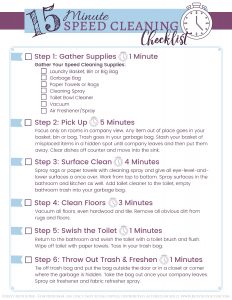 These little steps will help you always feel great about your clean house when a visitor stops by. You will feel more relaxed and calmer, because let's face it—it's stressful to live in a state of perpetual chaos. When your house is clean, you'll want to spend more time there. You'll spend less money because you won't go out to avoid home. You'll be able to eat at home because your kitchen is cleaner.
So hey, now that you're a speed cleaning pro, when you have more time, I want you to start thinking about how you can implement a weekly cleaning routine to help you keep up with house cleaning basics. Simply keeping up on dishes and never falling behind on laundry makes a HUGE difference in the state of your house.
If you feel overwhelmed and as though you can't keep up with it all, it's time for changes. Ask yourself if you simply own too much STUFF to keep up with. Could organizing and paring down a little help you stay more on top of your cleaning?
It's amazing what a difference downsizing makes. I used to carry around a ginormous purse. Every time I needed to find keys or a pen, I'd go slogging through this big bag of unnecessary crap I was carrying around with me. I asked myself—how do guys do it? Literally, they leave the house with keys, a wallet and maybe Chapstick. That's it.
I ditched my purse and went "guy style" with just a tiny wristlet/wallet. Not having a purse was a total game-changer! I realized carrying a big bag around wasn't helping me achieve more. The big purse wasn't helping me be prepared. In fact, I was often unprepared anyway because I couldn't freakin' find anything in my giant purse. Once I simplified, being organized was easy!
Same goes for your house. Simplify!
Apply these rules to your weekly housekeeping routine:
Simplify and pare down
Keep up on dishes
Keep up on laundry
Spend 15-20 minutes a day surface cleaning & 1-2 hours a week deep cleaning
If you apply these four rules, your house will never be a disaster zone again. You won't even need quick housecleaning tips.
Your house doesn't need to be perfect, but taking steps each day off this speed cleaning checklist will help you keep up. What are your favorite quick cleaning tips? What do you do when you've got to clean up in 15 minutes or less?