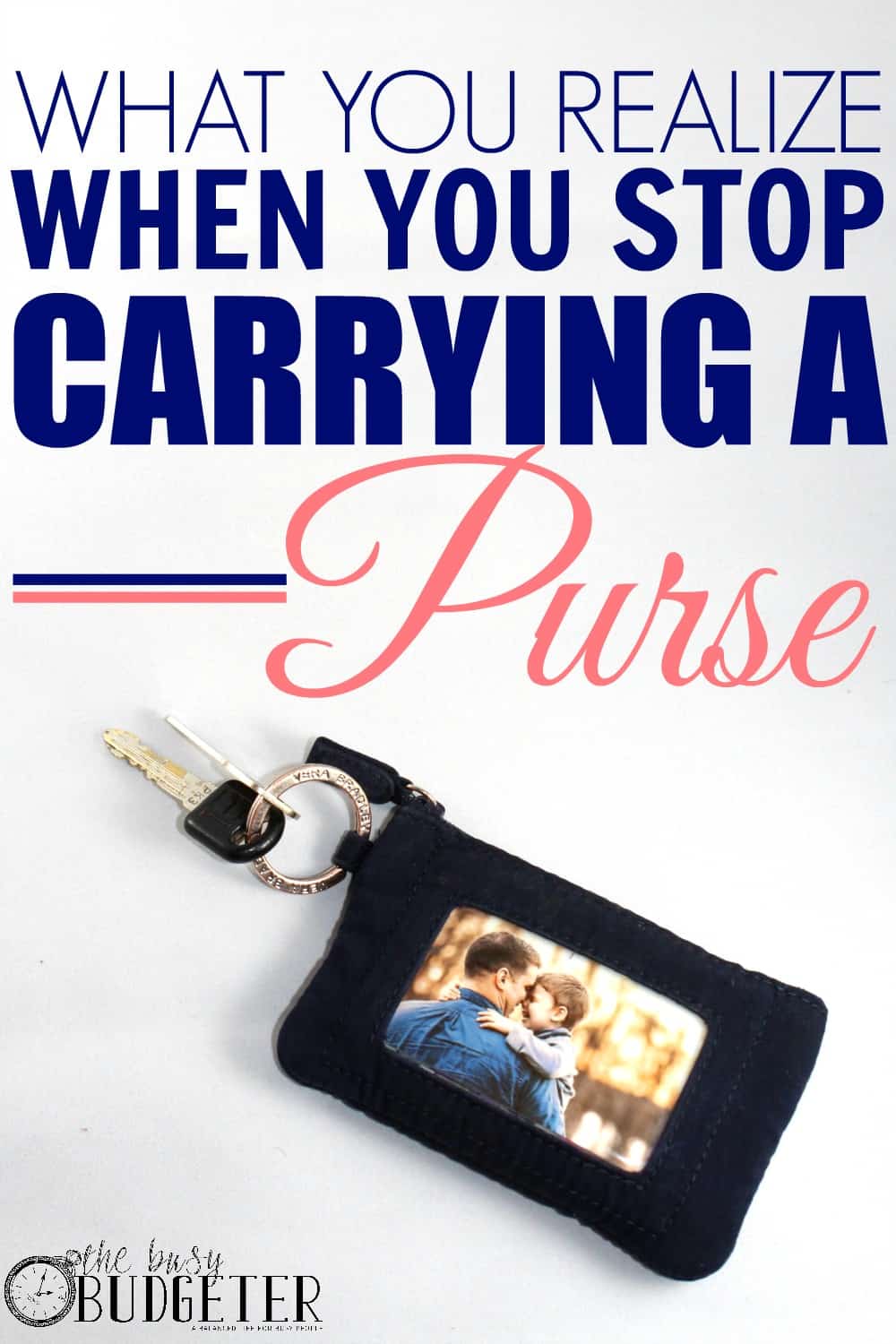 4 Things That Happen When You Stop Lugging Around a Purse
I'm on a mission to spread the word about one little change that had a huge impact on my life. I stopped carrying a purse around.
I know, I know. You think I'm nuts.
Hear me out.
I used to be normal. I had a love of Vera Bradley bags and Coach shoulder bags. I organized them and cleaned them and exclaimed "This old thing?" when people admired them.
However, I also stuffed them full of receipts and napkins (and if we're being totally honest here, mayonnaise packets from Chick-fil-A) and so much stuff that I couldn't actually find anything in it.
In what can only be a case of divine intervention my husband bought me this Vera Bradley wallet keychain. It's a slim debit card sized wallet on a key chain. You have enough room in there to fit about 20 cards and some cash.
In the beginning, I used it to make my husband happy but still lugged my purse and wallet around. I was so sure that I couldn't live without my purse.
Then slowly, I started thinking "Do I really need my whole purse?" and then just leaving it in the car as I just brought my keys.
Eventually, I realized that I always left my purse in the car and stopped bringing it with me out of the house.
And I never looked back.
Instead of missing my purse, what I experienced was bliss.
There are four things that happen when you stop carrying a purse everyday.
You realize that you've been lugging around a bag of trash for 10 years.
Receipts, old mail, candy wrappers, and the kids snack wrappers. You name it. It's embarassing how much junk we carry around in a purse every day.
You actually don't need 3 lip glosses, an eyebrow kit, a thumb drive, 5 spare diapers, wipes, binder clips, a bottle of water, moisurizer, sunscreen, a book, a journal and 8 pens to go to Target.
I wish I could say I made all of those things up. Unfortunately, they're still sitting in my unused purse in the closet.
Everything is easier when you aren't trying to keep your shoulder bag on your shoulder all the time.
Especially simultaneously trying to open the car door and hold your tantruming one-year-old. You never realize how ridiculous it is to carry around a bag for no purpose until you see how easy it is to live without one.
You're no longer your husband's pack horse.
How many times has your husband asked you to stick things in your purse? For me, it was like every time we went anywhere together. Which means, I'm not just lugging around my own 10 pound back of trash and pens, but his too.
You feel like someone lifted a 10 pound weight off your shoulders (because they literally did!).
The neck and upper back pain that I've had for years suddenly disappeared. Now, there's a proper way to carry a handbag that won't cause damage but if you're desperate enough to use this 9 step system to carry your bag without nerve damage from Prevention Magazine, you should just skip the bag and thank me later.
All in all, I realized that my purse days are over.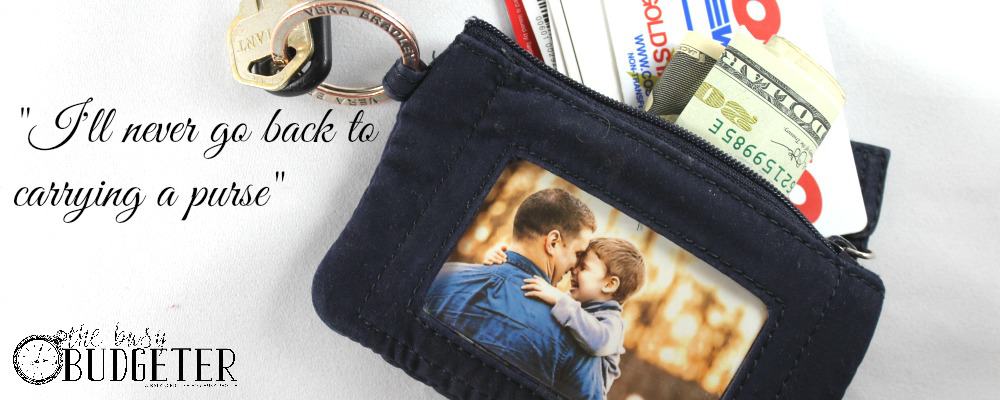 There are a few questions I get when I tell people about this system… So I thought I'd be proactive and address them here.
How do I buy one of these?
The easiest way is through Amazon. You can find tons of wallet keychains here. My favorites are from Vera Bradley. If you have a company you love the patterns or prints of then check with them directly… many companies started making these, including Coach. Vera Bradley is my favorite because they hold up well, are priced low and have a little more room than the leather ones. You can get them here.
What about feminine products?
You can fit one in the wallet for emergencies. It would fit in the bottom, underneath your cards.
What about chapstick?
They actually make a cute little key chain holder for that too (he got me one of these the next Christmas but over time I realized that I didn't need that either). You can find them here. If you don't plan on carrying an emergency feminine product, then you can fit one lipgloss or a chapstick in the wallet instead. Technically, you could fit both, but it would look clunky.
What about diapers and wipes?
We use a two-step system. For most things, we just leave them in the car. If we need to change a diaper, we just go out to the car to do that. In cases where we'll be gone a while, we make our 3-year-old carry a "diaper bag" for the baby (I know… I'm a terrible mom). We got a kids backpack for a spare change of clothes for both kids, snacks, and a few diapers and wipes for his sister) and he carries the book bag around for longer trips like the zoo or the park.
I would bet that if you tried this out a while, you'd never go back. Plus, the keychain wallet fits right in your back pocket to make life even easier.
What's the most ridiculous thing in your handbag?
FTC Disclosure of Material Connection: In order for us to maintain this website, some of the links in the post above may be affiliate links. Regardless, we only recommend products or services we use personally and/or believe will add value to readers.