This is a review of the Living Well Planner, from someone who is obsessed with the Erin Condren Life Planner. This is a detailed review which may bore you to tears if you aren't into Life Planners. (Fair warning… I geek out over planners!)
Update: 4/5/20 You asked for it and I'm delivering! Starting NOW, you can grab the Trashed to Total Home Transformation Survival Guide (Pandemic Edition) For FREE!
It teaches you step by step how to work with your personality to not only set up home routines that will work (no matter how many times you've failed in the past), but that you'll stick to… long after the pandemic is over.
We've taught hundreds of thousands of people how to use bare minimum consistent effort to completely transform their home (and life!). You're up next.
You can get your Survival Guide here for FREE…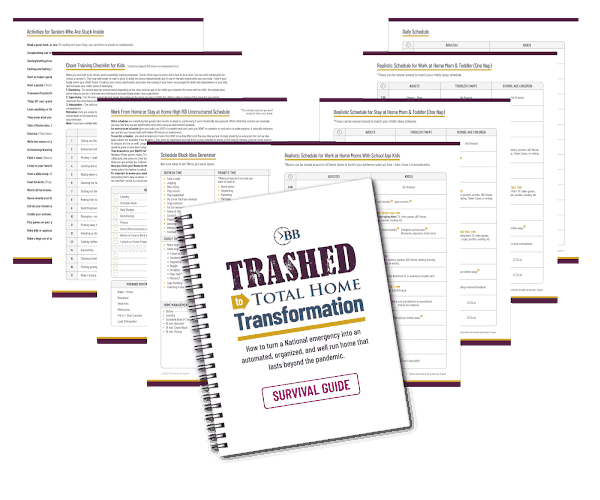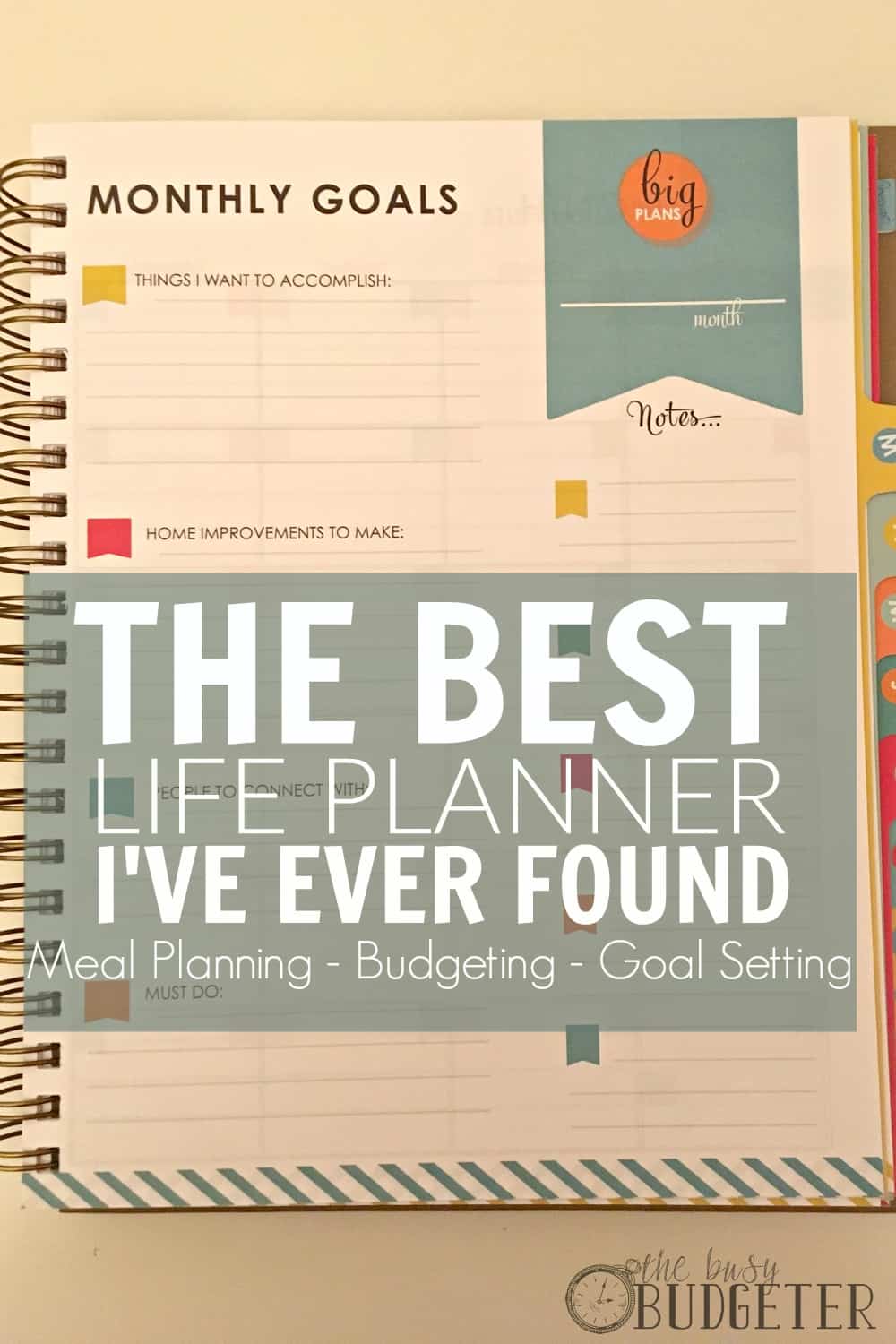 No time to read about the life planner? Here's the Cliff Notes version:
I was a long time fan of the Erin Condren Life Planner when I found out about the Living Well Planner. The Living Well Planner is AMAZING and beats the Erin Condren Life Planner by far! The Living Well Life Planner has sections for meal planning, budgeting, your daily, weekly, and monthly schedule as well as goal setting. You can buy it here or read every single detail of the planner below…
**Heads Up: This Post has been updated so it now shows the 2017 version of Living Well Life Planner which is currently in stock (fair warning- they sold out RIDICULOUSLY early last year…)**
Still AMAZING and still geeking out over it…This is the longest I've ever used the same planner (going on year two!), which as any planner nerd can tell you is unheard of. I usually get Planner regret long before this point.
Need step-by-step instructions for organizing your schedule? Check out our FREE Home Rescue Challenge here…
Now let's get into the details…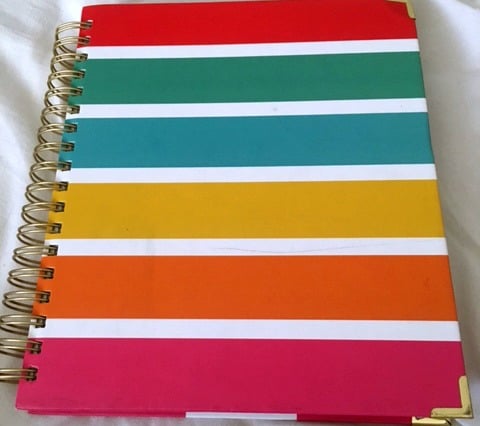 I'm planner obsessed. I lusted after an Erin Condren life planner for two years before I broke down and purchased it. (I'm also cheap to a fault).
The Erin Condren Life Planner was beautiful and I loved the stickers… but I think "life planner" is a stretch. It doesn't have budgeting, or designated meal planning, or even goal setting. I even created my own DIY "Life Planner" that was more of a life planner for $5 (it even had freezer cooking sheets!) while I patiently waited until I could buy an Erin Condren.
Then Ruth Soukup of Living Well Spending Less announced that she was creating a life planner and I was all ears. I've followed Living Well Spending Less (Ruth's Blog) for a while now and know her well enough to know she puts her heart and soul into her products.
I was positive that her life planner would have the beauty of an Erin Condren but actually have sections on budgeting and meal planning (which is essential for a life planner in my opinion).
I was so right!
Of course- I can tell you right now that you have to know how to use a planner (the right way) if you expect to use it consistently long term. So often, I see people buy a planner and then abandon it because they don't understand how to use a planner in a way that saves you time (instead of being another routine you need to keep up). If you think that may be you- I step out a fool proof planner system here (that works with any planner).
Let's walk through it shall we?
Life Planner Style:
It's gorgeous. The colors are motivating and energizing. As soon as I open it, I just want to accomplish things.
I'm including tons of pictures so you can see for yourself.
General Set Up:
Unlike every other calendar I've ever used, it doesn't have sections. Meaning, it doesn't have a meal planning section, a goal setting section, and a budgeting section. Everything is organized by month. This makes it so much easier to actually use. It isn't a hassle to enter or retrieve information.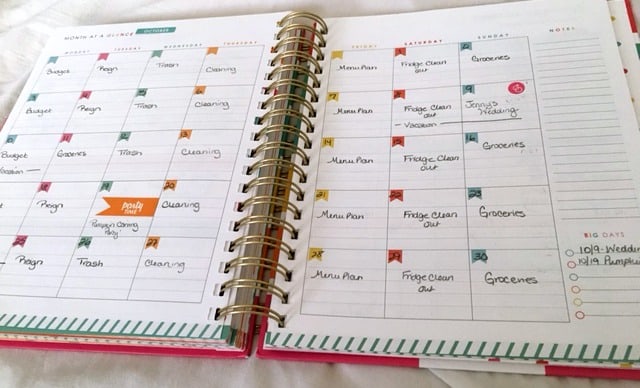 Let me explain how it's set up:
Each month has…
A motivational quote on a sturdy cardboard divider
A monthly goal planning sheet
A monthly calendar overview and note strip
A two-page monthly budget
A two-page spread of a weekly planning sheet and a menu planning sheet with shopping list (there are five of these so there's enough for a whole month)
A monthly expense tracker with about 60 lines (My best guess. Sorry guys, I don't have the patience to count all of that)
A "Thoughts and Thanks" page with notable moments and a "Don't Forget" section
A page of "Notes and Ideas"
At the very end of the planner, it has a cleaning system checklist.
You can see more photos of the Living Well Planner here.
Heads up! If you're struggling with meal planning, cleaning routines and home routines the FREE Home Rescue Challenge was made for you!)
How I use The Living Well Planner as a Life Planner:
Notes and Ideas:
For December, it has my Christmas budget and gift guide. For January, it has my step by step tasks that I need to take to get ready for taxes. For March, I plan to write in my "moving task list" as we get ready to move.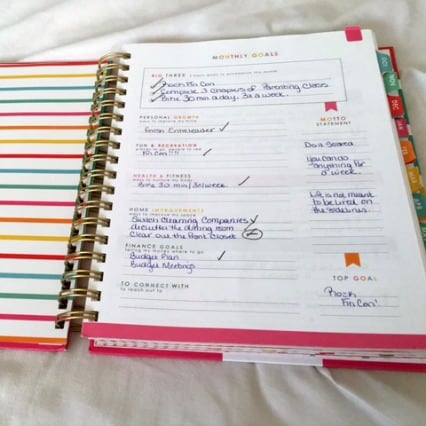 Month in review:
This is a section with a monthly calendar. There are probably a million different ways to use this. I just do a quick snapshot of the month. I fill in things like holidays, big events, trips, house guests etc. I also do my batching here. So each day of the week is assigned to a task and that's my basic goal for that day.
Batching helps me get the basics tackled every week easily.
Goals:
I'm huge into goal planning. With a goal planning page every month, this lets me focus my energy on a few things at a time. I set my goals based on the categories that she lists. I make general goals, home improvements, and (my favorite) "people to connect with".
I always choose SMART goals. Then I make sure that under the people to connect with, I write not only the person but how I want to connect with them (date night with Jon or a fishing trip with my toddler). When I fill in my weekly tasks, I head to this page first to pick a few goals to work on during the week.
WARNING: If you buy this planner and DON'T do the online goal crushing course that comes with it, you're missing out big time. This isn't just a planner it's a system that WORKS to complete your goals.
I can't stress that enough. If you buy the planner… you'll like it… it's a solid planner. But if you actually apply yourself and take the free online class that comes with it you'll be a raving fan like me and will likely stop buying the next new planner (hahaha… never though I'd say that!).
Budgeting:
The budget sheets are what really set this planner apart from the rest. Having a well-executed budgeting worksheet directly at the start of the month is exactly why I made the switch from Erin Condren.
This is what makes this a life planner and sets it apart from a normal planner.
Your monthly budget is broken down into 8 major categories and 47 sub categories.
I usually hate worksheets that determine the categories for you because they always leave out categories that I have and I find it's just more annoying than helpful. You can clearly see that her background is in budgeting and saving money because she did a fantastic job on this! The categories worked great for me. I still track my budget online, but I love having the written budget here first, and then using the apps to track it.

Weekly Schedule:
The weekly planning blocks are pretty spacious and laid out in vertical blocks. It's written in hourly format, which I thought I would hate (I blog full-time now and hardly need hourly appointments), but I ended up loving. It's addictive to time block my day like that.
It has a column that runs through the week as well with "Must Do's", which is where I write things that are firm and can't be changed, things like doctors appointments etc. I add a check mark to the lower right section when I complete the daily load of laundry (this makes it so I never get behind).
I also kept my routine of using Erin Condren stickers to block off a "rest day each week". The sticker covers the "Must Do" area and that's my signal to stop trying to be productive and to just enjoy life. I take the kids to the park or read a book. Life isn't always about efficiency!
I also kept my Erin Condren picture stickers. For $5 for a whole sheet, they motivate me to use the planner. And I adore looking at the faces of my favorite people when I make plans with them.
You can see more sections of the Living Well Planner here..
Meal Planning:
The meal planning sections are spacious, gorgeous, and easy to use. I love the lay out of these. There's enough room to plan breakfast, lunch, dinner and even snack. Kind of a small thing, but it makes a big difference.
This means that I'm glancing at my meal plan several times a day as I look at my planner. Which means, I'm noticing that something needs to be thawed or prepped ahead of time, and I'm much less likely to forget something.
They have a shopping list to the right of the meal plan which I originally didn't think I would use. I usually don't pull my planner out in the grocery store. For the sake of giving a full review, I started doing just that and then kept doing it. It works just fine; I added a pen loop (also from Erin Condren), so I know I'll have a pen available. I just put a check mark on items when I put them in the cart.
I will say that I felt unusually "put together" in the store with this. I started dressing up to go to Wegmans instead of wearing yoga pants, running shoes and an over-sized sweater. I felt like if I didn't dress up, I was dragging my fancy planner down with me.
Other things you should know…
Cover and Back: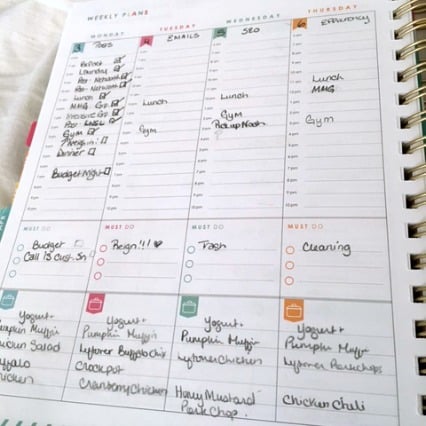 The front and back covers of this planner are very thick, sturdy cardboard. If you're artistic, you could do some seriously amazing things with this cover! I have ZERO creativity- seriously, like none. I stick to the bright color scheme that comes with it.
But someone is going to totally modge podge this cover into something insanely awesome… I just know it.
Quality:
It's exceeded all of my expectations (which were pretty high since I'm not a first-time purchaser of Ruth's products). The paper is thick and the colors are bright. The spiral bounding is amazing. None of my papers are ripping, even with heavy use. The spiral middle is just as strong as my old Erin Condren (which is a pet peeve of mine with planners- when the spiral fails and the papers fall out.)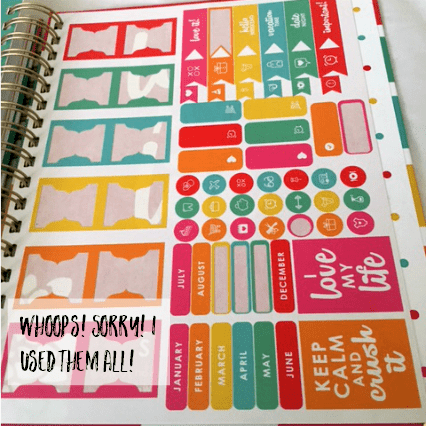 How to hack it:
The Living Well Planner comes with stickers (see above) and they also have sticky planning sheets that you can use with your planner that I love!
But, you can still use Erin Condren stickers! This beat my Erin Condren life planner out in an instant. It wasn't even close. The only thing that came out on top with Erin Condren was her stickers, accessories, and the personalized cover. So I kept the Erin Condren stickers and pen loop and started using them in this life planner. I added my Erin Condren life planner cover to the first page of the planner as an inspirational photo. The stickers and pen loop are worth it ($5 and $2.50 in that order), I think the cover is too expensive on its own (I would just Modge Podge a photo to the front).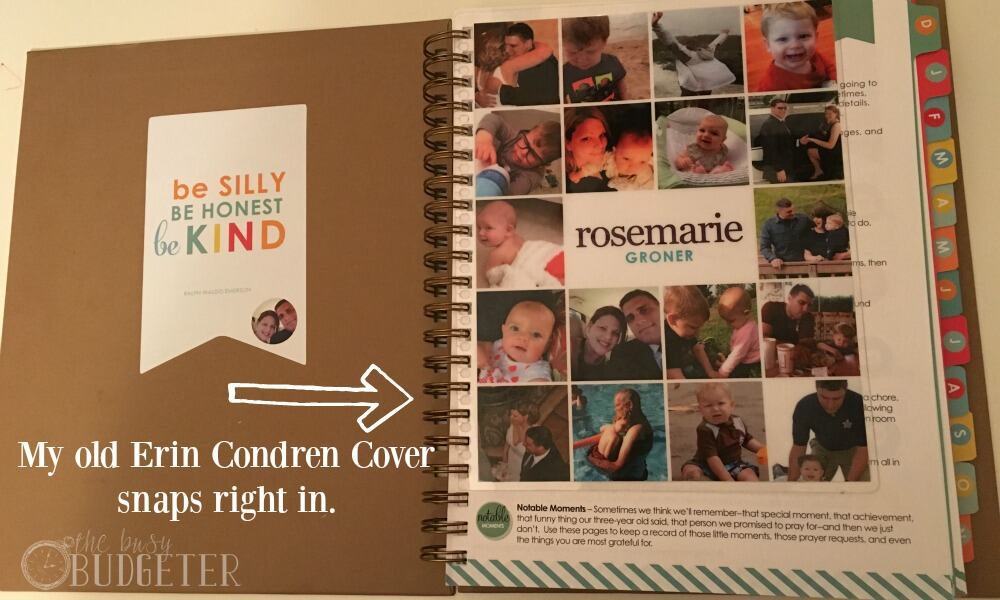 What it's missing:
Work-outs! We can't have everything can we? I'm totally not complaining, this planner exceeded all of my expectations, but I would love to see a one-page monthly work-out tracker in future editions of this planner. The other thing I would love to see is a habit tracker. Habit trackers are the little bubbles that you fill out when you do something for the day- you commonly see them to track water consumption.
Pro Planner Tip
I used to exclusively write in planners with pencil (we even had a giant old school sharpener on every level of our house) because I loved being able to easily erase and I thought erasable pens sucked until a blogger friend told me about Frixion erasable gel pens. MIND BLOWN.


Frixion makes colored pens, markers, and highlighters that erase perfectly (no smudges- it's like magic), I have trouble finding them locally so I get mine from Amazon (you can get them here). I've converted pretty much everyone I know. 🙂
Overall, what's the verdict?
It's the best life planner I've ever used. It's well designed, extremely high quality, well thought out and you can tell instantly that she didn't add things "to look impressive". Everything that made it into the life planner was put there for a purpose. It's built to make you more efficient without drowning you in details.
Here's the kicker. It's either super expensive or super cheap depending on what you're used to. If you're an Erin Condren life planner fan like me (former Erin Condren fan?), then this will seem like a bargain at $49. If you've never bought anything but the $10 planners at Walmart than I can totally see you gasping at that price. I feel your pain.
It is a lot of money, but I think it's actually under-priced for what it does, especially considering the price of comparable planners.
You can buy The Living Well Planner here.
I love it, I think you'll love it.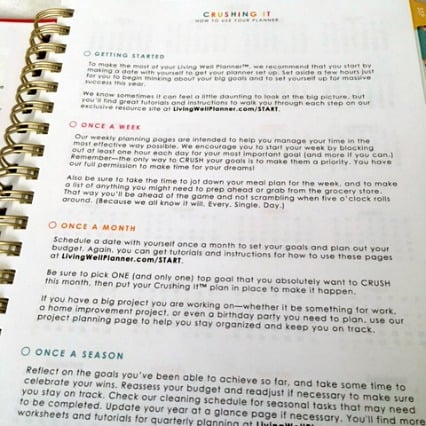 If you have the money budgeted and you want to ramp up efficiency- take the plunge. You won't be disappointed. On the other hand, if you can't afford this right now, understand that a planner is a tool… you're perfectly capable of tackling this stuff in a $10 planner if you're dedicated to it.
You can buy the Living Well Planner here.
You can buy Erin Condren accessories here. (Use this link to get $10 off your first purchase!)
What's the best life planner you've found?
Update: Are you struggling with chronic disorganization? I know exactly how you feel… 3 years ago I was a mess. I spent tons of money on groceries only to end up at the drive-thru. I've learned something since then… the key to change is keeping it super simple.
If you're ready to finally get this under control, you can sign up for our FREE Home Rescue Challenge and we'll walk you through the 3 simple routines that will change everything about the way you manage your home routines.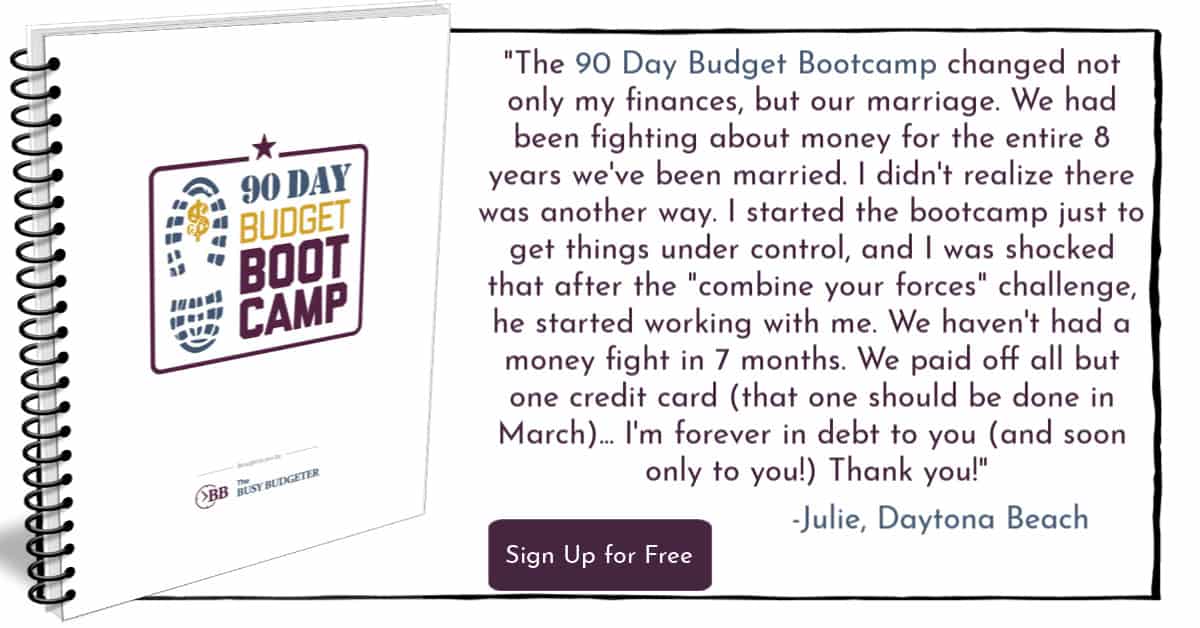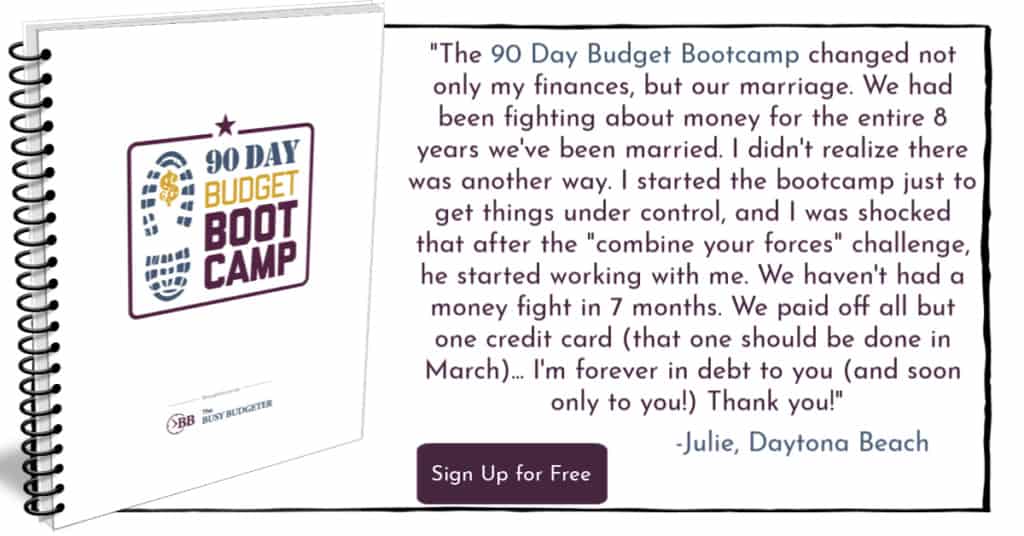 I received a free Living Well Planner with no strings attached. I also received a free Erin Condren Planner with no strings attached. So everyone was on the same page. 🙂 Erin Condren has a referral program and by making a purchase through the above link, I'll get store credit to use to fuel my sticker obsession. (For which I thank you profusely!) Update: Yay! Living Well now has an affiliate program, so the above links are now affiliate links and I'll get compensation for both. Blogging rocks! 🙂