Do you dream of a Pinterest-pretty home office? Not only a stylish home office, but one where you feel motivated, focused and ready to get 'er done?
Well, it IS possible and even easy to implement awesome home office ideas on a budget. A motivating workspace is vital to staying productive and avoiding distractions, whether you're blogging, earning money from home, or taking care of your home bills and budget.
If you need office inspiration, let me walk you through 8 awesome home office ideas on a budget! (Plus, you'll get a peek at MY home office, which I LOVE.)
Update: 4/5/20 You asked for it and I'm delivering! Starting NOW, you can grab the Trashed to Total Home Transformation Survival Guide (Pandemic Edition) For FREE!
It teaches you step by step how to work with your personality to not only set up home routines that will work (no matter how many times you've failed in the past), but that you'll stick to… long after the pandemic is over.
We've taught hundreds of thousands of people how to use bare minimum consistent effort to completely transform their home (and life!). You're up next.
You can get your Survival Guide here for FREE…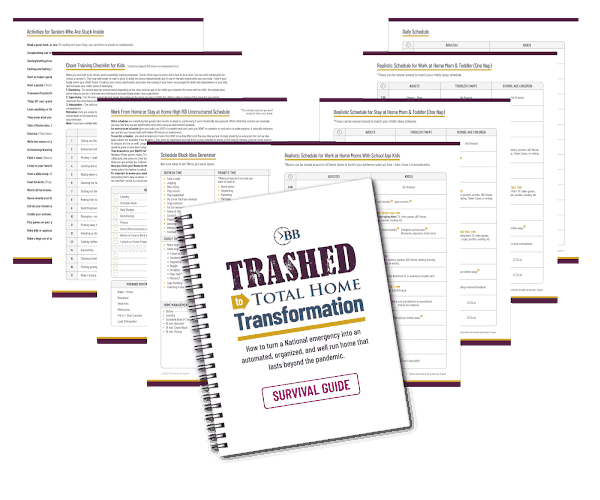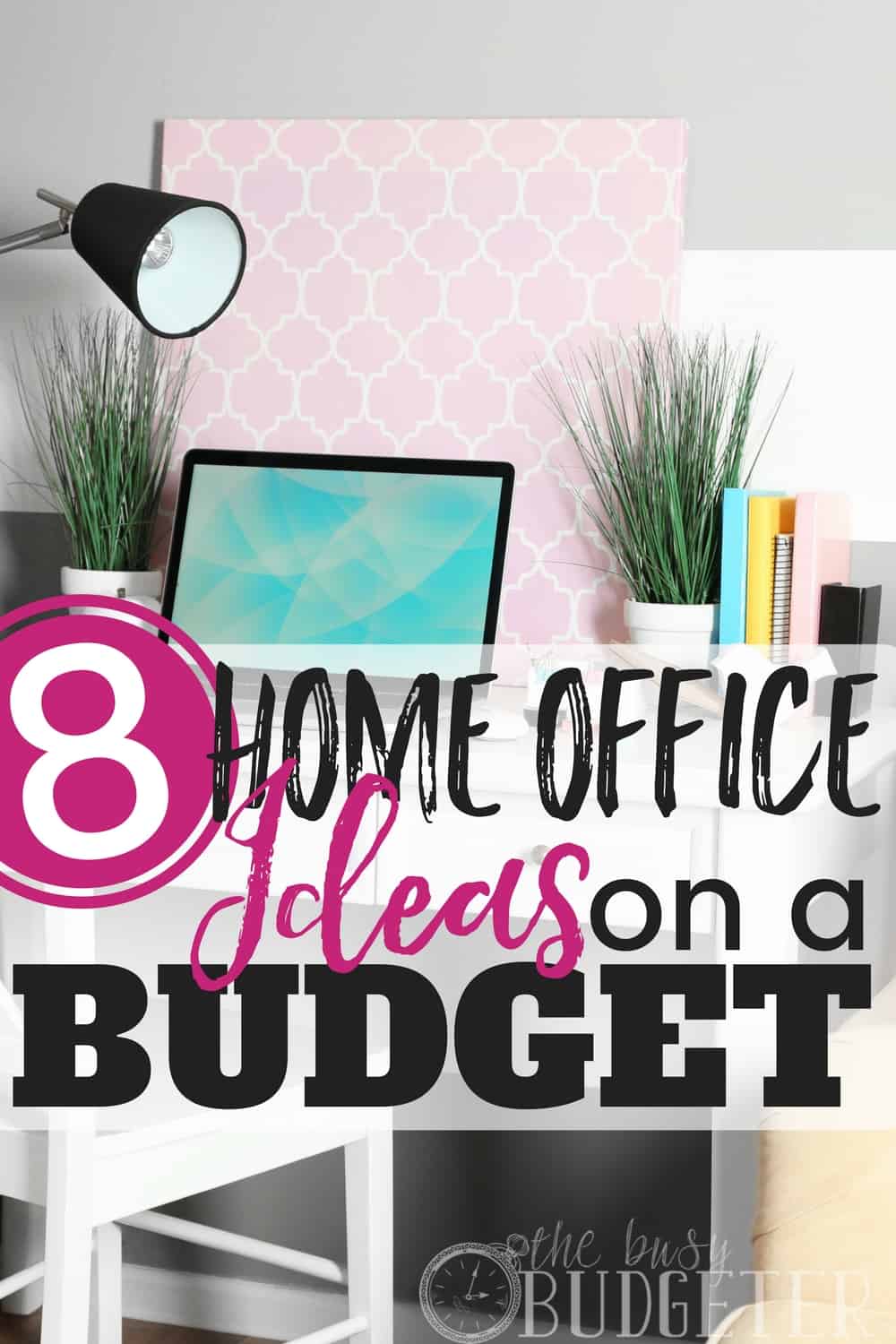 To stay motivated and inspired in your home office, you need a space to call your own. Run a quick search on Pinterest and there are TONS of cute office ideas, but it's hard to do a total home office makeover if your budget's tight.
Here's the deal, cute office ideas doesn't mean you need to spend a lot. Look through your Pinterest boards and gather pins of the office makeovers you've been daydreaming about.
I want you to think about what motivates you? Do you need a good time management system? Are you a calendar person? A list maker? Someone who needs an organized space free of distractions? What will help YOU feel inspired to achieve more?
Some of us can work anywhere. If I've got my laptop and a comfy chair, I'm set. I know a mobile office doesn't work for everyone, though. You need to think about your "day job" office—what helps you work there? If you work from home already, think back to your school days and ask the same question: what sort of space did you need to buckle down and study?
Once you've uncovered your office inspiration, you'll know which of these home office ideas on a budget will fit your work style. Pick the best-fitting ideas to implement first and you'll ROCK office productivity in no time! Love your work with these home office ideas on a budget.
8 Home Office Ideas on a Budget
1. Pick a Space, Thrift and Repurpose to Furnish
One of the best home office makeover tips is to thrift and repurpose. Across the board, this tip helps everyone, regardless of your work style and preferences. Pick a space—a corner of your guestroom, a spot in your living room, or a kitchen nook, and own it.
You don't need to go out to Staples or Target right away and buy every cute office decoration to adorn your space. Instead, seek out items you already have on hand. Can you cover a few boxes with printed paper or washi tape? Could you use jars to organize pens and pencils?
After you've repurposed what you already own, visit thrift shops and check Craigslist for furniture and larger items you might need. Look for furniture based on scale—brighten ugly wood with a coat of paint or cover dings and nicks up with a piece of fabric. Use a table as a makeshift desk and repurpose a kitchen chair if you need to create your space.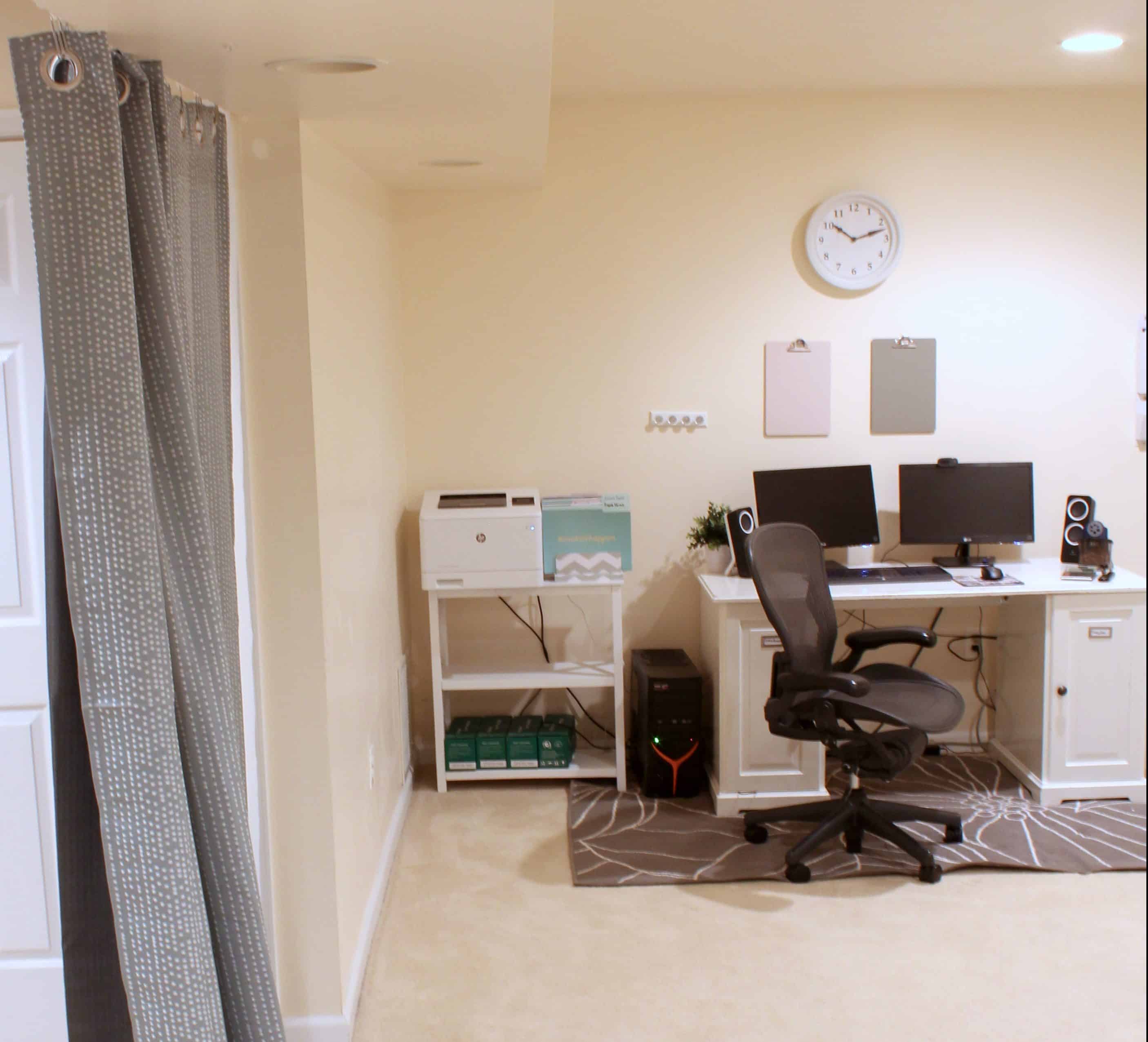 In my office, as you can see here, I've done all sorts of thrifting and repurposing. My computer desk was a Craigslist freebie. For the room-dividing curtains we got some super cheap runners from IKEA (one of my favorite secret squirrel spots for cheap, nice office décor). We purchased fabric, but you could easily thrift some to make inexpensive curtains. Other items I've repurposed from around my house or scored them on the cheap from IKEA and during sales.
2. Look for Bargain Wall Decor
Are there phrases or quotes you find inspiring or motivating? Print out a few drawings or quotes to dress up your space. IKEA and dollar stores offer great frames for super cheap. Printing and framing your own art is much less expensive than buying prints in the store. Adding art instantly upgrades your office; it's one of the best home office ideas on a budget.
Calendars are also great, because they offer the advantage of extra artwork to dress up your space along with a useful planning tool. Even if you use an electronic calendar or scheduling program, a pretty wall calendar will really spruce up your space and give you a visual reference to stay on track.
Of course, if you have kiddos, using their art to decorate the space will help you literally keep your eye on the prize. You'll see a constant reminder of WHY you want to work at home! You'll be even more motivated to write your blog or earn your extra income stream so you're able to spend more time with your little ones.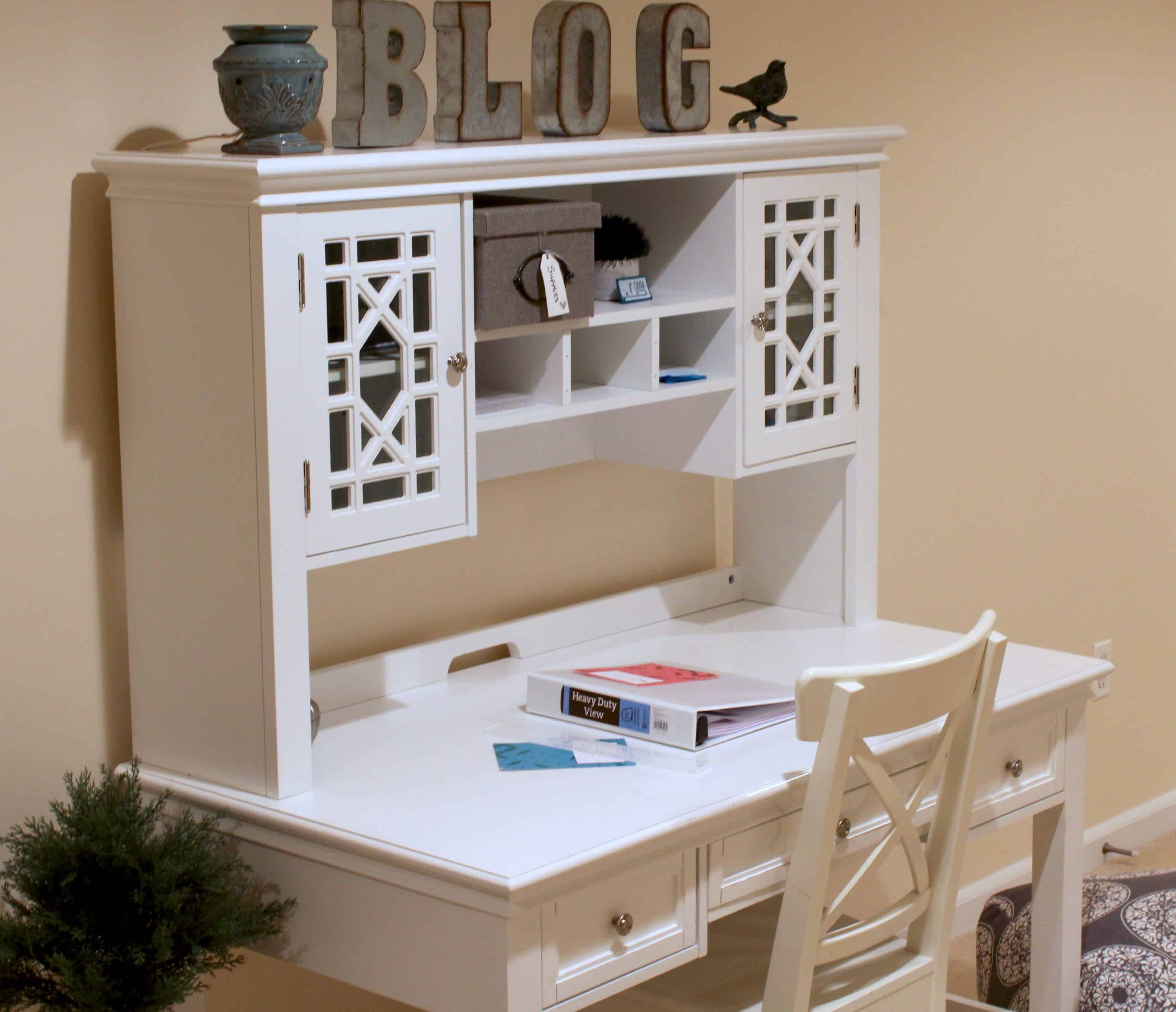 Above my writing desk, I've got a bunch of cute visual decorations to help me feel both inspired and happy. Above my computer desk, I use clipboards and a whiteboard. Because blogging is such a planning-intensive job, I really like the dry erase boards to map things out. I keep all my important papers on my clipboards—my goals, my biz info, my income per subscriber, important numbers and blog stats. They might not be traditional "art" but it's how I keep my walls and space working for me.
3. Get Some Exercise
Totally awesome home office idea: use a yoga stability ball as your office chair! You can buy fancy bases for them (with wheels and a back) if you find extra money in your home office budget. When you first start out, though, a simple yoga ball's all you need.
I love working on a yoga ball. It's super comfortable and helps your posture and back pain. Supposedly sitting on the yoga ball also helps build your ab muscles, but the jury's still out on THAT feature.
Yoga balls also help you focus if you find sitting still difficult for longer periods. Adding a little bounce to your chair helps you feel awake and motivated, particularly if you tend to fidget. Watch your thrift store travels for a stability ball or pick one up for about $20-30 new (cheaper and more fun than a regular office chair). Wee!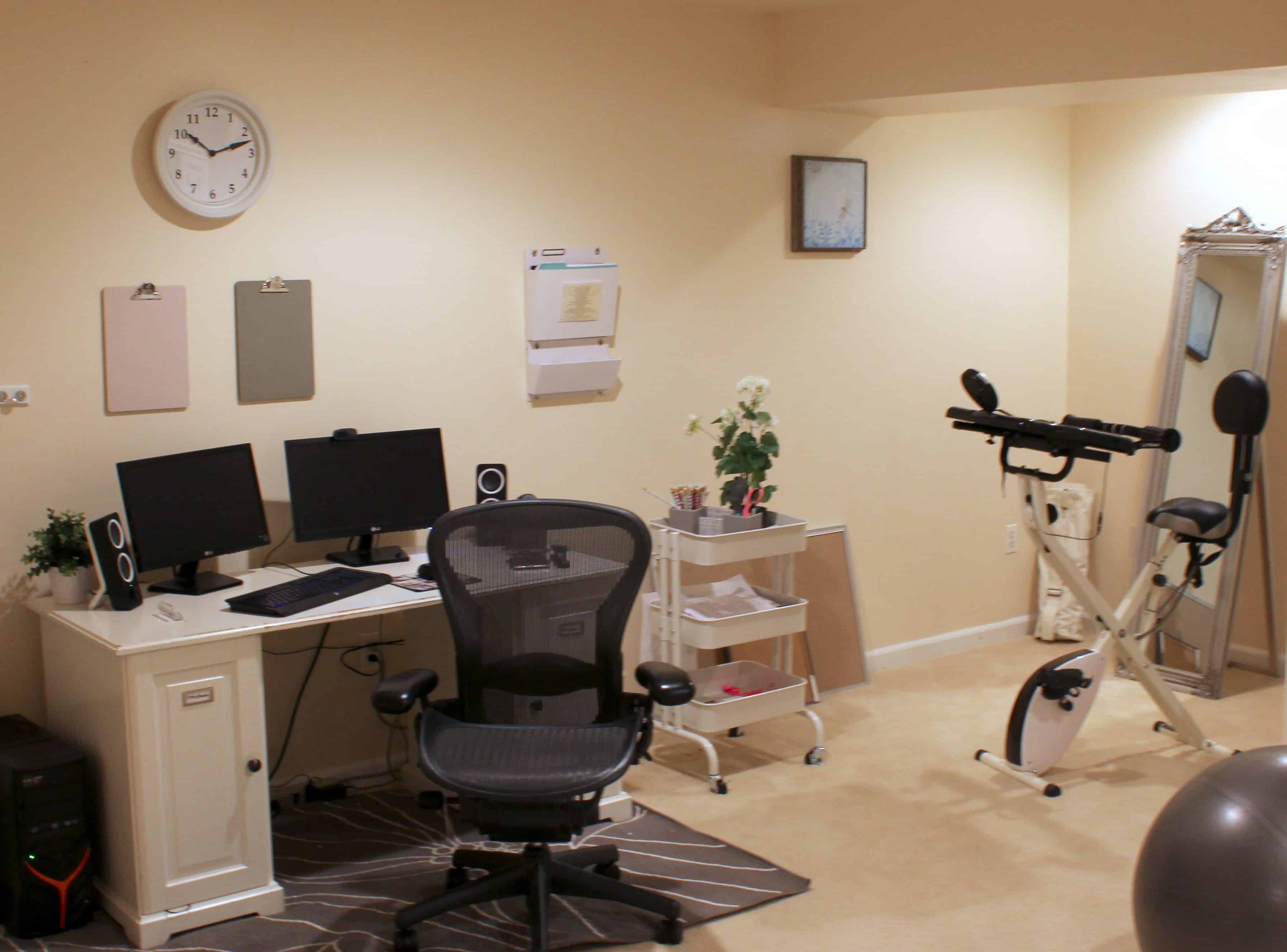 I also have a FitDesk, which I love love love! We found one for super cheap on Groupon. I think it was around $160. In my "work out section" of my office I have my yoga mat and my FitDesk. While I find the FitDesk doesn't work for things like conference calls or handwriting, I can't believe how productive it makes me when I'm writing. The movement really helps me stay focused and keeps the creative juices flowing!
4. Protect Your Time
Protecting your office time is less about hanging up a giant clock (although having a visible clock helps) and more about blocking and scheduling. If you're looking for motivating home office ideas on a budget and want to achieve as much as possible, you need to prioritize your time (and it won't cost a dime). For new bloggers and work-at-home moms, this is especially important.
When I started blogging I worked on my site whenever I found pockets of time. This meant working late at night or early in the morning. Getting as much achieved as possible also meant working during naptimes and when my kids were playing with my husband. I've made one corner of my office my kids' area. I got some inexpensive poofs and I have a box of special premium "work time only" toys they love to play with. When I work, I can still keep an eye on them while they play (and they love it).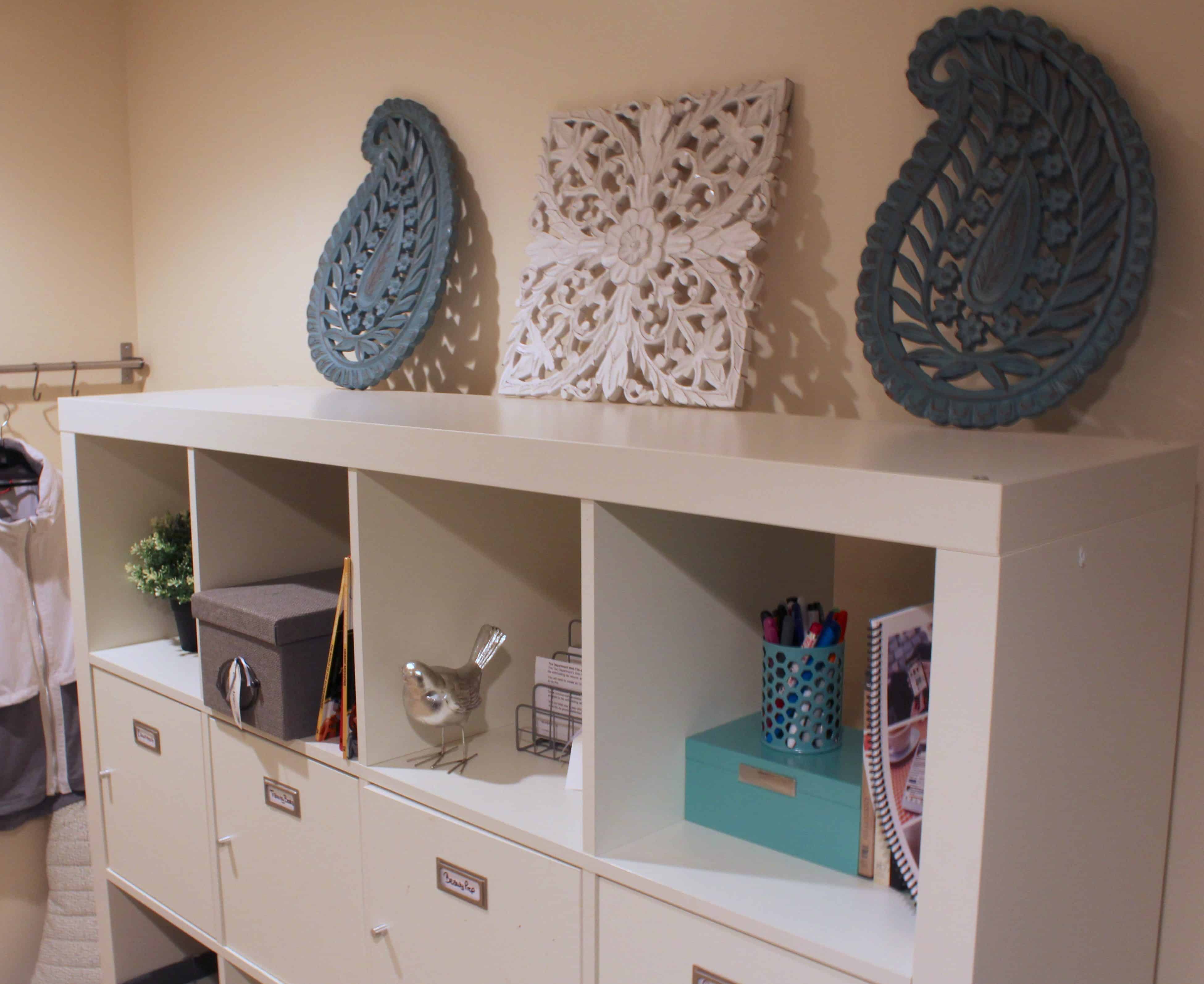 Another way I protect my time is with time-blocking. When I discovered how to use time-blocking, my productivity went through the roof. Time-blocking is a kick-butt method to achieve more. Time-blocking sounds complicated but it's actually very simple. You prioritize your tasks for the day. Then you block out time in 15-30-minute increments in your calendar or planner and slate in the 3-5 most important tasks. Once those are blocked out, add in the less-important items. Set a timer and really focus on your important tasks without interruption.
Protect your time! It's one of your most precious commodities as a blogger!
5. Organize and Clean Your Office Space
I know this sounds like a no-brainer, but organizing your home office is vital. If you've got piles of paperwork around, sticky notes everywhere and a bunch of random ideas on the back of receipts and napkins, you can't keep track of it all!
For most virtual jobs, blogging included, you don't need piles of papers. Most items can be stored on your computer and accessed from anywhere. Getting organized is one of the most important concepts if you're seeking home office idea on a budget. Being mess costs money—money in lost ideas, lost time, and lost productivity. Unfortunately, our messy desks are now our messy desktops. Raise your hand if you're guilty of "filing" items on your computer's desktop.
Organize your virtual files, your bookmarks and your desktop. Create folders and set a timer. Quick-sort every file in 20 minutes. If you don't recognize a file name, rename it so you will understand the name at a glance. Commit to always saving files in their folders going forward. Never again will you search aimlessly for items on your desktop, in your trash and through your email archives.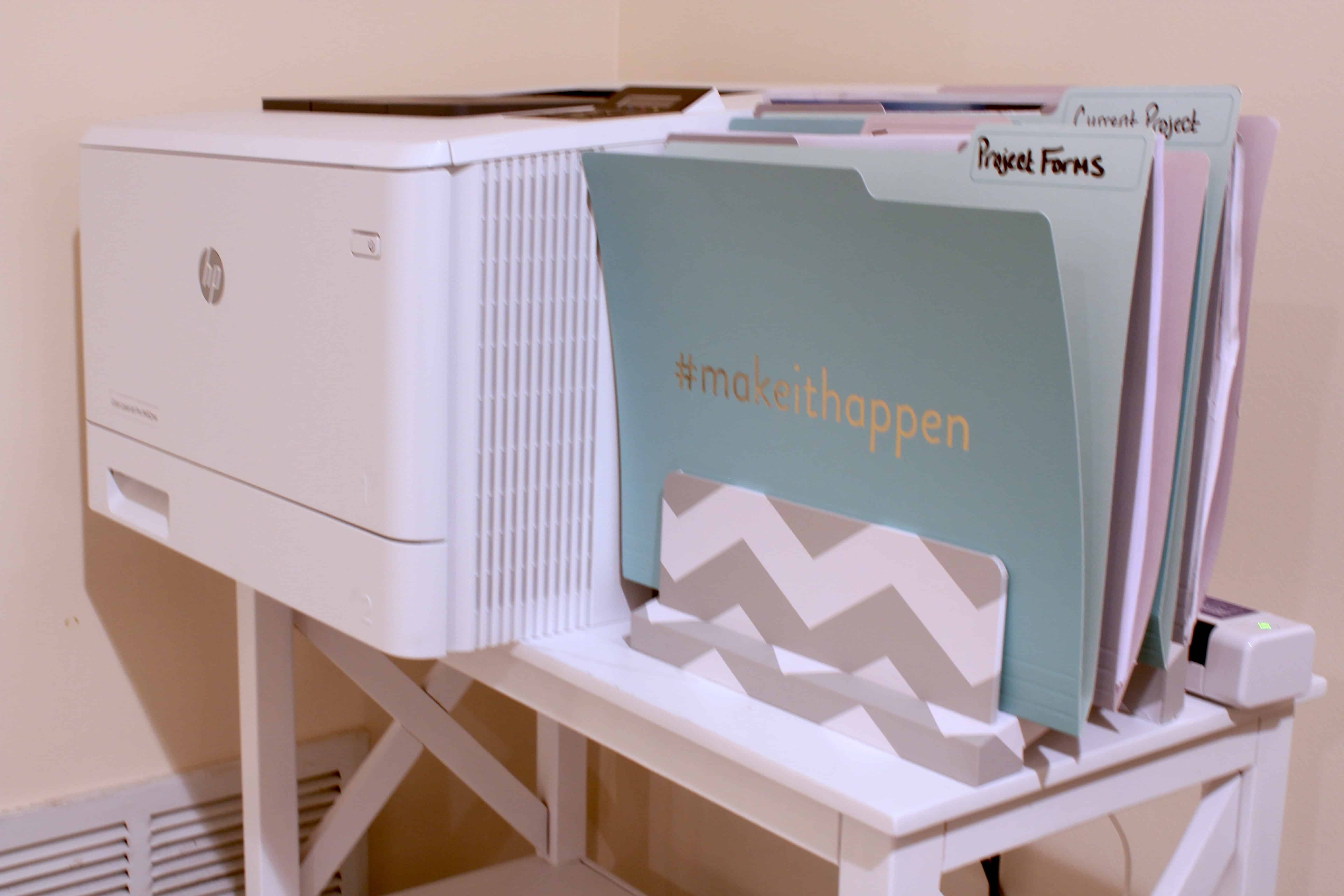 I'm not a super clean freak, but I really like to be organized. I find it helps me stay much more focused and productive to work in a clean office. I keep fabric bins where I can store my items, and I sort "like with like"—notepads together, electronics together, pens (incidentally, my favorite pen is the Pilot FriXion Erasable Pen—it's amazing and the only pen I use).
I keep my printer on a small bookshelf from IKEA and my folders alongside it. I also keep my binders and manuals on the shelf where they're easily accessible. I try very hard to always store and file items right away to avoid having piles of paperwork sitting around.
6. Go Mobile
All the "office inspiration" you've Pinned is what you think an ideal office should look like. Here's the deal: you don't need an all-out home office makeover to get started working from home. If most if your work is virtual, you can literally accomplish your work from anywhere—your couch with a laptop, a coffeeshop down the street, or your bed.
Often people wait until they're in the "perfect setting" to work. This is procrastination in disguise. If you're motivated by a Pinterest-pretty office, then take the steps to get there, but until then, the corner of your kitchen or even your couch is fine.
Take your laptop outside. I love working on my porch and often work from there. It's a nice change of scenery and the fresh air's motivating. Working outside keeps me awake, alert and achieving what I need to do. Don't wait until you've created the perfect office space—jump in and work from anywhere.
My home office space isn't huge, and in fact, it's separated from our guest room by a curtain, BUT it works because we keep the small space organized. Before I had a dedicated office, I would work from the couch on a laptop. A Pinterest-pretty office is great and ramps up your productivity, but don't wait. Do what you need to do today!
7. Keep Files & Photos Organized
Photos are great gifts for your loved ones. They're also great gifts to ourselves to decorate our office. Just like hanging up your kid's artwork, putting up photos, or even keeping them on your desktop as the background (or on your mousepad like me) serves as a constant reminder of why you're working toward your goals.
I've always been a scrapbooker and now I print out great photobooks twice a year (for free) to enjoy my photos all the time. Organizing all those photos and keeping track of them is a challenge—in fact, photos are one of my biggest sources of office and laptop clutter. Plus, photos require a lot of storage memory on my computer.
I've found a simple way to keep my office organized and combat photo clutter is to simply create a folder each month. I set a reminder on my calendar and spend 10 minutes (timed) a month doing a quick "weed" through my photos. I delete any pictures I'm not going to use and put the best of the best in my folder. When I find spare time at night, I move them to my scrapbook. Every few months, I save photos to an external hard drive (you could also use cloud storage) and clear them from my computer. Super simple.
We invested in a super-fast gaming computer for my work. It would have been very expensive, but my tech-savvy husband purchased the components from Newegg and was able to put it together for much less (around $800)! Because I constantly use my computer we also invested in two monitors, and now I honestly don't know how anyone works without two. It really helps with the visual aspects of blogging.
8. Take Advantage of Special Supply Offers
Another great way to stretch your office budget is to take full advantage of special programs and promotions on office supplies. HP offers an instant ink program, with deep discounts on printer ink. Costco also offers great deals on inkjet refills (for $10 a pop)!
There are awesome office supply programs out there, especially during back-to-school time. Get packs of paper for a penny at Staples, during their once-a-year sale. We save a bundle on printing by simply strategically planning.
Watch for August deals, September clearance, Black Friday specials and tax season promotions, when office supplies are on the best sales. Stock up on what you need, but as always, stay within your budget. Office supplies are fun and it's tempting to overspend on stickers, pens and other unnecessary items, rather than focusing on how to maximize your productivity.
Use these home office ideas on a budget to create a space you'll WANT to work in. The most important rule to remember is even with a million cute office ideas, you can still achieve zero. Stay organized and focused in any workspace, especially if you want to boost your work-at-home productivity.
Working from home is totally possible! But it's important to stay diligent about keeping yourself focused and managing your tasks. If you want to earn money from home, treat blogging or any virtual job like an office job. Block out time for work, create space to work in, and use office inspiration and style to your advantage.
So, what are your favorite home office ideas on a budget? Are there tips or tricks you use to keep your office space motivating and organized?