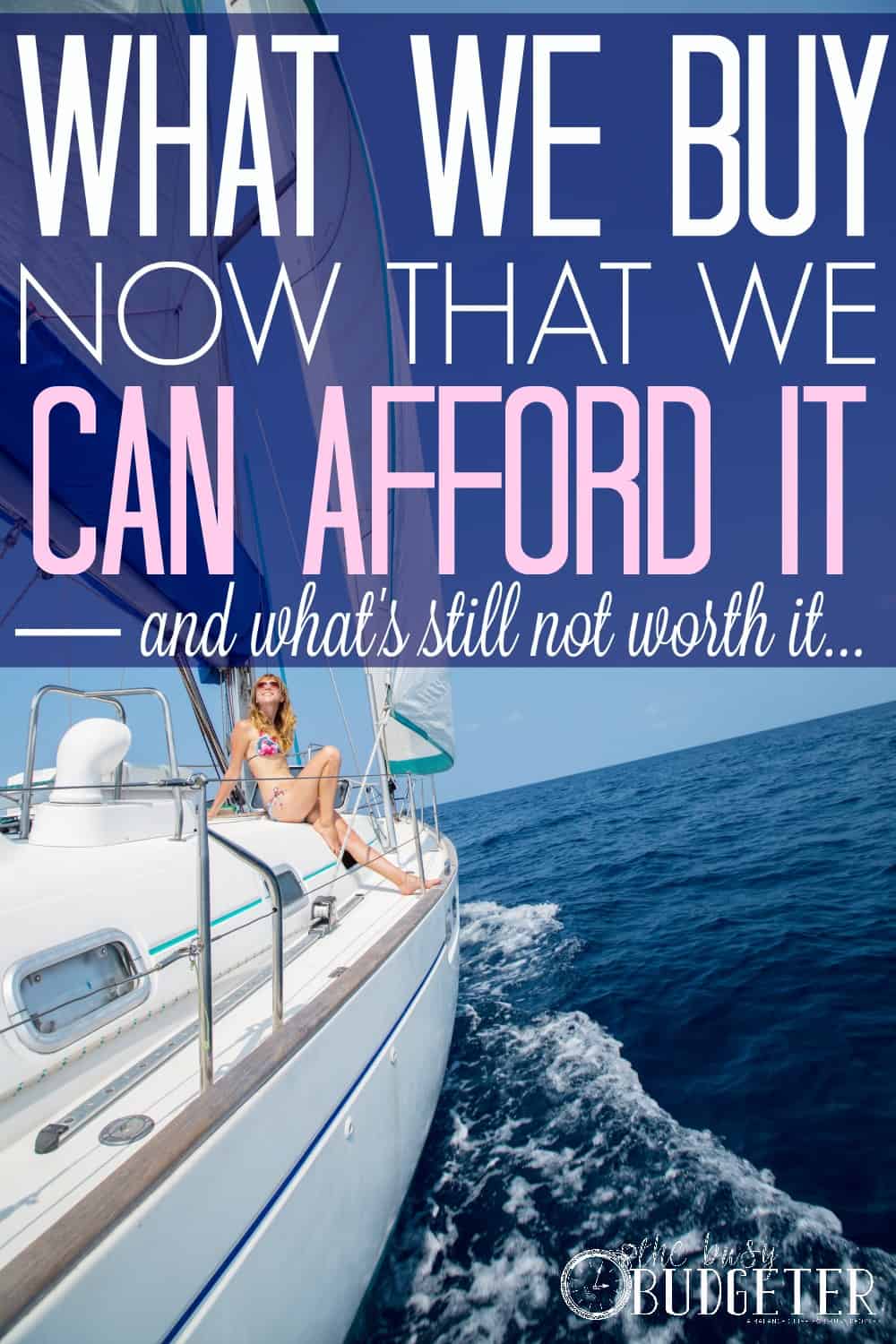 What We Buy Now That We Can Afford It (and What's Still Not Worth It…)
In the last 5 years, our financial situation has done a complete turnaround. We went from living on a bare bones budget with absolutely no extras and tons of debt to being debt free and tripling our income. It took hard work and a fail proof budget, but life has really changed.
I can still remember my sister's horrified face when she learned that we didn't use paper towels. We used all cloth in order to save about $400 a year. That $400 went to paying off our debt and the lack of convenience that paper towels would have given us was a small price to pay for what we achieved.
We knew at the time that we were cutting expenses out of our life that we would be able to add them back in one day when we could. Our goal has always been to be able to afford anything that we want (within reason) and to live without having to worry about our finances. We weren't afraid of sacrifice to get to that goal.
On my sister's recent visit, the conversation naturally turned to the fact that we had a roll of paper towels in the kitchen. I'm pretty sure I heard her yell "Finally! Thank God!" from the kitchen when she noticed them.
I started thinking about the things we've started buying now that we're debt-free and realized that the changes weren't as drastic as you would think. Here's a quick run down of the things that we buy now that we're debt-free and the things that we don't.
The "expensive" things we buy now that we're debt-free:
We have a toddler that loves digging in the trash and after replacing countless locking trash cans that broke, we finally bought this Simplehuman model that's built to last. The kicker? It came with a sample pack of custom liners (otherwise known as trash bags) and they are totally worth the 25 cents! (That's 25 cents… per bag. I know. That's ridiculous).
I put this first, because as ridiculous as it sounds, I think it's worth every penny. Jon and I hate taking out the trash. We procrastinate, over-stuff it, and we always had ripped leaking trash bags. This trash can and bag are huge and it takes 3 or 4 days to fill a bag.
We started ordering the customer liners and never looked back. We don't complain about taking out the trash anymore. The liners are so thick that your hands don't even get dirty and it made the whole process easier.
So, I'm owning it. It's a ridiculous expense, but it's worth to me.
My brain works well with papers. While we were paying off debt, I would grab free printer paper in the Staples back to school promotions and print up a free life planner every year using this method. Now. I'm all about Erin Condren stickers and journals.
This is about as far from a necessity as you can get, but I love planning my week and it helps me stay on track of my goals. Mostly though, It's just fun.
Plus, since blogging is now my full-time job, this is actually a business expense. (yay!)
Gym membership.
I joined the gym back in October and have gone at least 3x a week since then so I'm calling it a win. If it weren't for the pool then I don't think I would pay for the membership, but it turns out that swimming barely even feels like a work-out and it's fun. So, I swim 5x a week and it's made an enormous difference in my energy levels and health.
When we were paying off debt, we found an elliptical second hand (you can check for one on Close5) for $25 and ran outside when the weather was nice (we used Zombies, Run to stay motivated).
For as long as I can remember, I've been sensitive to cleaning products. They give me headaches and smell really strongly to me. During the time we were paying off debt, I always made my own cleaners.
After we paid off the debt, we switched to Method and Seventh Generation cleaners. They smell AMAZING, work great and don't bother my head or nose.
We priced them out and found that we could get them from Grove Collaborative shipped to our door for less than we can buy them at Target. Totally worth the cost.
What we don't buy even though we can easily afford it:
Surprisingly, some of our frugal switches we liked better and we stuck with it. That gives us extra money that we can put towards the things that are important to us.
Expensive Shampoo.
I switched to Suave Rosemary and Mint Shampoo and Conditioner from Pantene about 5 years ago and I've never looked back.
I can usually find them on sale for $1 each and stock up then. Even if we triple our income again, I'll probably still be using Suave Rosemary and Mint. (FYI- I'm not a fan of all of the Suave Products, but this one is totally worth it).
Cable.
This was a hard thing for us to cut from our budget but we've never once missed it. We use Hulu, Netflix and Amazon Prime and I can't imagine ever going back to cable again.
You can get a 30 day free trial to Amazon Prime here.
We're cable free for life, I'm quite sure of it.
Store Brand Groceries.
Almost all of our groceries are the cheaper store brands. Thanks to the free app Ibotta, I can even get a coupon for the store brand items I use.
And, we still love Aldi. We did increase our grocery budget so that we can entertain more and we can splurge on some fun extras (dark chocolate with sea salt), but all of the things we learned while reducing our grocery budget are still in play.
When I first started on this journey, I kept telling myself that as soon as we were debt free, we would have clothes, boats, and vacation homes and a million other things that seemed important at the time.
6 years later and I've made it. And all I really wanted was a fancy trash can. Go figure. 🙂
Are you debt free? What are your "luxury items" now? Are you paying off debt? What are you excited to finally be able to buy?
FTC Disclosure of Material Connection: In order for us to maintain this website, some of the links in the post above may be affiliate links. Regardless, we only recommend products or services we use personally and/or believe will add value to readers.