When you can't pay your bills, you feel embarrassed. Because you're embarrassed about the situation, you make poor decisions about dealing with it. Instead of taking steps to correct the situation. You take steps to hide the situation.
That's the worst thing you can do.
Whatever you're going through right now does not define you.
Being late on your bills, unable to pay your bills or facing foreclosure does not describe who you are as a person.
Whatever got you in this situation will not define the rest of your life. You will pull out of this and get this under control. Stop thinking about yourself as a victim and start thinking of yourself as the person who will change their life and never be in this situation again.
If you need encouragement on the three things to tell yourself when you feel like your family doesn't have enough, you can find that here.
What you need to fix this is an action plan. Follow these steps in order and as quickly as you can do them. Aim to have all of these steps done within a week. Don't put them off or feel guilty about them. It is what it is. What's done is in the past and you're working to make things better.
Before you do ANYTHING though, I want you to sign up for the 90 Day Budget Challenge. It walks you through not only how to create a budget, but how to set up the basic routines in your life that will support your efforts to save money. Because transforming your finances is about more than just the budget.
Focus on completing the steps below this week and then start the budget challenge after to make sure we'll never be here again.
You can sign up for the Budget for Beginners Boot Camp class for free by clicking here or entering your email in the box below.

1. Calculate how much extra money you will need to have in order to be able to pay that bill on time.
Grab a piece of paper (or use calendarbudget.com) and write down all of the income that you know will be coming in for the rest of the month. Then write down your expenses including a projected amount for things like groceries and other necessities.
2. Calculate when you would be able to catch up on that bill.
When you live paycheck to paycheck like this, the free budgeting website calendarbudget.com is the best recommendation I can give to sorting out your finances. You can see on an online calendar when you have money coming in and when you have money coming out and project out for as money months as you need.
Add in a "Projected" due date for groceries every week (what you need to spend on groceries) and add it in like a bill. Also, make a projected amount for "home supplies" (things like laundry detergent, toilet paper, deodorant etc.), and if there are other unofficial things you need to pay for (kids field trips etc; add them in as projected amounts.)
Type all of your projected amounts like this so it's easy to see later and delete: XXXfieldtripprojectedXXX. You want to delete that later because it's not an actual withdrawal of your account. It just lets you project out quickly your basic necessities and your income. Using that method, you can tell when your bank account will be back in the clear and you'll be able to pay that bill.
3.Tell your spouse the situation.
Apologize if it's your fault and tell them that you're taking it seriously and will have it fixed as quickly as possible. You need them on your side. It does no good for them to be buying lunches out every day if you can't pay your electric bill. You need them to know the situation so you can work together to fix it.
Accept responsibility and move on. If you're the only one doing the finances right now, schedule in weekly budget meetings so that everyone is on the same page. You need to be doing this together.
4. Determine which bill will be paid late.
Pay the bills of things that are essential first (house, water, electricity, child care, food and water).
Call or email the bill company.
Let them know that you won't be able to make the payment.
5. Ask for help.
Be polite and explain that you are taking this matter extremely seriously. Ask if there is anything they can think of that would help you. Giving you a 15 day grace period, waiving a late fee etc.
6. Look for ways to cut costs quickly.
Try out a spending freeze, look for ways to reduce your grocery budget quickly, cancel cable for a few months or reduce your cell phone plan. Have a few nights of Santa Fe rice and beans or homemade mac n cheese (it's not even a sacrifice- both are delicious!)
Look for fast ways to make money (legally of course!) Sell things in your home on craigslist, Ebay or Facebook yardsale groups. I made $45 in an hour this afternoon by cleaning out a closet and doing just that.
7. Follow up with the company until you can get the bill paid off.
In many situations, a late payment wouldn't be reported to the credit bureau until the payment is over 30 days late so your goal should be to get that payment in before it's 30 days late. While that doesn't guarantee that it won't be reported, it makes your chances of it not being reported much better.
8. Think longer term. What can you do to make sure this never happens again?
Get a working budget.
Sign up for the 90 Day Budget Challenge here. You don't have to do this alone!
You can sign up for the Budget for Beginners Boot Camp class for free by clicking here or entering your email in the box below.
If you tackle those steps as quickly as you can and start working on making better decisions going forward, then you can avoid these situations in the future.
There are two ways that you can handle something like this. You will either hide it and ignore it and continue down this path, or you will meet it head on with fierce grace and let this be the moment that you decide you will never be in this situation again. A situation like this can either break you or build you.
Let this build you.
Have you ever turned a bad situation like this into the best thing that ever happened to you?
Other popular posts…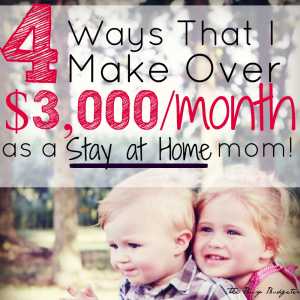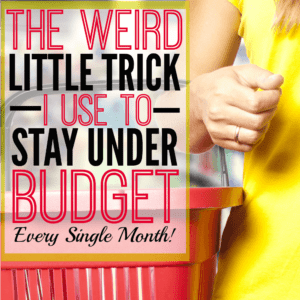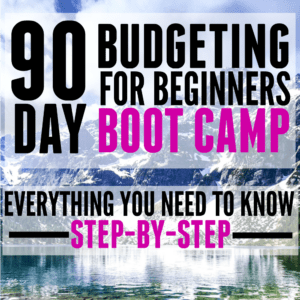 This post may contain affiliate links. If you click & make a purchase, I receive a small commission that helps keep the Busy Budgeter up and running. Read my full disclosure policy here.disclosure policy here.