This is a sponsored post written by me on behalf of Navy Federal Credit Union. All opinions are 100% mine. Equal Opportunity Employer.
Being a military spouse comes with a lot of challenges. Two extremely intertwined ones are the need to supplement your income and a hard time finding work that is flexible enough to meet your needs.
Fun, right?
After all, if your spouse is deployed, you're going at it alone at home, which makes childcare all the more of a challenge, for one thing.
On top of that, you end up moving around a lot, so working in a job that is dependent on location can be next to impossible.
That being said, especially as your family grows, you may find the need to supplement your family's income. That's even more true if you're in the process of paying off debt – you want to get that paid off as soon as possible!
I want to encourage you, though. Even with the barriers you face regarding employment, you can absolutely find work that helps you support your family and fits in with your life.
One distinct benefit of the craziness of 2020 is that with the necessity for many places to switch to remote work, you can now work from home in more positions than ever. That's a great thing for military spouses because they really need the flexibility an online job provides!
But where can you start finding the right job for you? I can help.
The Best Online Jobs for Military Spouses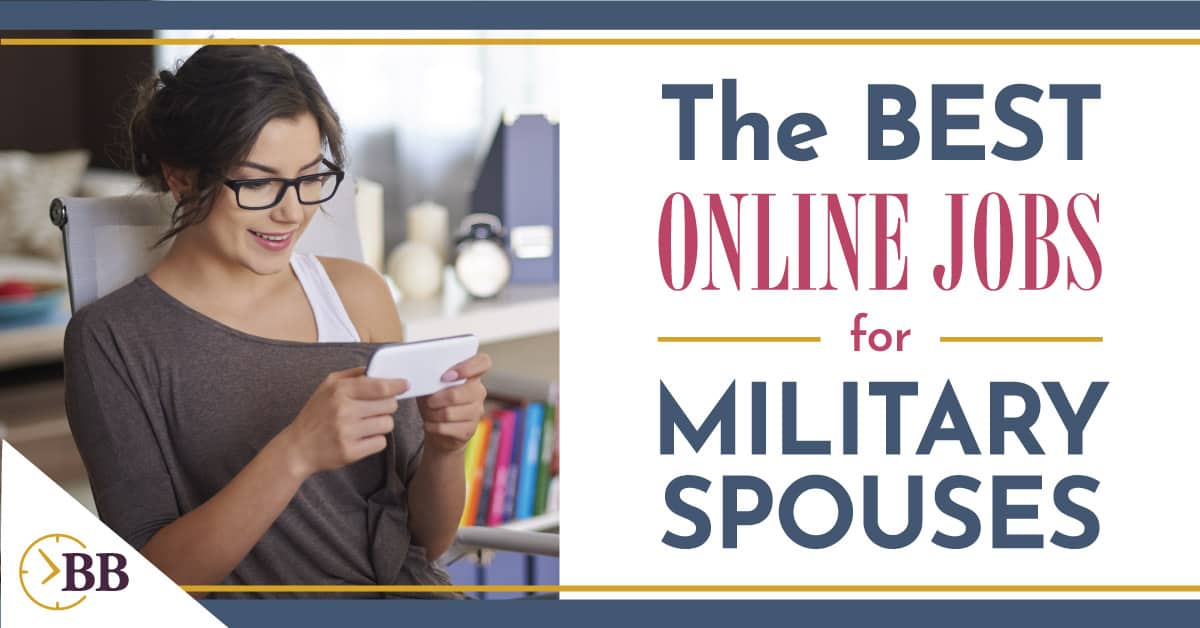 Virtual Assistant
With so much business now happening online, Virtual Assistants (also called VAs) are more in demand than ever.
VAs do all kinds of tasks to help small business owners, bloggers, or other executives who need help. Some of these tasks might include proofreading, responding to emails, scheduling posts, customer service for products, booking travel, running invoices, facilitating meetings, typing up notes, or doing research – but that's really only the beginning.
VAs often do a lot of different tasks, but it just depends on who you work for. But the variety of work is one of the best parts, in my opinion!
Plus, you can do it, well, virtually from anywhere as long as there's internet! So you don't have to worry if your spouse moves duty stations.
Where To Find Jobs
A great place to start is with your past employers. After all (assuming you left on good terms) you're starting from a place of good rapport. And who knows? Maybe they can still use the expertise you took when you left.
You can also cold call/email local businesses to see if you can help them out as a virtual assistant, especially if you have special skills that would be an asset to them. Having knowledge in a particular area is a great way to prove your worth!
You can also check out freelance sites like Elance, Odesk, and Upwork (provided you look at the terms of each site carefully). These are great sites to connect with companies who are in need of virtual assistance but can sometimes be cost-prohibitive if you're just starting out.
Voice Acting
This might sound like a way-out-there job, like only something an actor or actress can do. But don't count yourself out just yet.
Voice acting is an in-demand skill for all kinds of things like commercials, cartoons, and audiobook narration that can make a great online career for military spouses.
With so much demand in this field, you definitely don't have to be a big-name to make money voice acting. Flexibility makes this a great, versatile, and fun job for military spouses.
After all, you can choose which jobs to take, set your own hourly schedule, and potentially make super good money – all while reading diverse scripts and playing lots of different roles!
Where To Find Jobs
You can seek out work through sites like Elance, Odesk, and Upwork, but you can also work with a service like Voices.com which helps match you with projects and take care of payments for them.
Voices.com also happens to be a great resource for learning the ins and outs of voice acting, so if you're really not sure what you're doing, it's a great starting point!
Proofreader
If you're the kind of detail-oriented person who your friends refer to as an eagle eye, proofreading might just be the job for you.
While proofreading requires concentration and focus, it's also a job you can easily do from home, with a huge amount of flexibility in the time of day and the number of hours you work.
So even if you need to block out time during your kids' nap times, you can work around their schedules as needed.
You get to choose which jobs to take and which to decline. That means if you need more money, take more jobs! If you just want a little supplemental income, take on a smaller workload.
Proofreading can pay really well. That's even more true if you're a quick worker. You're often paid by the job, not by the hour, so the more efficient you are, the more money you can earn.
Plus, it's interesting work – you might end up reading stuff like court transcripts or medical reports, so that makes things fun. Hey, if you're a fan of true crime, this might be a way to turn your guilty pleasure into a little extra cash!
Where To Find Jobs
Start by asking around! Ask friends via text, email, or Facebook to see if they're in need of a proofreader – you might be surprised.
You can also check out any of the previously mentioned freelancing websites like Upwork and offer your services through their platform.
Many courses that teach you how to proofread professionally will also help you find jobs once you complete the program, so the cost of one of those courses might be well worth it with that in mind.
Freelance Writer
Freelance writing is a great job that pays super well as it's needed in pretty much every industry – now more than ever!
Many businesses need people who can write well to attract clients through blog posts and other web content. So if you're a person who can do that, this might be a great option!
There is a little extra upfront work when it comes to this one as you need a portfolio of work (and maybe even a blog of your own) to show potential clients what you can do for them. Don't let that dissuade you though – if this is something that interests you, it might be a worthwhile gamble.
Once you've chosen a niche, built up a portfolio, and found yourself a few clients, you'll have the opportunity to earn great money sharing your expertise (check out tips for freelance writers!).
Best of all, freelancing is another job where you get to create your own schedule and work from wherever you call home.
Where To Find Jobs
As the name implies, a great place to find freelance writing work is through freelancing-specific sites like Upwork.
Like with proofreading, many of the courses that teach you how to become a freelance writer will help find you job placement. Consider that when determining the cost of the course versus seeking out work by yourself – sometimes it's a worthwhile investment!
That being said, you may also consider cold-calling/emailing local businesses to offer your services.
All avenues of job seeking on this one, however, will require some sort of portfolio – so get thinking about what you can write to build it up! You might try your hand at writing your own blog or write some posts for other blogs or websites for free to get your name out there.
Online Teacher/Tutor
Whether you work for a company that teaches English to kids in other countries or create your own course on a platform like Outschool, there are tons of opportunities to teach what you know!
Maybe you're an expert gardener, bread-maker, Minecraft mod builder, Japanese language speaker, writer, or a violinist. Maybe you're something else entirely.
Whatever the case, there's a good chance you know how to do something that other people would pay you to learn.
Again, this takes a little upfront investment of time and potentially money, but if you love sharing your knowledge with others, this could be the opportunity for you!
Where To Find Jobs
There are so many places to find teaching/tutoring jobs, depending on what you'd like to teach! Here are just a few examples:
Graphic Design
If this is a skill set you have, your skills are definitely in demand. I mean, think about it: everyone needs good graphics in the visual world we live in!
Whether you're good at making social media images, logos, or flyers, you're bound to find someone who needs these things, isn't good at doing it themselves, and would gladly pay you to take the task off their hands.
Where To Find Jobs
As with the other freelancing jobs on this list, you can ask local businesses or former employers how you can help them with their graphic design, especially if you see some images you think you could improve for them specifically (but again – do this with a good amount of diplomacy!)
You might also try finding Facebook groups specifically made for connecting graphic designers to those in need of graphics.
Copywriter/Marketing
As with graphic design, copywriting is something every business needs. If you've got a natural knack for this kind of writing, there's almost certainly a business owner out there who is tearing their hair out and needs you to help them out!
This is especially true if you're good at persuasive copywriting that leads to more sales. If you can earn your keep, you'll find endless jobs.
Where To Find Jobs
Make A Living Writing has a great post on how to start in copywriting even if you don't have experience. I highly recommend checking that out if you're not sure where to start!
If you're a little more experienced in copywriting, my advice from the other jobs stands here as well: see if former employers need help, check with local businesses about their needs, and scour the job listings and groups on Facebook and freelancing websites.
Accountant/Bookkeeper
Every single business that exists has to keep track of their financial records. It's often one of the first things small businesses hire out because it can be so daunting.
If you can take a struggle out of someone's hands and take care of it for them, they'll happily pay you to do so.
This is a great job for someone who is detail-oriented, but is more into numbers than words.
Where To Find Jobs
Making Sense of Cents has an introductory blog post about becoming a bookkeeper that is a great place to start, especially if you're not 100% sure it's the job for you.
Other than that, I'll say again: check with former employers, seek out work with local businesses, and check job boards on Facebook and freelancing websites.
Blogging
If you're looking for a side hustle that has the potential to become a full-time career, I can't help but share this as a solid option for military spouses. Blogging has totally changed my life!
I first started blogging mostly to share my experiences budgeting, meal planning, and other things as a stay-at-home mom. I liked sharing what I had learned, and figured it would be a good outlet. I hoped a little extra money would come from it, but that was it.
Now my blog is the source of a great income for my family, way beyond what I had previously dreamed.
Blogging is not a "get rich quick" scheme, and it takes time to build traffic and followers, but if you consistently stick with it, this can be a lucrative way to make a living.
That being said, it's certainly not for everyone – and that's okay! There are plenty of other options depending on what you're most interested in.
The prior list is certainly not the end-all, be-all of great jobs for military spouses, and that's because there are way more options than I could possibly list.
Navy Federal Credit Union's Best Careers for Military Spouses
To help military spouses overcome challenges with finding a job and enjoy long-term career success, Navy Federal partnered with Hire Heroes USA® to identify 10 career paths that matter most to the military spouse community. Here are the top 10: Government & Public Administration, Business Support & Human Resources, Healthcare & Social Assistance, Educational Services, Information Technology, Financial Services, Defense Contracting, Community-Based Services, Retail & Customer Service, and Manufacturing.
Regardless of the challenges you face as a military spouse, I know that you can absolutely find a job that works for you that'll help you contribute financially to your family.
Media:
NOTE: This content, and any modification thereto, is owned in full by the creator engaged to provide services, and no rights or licenses of any kind are transferred. This content may not be used for commercial purposes, published, or distributed without the consent of the copyright owner.