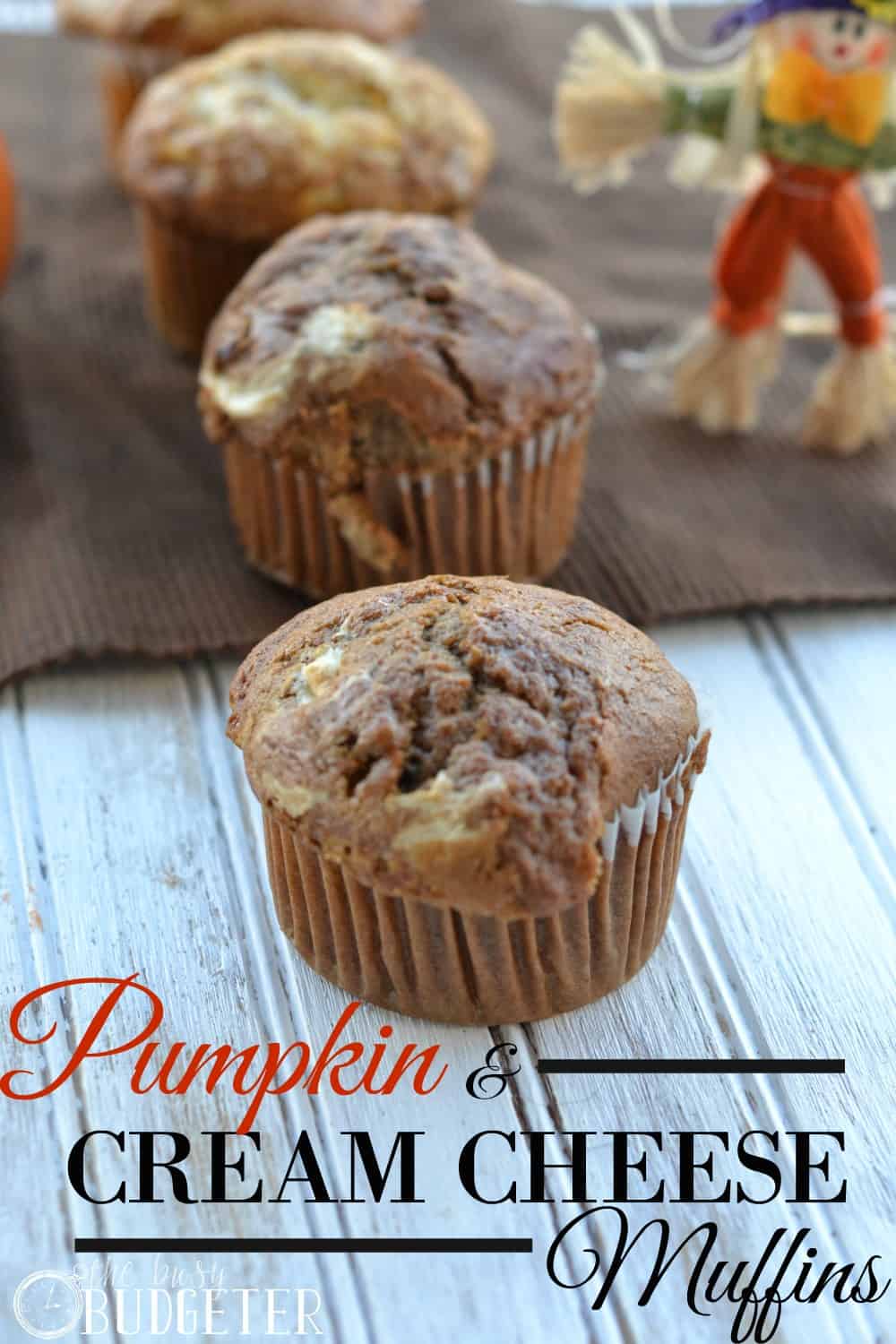 Sick of pumpkin spice yet? Yeah, me neither. Bring on the fall! I look forward to the fall all year, and this year was no exception!
Muffins (especially delicious pumpkin and cream cheese muffins!) are the perfect breakfast food (okay, obviously not nutritionally but we're ignoring that part). They're rich and delicious, easily portable and super filling. They accompany our picnics, our lunches and occasionally we treat them like dessert.
We love making a double batch! It's the same amount of work but double the reward and these muffins freeze beautifully. You can thaw them overnight in the fridge, or at room temperature for about an hour. (Or just get impatient and microwave them on 50% power for 1 minute.
Fun fact: You can actually buy commercial grade large batch muffin tins from Amazon for less than $20. This one holds 24 muffins at a time. Because really, who wants 12 muffins when you can have 24? Just make sure that you have a large mixing bowl available too. We freezer cook routinely to save time in the evening so we have tons.
Bundle the kids up for the apple orchard and pack a bag with a thermos of hot cocoa or apple cider and these pumpkin muffins and you'll have ridiculously happy kids. Heck bring a camp chair, a blanket and a good book and you'll be pretty happy too.
I'm going to go now and take my own advice.
If you're in love with these, you should also check out my pumpkin spice cookies, my pumpkin pancakes and my pumpkin spice donuts (that have only 3 ingredients and are seriously like the easiest thing ever to make!)
Clearly, I'm obsessed with all things pumpkin. You can also check out my "Fall-oween" Pinterest board for more fall inspiration!

Pumpkin & Cream Cheese Muffins
These pumpkin and cream cheese muffins are perfect for an on the go fall breakfast or snack. We love to pack these for picnics when we head to the apple orchard!
Ingredients
8 ounces cream cheese, softened
½ teaspoon vanilla extract
2¾ cups sugar, divided
3⅓ cups all-purpose flour, divided
3 teaspoons ground cinnamon, divided
4 tablespoons chilled butter
½ teaspoon ground cloves
½ teaspoon ground nutmeg
2 teaspoons baking soda
1½ teaspoons salt
3 large eggs, lightly beaten
1 (15-ounce) can pumpkin
1 cup vegetable oil
Instructions
Preheat oven to 375°. Line 2 (12-cup) muffin pans with paper liners.
Stir together cream cheese, vanilla extract, and ½ cup sugar in a medium bowl. Set aside.
Combine ½ cup sugar, ⅓ cup flour, and 1 teaspoon cinnamon in a small bowl; cut in butter with a fork or pastry blender until large crumbs form. Set aside.
Combine remaining 3 cups flour, remaining 1¾ cups sugar, remaining 2 teaspoons cinnamon, cloves, and next 3 ingredients in a large bowl. Whisk together eggs, pumpkin, oil, and milk in a medium bowl; stir egg mixture into flour mixture just until moist. (Do not overmix.)
Spoon half of batter into prepared muffin pans. Dollop about 1 tablespoon reserved cream cheese mixture in center of batter, and top evenly with remaining batter. Sprinkle with reserved streusel mixture.
Bake 20 to 23 minutes. Remove from pans; cool on a wire rack.
What's your favorite portable breakfast?
This post may contain affiliate links. If you click & make a purchase, I receive a small commission that helps keep the Busy Budgeter up and running. Read my full disclosure policy here.disclosure policy here.