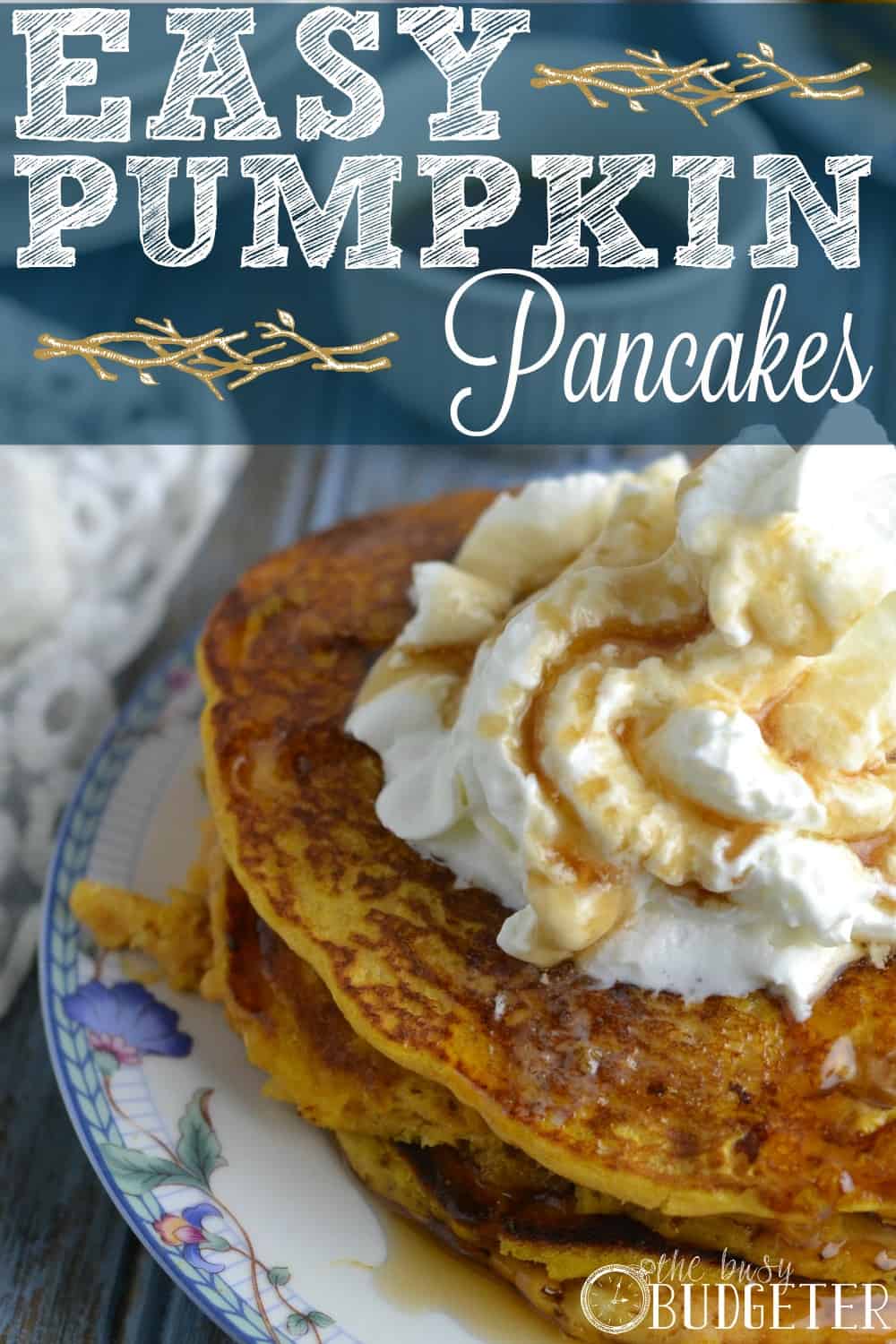 I'm obsessed with all things fall. Seriously. I start getting giddy about the coming months in mid-september.
We love fall so much because there are so many awesome cheap ways to celebrate fall. This year was a bit of a challenge though because I signed up for a month long spending freeze for all of October which means no unnecessary spending at all. It's been a challenge to say the least! We've had to think outside the box to come up with a few new free fall traditions.
These easy pumpkin pancakes ended up fitting in perfectly.
We had a fall breakfast out on the back deck and topped them with whipped cream and real maple syrup. It ended up being the perfect start to a lazy fall Saturday that led to a morning on the playground.
These are super easy to whip up, but I always make my pancakes in triple batches. Pancakes freeze beautifully and I love having them on mornings when I need a quick breakfast.
We have a large electric griddle (they're surprisingly cheap!) that we use for burgers, quesadillas, pancakes, French toast, eggs and bacon. I can cook 8-12 pancakes on the griddle at once. Once they cool, I wrap them in sets of 3 in wax paper and then seal a few sets in a gallon freezer bag labeled with the date and contents.
When you're ready to reheat them, you can reheat straight from frozen by leaving the pancakes wrapped in the wax paper and microwaving for 60 seconds on 50% power (or until completely thawed) and then 90 seconds on full power.
Add syrup and you're good to go! This also makes the perfect back up dinner if you get stuck. In two minutes you can have pancakes done, add scrambled eggs and some fruit and you have a perfect breakfast for dinner in just a few minutes.

Pumpkin Pancakes Recipe – You need this in your life.
Looking for a fall family tradition? These pumpkin pancakes are our favorite!
Ingredients
1½ cups milk
1 cup pumpkin puree
1 egg
2 tablespoons vegetable oil
2 tablespoons vinegar
2 cups all-purpose flour
3 tablespoons brown sugar
2 teaspoons baking powder
1 teaspoon baking soda
1 teaspoon ground allspice
1 teaspoon ground cinnamon
½ teaspoon ground ginger
½ teaspoon salt
Instructions
In a bowl, mix together the milk, pumpkin, egg, oil, and vinegar.
Combine the flour, brown sugar, baking powder, baking soda, allspice, cinnamon, ginger and salt in a separate bowl.
Stir into the pumpkin mixture just enough to combine.
Heat a lightly oiled griddle or frying pan over medium high heat.
Pour or scoop the batter onto the griddle, using approximately ¼ cup for each pancake.
Brown on both sides and serve hot.
What's your favorite fall food?
This post may contain affiliate links. If you click & make a purchase, I receive a small commission that helps keep the Busy Budgeter up and running. Read my full disclosure policy here.disclosure policy here.