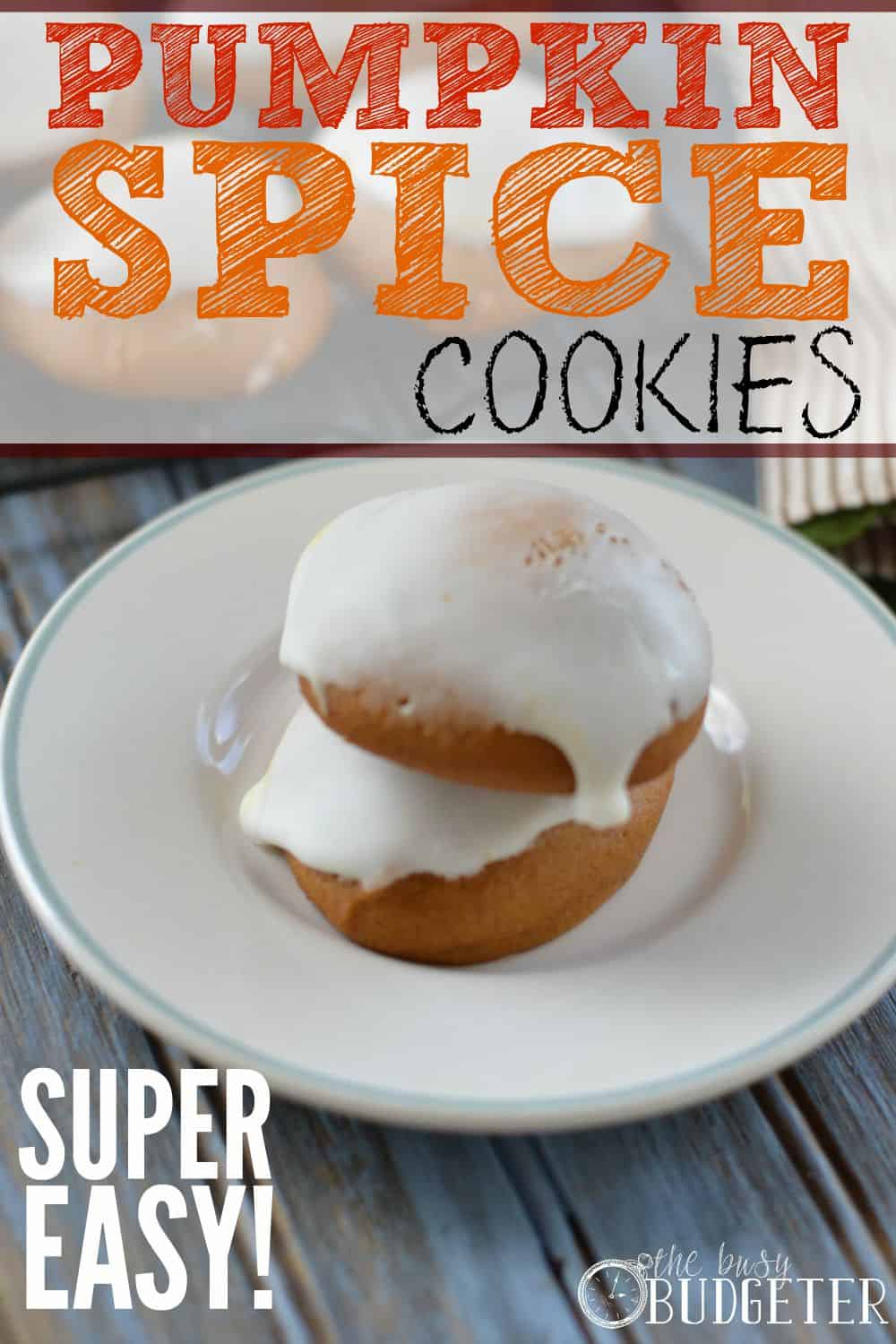 I'm so in love with these super easy pumpkin spice cookies… I waited all year to make them so patiently.
There's just something about Autumn that makes me fall in love with it every year. Crisp air, freshly picked apples, cozy sweaters, soft scarfs, and my favorite pair of boots all come out to play. We don't have the hustle of the Christmas season, and we get to enjoy lazy weekends of apple picking, hay rides and the pumpkin patch.
These super easy pumpkin spice cookies embody everything that fall is to me. They're the perfect thing to whip up for a weekend outing.
Hint: Packing your lunch instead of eating out is a great way to save a ton of money on your fall activities and events. These cookies will make the perfect addition your packed lunch. I'm pairing ours with turkey clubs with cranberry mayo and apple slices with peanut butter dip.
These cookies are also super frugal and pretty easy to whip up quickly.

Super Easy Pumpkin Spice Cookies
Bring on the fall flavors and cozy scarfs and boots! These delicious creamy Pumpkin Spice Cookies are perfect when paired with a pumpkin spice latte.
Ingredients
2½ cups flour
1 teaspoon baking powder
1 teaspoon baking soda
2 teaspoons cinnamon
½ teaspoon nutmeg
½ teaspoon ground cloves
½ teaspoon salt
½ cup butter (soften for 30 minutes at room temperature first)
1½ cups sugar
1 cup canned pumpkin puree
1 egg
1 teaspoon vanilla extract
icing
½ cup softened butter
½ cup softened cream cheese
2-3 cups powdered sugar (2 ½ cups was about the right sweetness for my taste).
1 tsp. vanilla extract
Instructions
Preheat your oven to 350 degrees.
Combine the flour, baking soda, baking powder, cinnamon, nutmeg, and salt in a bowl.
In your mixer, cream the butter and white sugar together in a separate bowl. .
Add egg, pumpkin, and vanilla to butter mixture, and beat until creamy.
Add dry ingredients to the mixing bowl gradually and beat until combined well.
Drop on cookie sheet by rounded tablespoonfuls.
Bake for 15 to 20 minutes (check at 15 minutes and look for firmer tops).
In another bowl, cream butter and cream cheese together in mixer. Slowly add in the powdered sugar and mix together until thick and creamy. Then add vanilla to make the frosting.
When cookies are fully cooled, spread the frosting on top and eat.
Growing up, homemade cookies and fall outings were some of my favorite memories. These ideas are so important to me to carry on because I want my little ones to have the same experiences that I was lucky enough to have.
As a family, we really focus on reducing our spending, and I like to think that homemade pumpkin spice cookies and trips to the pumpkin patch make up for the expensive birthday parties and over the top Christmas's that we don't have.
What do you think? Am I crazy? What are your favorite childhood memories? Homemade cookies or fancy toys?
This post may contain affiliate links. If you click & make a purchase, I receive a small commission that helps keep the Busy Budgeter up and running. Read my full disclosure policy here.